Here's what you need to know if you are looking for Goldendoodle breeders in Toronto – Not all breeders that look reliable can be trusted.
The Goldendoodle is a popular pet dog in Canada. It is loved for its adorable personality and fluffy yet low-shedding coat.
However, its popularity brings the risk of exploitation by puppy mills that mass breed to maximize profit while disregarding the health of pet parents and puppies. By buying from these unethical breeders, you would be enabling their malpractice, which will lead to more puppies being at risk.
Purchasing from a puppy mill is not just wrong ethically; it has other consequences too. If you end up purchasing from a puppy mill, you will likely get a sick puppy that will bring you years of emotional and financial stress.
To avoid doing so, you should verify a breeder's credentials before trusting them. To get a head start in your search, you can start your search with the ethically responsible breeders we have listed below.
Before scrolling down this list of Goldendoodle breeders in Toronto, check out these other dog-related guides from our team at We Love Doodles: Best Dog Rescues in Toronto and Best Dog Trainers in Toronto.
1. Mini Goldendoodle Puppies
If you're looking for Mini Goldendoodle Breeders in Toronto, start here. Mini Goldendoodle Puppies has gained the reputation of being one of the best Goldendoodle breeders in Toronto. It focuses on the quality and health of their puppies instead of mass breeding.
Puppies receive vaccinations and vet examinations at 4 and 8 weeks of age. After their initial round of vaccinations at week 4, the puppies are allowed to interact with children and other family members. This early handling and socialization plays a significant role in the friendly and adaptable personalities of the puppies.
In addition, their social skills are developed through the Early Neurological Stimulation (ENS) program. If you are considering getting a puppy through this pet breeder, you will need to fill out its interest form. By doing so, you will receive announcement emails whenever it has a litter available.
Once a new litter is confirmed, registrations are opened, and a deposit of $1000 can be placed to reserve a puppy. This deposit is applied toward the total cost of $6000 per puppy.
You can visit the puppies when they are at least 5 weeks of age to choose one for yourself. This requires you to submit the second installment of $2500. The last payment of the remaining $2500 is to be paid at the pickup time.
Mini Goldendoodle Puppies Details:
2. Twenty Valley Golden Doodles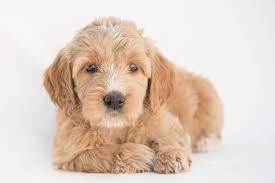 Twenty Valley Golden Doodles is a kennel offering excellent quality Goldendoodle puppies for sale in Toronto. It raises its puppies to grow up to develop adequate social skills and a loving personality.
With each puppy purchased through this pet breeder, the buyer gets a two-year health guarantee for genetic defects and 30 days of free pet health insurance. All puppies come with appropriate vaccinations, deworming, flea treatments, microchipping, and a complete vet health examination.
Furthermore, it charges $1800+hst for a Standard Goldendoodle and $2200+hst for a medium Goldendoodle, and $3000+hst for a Mini Goldendoodle. You can view the photographs of its current and past litter on their website.
To reserve a puppy through Twenty Valley Golden Doodles, you must make a non-refundable deposit of $500. In case you do not find a suitable puppy in the first litter, your deposit will be transferred to the next litter.
Twenty Valley Golden Doodles Details:
3. L.A. Doodles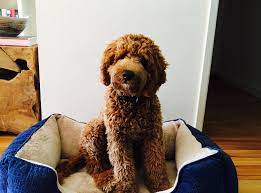 The next stop to find Goldendoodle puppies in Toronto is L.A. Doodles. It is an in-home family breeder in the heart of Toronto that raises excellent quality Goldendoodle puppies through the Puppy Culture Program. More information regarding this program can be found on their website.
The price of a puppy purchased through L.A. Doodles is $2500. It costs an additional $300 for Parti Markings and $500 for Merle Markings. Puppies are only sold as pets through a non-breeding contract. You can reserve a puppy selection spot after the litter is born by placing a deposit of $500.
The Goldendoodle puppies receive their first set of vaccinations and get a thorough Veterinarian wellness check when they are 7 weeks old. Additionally, the breeders at L.A. Doodles deworm their puppies several times using Strongid®T dewormer solution and then test their fecal samples for worms twice to ensure complete elimination.
A 2-year health guarantee and a lifetime of breeder support are provided when you purchase a puppy through L.A. Doodles. You are allowed to take the puppies home when they are at least 8 or 9 weeks of age.
This breeder will also provide a puppy care package to take home with you, which is meant to make the transition less stressful for your puppy and your family. The package includes an information packet, vet papers, training treats, a collar, a blanket with the mother's scent, and a sample of current puppy food.
L.A. Doodles Details:
4. Crosshill Doodles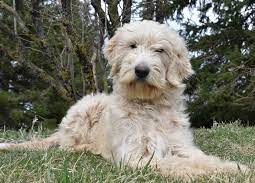 Crosshill Doodles is owned by Brenden and Tanya, who raise their Goldendoodle puppies on a spacious farm on the outskirts of Crosshill. Their puppies are raised with love and care. The breeders pay special attention to breeding pairs to get healthy puppies with friendly dispositions.
To start the adoption process, you can fill out Crosshill Doodles' online Puppy Application. It will take 2-4 business days for it to review your application, and you will be contacted once it's approved. After that, you can go forth with a deposit of $200 to reserve your spot on the waiting list.
Crosshill Doodles makes arrangements for potential buyers to visit and select their puppies when they are 5-6 weeks of age. You can pick up the puppy and take it home when it is at least 8 weeks old. The price for a Goldendoodle puppy bought through this pet breeder ranges from $3000-$4000.
You can take a look at Crosshill Doodle's currently available puppies on its website. In case of further inquiries regarding this pet breeder, contact them through their website.
Crosshill Doodles Details:
5. Sonny Doodles
Sonny Doodles is worth adding to our list of the best Goldendoodle breeders in Toronto because of their first-class breeding program.
At Sonny Doodles, breeders focus on raising puppies with excellent personalities so they can easily adjust to any environment. They raise their puppies through the world-renowned Puppy Culture Program and Early Neurological Stimulation (ENS) protocol.
Puppy Culture makes them friendly and accustomed to household sounds, while ENS helps the puppies be more resilient. Moreover, all puppies receive up-to-date vaccines, deworming treatments, and microchips.
Sonny Doodle puppies are made available for purchase after being thoroughly inspected and approved by licensed veterinarians.
The application form is available on the breeder's website. Moreover, when you purchase a puppy from them, you will receive a 1-year health guarantee that can be extended to 2 years.
Sonny Doodles Details:
How to Choose Goldendoodle Breeders in Toronto
The first step to finding your new pet companion is to find a responsible breeder to purchase it from. The right breeder will not only provide you with a healthy puppy, but it will also help you take care of it after purchase.
The most reliable way to judge the breeder's authenticity is to visit it in person. A breeder that prioritizes its puppies' health will keep them in a clean environment with enough room for play and exercise. Reputable breeders often show proof of health testing, such as OFA and CERF certificates.
Moreover, they will also provide you with necessary information regarding any diseases that commonly affect the breed you are interested in. Such breeders will offer lifetime support for the puppies to ensure their health and safety.
Finally, you should research the breeder's reputation and read reviews from previous customers. Look for breeders who are transparent about their breeding practices and are willing to provide any information you require.
FAQs
Is a Goldendoodle a high maintenance dog?
Goldendoodles are not considered high maintenance to most, but whether or not you consider them to be high maintenance will depend on what you are looking for in a dog. The most high maintenance aspect of a Goldendoodle are their coats, which require regular grooming. Goldendoodles are not high maintenance in personality once their training is instilled. They are sweet natured, playful companions.
Are Goldendoodles calmer than Golden Retrievers?
Goldendoodles are usually not as relaxed as Golden Retrievers because of their Poodle lineage. Poodles are playful, intelligent, and energetic dogs. However, because Goldendoodles have both Golden Retriever and Poodle parents, their disposition could lean toward either parent dog. Breeders can begin to judge the temperments of their puppies at about 6 weeks, and should be able to help you identify which puppies will be calmer dogs. Another important aspect of keeping your Goldendoodle calm is training it, getting enough exercise, and offering plenty of attention.
What is the Early Neurological Stimulation program?
The Early Neurological Stimulation program for puppies exposes them to a variety of early training and exposure to sensory experienes. Exercises last for 3-5 seconds at a time, and includes tickling the pads of their feet, being held in a specific way, and exposure to cool surfaces. The program prepares them for obedience training and for being handled as they get older.
Conclusion For "The Best Goldendoodle Breeders in Toronto"
In conclusion, the 5 Goldendoodle breeders in Toronto listed above offer high-quality puppies with excellent health guarantees. They have a strong reputation for providing healthy and well-socialized puppies, and they carefully match each puppy with the right family.
Whether you are looking for a companion to add to your family or a new addition to your breeding program, these breeders are a great place to start your search.
We verified their credentials in our research, however, we strongly recommend that you do your research before trusting any breeder with such an important decision.
For more guides similar to this list of Goldendoodle breeders in Toronto, you can check out:
Before you bring home a Goldendoodle from a breeder in Toronto, you can learn more about the breed by watching "Goldendoodle – Top 10 Facts That You Didn't Know About!" down below:
Garrett loves animals and is a huge advocate for all Doodle dog breeds. He owns his own Goldendoodle named Kona. In addition, he volunteers at the Humane Society of Silicon Valley, where he fosters dogs and helps animals. Garrett enjoys writing about Doodles and believes that dogs can teach humans more about how to live than humans can teach a dog.
Why Trust We Love Doodles?
At We Love Doodles, we're a team of writers, veterinarians, and puppy trainers that love dogs. Our team of qualified experts researches and provides reliable information on a wide range of dog topics. Our reviews are based on customer feedback, hands-on testing, and in-depth analysis. We are fully transparent and honest to our community of dog owners and future owners.