In this guide, we'll go over the best Golden Retriever breeders in Virginia. The most accurate descriptive words to paint the perfect picture of the Golden Retriever breed includes adaptable, versatile, loyal, playful, affectionate, and easy-going. A dog hailing from the Scottish Highlands consistently lives up to each of those descriptions from the moment of puppyhood and then continues throughout its lifespan of about 10 to 12 years old.
In addition, due to their multifaceted, outgoing personalities, they can fill many different job descriptions ranging from therapy and guide dogs to search and rescue to the perfect sporting dog and, of course, the loveable family companion, which has ranked them in the 3rd spot on AKC's popularity listing.
Before scrolling down this list of the best Golden Retriever breeders in Virginia, check out these guides: Best Golden Retriever Rescues in Virginia and Best Goldendoodle Puppies in Virginia for Sale.
Golden Retriever Puppies For Sale in Virginia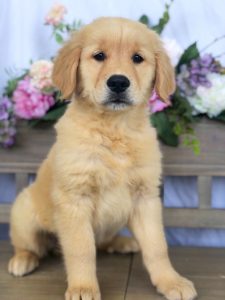 Most Goldens are unmistakable when strutting gracefully around in their scintillating Golden coats that can range from light to dark gold, yet they are also known to come in red and cream too. Another distinct physical feature of the Golden is their long, feathery tails that happily sway side to side when greeting every friend, usually every person they meet.
Yes, the Golden Retriever is a breed that is always ready for a good throw of the frisbee, a cooling dip in the pond, or a nice couch cuddle, but temperament is one of the top characteristics bred for by respectable breeders. Flawed dispositions can be passed down in defective genetics from the parents bred improperly. One of the best tips is to visit the breeders' homes or their breeding facilities in your research stage and view the parents.
Red flags need to go up if breeders refuse to allow visitors to see the living conditions of their dogs and the parents of the puppies they are selling. If you are allowed access to visit, still be wary and pay attention to the treatment of the dogs and the parents' natures because they can be reflective of how the puppy will turn out when they are adults. Please take a look at some of the breeders we have started researching for you below.
Golden Retriever Product Recommendations: Best Dog Bed For Separation Anxiety and Best Dog Food with Vitamins and Minerals.
1. PuppySpot Golden Retrievers

PuppySpot is your one-stop shop when it comes to sourcing a Golden Retriever puppy because it connects puppy seekers to the best breeders in the country. They are experts in the dog breeding industry and have won the hearts of over 225,000 families. The process from ordering a Golden Retriever puppy to receiving it at your doorstep is seamless. All you need to worry about is getting your home ready to help settle in your new family member. You don't have to worry about getting scammed or waiting on a long waitlist.
You can be sure that your puppy will arrive from a breeder who has had to meet more than 100 requirements to be a part of the PuppySpot eco-system. Their process of selecting Golden Retriever breeders is backed by the American Kennel Club as well as the USDA.
Therefore, your puppy would be vet-checked, de-wormed, and vaccinated before sending being sent to you. The medical examinations are recorded and shared by the breeder with PuppySpot through the Veterinary Health Records (VHR). All of their Golden Retrievers will also come with a 10-year health warranty as well as AKC paperwork.
They also only list Golden Retriever puppies that are already born so you know exactly what you are getting. You can choose your future puppy by selecting their age, coat color, gender, and watch videos. We highly recommend that you check them out. We also got one of our Goldendoodles from there and had a seamless process. There is no waitlist like a traditional dog breeder.
PuppySpot Golden Retriever Details
2. Meadow Grace Goldens
Second on the list of the best Golden Retriever breeders in Virginia is "Meadow Gracey Goldens." Situated within the rolling hills of the Shenandoah Valley amidst the Blue Ridge Mountains lies the 70-acre family headquarters of Meadow Grace Goldens. Through a strict, selective breeding process, the breeders of Meadow Grace, Beth, and Nicholas, have vowed from their small beginnings in 2004 to produce a Golden Retriever that shows the highest levels of breed standards. Much socialization time and close interaction with all family members assist in raising well-mannered, calm temperament dogs.
Years of satisfied customers who have purchased Meadow Grace Goldens have come back repeatedly to express the joy and happiness that their puppies brought to their families and lives. Meadow Gold dogs can be found all over the country and even outside the country, participating in life as therapy dogs, military dogs, or just a loyal family member at home with its people.
Waiting lists are now being formed for unborn litters, and the cost of a puppy will be determined by color. An All American or half English Cream and American Goldens will be $2,500. White or Cream English Cream Goldens are $3,500. To get on the waitlist and reserve a puppy, a $500 deposit is required, but before you send this non-refundable deposit, make sure this is the right fit for your current lifestyle and then get in touch with the breeders first.
You will be able to make specifications to the color and gender you prefer, and when a puppy is born matching those specifications, you will be able to proceed with the adoption process. When the adoption process is complete, and your new puppy is ready to come home, it will come with health records, current vaccinations and deworming, a 1-year health guarantee against genetics issues, a vet's bill of health, and registration paperwork for new owners to fill out and send in.
Meadow Grace Goldens Details
3. Golden Rock Farm
Gold Rock Farm rests upon 45 acres of serene countryside with ponds and open pastures that become ideal for home a Golden Retriever breeding program. It is pretty evident from the very opening of their website that the Goldens at Golden Rock Farm is in love with life, along with all the other farm animals inhabiting the spacious acres with them.
Per their instincts, they spend their days swimming in the ponds with the geese and ducks or running through the fields with the goats and pigs. Golden Rock has provided puppies to all backgrounds and lifestyles. Their Goldens have given freedom and safety back to people with disabilities while delivering unconditional love to those searching for true-hearted playmates for the family.
The owner of Golden Rock Farm, Theresa Adkins, will take the time to ask the right questions and make the right match between the new owner and the suitable litter to pick a puppy from. Once you have decided that a puppy from Golden Rock Farm is the right path to take, a $250 deposit will be taken to get on the waitlist. Then at 5-6 weeks, the second deposit of $350 is required, with the final payment being paid in cash the day your puppy comes home with you.
American Golden Retrievers' total cost is $1,850, with English Golden Retrievers costing $2,000 to $2,500. Puppies come with current shots, a document of their pedigree, 1-year health guarantee, and their AKC registration forms. Getting on the waitlist early ensures you get a higher spot which means the first pick of puppies, so contact Theresa soon with your deposit.
Golden Rock Farm Details
4. VA Golden Retrievers
From AKC registered sires and dams, healthy, active, lifelong companions are born here at VA Golden Retriever headed by breeder Grayland Nelson. Here on his 55 acres on Saluda, Virginia, Grayland describes "a Gateway to Heaven on Earth" where AKC Goldens roam freely and lovingly grace his presence. He is exceptionally proud of the results of putting effort and time, up to 12 hours a day, into his breeding and care program. By providing these strong, top-quality dogs to adoring homes, he wishes to share a piece of that Heaven.
All who visit the VA Golden Retrievers website can experience the lives his dogs enjoy through his many posted videos OR come and see them in person. Puppies are all priced at $1500 with a $500 deposit. At around 7-8 weeks of age, they will be very well socialized and familiarized with everyday sights and sounds which will help them settle in with a little less stress as they arrive at their new homes. There will be a 6-month health guarantee on each dog as well as a puppy packet overflowing with information and training tips.
Puppies will have had current vaccinations and wormings and started on natural supplements and high-quality food, which Mr. Nelson recommends being continued along with regular grooming practices. No breeding rights will be sold, and proof of spay or neuter should be presented per contract agreements. After the puppies have gone to their new homes, Mr. Nelson still keeps himself available for any help needed or questions that may arise. So give him a call and keep him updated, too, on the progress of your happy puppy.
VA Golden Retrievers Details
5. Eta D'Oro Goldens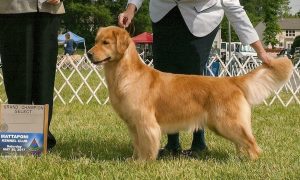 Last on the list of the best Golden Retriever breeders in Virginia is "Eta D'Oro Goldens." This homegrown, hobby breeder takes breeding seriously to be born into their litters for the choicest of Golden Retrievers. The Golden Retrievers hold outstanding accomplishments from Eta D'Oro Goldens in both the show arenas as AKC Grand Champions and everyday companionship life. Great pride is felt towards the dams and sires used in the breeding program, as evidenced by the dedication of a whole website to them and their offspring. Extensive knowledge is shared on Eta D' Oro's website since this breeder has been excelling since 1986.
Due to this knowledge, potential owners will, most likely, not walk away wondering about the screening process, the owner's stance on minimum vaccinations, how breeding couples are chosen, why health screenings are done on the adult dogs, and the role of the breeder once the puppy is out of her care. Take time to go over every page of this well-crafted website for all information you are searching for. Since overbreeding, or even frequent breeding, is not a common practice here at Eta D'Oro, there is no waitlist as guarantees can not be made on when puppies will be available.
Any prospective family with interest in one of these highly prized dogs can fill out a questionnaire. When a litter is born, serious consideration will be poured into offering the perfect match for a puppy. From these questionnaires, preferences are considered with the individual puppies' personalities, and the breeder then makes a match. The breeder takes an enormous amount of time to socialize the dogs and focus on their characteristics to know better where to place each dog. The top priority will go to previous buyers of Eta D'Oro Goldens, and next will be those that wish to show the dogs. It seems like a possibly long wait time, but It is all worth it when you get to take home an Eta D'Oro puppy.
Eta D'Oro Goldens Details
Conclusion For The "Best Golden Retriever Breeders in Virginia"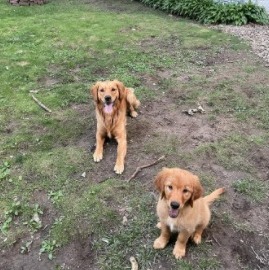 Whether you are searching for a Golden Retriever to show or to be a forever friend, the breed is not going to disappoint. There is a reason they are number three in popularity, and it can be read and seen through the glowing write-ups found on them anywhere you search. The Golden Retriever embodies the saying, "Man's Best Friend."
For more content with mentions of the Golden Retriever, you can check out:
You can learn more about Golden Retrievers by watching "Things You Must Know Before Getting a Golden Retriever" from Retriever Care down below: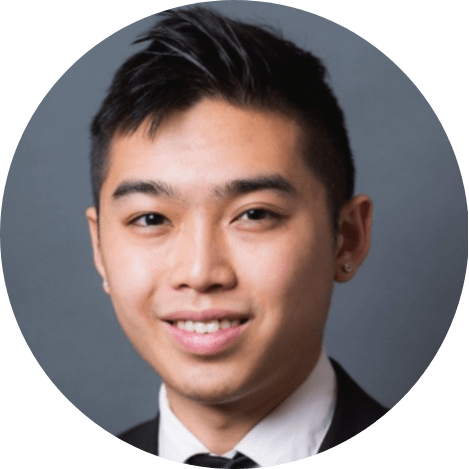 Andy is a full-time animal rescuer and owner of a toy doodle. When he's not saving dogs, Andy is one of our core writers and editors. He has been writing about dogs for over a decade. Andy joined our team because he believes that words are powerful tools that can change a dog's life for the better.
Why Trust We Love Doodles?
At We Love Doodles, we're a team of writers, veterinarians, and puppy trainers that love dogs. Our team of qualified experts researches and provides reliable information on a wide range of dog topics. Our reviews are based on customer feedback, hands-on testing, and in-depth analysis. We are fully transparent and honest to our community of dog owners and future owners.