Charcoal Labs are renowned for their distinctive and captivating nature among Labrador Retrievers. With their innate charm, they effortlessly captivate anyone who sets eyes on them when they enter a room. So, here are some interesting facts about Charcoal Labrador.
Labrador puppies display a delightful array of fur colors; Charcoal Labs' presence is a rarity. While charcoal Labradors exist, their origins trace back deep into the gene pool of the Labrador Retriever breed. Their history, genetics, health, and temperament are enough to pique interest in these adorable pups.
Read on to learn more.
Before reading this list of interesting facts about Charcoal Labrador, check out: Black Labrador Puppies for Sale: Top 10 Breeders! (2023) and Best E-Collar for a Labrador! (2023).
Charcoal Lab
A charcoal Lab refers to a Labrador Retriever with a dilute gene, resulting in a different coat coloration. These Labs exhibit a light shade of black with subtle gray undertones. It is common for people to mistake them for silver Labs, but it's important to note that they are different variations.
Despite the ongoing debate surrounding their genetic makeup, charcoal Labs are purebred dogs. Apart from their coat color, they share many physical features and temperamental traits with standard Labrador Retrievers.
Labrador Retrievers are generally famous for their suitability as family pets and exceptional work ethic. You can expect the same from a charcoal Labrador Retriever, as they exhibit these desirable qualities.
It is worth noting that due to the controversial nature of their dilute genes, charcoal Labs are not considered standard by the American Kennel Club and cannot participate in shows. However, it is still possible to register them as purebred Labrador Retrievers.
Are They Rare?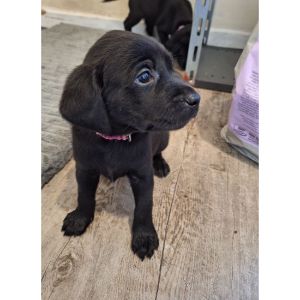 Charcoal Lab puppies are rare due to the intricacies involved in their breeding process. Unlike typical Labrador Retrievers, producing charcoal Labs may take more time and effort to obtain the desired outcome within a litter.
One crucial aspect is that charcoal Labs do not stem from dominant genes. Therefore, you can only expect some breeding processes to yield charcoal Lab puppies. They typically emerge from carrier genes, such as those found in silver Labs.
Nevertheless, it is essential to note that despite their unique coat color, Labrador Retriever charcoal dogs are still purebred. That has led to the possibility of exclusive kennels dedicated to breeding and raising silver and charcoal Labs.
10 Interesting Facts About Charcoal Labs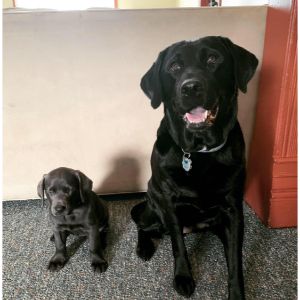 1. They Love Water
If you have ever attempted to give your Labrador a bath, as a Labrador owner, you are likely familiar with this observation. First on our list of facts about the charcoal Labrador is that it possesses remarkable water-repellent qualities, making it ideal for water retrieval.
Their dense double coat serves the dual purpose of providing insulation and actively repelling water. Additionally, Labradors have webbed feet and muscular tails, which aid them in maneuvering effectively in aquatic environments. These adaptations contribute to the Labrador's innate proficiency in navigating and enjoying water-based activities.
2. Their Name Is Misleading
Labradors are deeply rooted in Canada, with Newfoundland being their specific region. While there is a region in Canada called Labrador, it is essential to note that Labrador Retrievers were initially in Newfoundland, a separate but neighboring area.
Although both regions are part of the same province, they are geographically distinct. Newfoundland is an island off the eastern coast of Canada, while Labrador is on the mainland.
Furthermore, the development and refinement of the Labrador Retriever breed took another significant step when it got registered in England. That adds yet another location to the breed's history and evolution.
The breed's journey from Newfoundland to England was pivotal in establishing the Labrador Retriever as the beloved and recognizable breed we know today.
3. Some Labradors Have Long Hair
The breed standard for Labrador Retrievers typically includes the familiar water-repellent double coat that most of us love. This coat results from dominant genes and careful breeding, which ensures that most Labradors possess this type of hair coat.
However, not all Labradors conform to this standard. Some Labradors carry a recessive gene that leads to a longer, fluffier coat. For a puppy to be born with long hair, it requires both copies of this recessive gene.
If both parents carry the recessive gene, there is a good chance that at least some puppies in a Labrador litter will have long hair. It's important to note that these puppies are still purebred Labradors but are not eligible to participate in dog shows.
4. Labradors Almost Went Extinct
It may be hard to believe, considering the enduring popularity of Labradors in America today, but in the 19th century, the breed faced the brink of extinction. During the 1880s, the Newfoundland government imposed restrictions on dog ownership, permitting only one dog per family.
Adding to the challenge, the government implemented taxes on dogs, with higher rates charged on female dogs. As a result, many families had to part with their female Labradors, leading to a significant decline in birth rates.
Fortunately, Labradors had already made their way to England by then and were gaining recognition and popularity. This fortunate circumstance stabilized their numbers and ensured the breed's survival.
It's remarkable to consider that Labradors, now cherished companions and working dogs worldwide, narrowly avoided extinction during that period.
5. Labradors Come in Three Official Colors
According to the standards set by the American Kennel Club, Labradors have three primary colors: black, yellow, and chocolate. Yellow Labs exhibit a range of shades, including variations from red to light cream. This spectrum of shades has led some to refer to red Labs as a different color.
Additionally, you may have encountered the term "silver Labs" which has recently gained popularity. Technically, silver Labs classify as chocolate Labs, but they possess a recessive gene that dilutes their natural brown color, resulting in shades of gray.
It is important to note that while Silver Labs cannot participate in dog shows, breeders continue to produce them to meet the high demand for this unique color variation.
6. All Three Colors Can Appear in One Litter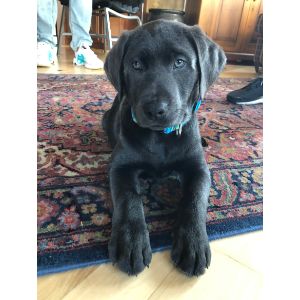 A combination of dominant and recessive genes influences labrador coat colors. The "B" genes determine black and brown color variations, while the "E" genes are responsible for yellow coats.
When Labrador puppies are born, they inherit a combination of these genes from both parents, and their coat color is based on how these genes pair up.
With nine possible combinations, predicting the exact coat colors in a litter can be challenging unless genetic testing is done on the parents in advance. Genetic testing can provide valuable insights into the potential coat colors that may arise in Labrador puppies.
7. The First Labradors Were Registered in England
Following the initial introduction of Labrador ancestors to England during the 1800s, dedicated breed enthusiasts refined and solidified the characteristics of these resilient hunting dogs.
Notably, two British noblemen, the third Earl of Malmesbury and the sixth Duke of Buccleuch, contributed significantly to developing the modern Labrador Retriever breed. Along with other breed enthusiasts, their efforts led to the establishment of an official breed standard.
The first official registration of a Labrador Retriever took place in 1903, marking an important milestone in the breed's recognition and documentation. Subsequently, work continued to establish and refine different coat colors within the species.
It was during the 1930s that chocolate Labradors began gaining prominence, gradually solidifying their place alongside black and yellow Labradors.
Through the dedication and efforts of breeders and enthusiasts over the years, Labradors have evolved into the beloved and diverse breed we know today with their distinctive coat colors and versatile abilities.
8. Labradors Were Originally Fishing Dogs
While Labrador Retrievers are widely famous for their exceptional waterfowl retrieving abilities, their original purpose differed slightly from what is commonly associated with them today. The earliest Labradors existed to assist Canadian fishermen rather than hunters.
Their primary role was to work alongside fishermen, aiding in retrieving fishing nets from the water by dragging them back to the boats. They also displayed their agility by chasing after and retrieving fish that escaped the traps.
The potential of Labrador Retrievers extended beyond their water-based skills, and English dog enthusiasts identified the versatile retrieving abilities they could use on both land and water.
Recognizing their capabilities, they broadened the operating range of Labradors, allowing them to excel in various tasks beyond assisting fishermen. This expansion further highlighted the Labrador's prowess in retrieving, whether in aquatic environments or on land, ultimately establishing their reputation as highly skilled and adaptable working dogs.
9. Labradors Are the Most Popular Breed In America
Labrador Retrievers were official in America in 1917. They quickly gained popularity among American hunters due to their unique combination of water and land abilities, which incorporated the desirable traits of two widely utilized hunting breeds: Springer Spaniels and Chesapeake Bay Retrievers.
Initially, there were only a limited number of Labradors in America. However, their recognition and exposure significantly boosted in the late 1920s when the American Kennel Club featured them in a magazine profile. This spotlight helped to generate increased interest and awareness of the breed.
Labradors steadily rose in popularity over the years and achieved a significant milestone in 1991 when they topped the AKC's breed rankings for the first time. Since then, they have consistently remained among the most popular dog breeds in the United States.
Even after three decades, Labs remain beloved and sought-after companions and working dogs, reflecting their enduring appeal and versatile capabilities.
10. The Oldest Known Labrador Lived to be 27 Years Old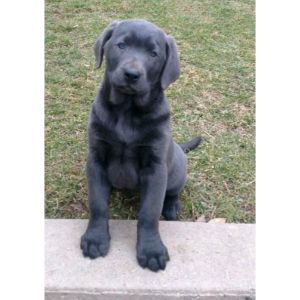 The average life expectancy of a charcoal Labrador is typically around 10 to 12 years. However, there have been exceptional cases where Labradors have lived much longer, surpassing the average lifespan.
One remarkable example is a black Labrador named Adjutant, born in England in 1936, who lived for an impressive 27 years. Adjutant's longevity placed him among the top 10 oldest dogs ever recorded.
Another notable Labrador is Bella, who is the most aged Labrador. Bella reportedly lived to be 29 years old. However, it's important to note that Bella was technically a Labrador mix and was adopted as an adult, which introduces some uncertainty about her exact age.
Nonetheless, Bella lived with the same family for an incredible 26 years, making her one of the longest-lived dogs on record.
These exceptional cases of Labradors living well beyond the average lifespan serve as a testament to the individual genetic makeup, environment, and care provided to these remarkable dogs. While such cases are relatively rare, they highlight the potential for Labradors to enjoy long and fulfilling lives with proper care and attention.
Frequently Asked Questions
What is a charcoal Labrador?
A charcoal Labrador refers to a Labrador Retriever that carries a dilute gene, resulting in a distinct coat color. Charcoal Labs have a unique appearance, with a light shade of black that often exhibits hints of gray. While they may resemble silver Labs, they are different in coat color.

Charcoal Labs are still considered purebred Labrador Retrievers, but they are not recognized as standard by the American Kennel Club and cannot participate in shows. However, they can still register as purebred Labradors.
What is the difference between a silver Lab and a charcoal Lab?
The main difference between silver and charcoal Labs is their coat color. While both are Labrador Retrievers, the silver Lab possesses a coat color that appears as shades of gray. This gray color results from a dilution gene that affects the natural brown color of chocolate Labs.

On the other hand, a charcoal Lab has a coat that is a light shade of black with hints of gray. They may appear similar to silver Labs, but the base color distinguishes them. Charcoal Labs have a black base color with diluted gray tones, whereas silver Labs have a diluted brown base color resulting in shades of gray.

It is important to note that while silver Labs are not recognized as a separate color by breed standards, they can still register as chocolate Labs. Although not accepted in shows by the AKC, Charcoal Labs can also register as purebred Labradors.
What is the rarest Labrador color?
The rarest Labrador color is the "Fox Red" or "Red" Labrador. This color variation ranges from a rich, vibrant red to a darker shade of yellow. At the same time, yellow is one of the three recognized colors for Labradors, the specific shade known as Fox Red is less common and therefore considered rarer.

It is important to note that rarity can vary depending on geographic location and breeding practices. Additionally, preference for specific colors may contribute to the perception of rarity. However, Fox Red Labradors are relatively less common than the typical black, yellow, and chocolate Labradors.
What is a Grey Labrador called?
A Labrador with a coat color that appears as shades of gray is a "Silver Labrador." The term "Silver" is used to describe the diluted gray coloration of the coat. However, it's worth noting that the word "Silver" is not officially recognized as a separate color by breed standards. According to the American Kennel Club, Labradors should be black, yellow, or chocolate.

Nevertheless, the term "Silver Labrador" is commonly used to describe Labradors with a grayish coat, resulting from the expression of a dilution gene affecting the brown color of chocolate Labradors.
How many types of Labrador are there?
According to breed standards, Labrador Retrievers have three recognized colors: black, yellow, and chocolate. These three colors represent the primary variations within the Labrador breed.

However, it's important to note that there can be variations within these colors, such as different shades of yellow (ranging from light cream to deep red) and various shades of chocolate (ranging from light to dark). These variations in shade are within the standard for each respective color.

In addition to coat color, Labradors can also have variations in physical traits, such as differences in size or conformation. However, these variations do not constitute distinct types of Labradors but individual differences within the breed.
Conclusion for "Interesting Facts About the Charcoal Labrador"
Labrador Retrievers are a versatile and beloved breed known for intelligence, loyalty, and retrieving abilities. While the breed's standard colors are black, yellow, and chocolate, variations in shade can occur.
Labradors can range from black Labs to a spectrum of yellow hues, including the striking Fox Red and chocolate Labs in different tones. Additionally, Labradors with diluted gray coats are famous as Silver Labradors, although breed standards do not officially recognize this term.
While the Labrador breed has experienced various developments throughout its history, including the refinement of breed standards and the recognition of different coat colors, its core qualities and characteristics remain consistent. Labradors are popular family pets, working dogs, and loyal companions.
Whether it's a classic black Lab, a vibrant yellow Lab, a rich chocolate Lab, or a captivating Silver Lab, the bond between humans and Labradors remains strong.
Their enduring popularity and diverse range of coat colors serve as a testament to their remarkable adaptability, intelligence, and unwavering companionship. Labradors truly exemplify the epitome of a beloved and cherished canine companion.
If you liked this list of interesting facts about the Charcoal Labrador, check out:
Learn more by watching "Charcoal Labrador Retriever – Is it Right for Your Family?" down below:
Garrett loves animals and is a huge advocate for all Doodle dog breeds. He owns his own Goldendoodle named Kona. In addition, he volunteers at the Humane Society of Silicon Valley, where he fosters dogs and helps animals. Garrett enjoys writing about Doodles and believes that dogs can teach humans more about how to live than humans can teach a dog.
Why Trust We Love Doodles?
At We Love Doodles, we're a team of writers, veterinarians, and puppy trainers that love dogs. Our team of qualified experts researches and provides reliable information on a wide range of dog topics. Our reviews are based on customer feedback, hands-on testing, and in-depth analysis. We are fully transparent and honest to our community of dog owners and future owners.