Explore delightful lick-mat recipes for dogs! These entertaining and mentally stimulating mats offer a fun-filled way to reward your beloved fur babies and engage them with treats. So, here are a few easy DIY dog lick mats you can whip up at home.
You can use a range of fruits, veggies, meat, and dog food to make a delicious lick mat for your precious dog. However, be mindful of the toppings you choose. Some options are healthier than others. Reading labels and considering your dog's dietary restrictions or allergies is essential.
Below, we'll cover the many types of dog-safe treats that work well with lick mats.
Before reading this guide, "Easy DIY Dog Lick Mats," check out: 7 DIY Dog Pool Ideas for Your Backyard! (2023) and How to Build a DIY Dog Grooming Table! (2023).
Easy Do-It-Yourself Lick Mat Options
Unlock a world of creative possibilities for DIY dog lick mats by combining any of the following ingredients and toppings. The options are endless, ensuring your dog never gets bored.
Dog Food
Enhance your dog's mealtime experience with a lick mat, which not only slows down eating but also promotes foraging behavior and mental stimulation.
By incorporating your dog's regular food on the mat, you ensure they receive a balanced combination of essential nutrients like proteins, carbohydrates, fats, vitamins, and minerals, which are vital for their overall health.
To create this enjoyable and interactive feeding method, spread your dog's regular meals across the mat and also drizzle some sodium-free bone broth.
Once done, freeze the food on the mat, providing your canine companion with their usual caloric intake but in a more engaging manner that keeps them happily occupied for an extended period.
Cottage Cheese
Cottage cheese offers a delectable blend of protein and calcium, supporting dogs' muscle development and bone health. Its creamy texture enhances the appeal of the lick mat, making it an enticing treat.
However, you should exercise caution. Excessive calcium intake can lead to potential issues like kidney stones, constipation, and complications in growing puppies, as their bones may develop too rapidly.
While cottage cheese is generally beneficial for dogs, it's crucial to keep them manageable to avoid any problems related to excessive calcium in their diet.
To treat your dog, scoop small spoonfuls of cottage cheese onto the lick mat, spreading it evenly for them to savor.
Kefir
Transform your lick mat into a delightful frozen treat by drizzling kefir and freezing it. This will create a refreshing experience for your dog and extend their enjoyment as it takes longer to consume.
Kefir, a natural source of probiotics, can aid digestion and promote healthy gut flora for your dog. Consider adding a dog-specific probiotic chew to the mat to boost gut health.
Pour or spread kefir onto the lick mat before freezing, and watch your dog relish the cold, flavorful treat at their own leisurely pace.
Goat's Milk
Similar to kefir, goat's milk boasts natural probiotics and lactase, an enzyme that aids in lactose digestion, rendering it gentler on a dog's stomach compared to regular milk.
This nutritious beverage is abundant in vitamins, minerals, proteins, and healthy fats, offering a well-rounded addition to a dog's diet when given in moderate quantities.
Raw Animal Protein
Opting for a premium and balanced raw or frozen dog food to place on DIY lick mats presents a natural and unprocessed choice with top-notch meat as the primary protein source.
This carefully proportioned raw meat supply offers vital amino acids, essential vitamins (including B vitamins), crucial minerals (like iron and zinc), and beneficial fatty acids that play a vital role in supporting various aspects of your dog's health, such as coat quality and immunity.
To create an enticing feeding experience, cut the raw food into small, bite-sized pieces and scatter them across the lick mat, encouraging your dog to relish each delectable morsel. Alternatively, you can grind the meat into a fine mince and spread it evenly across the mat for their enjoyment.
Raw egg
Incorporating raw eggs into your dog's meal brings diversity and nutritional benefits. Eggs are a valuable source of high-quality protein, essential fatty acids, vital vitamins like vitamins A and D, and minerals like selenium. These nutrients promote healthy skin, coat, and overall well-being.
To introduce this delightful addition, lightly mix or pour raw egg onto the lick mat, granting your dog the novel experience of licking up the eggy goodness.
Pureed Organ Meat
While organ meat, such as liver, is generally good for dogs due to its abundance of vitamins (like A, D, and B12), minerals (such as iron and copper), and other essential compounds that aid in energy metabolism and immune health, you'll need to be cautious.
Excessive consumption of organic meat can lead to the buildup of certain nutrients, particularly vitamins A and D, in the liver, potentially causing toxicosis. To safely introduce organ meat, add a teaspoon of the liver to your dog's lick mat, which will undoubtedly excite them. Just be mindful not to overdo it.
Peanut Butter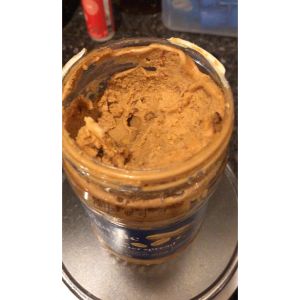 Peanut butter is a delightful choice for DIY dog lick mats due to its taste and texture. However, it's important to make sure the peanut butter does not contain xylitol, an artificial sweetener toxic to dogs.
To keep your dog safe, opt for a peanut butter brand explicitly labeled dog-safe or one that contains only peanuts as an ingredient. This way, you can provide your canine companion with a delicious and worry-free peanut butter experience.
Greek Yogurt
Plain, unsweetened yogurt can offer a creamy and delightful treat for dogs with the added benefit of probiotics that promote digestive health.
Probiotics play a role in maintaining a healthy balance of gut bacteria and supporting a robust immune system. When choosing yogurt for your dog, avoid added sugars, sweeteners, and artificial flavors.
While Greek yogurt can be an excellent choice for DIY dog lick mats, it's important to note that yogurt alone may not provide sufficient probiotics for dogs. The main strains in yogurt often do not survive the acidity of a dog's gut, rendering them less effective.
To ensure optimal intestinal health, consider giving your dog probiotics formulated for them. This way, you can provide the best probiotic support tailored to their needs.
Pumpkin Puree
A delectable and nutritious choice for a lick mat, plain canned pumpkin puree is rich in fiber and essential nutrients. When selecting pumpkin puree, choose the simple variety without adding spices, sugars, or preservatives. This way, you can treat your dog to a delicious snack while ensuring their health.
Mashed Bananas
Dogs find mashed bananas irresistible, thanks to their naturally sweet taste and soft texture. These delightful fruits are not only tasty but also serve as a great source of potassium, which supports proper muscle and nerve function in dogs.
To treat your dog, just mash the bananas and spread them on the lick mat.
Broth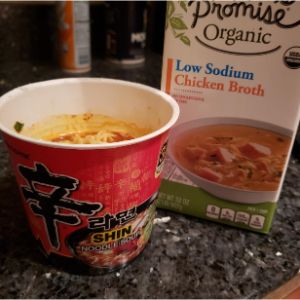 To amplify the appeal of a lick mat, consider adding a small amount of low-sodium chicken or beef broth. This flavorful addition will entice your dog even more, as the broth enhances the taste and provides a savory twist.
It adds excitement to their meal, and the broth also offers hydration, making it an all-around delightful and refreshing experience for your canine companion.
Applesauce
Unsweetened applesauce is a delectable lick-mat treat for dogs, who may relish its natural sweetness. This wholesome option offers dietary fiber, vitamins, and essential minerals.
However, when buying applesauce for DIY dog lick mats, avoid brands with added sugars, sweeteners, or artificial additives.
Sweet Potato Puree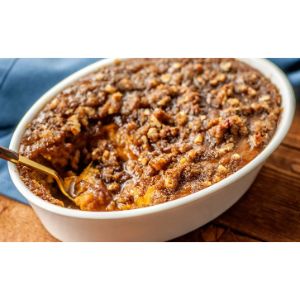 Nutritious and flavorful, cooked and mashed sweet potatoes make an excellent option for your dog. Packed with essential vitamins A, C, and B6 and beneficial minerals like potassium, these delightful tubers offer a healthy boost to a dog's diet.
Moreover, sweet potatoes are a fantastic source of dietary fiber, supporting digestion and contributing to a thriving gut.
Blueberry Puree
Blueberries can bring antioxidants and natural sweetness into your dog's diet. These delectable berries are delicious and low in calories, making them a guilt-free treat for a dog lick mat.
Blueberries offer a wholesome and nutritious addition to your canine companion's diet, packed with essential nutrients like vitamin C, vitamin K, and dietary fiber.
Watermelon
Treat your dog to a refreshing delight with small, bite-sized, seedless watermelon cubes. This hydrating treat will quench their thirst and provide essential vitamins and minerals.
Watermelon can effectively keep your canine companion hydrated with its high water content. Before serving it on a lick mat, remove the seeds and rind, ensuring a safe experience for your dog.
Spinach Puree
Incorporating blended spinach into a lick-mat treat brings valuable benefits for your dog. Spinach boasts a range of vitamins, minerals, and antioxidants contributing to their overall well-being.
Rich in vitamin A, vitamin C, vitamin K, and folate, this leafy green packs a punch. Moreover, spinach is a good source of minerals like iron and calcium, enhancing its nutritional value for your dog.
Benefits of Lick Mats
Reduces Stress
Licking is a natural calming behavior in dogs, effectively reducing anxiety and stress. Likewise, a lick mat can offer a soothing and relaxing activity. Scientific studies reveal that licking triggers the release of endorphins in dogs, contributing to their overall sense of calmness.
However, excessive licking, such as constant paw licking, can occur when dogs seek to access these feel-good hormones. A lick mat is a valuable tool, especially for puppies, providing a positive and healthy outlet for them to enjoy the benefits of licking.
Mental Stimulation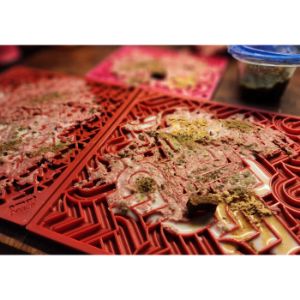 Lick mats offer dogs valuable mental stimulation as they eagerly use their sense of taste and smell to lick off treats or food from the textured surface.
Additionally, lick mats can reduce the likelihood of problematic behaviors that might otherwise drive you crazy, leaving you pondering questions like "Do dogs ever get tired of barking?" Providing mental challenges through lick mats can help keep your dog content and mentally fulfilled.
Distraction
A lick mat proves to be a valuable tool, providing dogs with a beneficial distraction and entertainment. Keeping them occupied and engaged effectively caters to their mental stimulation and happiness.
Hydration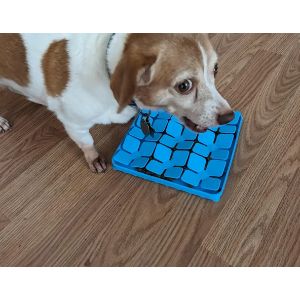 Certain lick mats can hold liquids, like broth or water, offering a beneficial solution for dogs that require encouragement to drink more water. This innovative feature helps make sure your dog stays hydrated and can enjoy their liquids in a fun and interactive manner, promoting their overall well-being.
Frequently Asked Questions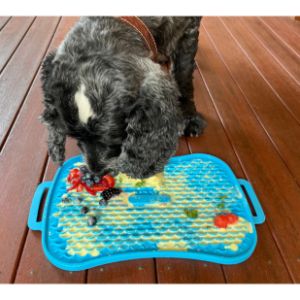 Can you make your dog a lick mat?
Yes, you can. DIY dog lick mats are a great way to keep your dog entertained and mentally stimulated. A lick mat can also help provide enrichment and distraction during grooming, bath time, or when you need to keep your dog busy for a little while.
What can I use instead of a lick mat for dogs?
If you don't have a lick mat or prefer not to use one, there are several alternative ways to provide your dog with similar enrichment and mental stimulation. Here are some ideas:

Kong Toy
Kong toys are popular interactive treat-dispensing toys in various sizes and shapes. You can stuff them with dog-friendly treats or peanut butter or freeze a mixture of wet dog food and kibble. Dogs will work to extract the goodies, keeping them engaged and entertained.

Puzzle Toys
Various puzzle toys are designed to challenge your dog's problem-solving skills. Hidden compartments or mechanisms require your dog to figure out how to get to the treats inside. Some puzzle toys are simple, while others are more complex and can provide hours of entertainment.

DIY Treat Dispensers
You can create your treat dispensers using household items like plastic bottles, cardboard boxes, or muffin tins. Fill these containers with treats and then your dog must figure out how to get to the goodies inside.

Scatter Feeding
Instead of using a bowl for regular meals, scatter your dog's kibble or treats around the house or in the yard. That mimics the natural scavenging behavior of dogs and encourages mental stimulation as they search for their food.

Snuffle Mats
Snuffle mats have a fuzzy texture that allows you to hide treats or kibble within the fibers. Dogs must use their nose and brain to forage for the hidden goodies.

Food-Dispensing Balls
Food-dispensing balls or toys are stimulating devices with adjustable openings that you can fill with treats or kibble. As your dog plays with the ball, the treats fall out in small amounts, providing entertainment and rewarding play.

Frozen Treats
Make frozen treats by mixing dog-safe ingredients like yogurt, fruit, and peanut butter, then freezing them in ice cube trays or silicone molds. You can give these treats to your dog on hot days or when you need to keep them occupied.
How do you make a dog licky mat?
Making a DIY dog licky mat is a simple and fun project. It's a great way to give your dog mental stimulation and a tasty treat. Here's a step-by-step guide to creating a dog licky mat:

Materials you'll need:

A food-grade silicone mat or a plastic placemat with a textured surface (ensure it doesn't have small detachable parts).

Dog-friendly spreadable treats like peanut butter (unsalted and without xylitol), wet dog food, or pureed fruits or vegetables.

Dog kibble or other small treats.

Instructions:

Clean the silicone mat or placemat thoroughly to ensure it's contaminant-free.

Choose a dog-friendly spreadable treat as the base. Peanut butter is famous, but you can use wet dog food or pureed fruits or vegetables. Ensure the ingredients are safe for dogs and do not contain any harmful additives.

Spread a thin layer of the chosen treat on the textured surface of the mat. You can use a spoon or a silicone spatula to spread it evenly.

If you're using peanut butter or a thicker treat, you can also whisk it with water or low-sodium broth to make it easier to spread.

Once you have the base layer, add some extra goodies to make it more interesting for your dog. Insert dog kibble or small dog treats into the spreadable treat. You can also sprinkle some treats on top.

You can use a different spreadable treat for certain mat sections to get creative — for example, peanut butter on one side and wet dog food on the other.

Allow the treat-filled mat to freeze for a few hours. Freezing the mixture will make it more challenging and longer-lasting for your dog.

Once frozen, you can give the licky mat to your dog, and they'll enjoy licking and exploring the textured surface to find the hidden treats.

Safety Tips:

Constantly monitor your dog using the licky mat to ensure they don't ingest any non-edible parts or overconsume treats.

Use dog-safe ingredients and also avoid anything toxic or harmful to dogs.

Choose appropriate treats and spreads if your dog has any food allergies or sensitivities.
How often should dogs get lick mats?
Lick mats can be an excellent tool for providing mental stimulation and enjoyment to your dog, but like any treat or enrichment activity, moderation is key. The frequency you offer your dog a lick mat depends on various factors, including age, size, dietary needs, and overall health.

Here are some general guidelines to consider:

Treat Frequency
Lick mats are treats, so you should include them in your dog's daily treat allowance. Too many treats, regardless of the form, can contribute to weight gain and potential health issues.

Balanced Diet
Ensure that the lick-mat treats are part of a balanced diet. If you're using high-calorie spreads like peanut butter, be mindful of the portion size and consider reducing the amount of regular food or other treats to compensate for these extra calories.

Dental Health
Lick mats can benefit dental health, as licking can help somewhat clean the tongue and teeth. However, they should not replace regular dental care, such as brushing your dog's teeth or providing dental treats.

Digestive Sensitivity
If your dog has a sensitive stomach, be cautious about introducing new treats or spreads. Monitor their response to the lick mat treats and discontinue use if you notice any adverse effects.

Avoid Overuse
While lick mats can be a fun and beneficial enrichment activity, using them too frequently might reduce their novelty and effectiveness. Rotating with other enrichment activities, toys, and puzzle games will keep things exciting for your dog.

Giving your dog a lick mat a few times a week is a reasonable frequency. You can also use it as a special treat during specific occasions, like when you need to distract your dog during grooming sessions or when visitors come over.
Conclusion for "Easy DIY Dog Lick Mats

"
Lick mat recipes for dogs offer a beautiful way to engage and reward our beloved fur babies. However, it's crucial to be mindful of our toppings, ensuring they are healthy and safe for our canine companions.
By reading labels and considering our dog's dietary restrictions and allergies, we can create a fun-filled and mentally stimulating experience for them.
Snuffle mats with dry food can also provide an exciting mealtime experience if we're looking for other interactive options. Lastly, don't forget that moderation is essential. Providing various enrichment activities will keep our dogs happy, mentally stimulated, and healthy.
If you find this guide, "Easy DIY Dog Lick Mats" helpful, check out:
Learn more by watching "3 Easy Lickimat Recipes: Dog Enrichment Idea" down below:
Garrett loves animals and is a huge advocate for all Doodle dog breeds. He owns his own Goldendoodle named Kona. In addition, he volunteers at the Humane Society of Silicon Valley, where he fosters dogs and helps animals. Garrett enjoys writing about Doodles and believes that dogs can teach humans more about how to live than humans can teach a dog.
Why Trust We Love Doodles?
At We Love Doodles, we're a team of writers, veterinarians, and puppy trainers that love dogs. Our team of qualified experts researches and provides reliable information on a wide range of dog topics. Our reviews are based on customer feedback, hands-on testing, and in-depth analysis. We are fully transparent and honest to our community of dog owners and future owners.