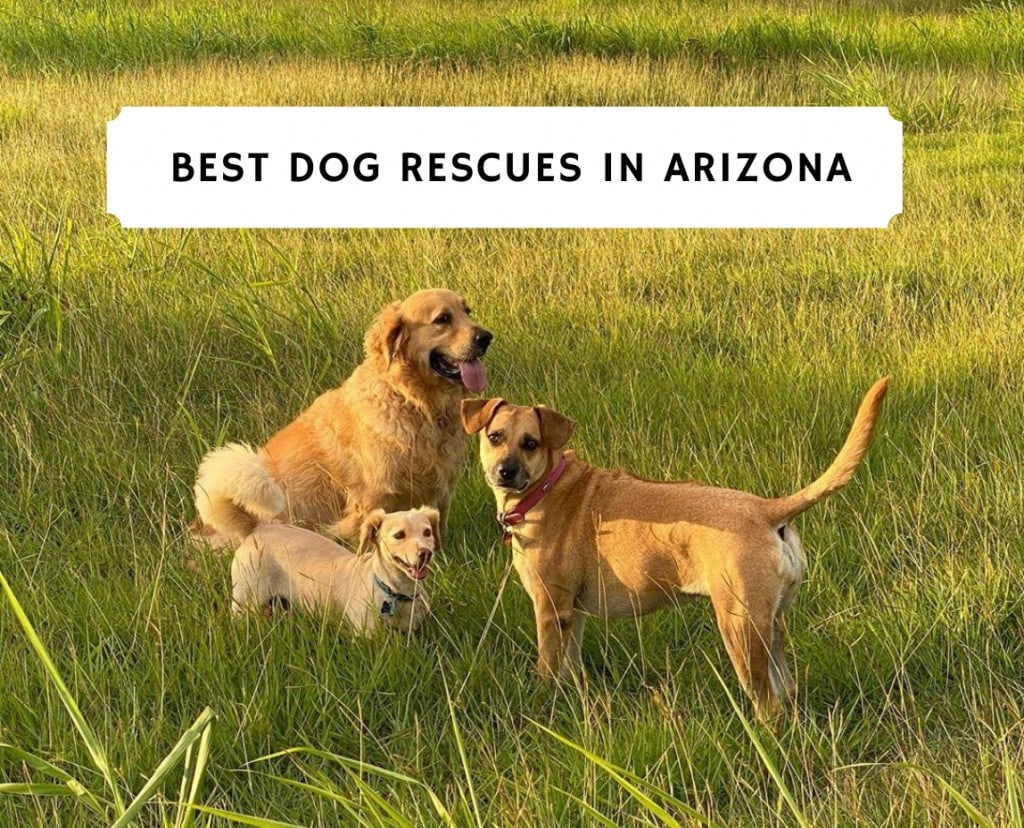 From hiking buddies to soft and snuggly dogs, dog rescues in Arizona have the dogs to fit your lifestyle and family's needs. Each of these dogs is in search of care, love, and cheerful homes to start a new chapter in their lives. By rescuing or adopting a dog, you are also preventing euthanasia as well as making room for new dogs to be rescued.
If you're ready for a thrilling adventure with your new dog in Arizona, stay tuned. We have a list of the top 10 best dog rescues in Arizona that you can get in touch with, adopt from, volunteer in, or become a foster parent.
1. Underdog Rescue in Arizona
Underdog Rescue in Arizona is in the business of belly rubs and wiggly walks in Chandler, Arizona. They connect dog lovers like you with a new best friend for a new life chapter. They rescue, rehabilitate, and rehome dogs of all sizes, ages, and breed.
They mainly focus on the East Valley cities of Tempe, Scottsdale, Mesa, Chandler, and Gilbert in Arizona, but if you're close by I'm sure they would help you out.
Adoption starts with an application on their website and after review, a scheduled meet and greet. After the meet and greet, they allow the adopter to have a 2-week foster period with the dog before the contract signing and pet's fee.
The foster period is amazing because you get time to get a feel of the dog's personality, behavior, habits and the level of adjustment both of you need to make it work. If it's a match, you can expect to pay a standard adoption fee of $200 for adult dogs and $250 for puppies.
The adoption fee includes spay/neutering, micro-chipping, and up-to-date vaccinations. In cases of designer dogs, purebreds, toy type breeds, and puppies younger than 6 months, the fees may be higher.
Underdog Rescue of Arizona usually has discounted fees for senior dogs, adoption pairs, and pets with medical conditions. This is reputable dog rescue in Arizona and they will help you find the perfect adoption dog.
Dog Rescue and Adoption Details:
Address: Chandler, Arizona
Website: www.underdogaz.com
Telephone: 480-553-9311
Email: info@underdogaz.com
2. Friends for Life Animals Rescue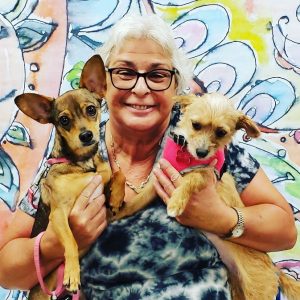 Friends for Life is one of the most vocal rescues for homeless animals in Arizona. For the past 25 years, they have re-homed over 10,000 furry friends. They have 3 buildings in downtown Gilbert where all the rescued stray and homeless animals call home until they find a lifetime home.
They don't reveal their adoption fees on their website, but they make a lifetime commitment to all their animals, adopted or not. If the adopter cannot take care of the dog, they must return the dog to Friends for Life. This is a fabulous dog rescue in Arizona that is dedicated to adopting out all kinds of dogs.
Dog Rescue and Adoption Details:
Address: 952 W. Melody Ave., Gilbert AZ 85233
Website: https://azfriends.org
Telephone: 480-497-8296
Email: info@azfriends.org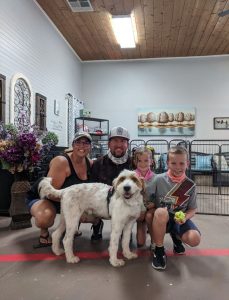 Ghost Town Rescue is an all-breed, foster-based rescue. They are dedicated to rescuing neglected, abused, or abandoned dogs from high-kill shelters across the US and re-homing them in loving homes.
All of their dogs are spayed/neutered, crate trained, piddle pad, housebroken, leashed trained and of course, checked by a veterinarian.
Adoption fees vary according to the dog's age. Senior dogs who are 7 years and over start at $300, dogs between 6 months and 7 years are $350 to $500, and puppies under 6 months are $350 – $500.
Dog Rescue and Adoption Details:
4. Foothills Animal Rescue in Arizona
Foothills Animal Rescue began in Cave Creek in 1995 as a foster-based organization committed to saving dogs and cats from homelessness. They place all their dogs and cats at BrynnSmith Memorial Campus Adoption Center.
Brynn Smith Memorial Campus is named after a remarkable young woman, Brynn Smith, whose love for animals prompted her to use her voice to represent countless animals. Her legacy lives on through this haven.
The facility is a refuge for forsaken dogs and cats looking for a new lease on life. In addition to the Brynn Smith Memorial Campus, Foothills Animal Rescue also has 2 boutiques in Scottsdale and Carefree. Adoption fees range from $125 to $250 dependent on the dog's age.
Dog Rescue and Adoption Details
Addresses:
Brynn Smith Memorial Campus- 10197 E. Bell Rd., Scottsdale, AZ 85260
Foothills Animal Resale Boutique – 2030 N Pima Rd., Scottsdale 85255
Foothills Animal Resale Boutique Carefree – 7202 E Ho Rd., Suite C, Carefree, AZ 85377
Telephone Numbers:
Brynn Smith Memorial Campus- 480-488-9890
Foothills Animal Resale Boutique Carefree – 480-585-5777
Website: https://foothillsanimal.org
Email: support@foothillsanimal.org
5. Halo Animal Rescue in Arizona
Halo Animal Rescue is in Sunny Phoenix, Arizona. They are a safety net for homeless cats and dogs. They are a no-kill rescue which means they don't euthanize any animal because of lack of room.
They work with other welfare agencies to create strategies that use available resources to save as many animal lives as possible. Their adoption fees range from waived to $605 and include spay/neuter, rabies vaccination, deworming, microchip with registration, distemper/parvo, and HALO ID tag.
Dog Rescue and Adoption Details:
Address: 3227 E. Bell Rd., D151, Phoenix, AZ 85032
Website: www.halorescue.org
Telephone: 602-971-9222
Email: info@halorescue.org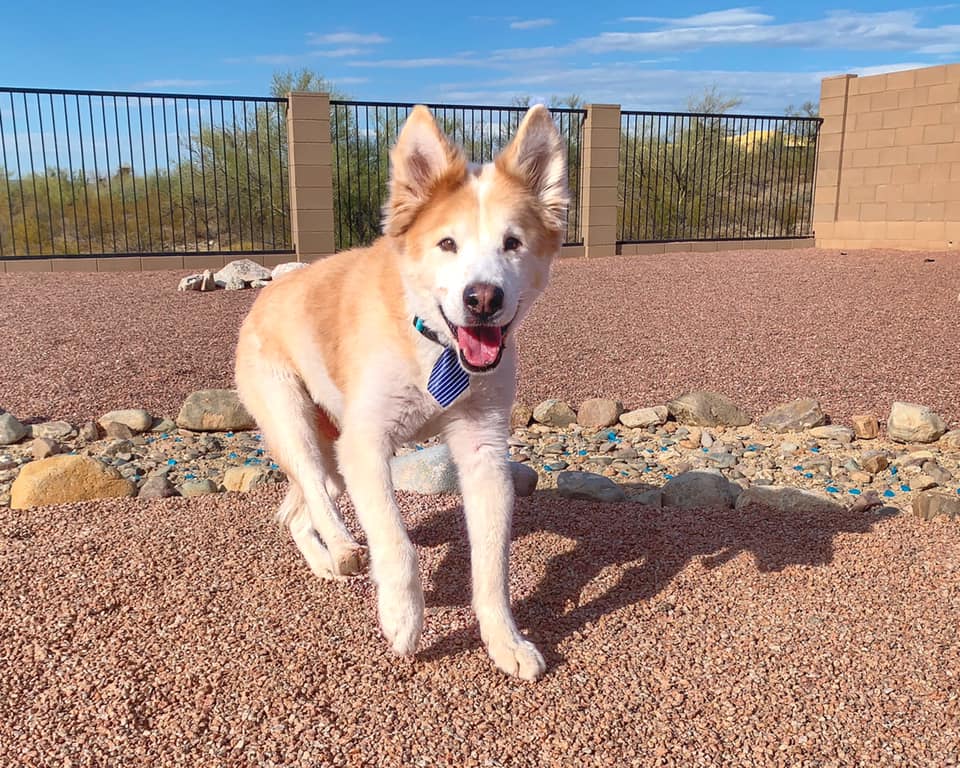 Arizona Small Dog Rescue in Arizona is a no-kill rescue shelter based in Phoenix, Arizona. They are a volunteer group that rescues and saves homeless, unwanted, abused, and neglected dogs.
Most of their animals come from Maricopa County Animal Control and other shelters in the area. They accept animals of all breeds and sizes.
Adoption fees range from $252 to $902. Every week, they have a wide variety of breeds and personalities that would be a great addition to a family.
Dog Rescue and Adoption Details:
Address: 1102 West Hatcher, Phoenix, AZ 85021
Website: https://azsmalldog.org
Telephone: 602-944-2440
Email: info@azsmalldog.org
7. Saving Paws Rescue Arizona
In 2012, a volunteer at Maricopa county's animal control shelter came across the huge volume of German Shepherd Dogs listed for euthanasia. This didn't sit well with her. Trisha Houlihan started Saving Paws Rescue Arizona as a safe harbor for German Shepherds and Belgian Malinois Dogs.
If you're looking for a German Shepherd or a Belgian Malinois, Saving Paws is one of the best organizations to talk to. An application can take up to 5 days to process.
Dog Rescue and Adoption Details:
8. Arizona Humane Society
The Arizona Humane Society is the state's largest animal and protection agency. Since 1957, they have held the belief that every pet deserves an amazing life. In the past 5 years, they have saved over 80,000 lives and become the valley's safety net for vulnerable pets. This dog rescue in Arizona has adopted out the most dogs out of any of the other rescues on our list.
Each pet has a different adoption fee that includes spay/neuter surgery, special adopter discounts, free follow-up veterinary exam, and a 100% adoption guarantee.
Most of their animals are adopted within 1 or 2 weeks of being rescued and rehabilitated.
Dog Rescue and Adoption Details:
Address: 1521 W Dobbins Rd., Phoenix, Arizona
Website: www.azhumane.org
Telephone: 602-997-7585 ext. 3800
9. Better Days Dog Rescue Arizona
Better Days is a non-profit dog rescue based in Scottsdale, Arizona. They promote responsible pet ownership by creating awareness about selection, dog training, and care. Their dogs live in loving foster homes and private boarding facilities.
Their adoptions start with a foster-to-adopt period, of a minimum of several weeks. A professional is usually employed for a dog's introduction to a new home. If all is well during the foster period, the application is finalized. 
Their standard adoption fee starts at $400. For puppies younger than 6 months, the adopter pays the fee after the Foster period. For adult dogs, payment is collected when the adoption is final.
Dog Rescue and Adoption Details:
10. Home Fur Good Dog Rescue in Arizona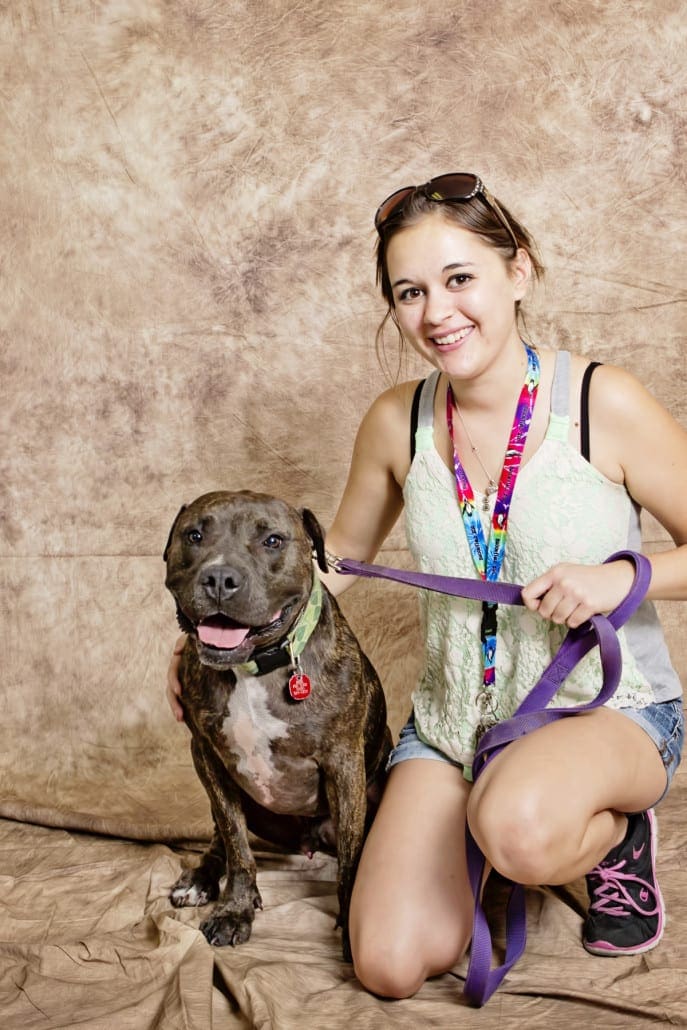 The idea of Home Fur Good Dog Rescue was developed in the summer of 2009 by an animal welfare advocate group. In 2009, they established the rescue and adoption operation. Since then, they have adopted out over 679 dogs and cats. Home Fur Good strives to give each animal in their care a clean and comfy place to sleep, nutritious food, medical care, exercise, and an overdose of TLC.
After the adoption application, they conduct background checks to ascertain that adopters are able to treat the dog with all the care they need. The animals are not reserved and are adopted on a first-come, first-serve.
Adopters must be at least 18 years or older and must meet the animal in person. This is also a great opportunity to see if you feel the same way about the particular dog in person or have an allergy to the dog's dander.
Adoptions are done in the shelter or at one of their numerous adoption events.
Dog Rescue and Adoption Details:
Conclusion for Best Dog Rescue in Arizona
Many people are drawn to specific dog breeds or puppies. Due to this, they assume the best way to get a dog is to breed them while in reality rescuing or adopting is a much better option. As much as dogs are wonderful, they are an overpopulated species in U.S. shelters and dog rescues in Arizona are filling up to the brim. By having a puppy bred for you, a new litter is created which may not be so lucky due to the rise of puppy mills and backyard breeders out for a quick profit.
There are many perfect dogs in shelters and rescues across the country including Arizona. With our list coupled with your own research and list of what you want in a dog, you can find the perfect one in a shelter or a rescue.
Whether you are looking for a puppy, an adult dog, or a senior dog – we guarantee you can find your new best friend or Mr./Mrs. Snuggles in an adoption shelter or rescue in Arizona.
Garrett loves animals and is a huge advocate for all Doodle dog breeds. He owns his own Goldendoodle named Kona. In addition, he volunteers at the Humane Society of Silicon Valley, where he fosters dogs and helps animals. Garrett enjoys writing about Doodles and believes that dogs can teach humans more about how to live than humans can teach a dog.
Why Trust We Love Doodles?
At We Love Doodles, we're a team of writers, veterinarians, and puppy trainers that love dogs. Our team of qualified experts researches and provides reliable information on a wide range of dog topics. Our reviews are based on customer feedback, hands-on testing, and in-depth analysis. We are fully transparent and honest to our community of dog owners and future owners.