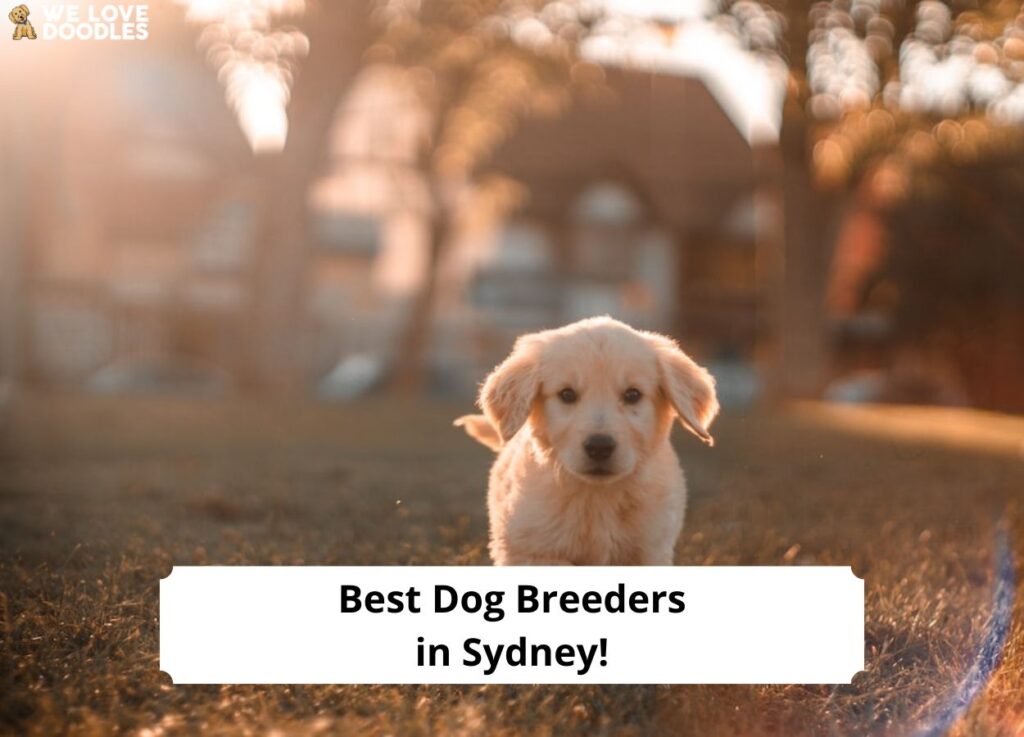 In this guide are some of the best dog breeders in Sydney. We carefully selected them because of their experience in breeding and caring for puppies.
If you want to add a dog to your family, there are many benefits. There are hundreds of dog breeders out there, so you want to ensure you choose one that best suits your family, lifestyle, and unique needs.
After deciding the breed you want, the next step is to find a reliable breeder. Fortunately, there are many dog breeders in Sydney you can get a puppy from. However, not all breeders are the same, and you want to ensure you choose the right one to buy a puppy.
Among the numerous benefits that stem from working with a reputable breeder are health, genetics, socialization, meaningful support, and proper training. These are key components for successfully picking a dog that best fits you and your family.
Before scrolling down this list of dog breeders in Sydney, check out: Bernedoodle Puppies For Sale in Sydney: Top 5 Breeders! (2023) and Goldendoodle Puppies in Sydney: Top 7 Breeders! (2023).
1. Lacote Labradors
Lacote Labradors is one of the oldest and most experienced dog breeders in Sydney. This family-owned program has been breeding and handling Labradors since 1986.
Lacote has built its reputation on breeding quality Labs from fully imported bloodlines, ensuring all customers get the healthiest Labradoodle puppies possible. All the breeding and retired dogs live with them in the home. When choosing the sires and dams for breeding, this family emphasizes type, health, soundness, and temperament.
Lacote Labs source dogs from Australian and international kennels. They always go for the best to ensure they produce the best puppies for families across Australia. In addition to importing international champions, this breeder tests all the Labs for genetic health, hips, and elbow.
A well-bred Lab enjoys many years of happiness, contentedness, and playfulness with its new families. Hence, the breeder does everything possible to ensure every litter yields super-healthy puppies with exceptional traits.
In addition to breeding and raising puppies, this family also runs a boarding facility. They take care of dogs while their owners are away, ensuring they remain comfortable, safe, and happy until they return home.
This family lives with their dogs and puppies in the beautiful Hills District of Sydney. Their dams, studs, and puppies enjoy an energetic and relaxed lifestyle in a reassuringly rural setting. All their puppies are socialized from a young age for a seamless transition to their new homes.
In addition, the puppies are inquisitive, well-adjusted, and friendly to kids, adults, and other dogs. The family does a great job of raising the puppies to be excellent family pets, companions, and service dogs.
The family welcomes all those who want to experience their Labs to book an appointment to meet their breeding dogs and view the facility. They also make short videos showing their dogs and facilities for those who cannot visit.
Lacote Labradors Details:
2. Genuine Canine
Genuine Canine is one of the best dog breeders in Sydney for many reasons. This breeder makes every possible effort to give their customers healthy, happy, and beautiful puppies.
They have won the hearts of many dog lovers because they share a bond with their dogs and have a great understanding of their moods, requirements, and happiness.
Genuine Canine consists of an experienced team of professionals who are avid dog lovers and have in-depth knowledge about different dog breeds. They offer a wide variety of dog breeds to their customers, including:
Beagle
French Bulldog
Golden Retriever
Australian Terrier
German Shepherd
Their puppies enjoy a relaxed and healthy environment while also staying active and fit. Their team of professionals does a great job in caring for the puppies and giving them all the love, care, and attention they deserve. They help build friendly behavior at the beginning to ensure the puppies make an excellent addition to their new families.
They teach customers how to develop a good comfort zone with their puppies. Genuine Canine focuses on complete nourishment — all their puppies and dogs eat premium quality food.
The puppies' health and safety are their topmost priority, and they leave no stone unturned when providing exceptional pet care. Their professionals spend hours with the puppies so they can get proper training and become friendlier.
Genuine Canine also extends its helping hand to help dogs and puppies in need. They provide shelter for stranded, lost pets and help dogs suffering from injury or health issues. Their in-house vet provides professional vet care services for all puppies, dogs, and rescued pets.
They also pay special attention to the puppies' cleanliness with grooming. This team is 100 percent committed to their puppies for life. In addition to providing you with healthy puppies, they will ensure you get all the support and guidance you need to raise the puppy.
Genuine Canine Details:
3. Royoni
Royoni is another highly experienced dog breeder who is passionate about raising healthy puppies for families across Australia. Owned and operated by a reputable family, Royoni has been in the business of breeding Cocker Spaniel puppies since 1950.
They run one of the largest and cleanest kennels in Sydney. You can always rely on them for healthy, happy, and well-socialized Cocker puppies. Their puppies are raised to be show dogs or family companions.
The family has remained loyal to this breed for decades because of their exceptional traits and amazing personalities. In a bid to better this breed, Royoni has owned and imported no less than 15 Cocker Spaniels from the United Kingdom. They have imported studs and dams from Weirdene, Craigleith, and Lindridge kennels.
The family also conducts thorough health examinations before breeding. All the breeding dogs undergo various health and DNA tests to ensure they are free of congenital defects and healthy enough to produce healthy puppies.
You can also visit the breeder to see your puppy's parents and where they are bred and raised. The puppies receive special care and attention before going home. They are given a lot of love, care, affection, and attention. The family also ensures puppies are well-socialized, well-mannered, and semi-trained before going home.
Your new puppy will come with a one-year health guarantee to protect against congenital defects. All puppies also go home with a health certificate and are vaccinated and dewormed. You will also enjoy lifetime support from the breeder, so you can rely on them for guidance in your puppy-raising journey.
Royoni Details:
Location: 205 Eleventh Avenue, Austral 2179, NSW
Phone Number: 041-742-0722
Website: Royoni
4. Sydney Cavoodles
Sydney Cavoodles is an experienced small Cavoodle breeder located in Camden, Sydney. They specialize in Miniature and Toy Cavoodles. Sydney Cavoodles made a debut in the breeding business in 2002 with Toy Poodles before expanding the breeding program to include F1 Cavoodles in 2010.
One thing that makes them special is that they only breed and keep a small number of dogs, so they can focus all their attention. The puppies enjoy a lot of care and love from the family, which helps shape them into excellent family pets.
Their sires and dams are placed in loving guardian homes where they are well-cared for and loved unconditionally. The puppies are weaned daily and socialized with people and other pets. All their puppies go home with the following:
Vaccinated and vaccination card
2 kg of Royal Canin Puppy Food
Microchip paperwork
They also give their customers all the information they need to take care of their new puppies. All puppies also go home with lifetime support, so you will not be alone on your puppy-raising journey.
Health and temperament are the major focus areas of this breeder. All their sires and dams are chosen based on those criteria. The puppies are also heath-tested and vet-checked before going home.
Sydney Cavoodles Details:
5. Crown Oak Puppies
Crown Oak Puppies is a family-owned and operated business with a love for pets. They breed and raise some of the healthiest and happiest puppies in Sydney.
In addition, this family-owned breeding program also helps educate people about responsible pet ownership and how best to care for their pets. If this is your first time buying a puppy, Crown Oak Puppies is the ideal breeder for you, as they will always be there for you and your new puppy.
Crown Oak Puppies operate full-time, so you can rely on them for puppies all year round. If there are puppies available at any time, you can talk to the friendly staff and get information on the expected date of the next litter.
This family ensures all their puppies are vaccinated, wormed, and microchipped before going home. Each puppy is personally checked by a licensed vet and receives daily socialization with people and other puppies.
Crown Oak Puppies specialize in producing three different dog breeds: Spoodles, Moodles, and Cavoodles. They use only health-tested, DNA-tested, and temperament-assessed studs and dams for the program.
They conduct these health tests to ensure that your puppy is 100 percent healthy and free from genetic defects that could affect its life in the long run. The puppies also go home with a health guarantee and lifetime support.
Crown Oak Puppies Details:
Frequently Asked Questions
Is it worth buying a dog from a breeder?
It can be worthwhile to buy a puppy from a reputable breeder who will share details about the dog's genetics, temperament, and size. With a breeder, you'll ideally have more guarantees about your puppy.
What should you avoid saying to a breeder?
It's generally not worth bartering for a better price when choosing a puppy. Expect to share information about yourself, your living situation, and your prior experience. Adopting a puppy from a breeder is not merely a transaction — it's a two-way street.
What is a red flag when buying a dog?
Any time the seller can't provide concrete details about the dog, especially its history and health, you should be wary. Try to press for documentation and health guarantees, if possible.
Conclusion for "Best Dog Breeders in Sydney"
Sydney boasts many amazing dog breeders who are not only licensed and qualified but also passionate about their dogs. We have carefully selected some of the most reputable dog breeders in Sydney to help streamline your decision-making process.
We chose these breeders because of their experience, knowledge about their dogs, genetic tests, selective breeding, and lifetime support. You can contact any of the breeders closer to you to see the puppies and start the adoption process.
Dogs have been an integral part of our lives for centuries. These wonderful creatures occupy a very important spot in our daily lives and act as best friends to many. Dogs show unconditional love, help us gain a sense of responsibility, and are always there when we need them.
For more guides similar to this list of dog breeders in Sydney, check out:
Before you bring home a puppy from a breeder in Sydney, learn more by watching "25 Things You Didn't Know About Dogs" down below:
Garrett loves animals and is a huge advocate for all Doodle dog breeds. He owns his own Goldendoodle named Kona. In addition, he volunteers at the Humane Society of Silicon Valley, where he fosters dogs and helps animals. Garrett enjoys writing about Doodles and believes that dogs can teach humans more about how to live than humans can teach a dog.
Why Trust We Love Doodles?
At We Love Doodles, we're a team of writers, veterinarians, and puppy trainers that love dogs. Our team of qualified experts researches and provides reliable information on a wide range of dog topics. Our reviews are based on customer feedback, hands-on testing, and in-depth analysis. We are fully transparent and honest to our community of dog owners and future owners.