After deciding on the ideal dog breed for you and your family, the next step is to find the right breeder. To help you out, we have reviewed and analyzed the best dog breeders in Alberta.
Bringing a new pet into your home is a huge decision and commitment. As such, you want to ensure you deal with a breeder that will provide you with a puppy that will not give you any issues down the lane.
Regardless of the dog breed you want, ensure you choose a breeder that health tests their breeding dogs before breeding. The last thing you want is to spend your hard-earned money on buying a puppy with health and genetic issues.
We carefully chose these breeders based on their quality of service, experience, and reputation. Whether you are looking for a mixed breed or a purebred, these breeders can meet your needs.
So without further ado, here are some of the top dog breeders in Alberta.
Before scrolling down this list of dog breeders in Alberta, check out: 5 Best Labrador Breeders in Alberta! (2023) and 4 Best Maltipoo Breeders in Alberta! (2023).
1. Big Rock Labradoodles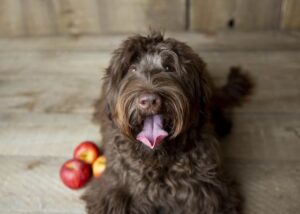 First on our list of dog breeders in Alberta is Big Rock Labradoodles, which has set a new standard. This prestigious program has won the hearts of many Lab lovers with its exceptional Labradoodle puppies. Located in High River, Alberta, Big Rock Labradoodles has puppies and dogs across Canada.
BRL is an integrative approach, a science-based breeder of true multigenerational Australian Labradoodles. This family-owned breeding program does not stop at good — they always aim for the best.
They subscribe to the best breeding practices and the use of atypical puppy-rearing strategies to raise the best Labs for families. The various approaches help the puppies to live longer, happier, and healthier lives than others of the same breed.
Big Rock Labs does not subscribe to early spaying/neutering. They always wait until the puppies are at the appropriate age. With health being their top priority, they ensure that only fully health-tested breeding stocks are added to the program.
They conduct various health and DNA tests to ensure the breeding stock is 100 percent healthy and safe for the process. All their puppies are also health-tested to ensure no genetic health issues are passed down.
All Labradoodle puppies from this breeder are hand-raised in the breeder's home. They are part of the family and treated as such. In a bid to produce the healthiest puppies possible, this breeder uses minimal vaccines on pregnant dams.
One major benefit of buying a puppy from Big Rock is that they offer lifetime support. Continued breeder education is also part of the benefits, as they will continue to teach you everything you need to know about this breed and how best to care for your new family member.
All puppies go home with a three-year health guarantee, which is all the assurance you need to make your final decision. The puppies and dogs enjoy raw whole food diets, as well as exercise and socialization in the breeder's home.
They experience kids, adults, other dogs, and pets. Your new pet will come home potty-trained, crate-trained, and well-behaved. In addition, the family takes pride in matching families to puppies whose energy level and temperament best match their lifestyle.
Big Rock Labradoodles are well-recognized in Canada and a part of many breeding organizations, including WALA and IWDA.
Big Rock Labradoodles Details:
2. MottoPride German Shepherds
Are you looking for the best place to buy large dog breeds like the German Shepherd? Search no more, as MottoPride German Shepherds is one of the most reliable breeders. MottoPride is owned and managed by a family in Stony Plain, Alberta.
The family lives on a small farm with their dogs and puppies. German Shepherds have been their favorite dog breed for decades, and they have been raising these large dogs since 1995.
MottoPride has been a member of the Canadian Kennel Club (CKC) since 1995. This breeder always delivers when it comes to producing healthy and sound puppies. They currently have five German Shepherd dams and three sires in the breeding program, so you can rely on them for puppies year-round.
Their major focus areas are sound minds, strong bodies, loyalty, and size. Other awesome attributes of this breeder's puppies are niceness, quietness, and calm personalities. They make excellent companions and family pets. When raised properly, these puppies will also make exceptional service dogs.
Another amazing thing about the puppies is that they are raised and trained to adjust easily to new environments. Hence, you will not have any issues with getting along with your puppy once it arrives.
MottoPride breeds the German Shepherd breeding females only once a year to ensure they always produce healthy litters. In addition, the sires and dams are tested by the OFA for elbow, hips, joints, heart, and overall health.
They have 80 acres where the puppies and dogs play, roam, and exercise freely. If you are looking for healthy German Shepherd puppies with exceptional traits and temperament, we highly recommend this breeder.
MottoPride German Shepherds Details:
3. Canadian Frenchies
If you are looking to add a French Bulldog to your home in Alberta, Canadian Frenchies is one of the best breeders to consult.
This home-based breeder is located in Calgary, AB, and Barrie, ON, Canada. You can rely on them for quality, healthy, well-socialized French Bulldogs. They started a breeding program because of their love for this exceptional breed.
The family wanted others to enjoy the incredible influence that a hand-raised Frenchie can have in their lives. They directly service buyers in Calgary and other neighboring provinces. Their past customers are from the United States, Costa Rica, and all over Canada.
French Bulldogs are perfect for many homes because of their energy level. They are also easy to maintain and train, which is why they are the favorite breeds of many Bully lovers. As a home-based breeder, Canadian Frenchies breed and raise all of their puppies in their home.
The breeding dogs are also part of the family and live in the house with everyone. Every family member helps with the breeding program, and they all play unique roles in the success of the business.
The breeders at Canadian Frenchies do not treat the breeding program as a business but a hobby. They regularly take the dogs for walks to the park or river. In addition, the puppies from this breeder get along with children, cats, and other dogs.
Proper socialization is a focus, so the family ensures puppies are well-socialized before going home after turning eight weeks. In addition to seeing kids and pets, the family exposes the puppies to various environments, sounds, sights, and the hustle and bustle of everyday family life.
Everything in their puppies' early weeks is about care, socialization, and stimulation. All puppies go home fully vaccinated and dewormed. Your puppy will come home with a two-year health guarantee to protect against congenital defects.
Canadian Frenchies is always there for their customers even after the purchase. If you have any issues raising your puppy, you can always contact them for advice or guidance.
Canadian Frenchies Details:
4. Starstruck Labradors
The breeders at Starstruck Labradors commit to breeding and raising puppies with extremely high health standards. Starstruck's ethically responsible standards won it a place among the top breeders in Canada.
Many third-party vets also recommend this breeder for quality puppies and exceptional breeding practices. Starstruck ensures all their dogs undergo OFA medical testing regularly to produce the healthiest puppies.
Regular health checks help the team maintain the health of their pets and keep congenital defects in check. You can visit the breeder's kennel to see the puppies' parents and where the puppies grow up.
To secure a puppy from a litter, you'll need to pay a $300 deposit. You can only make the payment after filling out the adoption form and being approved. Before being made available for sale, the breeder ensures the puppies are vaccinated, microchipped, and dewormed four times on average.
One of the most impressive things about this breeder is that they offer a five-year genetic health guarantee, one of the most generous in this field. Your purchase will also come with a complimentary trial for pet insurance, so rest assured you will go home with a healthy puppy that will not make you visit the vet weekly.
The team at Starstruck has dedicated innumerable hours to learning and studying the genetic component of breeding. They always look for better ways to improve this breed and reduce inherent genetic weaknesses.
Not all breeders conduct genetic health testing — it costs a lot of money and excludes many dogs from breeding programs. However, this breeder spares no expense in producing the best and healthiest puppies for their customers.
Genetic testing is a crucial component of breeding healthier dogs, and Starstrucks does its best to know the genetic makeup of its dogs.
Starstruck Labradors Details:
5. Oodles of Doodles
Last on our list of the best dog breeders in Alberta is Oodles of Doodles, which raises beautiful, loving Doodles with outstanding traits. If you are looking for smart, healthy, and well-socialized Goldendoodle puppies in Alberta, Oodles of Doodles has got you covered.
They are located near Red Deer but deliver puppies to various provinces in Canada and surrounding countries. Oodles of Doodles treat their parent dogs as family members and companions, not as livestock.
The sires and dams are not in a kennel or cage; they live in the breeder's home and sleep on their beds. Thanks to the preferential treatment, the dogs are always happy and healthy. In addition to being loved and cared for, the dogs eat high-quality food that meets all their nutritional needs.
Health and temperament are important to this breeder, so they conduct extensive health tests before breeding. All the parent dogs are DNA, and health tested to reduce the risk of genetic defects in the puppies.
Oodles of Doodles produces health-tested and well-tempered puppies that will be a great addition to your home. They invest a lot of time and resources in caring for, raising, socializing, and training the puppies.
All the puppies are bred and raised in a clean environment, get vet-checked by a professional vet regularly, and are groomed properly before going home. They are also up-to-date on vaccines and dewormed before joining their new families.
All their puppies go home with a two-year health guarantee to protect against life-threatening genetic diseases. Hence, rest assured you are going home with a puppy that is free of genetic defects and will not leave a hole in your pocket with medical bills.
If this is your first time buying a Goldendoodle, worry not, as this breeder offers lifetime support. You can contact them for help when you encounter a challenge with raising your puppy.
Oodles of Doodles Details:
Frequently Asked Questions
Why is it hard to find a good breeder?
The biggest issue is that there are only so many puppies to go around, and demand is high. It takes a lot of time and energy to responsibly breed dogs, so it's important to remain patient and not rush in.
Are deposits normal for a puppy?
Many breeders require a deposit to secure an upcoming puppy. This helps cement your desire to get a puppy and weeds out potentially flaky customers who might back out at the last minute.
What is the safest way to pay for a puppy?
PayPal and credit cards are preferred, though the latter might not be an option due to fees.
Conclusion for "Best Dog Breeders in Alberta"
When looking for the best dog breeders in Alberta, there are certain questions you should ask. Above all, you should ask how long the breeder has been involved in breeding, how the parents are assessed before breeding, and what health guarantees are offered.
If possible, you should visit the breeder to see the parents and where the puppies are bred and raised. You can contact any of the breeders here that meet your specific needs and work with the dog breed you want.
For more guides similar to this list of dog breeders in Alberta, you can check out:
Before you bring home a dog from a breeder in Alberta, you can learn more by watching "How to Choose the Perfect Dog Breed" down below:
Garrett loves animals and is a huge advocate for all Doodle dog breeds. He owns his own Goldendoodle named Kona. In addition, he volunteers at the Humane Society of Silicon Valley, where he fosters dogs and helps animals. Garrett enjoys writing about Doodles and believes that dogs can teach humans more about how to live than humans can teach a dog.
Why Trust We Love Doodles?
At We Love Doodles, we're a team of writers, veterinarians, and puppy trainers that love dogs. Our team of qualified experts researches and provides reliable information on a wide range of dog topics. Our reviews are based on customer feedback, hands-on testing, and in-depth analysis. We are fully transparent and honest to our community of dog owners and future owners.