There are several common reasons why your dog is bobbing their head around the food bowl.
Your dog might be moving the bowl just because it is seeking a different kind of food, because it would rather eat somewhere else in the house, or because it wants to hide the food. In some cases, it pushes around a bowl with a non-slip bottom.
In order to figure out the reason for your dog's behavior, you may have to do some detective work. We've got advice to help you figure out what's going on with your dog.
Before you scroll down to this topic, "Dog Bobbing Head Around Food Bowl," check out: Can Dogs Look Up? (2023) and Can Dogs Eat Clementines? (2023).
Why Do Dogs Move Their Heads Around the Food Bowl?
With their actions, dogs show their curiosity very clearly. Their smell is strong, and if they catch the scent of something, it can trigger their instincts. When they keep nudging and sniffing their food, you can tell they're curious. By smelling, they seem to be figuring out what's in there.
It is common for dogs to feel the need to protect their food or keep it from other dogs in the house, take out food, or cover it — even if there is only one dog in the house.
Why Is My Dog's Head Bobbing?
A dog's head could bobble up and down or shake from side to side due to idiopathic head tremors. You may not notice the shaking at first because it's subtle and not violent. During an episode, the dog is completely aware of what is happening around him. They may even go unnoticed by some dogs.
Some health conditions, including seizures, are easily confused with idiopathic head tremors. It is important to look for repeated head nodding or shaking as a symptom. No other symptoms should exist.
You should be able to talk to your dog during an episode, as it will be fully alert during the episode. In general, episodes last less than five minutes, but they stop and start at random.
Their frequency varies from dog to dog — it's unpredictable. There can be months without an episode, followed by two in a week. In some cases, dogs have multiple in one day.
Why Is My Dog Nudging Its Food Bowl and Not Eating?
Seeing your dog playing with its bowls is generally harmless. When your dog isn't eating, remove the bowl from its reach when it's not mealtime if you want to curb the behavior.
In some cases, a pet who is too full to eat its meal might try to hide it so it knows it will be there later. In spite of the fact that your dog may not be hungry, it knows what's in its bowl is important.
Essentially, when your dog pushes the food to a hidden corner, it is attempting to conserve it for when it needs it later in life. Since your dog doesn't want to share its sustenance, it stores it away instead.
It's also possible that your dog might be just having a little fun with its bowl as it investigates the area and uses it as a toy. The behavior may even inspire your dog to increase the frequency with which it noses its food bowl if it realizes that it piques your curiosity and makes you pay more attention to him.
Most of the time, this nosey behavior is harmless, but there are exceptions. When dogs are ill, they may be unable to eat or have a reduced appetite. From kidney disease to heartworm and cancer, appetite changes in dogs can indicate a variety of medical conditions.
Take your pet to the veterinarian if it refuses to eat and instead pushes its food bowl with its nose out of the blue. Your veterinarian will tell you if something is wrong or if the behavior is harmless.
Why Is My Dog Acting Weird Around Its Food?
Changes or anything that is unfamiliar to dogs can cause them to react oddly. In the event that your dog is acting weird around its food, it could be something as simple as a new food bowl or the food itself.
If your dog was eating food just fine but then started behaving strangely, consider whether or not you made any changes to the bowl, the food, or anything nearby. If you move the bowl, move it back to the original position and see if the dog behaves differently.
Finally, if there are no changes, and the dog is still not eating, consider making a visit to the veterinarian to find out if there could be a medical reason for the behavior.
The Bowl Scares It
A growing number of dog owners are switching to metal bowls because of concerns over BPA in plastics and allergies. Does your dog seem scared of their new stainless steel bowl? This could be the culprit.
It is not uncommon for dogs to be nervous around metal bowls. It might be possible for you to overcome your dog's fear by watching him and how it reacts to the sound of the bowl or the way it looks at it.
Metal food bowls are known to create metallic noises that can be frightening to some dogs.
If your dog moves its bowl after eating, does it retreat from it? Metal bowls are louder than plastic bowls, and some dogs don't like the fact that they move and make sounds on the floor while they are eating.
Dog Would Prefer to Eat Somewhere Else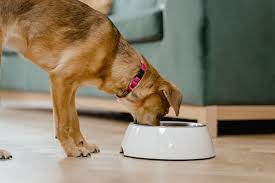 Is your dog more likely to eat directly from the bowl than move the food out of the bowl and onto the ground? This is actually very common. A food bowl is more of a human accessory than one for dogs and probably feels uncomfortable to dogs since they weren't born eating from one.
In the end, why do food bowls exist? Their purpose is to keep homes tidy for humans. It's the owners' decision to have pets eat like humans because it's meant to prevent them from spreading their food all over the floor.
Dogs may not be comfortable with this, and they might grab kibble from a bowl and eat it elsewhere, reverting to their instinct to eat straight off the floor.
It Knows It Can Move the Bowl Around
Have you noticed that the dog seems to move the bowl all the time? It might just be because it likes to play. It may just be moving it to different places because it seems challenging or just to see where it can go. Dog's like to explore and test boundaries and this can be one of the ways they do it.
Whenever food is involved, it can reinforce a certain behavior. The behaviors your dog exhibits before receiving its food are likely to repeat. Your dog relates moving the bowl to food time.
Why Does My Dog Rub Its Nose Around Its Food Bowl?
The most probable cause of your dog rubbing its nose toward food is that it remains true to its ancestral heritage, even when playing or bored. Prior to hunting and eating, wild dogs would kill their prey and bury the leftovers for later consumption. Your dog is acting like its kibble is live prey, and once it is satisfied, it hides what is left. It rubs its nose as part of that routine.
Why Does My Dog Headbutt Its Food Bowl?
You may need to give your dog more food if you see it pushing its nose toward the food when it is nearly empty or empty.
It doesn't matter how much food you give your dog or its activity level — some dogs get anxious when their bowl is empty. Try feeding your dog more food when it moves the bowl. Be careful though, because this could make your dog overweight.
If you aren't sure whether your dog is eating enough or have questions about how much you should be feeding your dog, talk to your vet. You can ask them to recommend the best food that is providing adequate nutrition to prevent them from feeling hungry between feedings.
Frequently Asked Questions
How do you keep dog bowls from sliding?
A slip-proof dog bowl or food mat can keep your dog's bowl from sliding around during meals.
How high should dog bowls be?
You should keep your dog's bowl at a height where it doesn't need to bend its neck down or up to eat. In other words, keep the bowl near the height of your dog's chest.
Are metal dog bowls safe?
Metal dog bowls are safe and more durable than plastic or ceramic bowls. In fact, they are the safest.
Conclusion for "Dog Bobbing Head Around Food Bowl"
The best thing you can do is give your dog some time with the food bowl and let it adjust to it. Once the dog realizes that the food bowl is not scary and won't hurt it, it may leave it alone. If it is only playing with the bowl for fun, it may also get bored and start using it properly again. Some dogs may never get used to using a bowl to eat and may always prefer to eat their meals on the ground.
You can also try using different types of food bowls. If you are using a metal bowl you might want to try using something different such as plastic, ceramic, or silicone. If you have moved the bowl to a different place, try moving it back.
Because there are so many reasons why your dog may act weird around a bowl, it comes down to trial and error to figure out what your dog's particular affliction is with the bowl.
If your dog is refusing to eat, talk to your vet about possible illnesses or health problems that may be the underlying cause of the behavior and loss of appetite.
If you enjoyed this guide, "Dog Bobbing Head Around Food Bowl," check out:
Learn more by watching "Get Rid of the Food Bowl and Resolve Your Dogs Behavior Problems" down below:
Garrett loves animals and is a huge advocate for all Doodle dog breeds. He owns his own Goldendoodle named Kona. In addition, he volunteers at the Humane Society of Silicon Valley, where he fosters dogs and helps animals. Garrett enjoys writing about Doodles and believes that dogs can teach humans more about how to live than humans can teach a dog.
Why Trust We Love Doodles?
At We Love Doodles, we're a team of writers, veterinarians, and puppy trainers that love dogs. Our team of qualified experts researches and provides reliable information on a wide range of dog topics. Our reviews are based on customer feedback, hands-on testing, and in-depth analysis. We are fully transparent and honest to our community of dog owners and future owners.