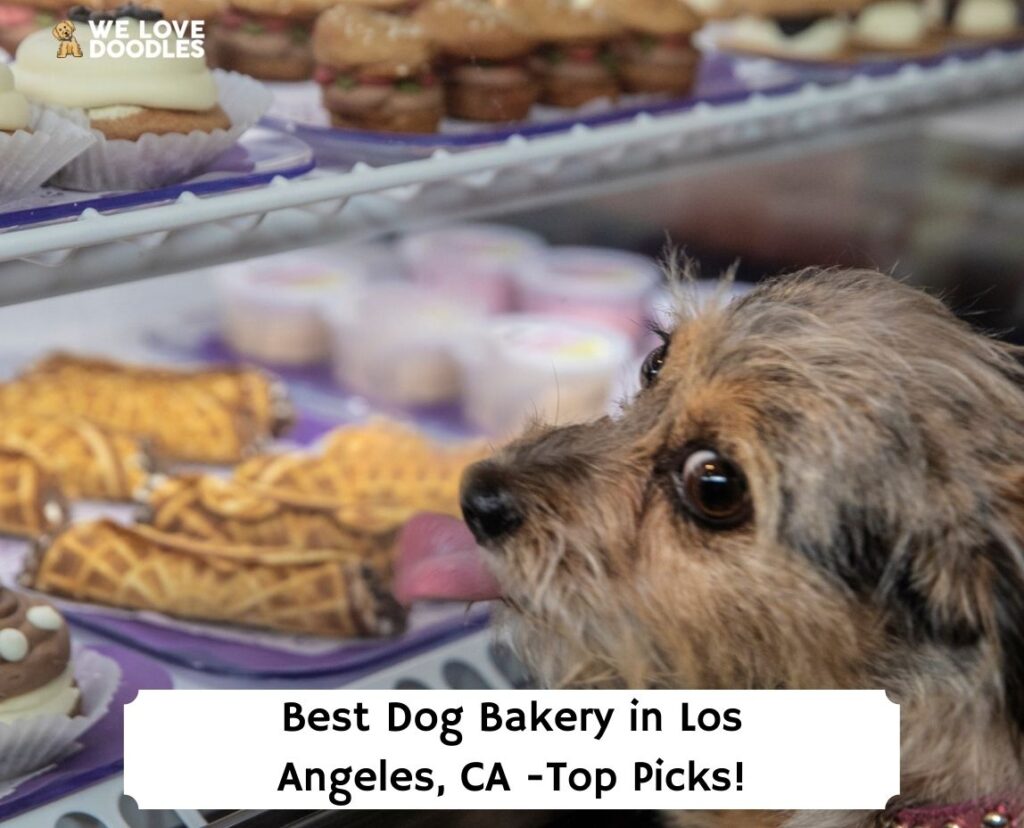 Who doesn't love a delicious, warm treat straight out of the oven? Of course, if you're like me, then you'll do just about anything for a good pastry. But have you ever considered that your dog might enjoy baked goods, too?
Believe it or not, there are several gourmet dog bakeries in Los Angeles that serve up some pretty amazing pupcakes and other canine confections.
Baked goods made with carob, not chocolate, minimal or no sugar, salt or artificial coloring, and meals that dogs adore and are suited to their nutritional requirements (lots of peanut butter and yogurt).
They are also child-friendly, and they're human-grade in quality, so there's no issue if your kid shares your pet's hamburger-shaped pasty or Dodger-themed cookie.
So if you're looking for something special to surprise your furry friend with, we found the best dog bakeries in Los Angeles and some surrounding counties.
Other articles you would like: Best Dog Daycares in Los Angeles and Dog Rescues in LA.
1. Three Dog Bakery Encino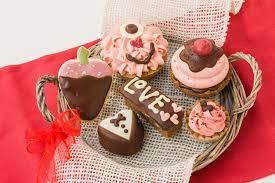 First on the list of the best dog bakeries in Los Angeles is Three Dog Bakery. At Three Dog Bakery, your dog is a member of the family. Three Dog Bakery understands how important your dog is to you and your family. That's why they take such good care in preparing every ounce of dog food and all treat flavors. They want to be more than simply "another pet shop in Los Angeles, CA."
Their dedicated to enabling your puppy to have the happiest, healthiest life possible. They make plenty of health-conscious sweets that are all-natural organic. They want your pet to feel special and cared for while still being able to eat their items since they're healthy and won't upset your dog's veterinarian.
Until your dog walks on all fours, it's not a "pawty." So no matter the occasion, your pet deserves a unique reward — and the proper outfit! Yes, you read that correctly. At Three Dog Bakery, they allow your four-legged companion to plan the celebration. So take your canine companion and browse their large selection of canine sweets and apparel.
Three Dog Bakery will provide you a special deal on all of their delectable flavors, as well as your pick of any flavor from the line-up or "Pupcakes," which are tiny cakes. In addition, they offer a large selection of dog chews and goodies, including many that have been 3-dog tested to ensure that your puppy will love them too.
Los Angeles Dog Bakery Information:
2. Daisy's Delights Los Angeles
Daisy's Delights doesn't use any chemicals, preservatives, or additives. Why? In 1992, they wanted to give their dog Daisy natural low-protein biscuits. Unfortunately, there were none available in 1992. So they created them themselves. Soon after, customers started purchasing the cookies for their dogs. To keep up with demand, they began selling to stores.
Daisy's Delights makes delicious, natural, handcrafted artisan dog treats using the highest quality fresh human grade components. Each biscuit is handmade by hand after rolling and cutting in small batches. Their foods are baked in specialized ovens that give them a wonderful light, crunchy texture that your canine will adore.
There are no chemicals or preservatives used. Made from scratch in a pet-friendly facility, these products are grain, gluten, and wheat-free. The snacks you would make for your dog.
Their ingredients are all found in the region. They produce their own peanut butter, and it's delicious! They only use hormone-free chicken, fresh farm eggs, natural uncured bacon and create their own broths.
Daisy's Delights make their treats in many flavors, and the frosted one will be a treat for your dog. I'm sure you will be able to find a flavor or several that your puppy will love. If you're looking for a healthy dog bakery in Los Angeles, this should definitely be your top choice.
Los Angeles Dog Bakery Information:
3. The Dog Bakery 
The Dog Bakery has the most delectable gourmet dog treats, which your dogs will adore. These cookies are handmade in our kitchens and are packed full of tastes that dogs go crazy for but without the empty calories and fillers prevalent in today's commercial dog snacks.
They have a wide range of flavors to select from, each of which is produced with the greatest attention and excellence, and they are delighted to share them with you. At The Dog Bakery, they strive to bake up the most delicious and nutritious natural dog treats. Your pets deserve better, and we're here to give them the best.
The Dog Bakery doesn't cut corners when producing the finest natural dog snacks. While you're there, take a look at their other tempting goods, including bully sticks, cakes, and even gift cards.
Doggy-style doesn't have to be all about the food. These nutritious dog snacks are exactly what the doctor—or maybe the veterinarian—ordered. Fresh, natural, chemical-free, and always discerning, these are the small yet significant differences that set us apart from the competition.
Are you ready to trade in those old dog bones for something new and delicious? Visit one of our bakeries or shop online for dog food treats to give your favorite dogs a special treat.
Los Angeles Dog Bakery Information:
Check out for more: Best Dog Bakery in San Diego! and Best Dog Bakery in NYC!
4. Duke's Pupcakery
Every item produced by Duke's Pupcakery is homemade. Their baked goods contain only the highest-quality and most nutritious ingredients. Duke eats a lot better than most people, don't you think?
Their food doesn't contain more than six ingredients. Simple. TASTY.
We don't use chemical preservatives in our products.
Because they are an internet bakery, they can keep the cost of their products lower than those sold in brick-and-mortar stores.
Our desserts and snacks do not contain any chemical preservatives, so their storage determines their shelf life. To enhance the shelf life of your treats, keep them away from sunlight.
Refrigerating your goodies is the best approach to keep them looking fresh for a long time. Please do not hesitate to contact them with any questions you may have!
If you have any ideas or requests for sweets, please let them know! They are always seeking to expand our pastry selection.
Los Angeles Dog Bakery Information:
5. Top Dog Barkery
Give their dog bakery a call to place your custom-made cakes and other goodies for your dog's birthday party, training graduation, new adoption congratulations, puppy shower, or other special events.
They bake everything from scratch right there in their dog bakery and freeze it straight away so that you can get the freshest goods when you collect them! Remember, they never add any sugar, salt, or preservatives to anything they create, so everything they make is both healthy and delicious for your dog!
They frequently update their bakery showcase, and their bakers are continuously coming up with new recipes for them to display. You may get fantastic gourmet doggie snacks at any time in the store!
Their highly popular "Top Dog Bar" is a large slice of their PB cake with PB frosting.
We offer many different types of K9 Cupcakes and K9 Minis in a variety of flavors on a daily basis, as well as Turkey and Rice PUP-overs and PUP-pies with turkey and sweet potato.
Los Angeles Dog Bakery Information:
6. Naked Dog Bistro
Naked Dog Bistro is a little cafe located a few blocks from the ocean in Laguna Beach, California, and run by the mother-daughter team of Charlotte Bloom and Lindsay Poe. Poe is the baker and makes stunning pastries (the carob cupcakes resemble Hostess cupcakes closely).
Puppy Scoops, an ice cream mix (maple bacon!) that you combine with water and freeze, is also on sale. It's also available in scoop form when the weather is especially scorching on the beach.
Their refrigerated bakery case offers a delectable variety of desserts every day, including cupcakes, biscuits, donuts, and even dog sushi and french fries!
Some of their flavors are peanut butter, bacon, carrot, pumpkin, salmon, chicken, spinach parmesan with cheddar, and carob. The flavors change according to the season. They're available in singles or as part of a bakery gift box.
They make one-of-a-kind cakes on a special order basis. Every cake is made fresh and with the customer's preferences in mind.
Los Angeles Dog Bakery Information:
7. Apple Dog Bakery
Last on the list of the best dog bakeries in Los Angeles is Apple Dog Bakery. Here, your pet is special. Apple Dog Bakery wants to make them feel really special! Watch your adorable little companion devour the custom cake you ordered with them! Simply send them a picture of your pet for them to create a resemblance of your dog on the cake.
Cakes are freshly baked from all-natural ingredients and natural food coloring that is human grade safe and nutritious!
They adore making nutritious cakes as much as they adore their dogs! Leo, their quality control officer, ensures that all of their cakes and cookies are delicious and nutritious!
Their baked goodies have no sugar, gluten, preservatives, or artificial colorings.
Los Angeles Dog Bakery Information:
Conclusion For The Best Dog Bakery in Los Angeles
As you can see, there are many great dog bakeries in Los Angeles to choose from. But, no matter what your preference is, there is sure to be a bakery that will meet your needs and make your puppy happy. So if you're looking for a delicious treat for your furry friend, be sure to check out one of these top dog bakeries in LA!
You will also like:
Garrett loves animals and is a huge advocate for all Doodle dog breeds. He owns his own Goldendoodle named Kona. In addition, he volunteers at the Humane Society of Silicon Valley, where he fosters dogs and helps animals. Garrett enjoys writing about Doodles and believes that dogs can teach humans more about how to live than humans can teach a dog.
Why Trust We Love Doodles?
At We Love Doodles, we're a team of writers, veterinarians, and puppy trainers that love dogs. Our team of qualified experts researches and provides reliable information on a wide range of dog topics. Our reviews are based on customer feedback, hands-on testing, and in-depth analysis. We are fully transparent and honest to our community of dog owners and future owners.