As a dog owner, you understand that dog training is crucial to maintaining a healthy, happy dog. When your dog is aware of what they are and aren't supposed to do and where they're supposed to be, it helps maintain a balance of power between your pet and you.
One standard training method is the use of a shock collar. Shock collars administer an electric shock at the push of a button or the sound of a beep during a training session. The purpose of these shocks is to reinforce commands and get your dog to realize you won't tolerate that specific behavior.
You may be unaware of several aspects of shock collars and shock collar use. Knowing all about the ins and outs of a shock collar is essential to get the most out of it. One critical aspect is whether or not to incorporate the use of rubber tips on shock collars.
So, do you leave rubber tips on a shock collar? In short, yes, you leave the rubber tips on a shock collar.
Before scrolling down this article "Do You Leave Rubber Tips on a Shock Collar," you can check out our other helpful dog guides: How To Train A Dog With A Shock Collar and Best Shock Collar For Stubborn Dogs.
What Is the Purpose of the Rubber Pieces on Shock Collars?
Rubber caps or rubber pieces refer to the tips placed on shock collars. They incorporate the use of soft and durable silicone rubber material. These tips serve crucial roles such as:
Rubber Tips Help Control the Intensity of the Shock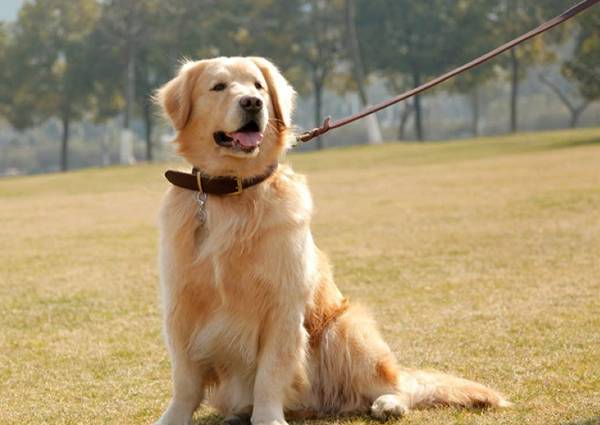 Shock collars administer shocks or a small jolt of electricity that makes dogs yelp. The rubber pieces at the collars serve as cushions between the skin and the shock collars.
It helps ensure that the shock is milder, which will help improve the safety of your pets.
Rubber Tips Protect Your Dog's Skin From Metal Prongs
Since the metal that makes the shock collars administer shocks, they will touch your dog's skin. The rubber pieces help protect your dog's skin from getting scratched or irritated due to the metal.
Rubber Tips Help Reduce Your Dog's Psychological Distress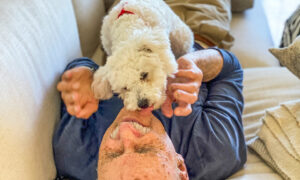 Your dog will feel a jolt of shock when its neck is yanked in the collar, but this can cause a lot of distress to your dog. The rubber pieces absorb shock, preventing this discomfort.
Rubber Tips Promote Comfort
Finally, having the rubber pieces can promote a healthier, more comfortable fit for your dog. The rubber pieces help ensure the collar fits snuggly around your dog's neck, and they also help ensure that the collar doesn't slip off during training.
How Long Should You Leave a Shock Collar on Your Dog?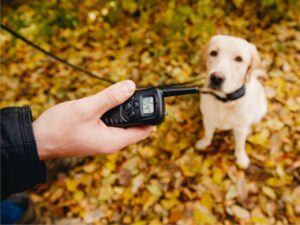 Most dog owners may wonder how long it's okay to leave a shock collar on their pets. It is necessary to realize that this question will highly depend on the training goals you want to achieve.
For instance, if your goal is to have a well-behaved pet, leaving a collar on them daily should be a routine you follow.
However, if your pet spends most of its time in a kennel environment and you are not worried about its manners, then you can consider using the collar only during training sessions.
The critical aspect is clearly understanding what you want to achieve with your dog. It's important to understand that consistency with the collar is crucial, even if you don't use it all year round.
However, you must understand that your dog cannot wear the shock collar 24/7. Doing this can cause problems like your dog developing pressure sores or severe skin irritation.
Most dogs can wear a collar for about 8-10 hours daily, and it will not cause any skin problems as long as you monitor it and check for signs of irritation. However, if your pet has a thick coat and you are already worried about the skin, it would be wise to limit the time even more.
Proper Method for Putting Rubber Tips on Shock Collars
To ensure that you put rubber tips safely, you should always follow the instructions on the box of your rubber tips. Always make sure that you check all of the instructions and also go through a training guide. In particular, you want to ensure that you:
Only use the appropriate tips for your shock collar: Shock collars come in many different sizes and types. Many different rubber tips can accompany these collars. It's essential always to make sure that you choose the right size and the appropriate rubber tips.
Check that all parts are in place and adjusted: It's imperative to ensure that you correctly place and attach all parts of your collar because this will help protect your dog and also help prevent any physical harm.
Check for stains: When you put rubber tips on a shock collar, you should also ensure that all parts of the collar are clean and stain-free. It's essential to make sure that you check the tips, contact points, and the actual collar.
Do You Leave Rubber Tips on Shock Collar All the Time?
The answer depends on how effective you want your training to be. Some pet owners argue that rubber tips limit shock transmission, lowering training effectiveness. Therefore, instead of watching their dog getting into some form of accident, they prefer not to incorporate the use of rubber tips all the time.
However, there is a lot of evidence that points to the contrary.
Shock collars can be tricky to use. Even if you love your pet and are very careful when using it, you may end up causing your dog a lot of pain. With rubber tips, you don't have to worry as much.
The silicone rubber material makes the shock milder, which in turn helps ensure that your dog doesn't feel pain.
When you have doubts about the rubber tips' quality, you can always opt for premium rubber tips. There are good rubber caps in the market that will not interfere with the functioning of your shock collar. They will enable you to use the rubber tips whenever you want to.
How To Remove Rubber Tips From Shock Collars?
Sometimes, you may want to remove rubber tips from your shock collar. Removing rubber tips is simple when you follow a few steps to safely and effectively remove them.
Firstly, you can start by removing the shock collar from your dog. When removing the collar, ensure no part of it is attached to your dog's skin.
Then, you can loosen the tip before detaching it from the pins of the collar. If you have trouble loosening the tip, you can use a small plier to remove it.
Next, you will want to repeat this process for all the remaining tips on the collar. Finally, you can wash your collar and ensure it is spotless before putting it back on your dog.
What Do the Silicone Caps Do on a Shock Collar?
The design of shock collars safely and efficiently delivers a shock of certain levels whenever your pet performs certain undesirable behaviors, such as barking, leaving the yard, and many others.
Shock collars have the potential to cause a lot of physical problems for your dog. Therefore, unless you are careful and only use your collar for training sessions, you may end up causing more harm than good.
The silicone caps on the shock collar serve a few important roles.
They help to protect your dog's skin and prevent it from becoming overly stressed. Several dangers are associated with shock collars, including burns, rashes, and skin infections.
The silicone caps also help ensure that the collar delivers the shock at the proper levels because when you use the proper intensity level, it helps ensure that your dog knows how to behave without causing undue pain.
Where Should the Prongs Be on a Shock Collar?
There is a specific way you should place the prongs on the shock collar. It's important to understand that when the prongs are in the right place, they will carry out their duties more effectively.
Ensure you place the prongs directly against the pet's neck, behind the ears. You can guarantee an excellent connection to your dog's neck when you place the prongs behind your pet's ears.
If you have a stubborn dog, be vigilant in training them. For instance, you can start by using a bark collar, which can help reinforce obedience.
If the prongs are not in the right place, the shock may occur throughout your pet's body instead of just on his neck, which can cause a lot of pain and discomfort and can make training your dog a bit harder.
Conclusion For "Do You Leave Rubber Tips on a Shock Collar"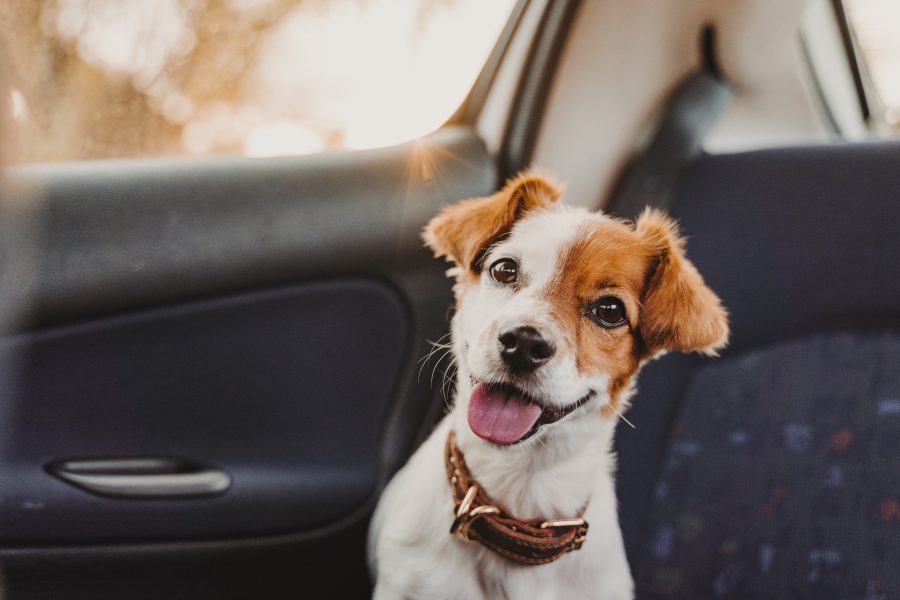 The sole purpose of shock collar design is to aid you in the training of your pet to behave or eliminate certain behaviors. The vet can help you decide on proper behaviors for your breed of dog, and this can be very helpful in avoiding several problems, including excessive barking and behavioral issues.
Rubber tips can help ensure your dog does not get hurt from the shock. A good quality rubber tip will ensure that the shock is milder and will not cause much distress to your dog.
If you find this guide, "Do You Leave Rubber Tips on a Shock Collar," helpful, check out these other dog guides created by our team at We Love Doodles:
You can learn more about shock collar training by watching "5 Tips: E-Collar Dog Training for Beginners" down below:
Garrett loves animals and is a huge advocate for all Doodle dog breeds. He owns his own Goldendoodle named Kona. In addition, he volunteers at the Humane Society of Silicon Valley, where he fosters dogs and helps animals. Garrett enjoys writing about Doodles and believes that dogs can teach humans more about how to live than humans can teach a dog.
Why Trust We Love Doodles?
At We Love Doodles, we're a team of writers, veterinarians, and puppy trainers that love dogs. Our team of qualified experts researches and provides reliable information on a wide range of dog topics. Our reviews are based on customer feedback, hands-on testing, and in-depth analysis. We are fully transparent and honest to our community of dog owners and future owners.