We've all been there — it's that time of the month and you're doubled over with the heating pad in hand and chocolate cravings that won't subside. You look over and notice your beloved girl pup curled up by your side and can't help but wonder if she's ever felt the same pain. So, do dogs get period cramps?
Period cramps can be considered some of the worst physical pain human women have to endure. In fact, those with reproductive disorders, like endometriosis, sometimes have to undergo laparoscopic surgeries to ease the pain. In severe cases, some women have hysterectomies due to menstrual pain.
Much like human women, female dogs can experience pain and discomfort when they are in heat, although the heat cycle is very different from the woman's menstrual cycle. Whether that's because of cramps is indeterminable.
Although we can't read our dogs' minds, there are things we can do to spot the signs and symptoms of menstrual discomfort and help ease the pain. Here's everything you need to know about the common symptoms of period pain in dogs and how to help.
Before scrolling down this article, "Do Dogs Get Period Cramps," check out: Why Do Dogs Like Period Blood? (2023) and Are There Dog Tampons? Can You Put a Tampon on a Dog? (2023).
What Kind of Menstrual Pain Do Dogs Experience?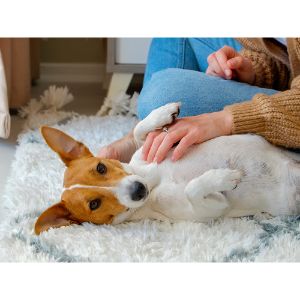 In order to help our dogs feel better during their heat cycles, we must first understand what kind of pain dogs experience, and why it can be so uncomfortable. It's important to note that a dog's menstrual pain and a woman's menstrual pain will vary greatly.
In a human period, a woman sheds her uterine lining. In a dog period, a female dog does not shed her uterine lining and in fact, reabsorbs it. Both women and female dogs experience an uptick in estrogen, but a female dog goes through a process called diapedesis. By definition, diapedesis is the process of blood cells transmigrating through the gaps in blood vessels.
While it could be argued that since a dog doesn't contract its uterine lining to expel it during a menstrual cycle, they don't technically experience a period cramp. However, we can't know exactly what kind of pain a dog experience during their cycle, since they can't communicate. All we can go off of is biology.
While we can't know our dog's exact experience during their heat cycle, we can educate ourselves on what happens, from start to finish.
The Heat Cycle, Explained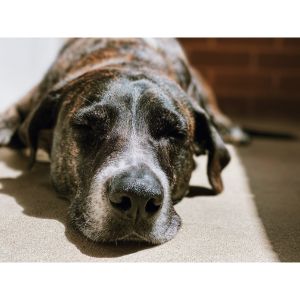 Now that we've established dogs experience menstrual cycles and the pain associated with it, it's important to understand what happens during the heat cycle. Typically, a dog experiences their first heat cycle when they reach puberty. This can vary based on breed and size.
Smaller breeds usually experience their first heat cycle at an earlier age with about four months between heat cycles, while larger breeds experience their first heat cycle at a later age with about 12 months between heat cycles. This varies, but it's important to note that it can take up to a year or two before the cycles become regular.
If you have an unspayed puppy, it's important to familiarize yourself with the heat cycle if you don't intend to spay her, even though it's highly recommended to do so. Here's every stage of the heat cycle, explained.
Proestrus
This is the beginning of the heat cycle and lasts anywhere from seven to ten days. During this time, you may notice visible swelling and your dog may bleed. She will most likely start to attract intact male dogs.
Estrus
The estrus cycle is when your dog is technically 'in heat.' It's considered the mating period and lasts anywhere from five to ten days. Your dog may continue to bleed or the bleeding may stop completely.
Diestrus
During the diestrus stage, your dog is either pregnant or resting. It can last from 10 days to 140 days. You'll usually be able to tell if she's pregnant if her stomach is swollen, she's gained weight, or starts having bouts of nausea or vomiting.
Anestrus
This period generally lasts about six months and is considered a period of rest or downtime as the body prepares itself for the next heat cycle.
What to Do When Your Dog is in Heat
If you are not an experienced breeder, it's advisable to keep your dog away from other male dogs until the heat cycle is over or until you can get her spayed. Until the heat cycle is over, your female dog will need lots of care, love, rest, and relaxation.
Much like women, female dogs may feel hormonal, lethargic, and experience changes in behavior. She also might become receptive to male dogs, lick her private area excessively, and urinate more frequently.
When your dog is in heat, it's important to make sure she feels comfortable. If she's bleeding, you'll want to keep her sequestered in a comfortable area where she can relax. This can look like the following:
Make use of potty pads: Potty pads, often used for puppies and kittens, are great for dogs in heat. Since female dogs bleed on their periods, much like human women do, it can help prevent damage to the floors and make cleaning up much easier.
Set up an x-pen: Containing your dog in an area can be made easy with an x-pen. X-pens are smaller than fenced areas but larger than crates. This can help keep your dog away from other animals, help control the mess, and allow her to decompress in her own space.
Add lots of washable bedding: Old towels, blankets, and even clothes are perfect if your dog has her period. They're easily washable and are oftentimes laying around. Plus, almost everyone has them on hand!
Don't forget food and water: Since female dogs tend to go to the bathroom more often when they're in heat, it's best to keep food and water easily accessible.
Common Symptoms of Menstrual Pain in Dogs
Whether or not female dogs get period cramps, they can experience menstrual pain during their heat cycles. It's important to know the signs and symptoms of menstrual pain in dogs to aid your pup when she needs it. We can't know the severity of pain during a dog's menstrual cycle, but we can help relieve it.
Some common signs and symptoms of menstrual pain in dogs includes but isn't limited to:
Lethargy
Nausea
Behavioral changes
Resistance to touch
Panting
Inability to become comfortable (constantly shifting or moving)
If your dog exhibits symptoms during her heat cycle, don't worry too much. However, if they persist beyond the estrus period or worsen in severity, consult your veterinarian right away.
Heat cycles should never cause severe discomfort or physical agony. If you notice your dog acting sick, seek medical attention in the event it's something beyond menstrual pain. Reproductive complications and disorders can occur in unspayed female dogs of any age.
How to Help Your Dog When They're Having Menstrual Pain
Menstrual pain is no joke. In human women, menstrual pain and cramping can become so severe it can lead to nausea, vomiting, and fainting. While we can't know if our dogs are experiencing similar pain, we can do everything we can to ensure they're happy, healthy, and comfortable while in their heat cycle.
Here are our top tips for alleviating menstrual pain in dogs.
Home Remedies
Baths are popular for human women during their menstrual cycles, but they are also beneficial for dogs during their heat cycle. Since heat cycles can be messy, a warm bath can help minimize the mess and allow your dog to feel clean and comfortable.
Natural supplements are also very popular for dogs during their heat cycles, such as CBD and turmeric, as they contain natural anti-inflammatory properties. Utilizing natural supplements can help alleviate pain.
Pain Medication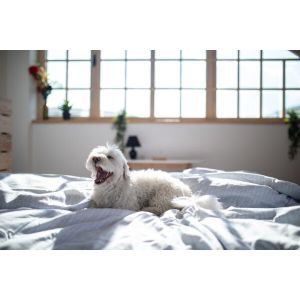 If you suspect your dog has menstrual pain, it might be time to take them to the vet for pain medication. Commonly, Carprofen (Rimadyl or Novox) is prescribed for pain in dogs. It's a non-steroidal anti-inflammatory drug. Gabapentin is another popular pain medication to treat pain from damaged nerves.
Dog Diapers
Much like women require menstrual products during their cycles, dogs can benefit from dog diapers during their heat cycles. Whether they're disposable or reusable, there are a plethora of options on the market that can help minimize mess and keep your pup more secure and comfortable during their cycle.
Electrical Heating Pads
Ever watch your dog settle into your clean laundry that's still warm from the dryer? That's because dogs love warmth! If you want to make your dog more comfortable during her heat cycle, then it might be time to invest in an electrical heating pad.
Much like they relieve cramps and muscle aches in humans, they do the same for dogs. Heated pads or beds are commonly recommended for dogs with arthritis, but can be beneficial for female dogs in heat.
Spaying
Veterinary experts across the board recommend spaying dogs. Spaying your dog not only prevents her (and you) from having to deal with the heat cycle, but it prevents the births of unwanted puppies, eliminates the risk of mammary cancers, prevents uterine infections, and limits behavioral changes.
If you can't get your dog spayed right away, be sure to keep her separate from intact male dogs until you can do so.
Frequently Asked Questions
Do female dogs feel pain during their periods?
Female dogs feel pain during their heat cycles, but the jury is out on whether or not they get cramps. However, there have been reports of female dogs feeling lethargic and nauseous during their heat cycles, much like human women can feel during their cycles.
How can I help my dog with menstrual cramps?
While it's indeterminable if dogs experience menstrual cramps during their heat cycles, they can experience pain and discomfort. Setting up a designated resting area filled with pillows, blankets, and bedding can help her feel more comfortable.
How do dogs feel on their period?
During the heat cycle, you may observe your female dog undergo behavioral changes and experience lethargy and nausea. She may also become restless and seek out attention from male dogs. Generally, you may notice your female dog acting unlike herself during her cycle.
How long do dog periods last?
The heat cycle, known as estrus, lasts from five to ten days, but it can vary from dog to dog based on breed, age, and size.
Conclusion for "Do Dogs Get Period Cramps"
While we can't determine if dogs get period cramps, we can see that they may experience pain associated with their heat cycles. All in all, keeping your dog comfortable is the best way to take care of them while they go through estrus.
If this article, "Do Dogs Get Period Cramps," helped answer your question, check out:
Learn more about this topic by watching "Do Dogs Get Period Cramps" down below:
Garrett loves animals and is a huge advocate for all Doodle dog breeds. He owns his own Goldendoodle named Kona. In addition, he volunteers at the Humane Society of Silicon Valley, where he fosters dogs and helps animals. Garrett enjoys writing about Doodles and believes that dogs can teach humans more about how to live than humans can teach a dog.
Why Trust We Love Doodles?
At We Love Doodles, we're a team of writers, veterinarians, and puppy trainers that love dogs. Our team of qualified experts researches and provides reliable information on a wide range of dog topics. Our reviews are based on customer feedback, hands-on testing, and in-depth analysis. We are fully transparent and honest to our community of dog owners and future owners.