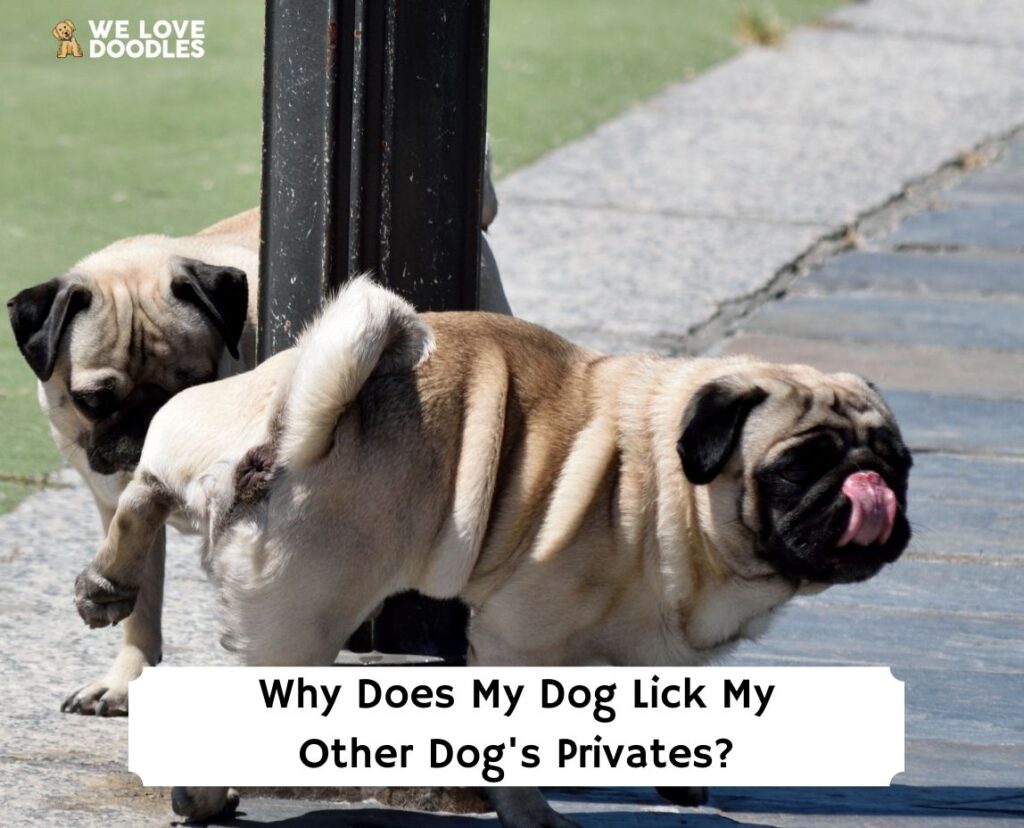 You just got a new dog, and you noticed it licking your other dog's privates. Such behavior might be concerning the first time you see it, but it's healthy, normal social behavior from dogs. So, if you're asking yourself, "Why does my dog lick my other dog's privates?" there's no need to worry.
Read on to learn why your dog is licking your other dog's privates and what to do about it.
Related: Why Do Dogs Lick Each Other's Ears? and Why Do Dogs Sleep With Their Bums Facing You?
Why Do Dogs Lick and Smell Other Dogs' Privates?
Dogs lick other dogs' privates as a way of saying hello. It might seem like a strange method of communication, but it's completely natural and normal in canines. If your dog is licking or smelling other dogs' privates when on a walk or in the dog park, it's just being friendly.
Dogs can get a lot of information from other dogs' behinds and privates. Like other mammals, dogs have apocrine glands, a type of sweat gland. Apocrine glands release pheromones that convey important information about the mammal. Dogs' highest concentration of these glands is in their genital and anal regions.
While you might be unable to smell those pheromones and detect anything yourself, dogs can. That's because dogs have excellent senses of smell—they can smell things that most humans can't. The information they learn from smelling another dog's privates includes how old a dog is, what gender it is, and whether it is available to mate. They can also detect another dog's mood or personality by smelling its privates.
This kind of behavior is completely instinctive. It might seem strange to you, but in the dog world, it's the equivalent of giving someone a handshake and making small talk about where they're from, their name, and where they live.
Sometimes, in addition to smelling another dog's privates, your dog might even lick them. Licking another dog's privates (the source of the scent) lets your dog identify and make friends.
How to Stop My Dog From Licking Other Dogs' Privates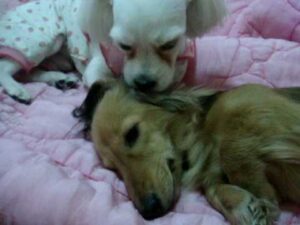 Training your dog not to lick other dogs' privates is possible. But the better question to ask is whether you should. Usually, the answer is no.
Training your dog to stop licking other dogs' privates means trying to make it do something against its nature. Licking another dog's privates isn't bad behavior, so you don't need to train your dog not to do it. It might be embarrassing to you if your dog does it in public—but only if you don't understand the nature behind the behavior.
Other dog owners have likely seen this behavior in their dogs and fully understand. They'll know that it's healthy behavior, so there's nothing to be ashamed about.
Top Reasons Your Dog Is Licking Another Dog's Privates
Here are the most common reasons your dog may smell or lick another dog's privates, whether at home or in public.
1. Friendliness
Dogs smell each other's privates as a way of greeting each other. Another dog probably expects your dog to smell its privates, and most dogs are receptive to such behavior. Some dogs may become aggressive and growl when this happens. Those dogs might be fearful of other dogs, or they may be displaying territorial behavior.
If you take your dog for a walk, you'll likely notice other dogs smelling and licking each other's privates as well. Don't freak out! It's an opportunity for other dogs to get to know your dog.
Dogs often smell and lick each other's privates, even if it's not the first time they are meeting. However, they are more likely to engage in such behavior the first or second time they are meeting each other, as they still have a lot to learn about each other.
If you don't allow the other dogs to greet your dog by smelling or licking its privates, you may be preventing your pup from enjoying an increased social circle. Social interaction is important, so be patient and let other dogs sniff your dog's privates, as long as they are not aggressive.
2. Curiosity
Your dog is instinctively curious about other dogs it meets. It wants to know if the other dog is friendly and available for mating. Your dog learns that information by sniffing the other dog and investigating the odor coming from their sweat glands.
3. Mating Behavior
Have you ever noticed male dogs licking female dogs' privates? Some of the information that dogs can learn by sniffing another dog's privates is whether the other dog is able and available to mate. It can learn if the female dog is ovulating and even if she is already pregnant. Your dog might even sniff the female dog's urine to get information.
4. Dominance
When two dogs meet each other, they sniff each other. Have you ever wondered whether there is a hierarchy to this? There is!
When two new dogs come across each other, the dominant dog will usually sniff the other one's privates first. By doing that, it displays its dominance and its place in the dog world's social hierarchy.
If your dog meets a new dog and is sniffing them first, or even sniffing the other dog without allowing it to sniff it back, it might be displaying dominance.
5. Grooming
Sometimes, a dog will lick another dog's bum to groom them. Dogs groom each other to show affection. However, a dog won't typically groom a dog it doesn't know. Instead, dogs tend to groom each other when there is a strong bond between them, and they feel comfortable around each other. Since the two dogs are close, any one of them can go first. In this case, it's not a display of dominance.
Why Is My Dog Making a Face After Licking Another Dog?
Your dog might sometimes make a weird face after licking another dog's privates. It's easy to mistake this face for aggression, as it can seem like your dog is baring its teeth.
Most likely, though, it is something called the flehmen response. After licking the source of a scent (another dog's privates or urine, in this case), your dog makes that face in order to open small ducts behind its teeth, allowing it to process the scent.
Depending on how you take it, the kind of scrunchy face your dog makes could come across as scary or hilarious, but there's nothing wrong with it. Dogs aren't the only animals with a flehmen response —tigers, cats, goats, and even zebras do it too. Look up some videos on YouTube if you want to have a laugh!
Frequently Asked Questions
We know this can be a sensitive topic for people learning about this behavior for the first time, which is why we're here to answer any questions you might have about it.
Why does my older dog lick my puppy's privates?
If your puppy is new to the family, the older dog might sniff its privates to learn more about it, say hello, and be friendly. It's also possible that your older dog is grooming the puppy. When older dogs see baby dogs, they often become protective of them, even if the babies are not their own.
Why is my dog sniffing my crotch?
Humans are mammals, just like dogs, and we secrete pheromones and scents that dogs pick up on. Dogs can't reach our chests, shoulders, armpits, etc. Usually, our crotches are a lot closer and more accessible to them, so they sniff there first.
Why does my dog keep licking me?
If your dog already knows you, it's probably licking you to show affection. Just as you kiss your loved ones to show love, dogs display that affection by licking and grooming.
Why does my dog keep sniffing me when I'm on my period?
When you are on your period, you may release different pheromones and smell different. Dogs pick up on that. Your dog might not be used to the new way you smell, so it's sniffing you out of curiosity.
My dog keeps sniffing me. Am I pregnant?
The hormones in your body and the way you smell may be different when you are pregnant, and your dog may notice that. However, the fact that your dog is sniffing you more than usual doesn't mean you're pregnant.
Why Does My Dog Lick My Other Dog's Privates?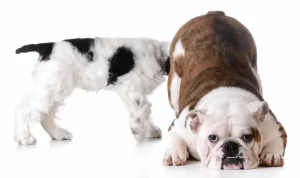 If your dog is sniffing other dogs' privates, you have nothing to worry about. It's completely normal behavior. In fact, it's a healthy social behavior that allows your dog to bond with other dogs.
For more questions similar to this guide, "Why Does My Dog Lick My Other Dog's Privates," you can check out:
Want to learn more? Check out this video! "DOG GREETING BEHAVIOR 👋🏻🐶 How Dogs Greet Dogs & Humans"
Garrett loves animals and is a huge advocate for all Doodle dog breeds. He owns his own Goldendoodle named Kona. In addition, he volunteers at the Humane Society of Silicon Valley, where he fosters dogs and helps animals. Garrett enjoys writing about Doodles and believes that dogs can teach humans more about how to live than humans can teach a dog.
Why Trust We Love Doodles?
At We Love Doodles, we're a team of writers, veterinarians, and puppy trainers that love dogs. Our team of qualified experts researches and provides reliable information on a wide range of dog topics. Our reviews are based on customer feedback, hands-on testing, and in-depth analysis. We are fully transparent and honest to our community of dog owners and future owners.