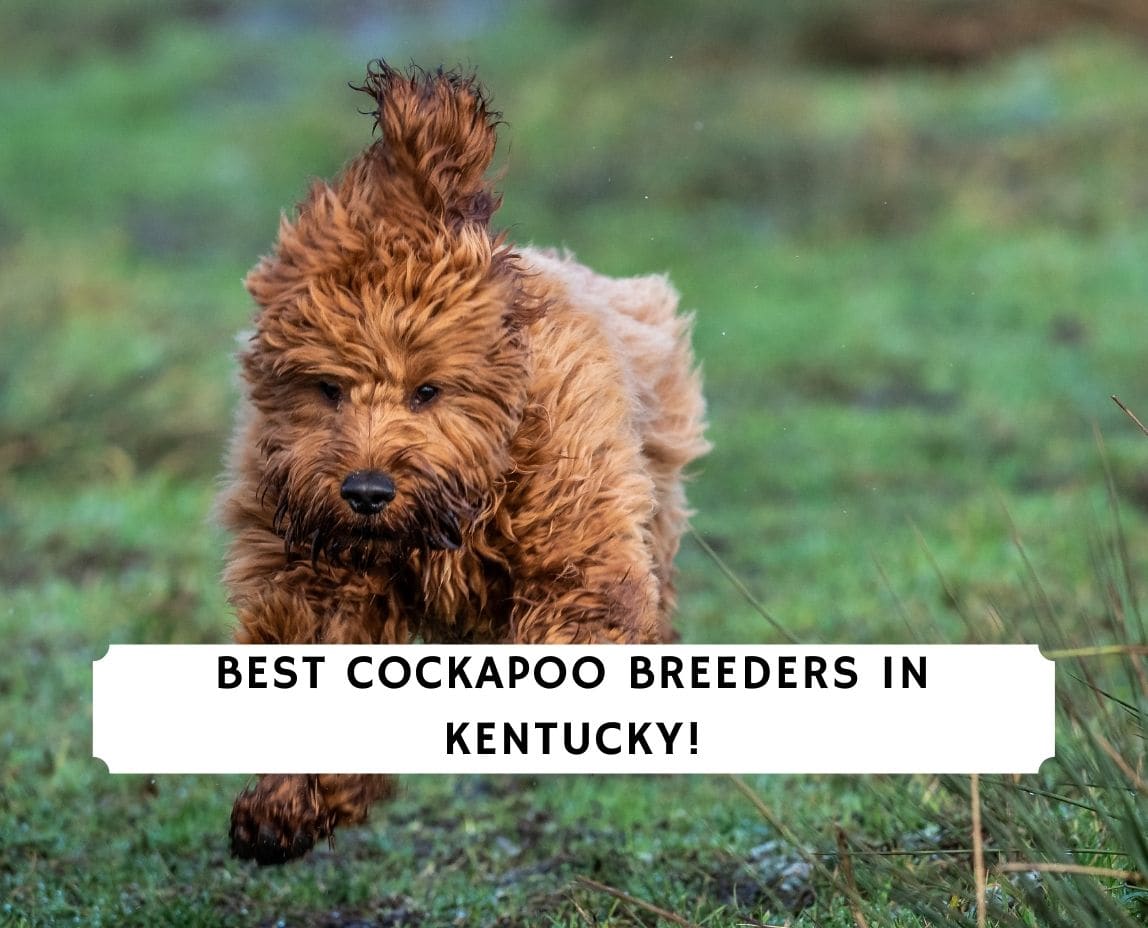 If you're looking for a companion from Cockapoo breeders in Kentucky, then you probably realize by now how loyal they are. A Cockapoo dog is a crossbreed of the Cocker Spaniel and, quite often, the miniature Poodle. When properly trained and socialized, they make for great family dogs as they are friendly with children and even other pets. With its existence dating back to the 1960s, this adorable little hybrid puppy is regarded as among the first designer dog breeds.
The combination of the eager-to-please Cocker Spaniel and the ever-playful mini Poodle makes the Cockapoo one of the friendliest and most playful dogs around. Cockapoo dogs are also intelligent, active, mid-maintenance, allergy-friendly, light shedders, and affectionate. A Cockapoo typically weighs less than 30 pounds and stands less than 15 inches tall. The Cockapoo has a life expectancy of 13+ years. This dog type can be quite clingy that you might even find it hard to get some privacy in the bathroom. Cockapoo dogs have four variations according to size: teacup, toy, miniature, and standard.
Similar to the mini-Poodle, Cockapoo puppies have a striking cuteness and a luxurious look. As such, the Cockapoo has been a favorite in dog beauty pageants. Putting their looks aside, Cockapoo dogs are well built for games and physical activities, such as racing or jumping hurdles. These dogs are also highly intelligent and easily trainable.
Before we get started, you might want to check out these guides to prepare in advance for your Cockapoo puppy:
Cockapoo Puppies For Sale in Kentucky
Kentucky is a southeastern state in the United States surrounded by the Ohio River and the Appalachian mountains. It is popular for horse racing and, yes, tasty fried chicken. However, most important, Kentucky is home to some of the most committed Cockapoo breeders in the country.
1. Kentucky Doodles and Cockapoo
Located in Russell Springs, Kentuck, this breeder is passionate about the amazing Cockapoo and are committed to breeding this dog type properly and matching them with the right family or owner. The Cockapoo puppies are well brought up in a friendly, healthy, and nurturing environment.
All their Cockapoo puppies in Kentucky are up to date on shots and vaccines. They will come as healthy and well-socialized puppies as this is what the breeders prioritize. Their Cockapoos come in a variety of coat colors including apricot, tan, black, dark brown, and multi-color.
Kentucky Doodles and Cockapoo Details
2. Coots' Kentucky Cockapoos
The Cockapoo puppies you get here are all bred in the owner's home. The breeder ensures that all parents are health tested and cleared. Healthy puppies are the number one priority here and the pups come with a one-year health guarantee. The breeder also makes sure that all their Cockapoo puppies in Kentucky receive their first shots at 6 weeks old. New owners can also rest assured that the breeder is available for updates.
Coots' Kentucky Cockapoos also goes that extra mile by checking in every few days to understand how the puppy and the new owners are getting along. The breeder leaves no stone unturned to see that pet owners take home only the best healthy and happy Cockapoo puppies. They are equally committed to ensuring their puppies find the perfect forever homes.
Coots' Kentucky Cockapoos Details
3. Cagney's Kennel Kentucky
This breeder continues to strive for improved breed quality by implementing high breeding standards. All their adult dogs meet up to AKC standards and are CKC registerable. This Cockapoo breeder also offers standard size Australian Shepherds and Poodles in addition to Aussiedoodles or Bernedoodles.
All dog parents are health cleared and new owners get up to date health records of the pups. All their Cockapoo puppies for sale in Kentucky are veterinarian checked and microchipped and come with the breeder's guarantee of good health. This breeder is located in Clifty, Kentucky.
Cagney's Kennel Details
Location: 350 Heltsley Rd, Clifty, KY 42216, United States, Clifty, Kentucky
Contact: (1270) 604-0806
Email: cskipworth1@gmail.com
4. Petland Kentucky
With Petland, you can be assured of getting the right puppy to match your personality and lifestyle. The only downside of Petland is that they are a pet store. However, they work with a Cockapoo breeder that offers up to three generations of pedigree along with all necessary registration papers.
Additionally, all Petland puppies come with a complimentary first veterinarian exam and the breeder also provides a Health Certificate and up to date vaccinations. Their Cockapoo puppies for sale come with a microchip that's ready for activation along with a comprehensive one year warranty.
Petland Details
Location: 341 Diederich Blvd, Ashland, KY 41101
Contact: (606) 268-8610
Website: Petland Kentucky
6. Oodles of Doodles
This is a family-owned kennel known to raise the top of line puppies. This breeder strives to breed Cockapoo puppies that are happy and healthy. Their stud comes from the champion pedigree. All their puppies are bred on a small 35-acre kennel and are loved and well looked after by the family. The breeder offers a health guarantee and their pups are sweet, healthy, well socialized, and the perfect addition to a family.
Oodles of Doodles Details
Location: 718 Campbellsville Street, Liberty, KY 42539
Contact: (606) 706-1160
Email: artsgirl4ever@gmail.com
Website: Oodles of Doodles Kentucky
Why Get a Cockapoo Puppy in Kentucky?
The Cockapoo would make an exceptional companion for you and your family in Kentucky for various reasons, including:
Adaptability: Cockapoo Dogs can be quite adaptable to new environments. When well-bred, these dogs are very well tempered and rarely cause a fuss.
Affectionate: Cockapoos tend to show lots of affection to their owners and are the best cuddlers, making them the perfect therapy for a bad day. They are also very perceptive to mood changes and would happily sit on your laps all day just to make you feel better.
Family-friendly: Cockapoo dogs are great home buddies and awesome family dogs. They make great companions for the elderly, children, and even other pets. These dogs are also hypoallergenic, making them perfect pets for family members with allergies.
Barking: They are quite yappy dogs, making them good watchdogs, but not necessarily guard dogs. That's because Cockapoo dogs do not have an intimidating presence and tend to be friendly, even to strangers. But you can teach them to bark on command as they're very trainable.
Exercise: Being half mini poodle, the Cockapoo loves exercising and taking part in physical activities. However, they do not require as much action as the hyper mini poodle. A minimum of an hour a day is highly recommended to keep Cockapoo dogs healthy and in top shape.
Intelligence: Being a hybrid of two of the smartest dogs around, Cockapoo dogs do not falter when it comes to brain-tasking games and lessons. They are sharp and clever dogs, and you just might be the one trying to keep up!
Grooming: They generally shed less than most other dogs. However, they require their coats brushed, washed, and professionally trimmed from time to time to stay healthy and keep looking neat.
Health: Like most hybrids, cockapoos are prone to health conditions that their parent breeds are susceptible to. They are also prone to eye conditions such as dry eye, conjunctivitis, and corneal ulceration.
Proper nutrition, deworming, vaccination, and consistent medical check-ups are all effective ways of protecting your Cockapoo from diseases and ill-health. Other interesting features of the Cockapoo include hypersensitivity; cold weather tolerance; very low drooling tendency; high wanderlust potential; and high risk for gaining weight.
Why Cockapoo Breeders and Not Pet Stores?
Breeders are the answer if you are looking for a pup with a guaranteed pedigree. Most reputable breeders will give you the complete pedigree of the puppies they raise. They also pay a lot of attention to the parent's breeds, and their genetic and health history. Most breeders also conduct extensive checks to ensure that their pet parents are free of genetic and hereditary issues.
In addition, going to a breeder offers you the following advantages:
Help in Selecting – Most breeders want to find the best homes and families for their pups. They're not in it solely for the money. A breeder will work with you to understand your expectations and your lifestyle to determine which pup will suit you best.
Full Knowledge

– A breeder is in a position to provide you with all details like health, parentage, temperament, etc of the pup you are interested in. So, you know that what you see is actually what you are getting- a well-bred, healthy pup.

Expert Guidance

– Breeders are very particular about the breeds they raise and their care is of utmost importance. They are always available to give you guidance and suggestions so your pup is well taken care of.
Conclusion For The Best Cockapoo Breeders in Kentucky
To fully enjoy all of the benefits of having a Cockapoo as a pet, you must do your research and buy only from qualified, trustworthy breeders, not from pet mills. The Cockapoo is naturally well tempered, but terrible breeding practices can completely ruin this adorable dog type. For a healthy, good-natured pet, be very discerning with your choice of breeders. 
If you're debating between Doodle breeds, you might be interested in these recommendations for Kentucky breeders:
For more information about the Cockapoo dog breed, you might want to watch:
Garrett loves animals and is a huge advocate for all Doodle dog breeds. He owns his own Goldendoodle named Kona. In addition, he volunteers at the Humane Society of Silicon Valley, where he fosters dogs and helps animals. Garrett enjoys writing about Doodles and believes that dogs can teach humans more about how to live than humans can teach a dog.
Why Trust We Love Doodles?
At We Love Doodles, we're a team of writers, veterinarians, and puppy trainers that love dogs. Our team of qualified experts researches and provides reliable information on a wide range of dog topics. Our reviews are based on customer feedback, hands-on testing, and in-depth analysis. We are fully transparent and honest to our community of dog owners and future owners.