Are you looking for a low-shedding dog that is loving, super smart, and simply charming? Look no further than the Cavapoo. The Cavapoo was first bred in the 1950s in America and is one of the fastest-growing small Doodle breeds.
The Cavapoo is a popular choice in Georgia for singles, couples, large families, and elderly folks who have pet allergies or don't want to spend their days vacuuming dog hair. These adorable pets are totally devoted to their humans and love nothing more than being part of your family. They are also great with kids due to the mild temperament.
Cavapoo puppies for sale in Georgia have exploded in popularity. While it's easy to know which dog breed you want, finding reputable Cavapoo breeders in Georgia is quite a hassle especially if you've never purchased a dog before. There are many puppy mills and breeders that just don't care about the dog or you. They are in it for quick money and leave you with a long list of health issues to deal with.
That's why we have created this list of Cavapoo breeders in Georgia for you. The Cavapoo breeders on this list have the experience, expertise, genuinely care for the breed. They will go overboard to ensure your journey with your Cavapoo puppy will be smooth.
Other articles you will like: Cavapoo vs Goldendoodle and Cavapoo Rescues for Adoption.
1. Absolutely Elegant Kennels Georgia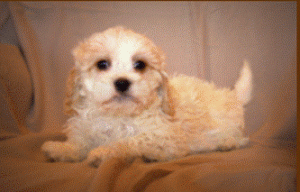 Absolutely Elegant Kennels is a small kennel in the foothills of Blueridge mountains in Georgia. They specialize in breeding Cavapoo and Cavachon puppies that are healthy, sound in structure, happy, and absolutely elegant.
Their parent dogs live as pets and play with the breeder's two little boys on the 150-acre property. The Caapoo breeder says their mama and papa dogs are sweet and intelligent dogs who love to swim, cuddle on the couch, and run outside. This personality gets passed down to their puppies.
Before bringing in a new parent dog, Absolutely Elegant Kennels goes through an extensive screening process to determine the dog's health and genetics. If the dog passes tests such as Pawprint genetics, OFA/CERF, patella, and other checks – the dog is accepted to the kennel's breeding program.
When you go through previous litter pictures and client reviews, you will notice their Cavapoo puppies in Georgia have tight curls with the Cavalier's beautiful markings. Many previous clients have spoken of how their Cavapoos have a sweet temperament and how easily they adapted to their new environments.
Absolutely Elegant Kennels only releases their Cavapoos after the puppies have had 3 veterinarian checks, age-appropriate vaccinations, and dewormings. This also means that your puppy may not be ready to come home at 8 weeks if they are not ready.
The same case applies if you're planning on shipping your new Cavapoo puppy by air. The kennel will advise you of the best time to ship the Cavapoos by air based on when the puppy is strong enough to withstand the flight. You can expect your new Cavapoo puppy to be microchipped, come with a health certificate and a 24 months health guarantee.
Cavapoo Puppy Information
Cavapoo Breeder Information:
Location: Northeast Georgia
Address: 1256 Evangelical Ch Rd, Danielsville, GA 30633
Website: Absolutely Elegant Kennels Georgia
Telephone: 706-621-0172
Email Address: rckytpdoodles@aol.com
2. Ayers Pampered Pets Georgia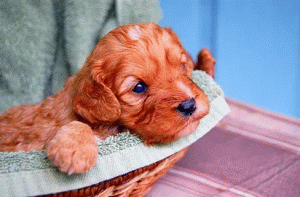 Ayers Pampered Pets has been in the breeding business for over 30 years. They center their business on caring for dogs and breeding quality Cavapoos. They trace their parent dog lineages up to 4 generations on their property.
Ayers Pampered Pets keeps all their parent dogs on their property and does not have any guardian program in place. To ensure the health and quality of the puppies, this Cavapoo breeder in Georgia conducts temperament testing and therapy to ensure an intelligent, trainable and adaptable dog that's well-rounded.
Their parent dogs undergo yearly inspections and regular health scans to ensure the dogs are healthy. Before breeding, their potential parent dogs will undergo extensive health testing to ensure they are a great mamma or papa match for future pups. Some tests that the dogs go through are; PennHip/OFA, PRCD, PRA, temperament testing among others. This ensures that you're going to be getting a healthy Cavapoo puppy in Georgia.
A Cavapoo puppy comes with a 24-months health warranty, health record, temperament testing, doggie door trained, and micro-chipped among others. They are one of the most reputable Cavapoo breeders in Georgia.
Cavapoo Puppy Information
Generation: Multigenerational Cavapoo puppies
Size: Medium and miniature Cavapoo puppies
Cavapoo Breeder Information:
More Information About Poodle Breeders in Georgia
Before contacting a Cavapoo breeder in Georgia, make sure that you have conducted in-depth research to gain more knowledge about this specific dog breed and think of questions you will ask any potential breeder.
The first interaction with a Cavapoo breeder in Georgia is usually a phone call, email, or a direct message on social media where you will have the opportunity to ask general questions.
At this point, the Cavapoo breeder will answer any questions you might have and even ask you to schedule an appointment to visit the breeder in-person. The Cavapoo breeder should not at any point make you feel as if time is ticking away or you are asking too many questions.
The breeder will probably ask you about who you are, what your lifestyle is like, why you are looking to purchase a Cavapoo, and whether you have any experience with dogs. They also may ask about your family or your significant other's attitude towards dogs if you live with them among factors. This is to get a better understanding of who you are, your lifestyle, and why you want in a Cavapoo.
If you feel rushed, have a bad feeling, or feel dismissed, it may be best to check out other Cavapoo breeders in Georgia.
Here are some popular questions that you can ask any Cavapoo breeder in Georgia.
How long have you been breeding Cavapoos?
What has been your experience in breeding Cavapoos?
Tell me about your breeding program
What health screening or tests do you conduct on the Cavapoo parents?
Can I meet the parents?
How do you socialize the Cavapoo puppies?
What tests do you conduct on the puppies?
Do the Cavapoo puppies come with a health guarantee?
Can you take me through what you cover and don't cover in the health guarantee?
These questions are a good base point to start and continue the conversation with the breeder.
Frequently Asked Questions about Cavapoo Puppies in Georgia
If you're considering a Cavapoo puppy in Georgia, you'll probably have lots of questions about the breed. We've taken some time to help answer the most popular questions about Cavapoos.
1. Why should I get a Cavapoo?
Cavapoos are considered amazing dogs by many dog lovers. Aside from being adorable, they are affectionate and considered one of the best small companion companions.
Their sweet nature allows them to get along with virtually everyone including children. If you are a first-time dog owner or not, a Cavapoo is an excellent option. Their lifespan is typically between 13 to 15 years so you can have many enjoyable moments together.
2. What's the deal with F1, F1b, F2s?
F1, F1b, F2, F3 are an indication of the Cavapoo generation. F1's Cavapoos are the first generation cross between a Poodle and a Cavalier. An F1b Cavapoo is an F1 Cavapoo crossed with a Poodle. An F2 Cavapoo is an F1b Cavapoo crossed with a Poodle and the list continues.
Multigenerational Cavapoos (F3 and above) are crossed with other multigenerational Cavapoos (F3 and above). You can check out our in-depth article on Cavapoo generations to get more information.
3. Are Cavapoos hypoallergenic?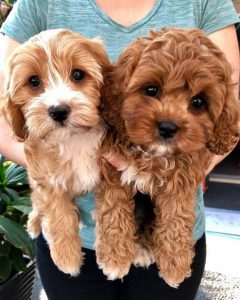 Yes and no. No dog including Cavapoos and Cavoodles is considered 100% hypoallergenic. You may notice you and your family is allergic to a dog's saliva, but their coat doesn't bring up any allergy issues. If you or someone around you has moderate/severe allergies, it is best to check out an F1b Cavapoo or a multi-generational Cavapoo as they are most likely not to shed and be mostly hypoallergenic.
4. How big will my furry friend become?
The average height of a female Cavapoo is 33 to 45 cms while the male Cavapoo stands at 33 to 45 cms. Cavapoos can weigh anywhere between 5 and 10 kgs.
5. Will it be easy to train my Cavapoo?
Cavapoos, by nature, are very intelligent because they inherit Poodle genetics. With positive reinforcement methods, they can be easily trained. When you bring your Cavapoo home, start them off with puppy training at 10 or 12 weeks old.
The training should be consistent and not be harsh. Cavapoos are sensitive dogs that don't take well to harsh or brute training methods. Remember, it is easier to train your Cavapoo when they are younger than when they become older.
Conclusion for Cavapoo Breeders in Georgia
Although there are few reputable Cavapoo breeders in Georgia, you can get a puppy that is healthy, happy, and will be a great addition to your family.
Start with our list and if you don't like any of them, widen your search to nearby states. You can also check out our list of Cavapoo breeders on the east coast. We hope you find your next puppy!
Other articles you will like:
Garrett loves animals and is a huge advocate for all Doodle dog breeds. He owns his own Goldendoodle named Kona. In addition, he volunteers at the Humane Society of Silicon Valley, where he fosters dogs and helps animals. Garrett enjoys writing about Doodles and believes that dogs can teach humans more about how to live than humans can teach a dog.
Why Trust We Love Doodles?
At We Love Doodles, we're a team of writers, veterinarians, and puppy trainers that love dogs. Our team of qualified experts researches and provides reliable information on a wide range of dog topics. Our reviews are based on customer feedback, hands-on testing, and in-depth analysis. We are fully transparent and honest to our community of dog owners and future owners.