Sometimes, it's just not practical to leave your dog's hair long. In this guide, you'll find information about the best short haircut ideas for Cavalier King Charles Spaniels.
Cavalier King Charles Spaniels are known for their long, soft locks of hair. When kept clean, well-conditioned, and brushed regularly, your Cavalier's hair will be absolutely gleaming!
The breed's hair is so luxurious that the Cavalier King Charles Club requires show dogs to have absolutely no hair trimmed, with the exception of the paw pads.
The most popular Cavalier King Charles Spaniel haircuts are long, but the length isn't practical for everyone. Dogs who play outside often, hike, or don't have time for regular brushing will do better with a shorter 'do.
Get a little inspiration from the cuts below, then bring your ideas to your groomer to complete the look.
Before you scroll down this list of short Cavalier King Charles haircut ideas, check out: Best Shampoo for a Cavalier King Charles Spaniel! (2023) and Best Types of Cavapoo Haircuts! (2023).
Grooming Your Cavalier King Charles Spaniel: Tips and Tricks
It is absolutely possible to care for your Cavalier's hair-cutting needs on your own. With that said, you'll want to bring your pup to a pro from time to time for tooth brushing, gland expression, nail trimming, and overall pampering.
In the interim, you can keep your Cavalier King Charles Spaniel looking sharp by trimming up his locks at home. You'll need a few tools, of course: a quality shampoo, a deep conditioning creme, sharp scissors, clippers, and a comb or brush.
Wash your dog well and remove all burrs, dirt, knots, and mats. Dry the hair thoroughly, then begin styling your pup. You'll need to use your scissors around his ears and between his paw pads. Don't forget to trim the area around your dog's bottom, too, as it's prone to tangling.
As for the style, that's up to you! As you know, hair grows back. If you cut your dog's hair a little too short for your liking, there's no harm done. Just give it a couple of weeks and try again.
Ready to get started? Here are the best Cavalier King Charles Spaniel short haircut styles.
Puppy Cut
The puppy cut is almost universal; most dogs look great with this type of hairstyle. Puppy cuts are easy to achieve and maintain. As the name implies, they make your dog look lovable and adorable — like a puppy!
To give your dog a puppy cut, you'll need him to be washed and thoroughly dried, and combed out. Give your dog a blow out too, if you like. Then, using clippers, trim your dog's hair all over to a length of between one and two inches.
You can leave the length on your pup's ears if you like that look, but be sure to give them a trim to keep the hair neat and even. Using your scissors, trim the hair between your pup's paw pads, his ears, and around his bottom.
The puppy cut is low-maintenance and you'll only need to bathe your pup once a month or so. Brushing your dog every day will help keep mats and tangles away, but most Cavaliers can get away with brushing every other day.
Teddy Bear Cut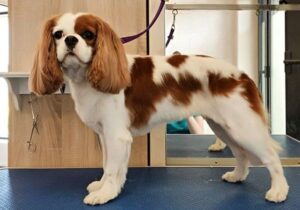 The teddy bear cut is a great look for curly-haired dogs like Poodles and Doodle breeds, but your Cavalier King Charles Spaniel may have curly enough hair to pull off this look. The teddy bear cut, like the puppy cut, is easy to maintain. It will keep your dog's shedding at bay with regular brushing.
A teddy bear cut is designed to make your dog look fluffy. Achieve your dog's look by clipping the hair on your dog's body short, then leaving his face rounded. Trim your dog's ears but leave a little length to keep that baby-faced look. Your dog's tail can be trimmed or you can leave a little length there, too.
As with any haircut, you'll want to remove all tangles and mats from your dog's hair beforehand. Doing so will protect your dog as you trim his hair, preventing pulling and ensuring a neat, even cut.
Close Trim
If you live in a warm climate or you want to keep your dog cool during the summer months, consider clipping your dog's hair super short. Generally speaking, you'll trim the hair on your dog's body, legs, and even tail, though some Cavalier owners keep that adorable length on their dog's ears.
This cut is very simple, and it's easy to achieve. The most important step you'll take before trimming your dog is using a conditioner that will help detangle your dog and protect his skin. Don't forget to clean up around your dog's ears, paws, and bottom.
If your dog loves playing outdoors, you'll want to invest in a good sunscreen designed for dogs. A close trim will leave your dog vulnerable to sunburn, which can lead to skin lesions and even cancer in your dog. That said, hair on your dog does not necessarily protect him from the sun, so sunscreen is a good idea no matter which Cavalier King Charles haircut you choose.
Natural Hair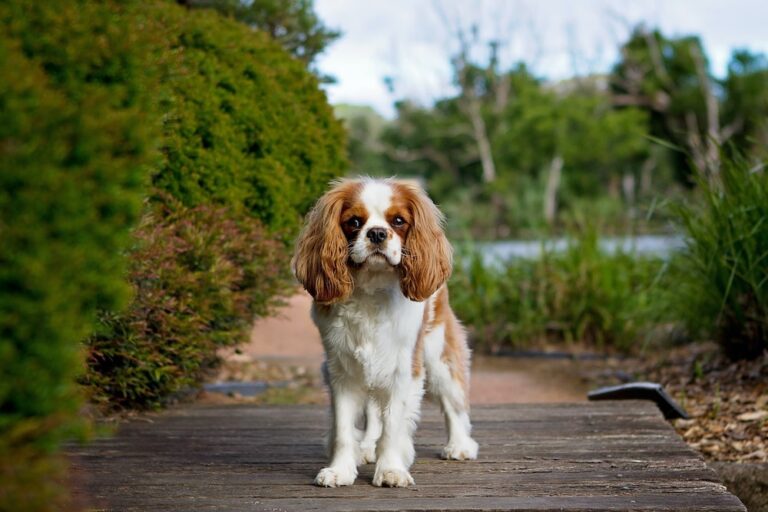 Your dog has naturally long hair, and we've created this guide to tell you about the best Cavalier King Charles Spaniel short haircut ideas. However, it is absolutely possible to keep your Cavalier's hair short and still maintain a natural look.
Unless you're experienced with dog grooming, it's a good idea to bring your dog to a professional for this cut. He or she can make sure your dog is trimmed evenly all around, and that he will look his best. Of course, your groomer will give your dog extra care and attention, too, brushing his teeth, cleaning his ears, and going the extra mile.
Your Cavalier King Charles Spaniel will look absolutely regal with a shorter trim around his body and a longer length of hair on his tail, ears, and legs. Bring a picture of your desired cut to your groomer, or print a picture for reference if you choose to take a DIY approach to your dog's haircut.
Cocker Cut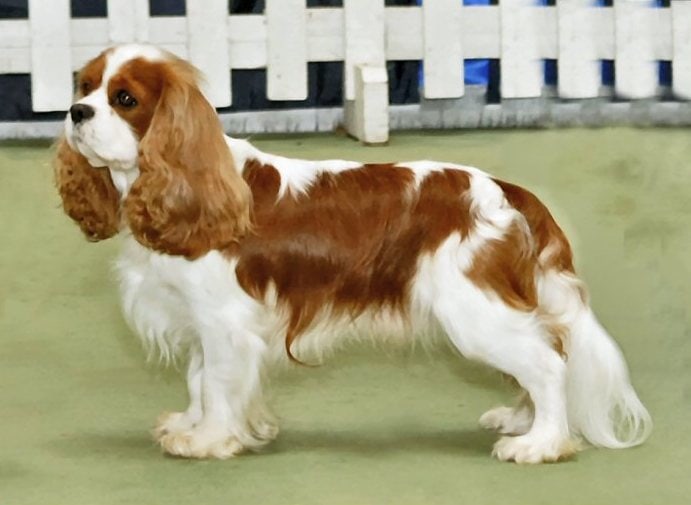 Cocker Spaniels and Cavaliers have many characteristics in common, and it's possible to give your dog a "Cocker cut." Your dog will resemble Lady from the Disney classic Lady and the Tramp, and the haircut is moderately easy to maintain. You'll need to brush your dog daily but when done regularly this is a quick process. A bath with a quality conditioner should be given about monthly.
The Cocker cut features a short length on your dog's face and body, while the dog's legs, tail, and ears are left longer. This cut is a great way to showcase your dog's wavy, shiny hair while keeping a majority of the tangles and mats away. If your dog plays outside often, you'll need to check the area around his legs and tail for burs, dirt, and other "gifts" he may have picked up while running around.
If you're bringing your dog to the groomer, just let them know you want a Cocker cut. Your professional will likely ask you to specify the length of hair you'd like left on your dog. If you're choosing to groom your dog yourself, you'll need clippers for your dog's body and scissors for his ears, tail, legs, and paws.
Kennel Cut
A kennel cut is a universal hairstyle that looks good on most dogs, and it's one of the easiest to keep up. The cut is great for dogs with busy owners who don't have time for more than a quick brush each day; this brushing helps remove dirt and also dead hair. Cavalier King Charles Spaniels shed year-round, and brushing out your dog will help keep your clothes and furniture pet hair-free.
Another benefit to the kennel cut is that it lasts quite a while. Your dog won't need full grooming for several months after being given a kennel cut, so at-home maintenance is all that will be required. Don't forget to keep an eye on your dog's nails, ears, paw pads, and the area around his bottom. Trim these areas with scissors as needed.
The kennel cut requires your dog to be trimmed relatively close to his body. As with other short haircuts, it's a good idea to apply dog-friendly sunscreen to your dog each day if he plays outside often.
Frequently Asked Questions
What is the best haircut for a Cavalier King Charles Spaniel?
The puppy cut is a great low-maintenance option for Cavaliers. You'll only need to bathe your dog once a month or so, with brushing every other day.
Do Cavalier King Charles Spaniels have a single or double coat?
Cavaliers have a single coat.
What colors can Cavalier King Charles Spaniels be?
Cavaliers can be black and white, black and tan, Blenheim, and ruby.
Conclusion for "Best Cavalier King Charles Short Haircut Ideas"
Cavalier King Charles Spaniels are known for their long, wavy, glossy hair. However, sometimes it's just not practical to leave your dog's hair long. If you frequently board your dog, if he spends a lot of time outdoors, or if you just want a low-maintenance haircut for your pup, try one of these short haircuts for Cavaliers.
Remember: you'll need to bring your dog to the groomer from time to time for the "extras" if you choose not to do them yourself. Your groomer will trim your pup's nails, brush his teeth, and much more, giving your pet a new look while pampering him in the process.
Want more guides similar to this list of ideas for short Cavalier King Charles haircuts?
If you find these short Cavalier King Charles haircuts interesting, you can learn more about grooming by watching "Perfectly GROOM your KING CHARLES CAVALIER SPANIEL at HOME Step By Step LESSON" down below:
Garrett loves animals and is a huge advocate for all Doodle dog breeds. He owns his own Goldendoodle named Kona. In addition, he volunteers at the Humane Society of Silicon Valley, where he fosters dogs and helps animals. Garrett enjoys writing about Doodles and believes that dogs can teach humans more about how to live than humans can teach a dog.
Why Trust We Love Doodles?
At We Love Doodles, we're a team of writers, veterinarians, and puppy trainers that love dogs. Our team of qualified experts researches and provides reliable information on a wide range of dog topics. Our reviews are based on customer feedback, hands-on testing, and in-depth analysis. We are fully transparent and honest to our community of dog owners and future owners.