Cane Corso breeders in New York are easy to find. If you aren't familiar with this dog breed, they are also called the Italian mastiff. The breed originated in Italy and is classified as a working dog. According to the American Kennel Club (AKC), the Cane Corso is the 32nd most popular dog breed in the United States. You'll find several Cane Corso puppies for sale in New York, but it's important to find a reputable breeder.
Be sure to visit each breeder and see their home and the area where the dogs are raised and kept. In addition, be sure to interact with the breeder's dogs and make sure they are the kind and loving animals that Cane Corsos can be. Personality and temperament are important for these dog breeds.
Other articles you may like: Pitbull Breeders in New York and Labrador Breeders in New York.
Where Can You Find a Cane Corso Breeder in New York?
We found 6 Cane Corso breeders in New York from New York City to Buffalo. Many Cane Corso breeders still show them in the competition ring. Below we will review the 6 breeders:
Liberty Cane Corsos
Cane Corso de Italica Terrae
LaFaccia Cane Corso
Casanova Cane Corso
Caveo Cane Corso
Cane Corso breeders in New York are conscientious about selling their puppies. An interview process is vital to them to make sure they continue the breed as a gentle giant. Let's go over each breeder in more detail.
1. Liberty Cane Corsos New York
Liberty Cane Corsos is a famous breeder in New York. They live in New York, New York, and have been very involved with Cane Corsos in various show competitions. Many of the dogs are champions which means that your puppy will often come from championship bloodlines.
The website gives quite a bit of information, and they also have a Facebook page where you can see more photos of their dogs. They also have tons of Cane Corso pictures on their website so you can get a feeling for their size and coat colors.
Cane Corso Breeder Details
2. Cane Corso de Italica Terrae
Cane Corso de Italica Terrae is a breeder in New York, New York. They, too, breed Cane Corsos to purebred standards and have a rich history of these dogs. The owners are Dominick and Zoe DeVita and wanted to breed Cane Corsos as a family companion and guard dog.
They have Cane Corso puppies in New York that can fit as a show dog or family companion. All their dogs are imported from Italy and they are trained as working dogs. If you have any questions, this Cane Corso breeder would love to talk with you.
Cane Corso Breeder Details
3. LaFacci Cane Corso NY
This breeder is in Montebello, New York. They have been working with this breed since 2005. The owners, Sal and Janet Gigante, are passionate about the breed and will be available to teach you everything you want to know. They raise all their Cane Corso puppies indoors and have a sizeable 5-acre piece of land for the dogs to get their exercise. They take great care to socialize the puppies and try to match each puppy with the right owner.
Cane Corso Breeder Details
4. Casanova Cane Corso NY
Casanova Cane Corso is in Wayland, New York. The owner is Jessica Biddle, and while they breed Cane Corso dogs here, they have stringent policies about their dogs. You must sign a spay/neuter contract so you can't reproduce them, and you must include Casanova in the dog's name. If you decide to go with this breeder, be sure to read the policies carefully.
Cane Corso Breeder Details
5. Master K9 Kennels New York
Master K9 Kennels is a breeder in Elmsford, New York. It's worthwhile to note that they are also a pet store. As a pet store, this breeder has other dog breeds to sell in addition to Cane Corsos. This typically means that they don't breed their own Cane Corso puppies in New York, but they get their from smaller hobby breeders. If you chose this breeder, check things carefully. 
Cane Corso Breeder Details
6. Caveo Cane Corso NY
Caveo Cane Corso is in Halfmoon, New York. A small breeder with infrequent litters, Danielle Major, states they usually breed when they want another dog. However, this Cane Corso breeder in New York doesn't have a website but uses a site called Free Dog Listings to promote their dog's sale. You can contact them through Free Dog Listings.
Cane Corso Breeder Details
7. Borealis Cane Corso NY
This breeder resides in Troy, New York, about 40 minutes outside of Albany, New York. They became involved with this breed in 1996. For what it's worth, this is one of the oldest Cane Corso breeders in New York that we could find. It doesn't seem that they have a social media presence, but the photos of the Cane Corsos on their website are lovely.
Cane Corso History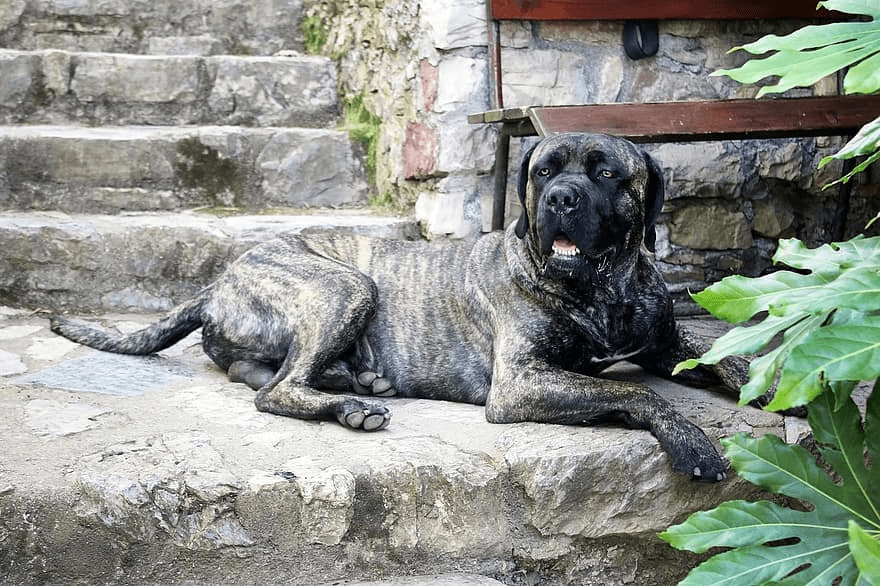 The name Cane Corso comes from the Italian term for a catch dog, Cane da Corso. A catch dog was used in rural areas to round up cattle or pigs. Cane Corsos were used as bodyguards when not working in the fields. 
The Cane Corso, it is believed, originated in Ancient Rome. But until the 1960s, they were found mostly in Southern Italy. The change came when sharecropping stopped in Italy. The breed almost became extinct.
A comeback happened by using selective modern breeding in the 1980s. This has allowed the breed to flourish across the world. Now found in many countries, the Cane Corso has become a beloved pet in many families. Cane Corsos even get along with children and other family pets. 
More Information About Cane Corso Puppies in New York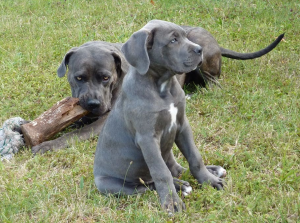 The Cane Corso comes in many colors and has a distinct mastiff body type. The colors are plumb-gray, black, slate, light gray, light fawn, dark fawn, deer fawn, and brindle. They have a square head and snout as well as short hair with a thick undercoat.
The breed standard describes the tail cropped at the fourth vertebrae and the ears cropped into triangular shapes. This standard gives them a regal but menacing appearance. Cane Corsos can be very intimidating to some people. 
Male Cane Corsos' height is usually is 25 to 27 inches at the withers. A female's height is 24 to 25 inches. The male Cane Corso can weigh from 99 to 110 pounds, and a female can weigh from 88 to 99 pounds.
Cane Corso puppies in New York are easy to train. They have a loving and gentle personality but are always on alert. Since they were a guard dog in the past, and they are very confident and protective. Training is essential when purchasing this breed. 
The Cane Corso doesn't need a lot of room to roam but does need daily activity. A good walk, lasting 30 minutes to an hour a couple of times a day, is all this dog breed needs. A bored Cane Corso can be destructive around your house if they don't get enough exercise.
If you plan to own this breed, a high fence must be in place. As a working and herding dog, it is a hunter of prey. Keeping small animals safe from the Cane Corso should be a concern. 
Cane Corsos love to play, so toys are a necessity. They are loyal, and you will always find them at your side, wanting love and affection. Cane Corso puppies must be socialized early.
While they are loving and gentle, if not socialized, they can become aggressive. Children should also be taught how to treat the animal, and an adult should watch the children with the dog. 
The best thing to do when raising a Cane Corso is to be sure you understand everything about the breed. This knowledge will help you raise a well-adjusted dog. It would be best if you never let your guard down.
Conclusion for Cane Corso Breeders in New York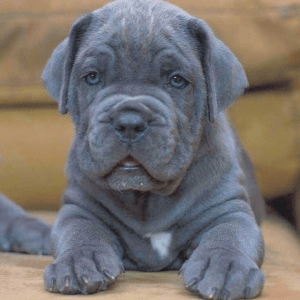 Cane Corsos are such an athletic breed. They exude confidence, agility, strength, and loyalty. Like any other animal, if not trained well, a well-intentioned dog doesn't know its expectations. Cane Corsos need attention, so it would be best to make training a priority.
All Cane Corso breeders in New York should have tips and suggestions about the animal you are purchasing. Be sure that you interact with your puppy before actually taking it home and that you are satisfied with the temperament.
All of these Cane Corso breeders work and reside in New York. The most popular ones are listed here. While all attempts to confirm the breeders are not puppy mills and care for their animals, you must do your research. 
Other articles you will like:
Garrett loves animals and is a huge advocate for all Doodle dog breeds. He owns his own Goldendoodle named Kona. In addition, he volunteers at the Humane Society of Silicon Valley, where he fosters dogs and helps animals. Garrett enjoys writing about Doodles and believes that dogs can teach humans more about how to live than humans can teach a dog.
Why Trust We Love Doodles?
At We Love Doodles, we're a team of writers, veterinarians, and puppy trainers that love dogs. Our team of qualified experts researches and provides reliable information on a wide range of dog topics. Our reviews are based on customer feedback, hands-on testing, and in-depth analysis. We are fully transparent and honest to our community of dog owners and future owners.