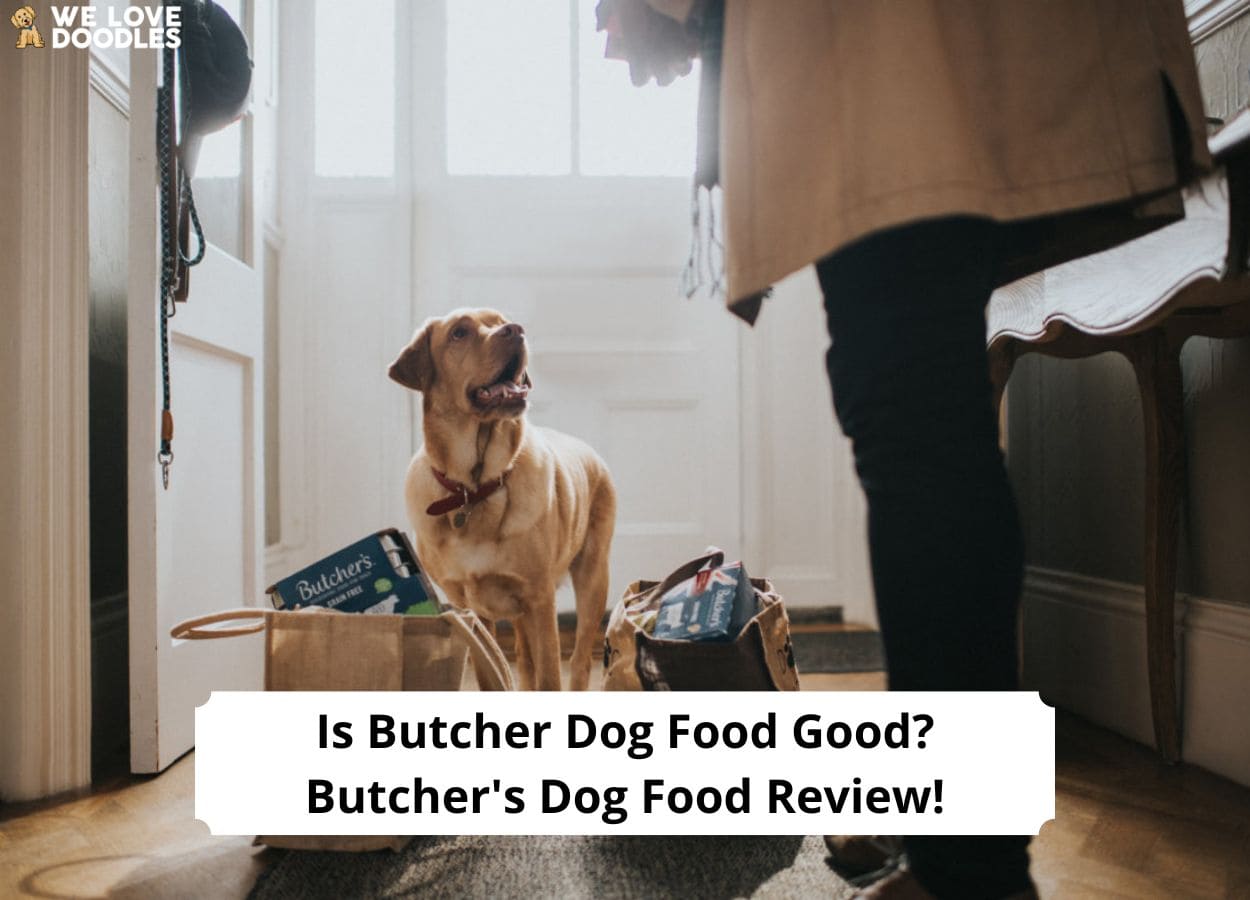 Butcher's Best is a popular dog food in the UK and it intends to provide dogs with all the vitamins and nutrients they need to have plenty of energy to stay healthy. Butcher's Best uses real meat in their dog food to make it more enticing.
They also have good business practices that make them a trustworthy brand. If you are considering trying this food for your own dog, be sure to keep the following information in mind.
Before reading this guide, "Butcher's Dog Food Review," check out: Chappie Dog Food Review: Is It Good for Dogs? (2023) and Is Ava Dog Food Good? Ava Dog Food Review! (2023).
Is Butcher's Best Good for Dogs?
Natural nutrition and fresh meat are the hallmarks of all Butcher's recipes. The vitamins and minerals ensure that your dog feels "fit as a Butcher's dog." Based in the United Kingdom, Butcher's wet dog food is widely popular with dog owners.
Typical Butcher's recipes are predominantly high in protein and fat, with minimal carbohydrate content. There are different varieties of meat and fish used in Butcher's recipes. Butcher's chooses fresh meat and seafood that are industry favorites and used by the majority of pet food manufacturers.
Salmon, turkey, and chicken are some of the most popular ingredients. Since these ingredients are convenient to find and affordably priced, they are widely used because they provide excellent protein and fat content.
Butcher's is extremely palatable because it is made with fresh meat without the use of cereal or soy. Your dog will enjoy more real meat this way. Rest assured, every recipe was developed with leading experts, so each meal contains essential nutritional benefits for your dog.
Benefits of Wet Food
The smell of wet food is pungent, and it is more similar to meat than dry food. It is common for canned food to attract a particular or picky eater. Strong smells can also attract senior dogs whose sense of smell may be impaired.
When wet food is canned, it contains both moisture from the ingredients as well as moisture added during the canning process, unlike kibble, which is sucked out during manufacturing. This can help your dog stay hydrated if he typically doesn't drink enough. In addition, your dog will be less likely to contract urinary tract infections if it is fully hydrated.
The daily diet of an adult dog should contain at least 18 percent crude protein. You should follow these guidelines regardless of the brand or type of dog food you purchase. Your dog may need a lower protein diet if he has specific health issues.
Canned dog food has a soft, easy-to-eat texture that makes it ideal for dogs with poor dental health or those recovering from mouth surgery. In contrast to crunchy foods, it provides relief rather than pain when chewing. Wet food can also be eaten easily by puppies who are teething.
Teeth or gum problems can occur in senior dogs. It may be difficult for some senior dogs to chew dry, crunchy food due to missing teeth. Soft and palatable, wet food is easy to eat.
Related: Is Salsa OK for Dogs?
Who Makes Butcher's Best Dog Food?
Butcher's is a British, family-owned business with a farming and butchering heritage. Butcher's specializes in making delicious, meaty meals that are packed with natural ingredients because of their unique meat preparation skills.
In order to maintain a healthy dog's diet, butchers recommend a balanced diet. That's why they chose high-quality Great British and Irish ingredients to make healthy meals dogs are fond of.
While there are several brands of wet dog food available in the United Kingdom, Butcher's is particularly popular. Wet dog food is produced by many UK-based brands, but Butcher's is well-known for its premium quality and high levels of nutrition.
Unlike many other UK-based dog food brands, their meat products are sourced from British and Irish farms, an attribute not found in many others.
The industry has made some significant improvements in sustainability over the last few years, such as using cardboard in place of plastic shrink-wrap when packing multipacks of meat. They also offer 100% recyclable steel cans that are plastic-free.
What Are the Health Benefits of Butcher's Dog Food?
It contains no artificial preservatives, flavorings, or colors, so you can be sure you are feeding your pet the best wet food. Butcher's uses fresh meat, as its name suggests, and it contains no artificial preservatives, flavorings, or colors.
There are no bulking agents like soy or cereal in these foods, so they are a healthy choice since they contain all the essential minerals and vitamins your dog needs.
In order to avoid allergies and intolerances caused by these ingredients, it's always a good idea to choose a food like Butcher's without them.
Butcher's recipes frequently use tripe, a by-product of grass-fed cows, as one of the main ingredients. Aside from omega 3 and 6 fatty acids and calcium, tripe contains vitamins B12 and A.
Vitamin B12
A dog's diet can be lacking in B vitamins and minerals or contain inflammation in the gut, which can all contribute to vitamin B12 deficiency. Those who eat strictly vegetarian diets might be at risk of deficiency since plants contain little B12. Dogs fed a diet deficient in iron or protein suffer from vitamin B12 deficiency if they are fed a diet deficient in iron or protein.
There are some dog breeds that cannot absorb vitamin B12 because of a hereditary condition. Breeds included in this category are the Shar Pei, the Beagle, the Australian Shepherd Dog, the Border Collie, and the Giant Schnauzer.
However, long-term GI disease is a common cause of vitamin B12. Having an inflamed gut makes it impossible to absorb vitamin B12, which is critical for digestion.
Vitamin A
From the reproductive system to the skeletal system, vitamin A is essential for maintaining nearly every organ.
The most well-known effects of vitamin A are its support for vision and skin, but its functions extend far beyond them. During the development of the brain and skeleton, vitamin A is imperative. At the molecular level, vitamin A facilitates cellular differentiation, a process by which cells become specialized.
Since vitamin A powers the immune response, it is even able to prevent dogs from getting sick because it produces the protective mucus that lines the lungs. Many vets compare vitamin A to the "oil" that keeps humans and dogs running smoothly since it is present in almost every body system.
Deficient dogs may be weak and refuse to eat altogether if they have a severe vitamin A deficiency. A deficiency-related night blindness can also make them difficult to navigate at night.
Since retinol plays a crucial role in bone growth and remodeling, vitamin A deficiencies are especially difficult for young dogs. Some dogs become deaf or hard of hearing because of stunted growth of the inner ear bones. Deficiencies in vitamin A during pregnancy can also cause fetal deformities.
Omega Fatty Acids
As well as promoting healthy skin, omega-6 and omega-3 fatty acids assist in the growth of cells. EPA and DHA are generally required by dogs each day in amounts of 20 to 30 mg per kilo of body weight. Keep in mind, however, this is simply a general suggestion.
It can be tricky to figure out the right amount of fatty acids for dogs. In order to treat various health problems, different dosages are used.
Your veterinarian will be able to give you the fatty acid requirements for your dog if you choose fish oil as your supplement. The amount of fatty acids you should give your dog will be calculated based on his age, weight, health, and current diet. This depends on a number of factors.
In rare situations, too many fatty acids can interfere with blood clotting, which is another reason to consult with your veterinarian before taking this supplement.
Calcium
Dogs need calcium just like humans. Animals that are growing are especially vulnerable to deficiencies in calcium and phosphorus, which are essential building blocks for bones. To maintain a growing fetus and produce enough milk for their litter, nursing dogs require a high calcium intake.
Besides contracting muscles, calcium also helps to make the body function, from skeletal muscles that permit your dog to move, to smooth muscles in internal organs such as intestinal muscles and heart muscles that pump blood.
A low calcium level can also lead to other health problems due to its involvement in a variety of hormone-signaling pathways and feedback loops. It is clear that calcium plays a crucial role in the health of your dog since it has such a wide range of functions in the body!
Since Butcher's dog food contains all of these nutrients, it is recommended by veterinarians and is a healthy dog food option for your pet. Feeding your dog the right amount of food is just as important as feeding them the right food.
Frequently Asked Questions
Where is Butcher's dog food made?
Butcher's dog food is manufactured in Crick, Northamptonshire in England.
What is the number one meat that dogs should avoid?
You should avoid feeding dogs pork products like bacon and ham due to the high salt concentration.
Is Butcher's dog food grain-free?
Butcher's dog food is grain-free, though it's always worth checking the label for specific ingredients.
Conclusion for "Butcher's Dog Food Review"
Butcher's is renowned for providing top-notch wet dog food, unlike many UK-based brands. They are able to do so in part because they have meat ingredients from farms in Britain and Ireland, which is something that is not common among UK brands.
Since the early 2000s, the company has made significant progress in sustainability, which includes removing shrink-wrapping from multipacks and replacing them with cardboard. They also recycle 100% of their cans, which are plastic-free.
Compared to other similar wet dog food brands, Butcher's offers a wide range of nutritional benefits.
If you find this guide, "Butcher's Dog Food Review," helpful, check out:
Learn more by watching "Is Expensive Pet Food Better? – Ask A Vet" down below:
Garrett loves animals and is a huge advocate for all Doodle dog breeds. He owns his own Goldendoodle named Kona. In addition, he volunteers at the Humane Society of Silicon Valley, where he fosters dogs and helps animals. Garrett enjoys writing about Doodles and believes that dogs can teach humans more about how to live than humans can teach a dog.
Why Trust We Love Doodles?
At We Love Doodles, we're a team of writers, veterinarians, and puppy trainers that love dogs. Our team of qualified experts researches and provides reliable information on a wide range of dog topics. Our reviews are based on customer feedback, hands-on testing, and in-depth analysis. We are fully transparent and honest to our community of dog owners and future owners.