When it comes to cross-breed dogs, learning about them is interesting, especially the Border Collie Husky mix. Nowadays, designer dogs are trendy, including our list of Doodle breed guides. If you don't know about the Border Collie Husky mix, you will soon enough. The Border Collie Husky mix is a combination of two beautiful dogs; the Border Collie mixed with the Siberian Husky. Many people want this dog breed for various reasons, and yours could be the same. If you're looking to bring home a Border Collie Husky mix as a companion or you already have one, then this guide will provide all of the knowledge necessary on this hybrid breed.
Before scrolling down this guide, check out our recommendations to help you get started: Best Dehydrated Dog Food and Best Dog Bed For Separation Anxiety
Origin of the Border Collie Husky Mix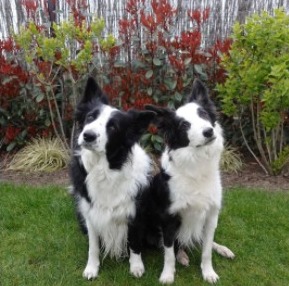 The Border Collie Husky breed was introduced when breeders mixed the Border Collie and the Siberian Husky. Whether you're a hybrid lover or not, it's pretty easy to fall in love with this breed. Many people believe that mixed breeds are much healthier than purebred dogs, although many people disagree with this notion. Since there isn't much information about the origin of the Border Collie Husky mix, you'll have to go back to the parent breeds to understand this hybrid dog better.
Border Collie Husky's Parents:
Appearance
The Border Collie and the Siberian Husky are both beautiful dog breeds. With the combination of these two, it'll result in an astonishing puppy that's mesmerizing to stare at. The Border Collie generally weighs around 30 to 55 pounds and can stand as tall as 18 to 22 inches high. These medium-sized dogs are known for their athletic build. They have a wolf-like head shape and body with semi-erect ears. The Border Collie Husky mix has eyes that are shaped like almonds. Their eye color can be blue mixed with brown and sometimes one of each color. These designer dogs have coats that can be smooth or rough since they come in various coats and colors. The most common colors you might come across in this designer dog breed are black and white.
Related: Best Dog Wolf Names
Temperament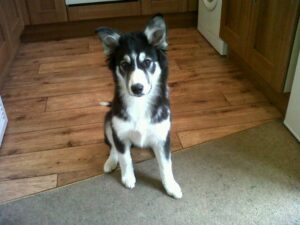 Border Collies are hardworking dogs, which means that they do well if properly socialized at an early age. If you don't provide them ways to interact with others, they're more likely to herd other pets and children while nipping and pushing them around. By building their comfort and confidence, that will be less likely to happen. The Border Collie needs lots of physical exercises and mental stimulation. Inadequate training and mental stimulation can result in destructive behavior. The Border Collie mix is brilliant and has a strong work drive around its owner.
On the other hand, the Husky is known for its free spirit, friendliness, and getting along with people or household pets. They're known as pack dogs, so they get along with other dogs well unless they sense danger or any challenges. Like the Border Collie, the Husky is exceptionally energetic. They have a strong prey drive that'll make cats and other small animals around them avoid them. Huskies require plenty of attention from their owners and exercises because, without any activity, it could lead to them being destructive at home.
If you're looking to buy a Border Collie Husky mix, you'll have to understand the upcoming responsibilities and challenging pursuits to prevent any destructive behaviors.
Exercise
The Border Collie and the Siberian Husky are both highly energetic and highly athletic. Mixing the two breeds produces a dog that thrives when they get lots of vigorous exercises. This hybrid is hardworking and excels when given tasks to perform. They stay happy when allowed to spend plenty of time outdoors playing games like fetch and running with their owners. Your Border Collie Husky mix might act out and cause damage if not allowed to exercise regularly. You can prevent this by having a daily exercise routine to stimulate your companion both physically and mentally.
Dog Exercising Product Recommendations: Best Weighted Vest For Dogs and Best Dog Playpen For Hardwood Floors
Training
Early socialization is crucial as your Border Collie Husky mix grows up. When you expose your companion to different situations, such as people they've never seen at a young age, they'll grow up to become calmer and not see others as a threat. Training the Border Collie Husky mix isn't as challenging as the average dog because of its intelligence. This mixed breed learns extremely fast, but their need for mental stimulation and a stubborn streak can pose a challenge for any trainer. While training a Border Collie Husky mix, it's advisable to use activities that they find interesting while using positive reinforcement training methods. Since this dog breed is prone to escape, you should teach it boundaries early to avoid that from happening.
Dog Training Product Recommendations: Best Dog Training Shock Collars and Best Training Collar For Stubborn Dogs
Health
The Border Collie Husky mix comes from two healthy and strong parent breeds. The Husky breed has a lifespan of 12 to 14 years, while the Border Collie has a life span from 12 to 15 years. Just like every other breed, the Border Collie and the Husky are prone to certain illnesses. However, Huskies and Border Collies, unfortunately, suffer from some of the same health issues.
These health issues are:
Eye Diseases: Both parent breeds are susceptible to eye problems. Huskies, in particular, are prone to different eye problems. Siberian Huskies may develop cataracts; even puppies as young as three months old can develop juvenile cataracts. It's wise to have a canine ophthalmologist examine the Border Collie Husky mix yearly by the time it reaches 12 months of age.
Hip Dysplasia: It's an abnormal formation of the hip socket. It can cause painful arthritis and lameness. The Border Collie Husky mix requires adequate hip evaluations.
Seizures: The Border Collie breed is prone to seizures. It could occur due to idiopathic epilepsy. However, there's no apparent cause of seizures. Afflicted dogs begin to have seizures from 1 to 4 years of age.
The Border Collie breed also suffers from eye anomaly. Other health problems for the Border Collie Husky mix may include hyperthyroidism, deafness, and skin conditions such as follicular dysplasia. They also suffer from conditions due to zinc deficiency.
Grooming and Feeding
The Border Collie parent has two different coats; the short, course, smooth coat, and medium-length rough coat. Both coats are weather-resistant and double. You can go over them using a wire pin brush to get rid of dirt, loose hairs, and tangles. It's best to do this at least once or twice a week. When your companion starts to shed, you'll need to brush its coat daily. The Husky's coat is medium length and double. They don't shed as much, but they require more maintenance during their shedding season.
When the time comes, you're expected to brush your dog more than twice a year to remove old hair. It's essential to trim your dog's nails regularly. Make sure that your Border Collie Husky mix eats top-quality dog food that is specially formulated to meet its high-energy dietary requirements. Try not to feed your companion human food but rather puppy food. As they become older, you can transition your companion's puppy food into food created for older dogs.
Dog Food-Related Articles: Tips For Choosing Good Dog Food and Best Dog Food For Bad Breath
Is a Border Collie Husky Mix a Good Family Dog?
The loyal Border Collie Husky hybrid is a perfect family dog whether you have children or elders living with you. With proper training and socialization, your companion will become extremely loving and well-behaved. This mix tends to be very possessive of its owners. It can be antisocial and leery of people they don't know. Border Collie Huskies require lots of space so they can run around and burn their excess energy. They thrive in the care of the people they love. It's not good to leave them alone for a long time.
If you're always busy, rarely spending time in your home, then this designer dog might not be suitable for you. A Border Collie Husky mix has the herd instincts from the Border Collie breed. Therefore, this hybrid might not be ideal for you if you have a cat or children living in your home. Border Collie Husky mix dogs need homes where the owners are active. After all, this breed is a social dog, which means that its owner has to be social.
Finding a Border Collie Husky Mix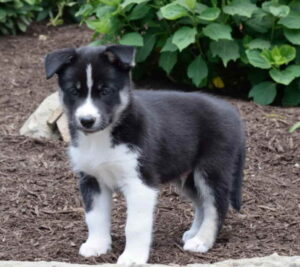 Many designer dog lovers believe that mixed breed dogs are healthier than purebred dogs. Today, hybrid dogs are becoming increasingly popular, and many people are searching for breeders to get one. Whether you're adopting or buying, the rule of thumb is to avoid puppy mills and possibly pet stores. You want to keep an eye out for any potential red flags to prevent supporting unethical practices. Your companion's health and temperament throughout its life can be significantly influenced by how it was raised.
Don't get your companion from commercial breeders whose only aim is to pump out as many puppies as possible. They only want to make a profit while neglecting their dogs. Make sure you visit your breeder's facility to find out how the puppy is being raised. Try to meet at least one parent to understand more about the health and temperament of the Border Collie Husky puppy. Lastly, ensure that the dog has been screened for all possible health conditions before taking it home.
Tips For Raising a Border Collie Husky Mix
It doesn't matter whether you're a first-time dog owner or an experienced one. You have to follow several guidelines to have your Border Collie Husky companion grow up with the right attitude. Below, our team compiled a list of tips for you to get started:
Start with simple commands when training them
Regular exercise is key
Give them toys that are a challenge to them
Keep them within a fenced environment to avoid escape
Early socialization is essential
Frequently Asked Questions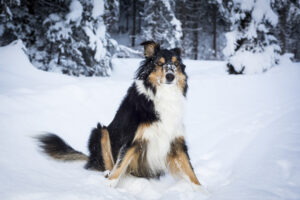 Do Husky Border Collies shed?
Yes, Husky Border Collies shed their fur! Both a Husky and Border Collie can shed a lot of hair, which doesn't change when the breeds are mixed! The fur tends to shed year-round, so be prepared to vacuum your home regularly!
Depending on the flooring you have and the number of dogs in the home, you will probably find yourself vacuuming daily (and still finding hair everywhere). The best solution is to brush your Husky Border Collie mix regularly. Daily brushing is recommended, as it will help remove any loose or excess fur in a controlled manner, instead of shedding all over your home.
Try to start brushing your dog's fur as soon as possible to prevent any anxiety or stress surrounding brush time. We find that plenty of treats and positive praise helps to guarantee a positive experience!
Although the shedding can be annoying, do not shave or attempt to shave your Husky Border Collie mix. Their fur is thick and shed for a reason; the last thing you want to do is harm the way their coat grows and risk causing harm to your dog!
Are Border Collie Husky mix good with cats?
Providing that your Border Collie Husky mix is properly socialized, it should be good with cats! These social dogs like to be part of the family, and in many cases, the family cat is no exception!
You should socialize your Border Collie Husky with your cat as soon as possible. You might find that you need to start slowly, letting them meet in the garden together or a neutral room in the house (one where neither animal has a bed) to help them get to know each other without a fight.
Generally, though, it comes down to the animal and your temperament. If your cat is fairly social and isn't too territorial, you are unlikely to encounter any issues. However, if the cat has been in the home longer and can get territorial or defensive, it might take longer for them to mix well together.
The same can be said for your Border Collie Husky; if they are anxious or nervous around other animals, it can take a while for them to come round to a cat. Don't rush the process, and remember to do what's best for your pets.
Don't let that put you off, though! Don't forget to speak to your vet or a behavioral therapist if you want more advice on mixing the animals! Providing that you put in the work and don't rush the process, your Border Collie Husky and cat will get on great.
Conclusion For "Border Collie Husky Mix"
The Border Collie Husky mix is an excellent family dog and will grow up with confidence if they're exposed to other household pets and guests at a young age. If you're searching for this type of dog breed, make sure you go through a reputable breeder. If you've already purchased one, then read guides and informational content because you should be training your puppy at a young age. If you don't teach your companion at a young age, it'll grow up with developed bad habits, which will be challenging to fix. Our team at WeLoveDoodles wishes you the best on your journey with your Border Collie Husky mix companion.
For more similar dog breeds, check out:
To learn more about the Border Collie Husky mix, watch "Everything About The Border Collie Husky Mix" from Little Paws Training down below: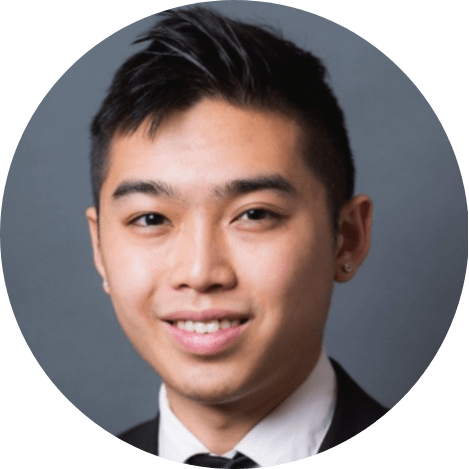 Andy is a full-time animal rescuer and owner of a toy doodle. When he's not saving dogs, Andy is one of our core writers and editors. He has been writing about dogs for over a decade. Andy joined our team because he believes that words are powerful tools that can change a dog's life for the better.
Why Trust We Love Doodles?
At We Love Doodles, we're a team of writers, veterinarians, and puppy trainers that love dogs. Our team of qualified experts researches and provides reliable information on a wide range of dog topics. Our reviews are based on customer feedback, hands-on testing, and in-depth analysis. We are fully transparent and honest to our community of dog owners and future owners.