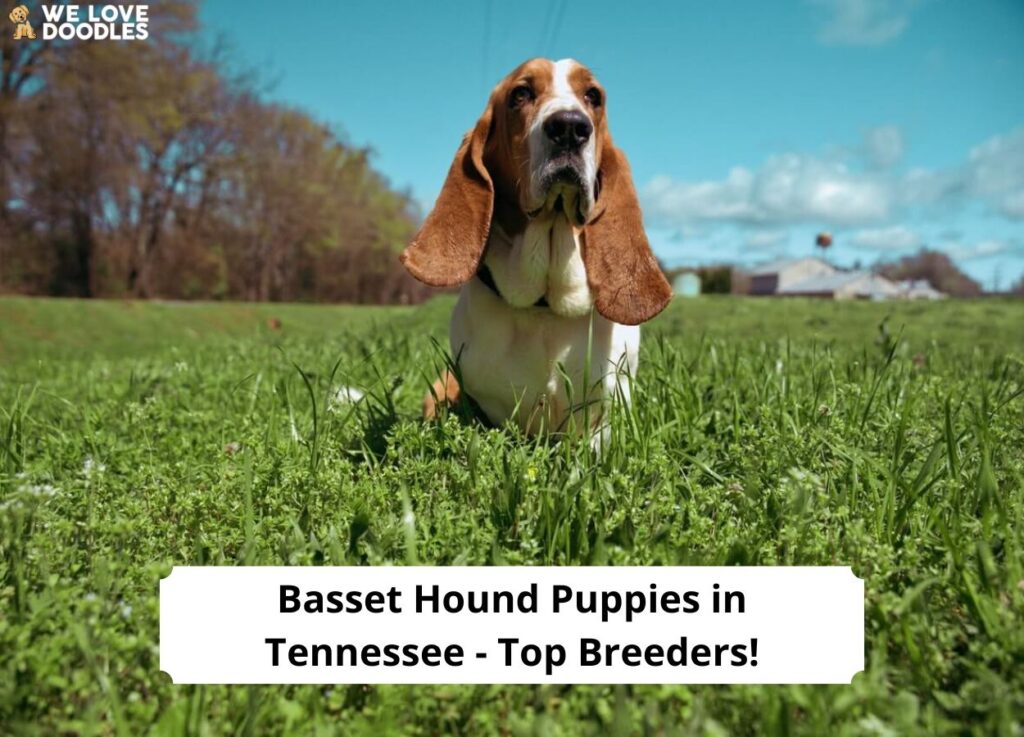 If you're looking for Basset Hound Puppies in Tennessee, you've got a great selection. Anyone who already has a Basset Hound knows they're like potato chips. You can't have just one. These hounds are sweet-tempered, a bit stubborn, and slaves to their senses. They are scent hounds, after all, and it's their job to follow those smells.
The Basset Hound makes a great family pet, they are relatively low-maintenance with respect to the amount of exercise and grooming they require. They do need a firm hand when it comes to training and nutrition.
These low-energy dogs can easily become overfed and obese, which is easily avoided by properly feeding your Basset Hound a nutritious diet and limiting treats. This can be difficult due to the sad hound dog looks they employ to get you to spoil them.
They do well with other animals and are happiest in a pack, whether that pack consists of other dogs, or your family and children. If you're in the southeast United States, you'll find quite a few Basset Hound breeders, especially in Tennessee and the states that border Tennessee.
We've compiled a list of the best breeders just for you. So, when you're ready to open your heart and home to an adorable Basset Hound or two, check out these Basset Hound puppies in Tennessee.
Before reading this list of breeders with Basset Hound puppies for sale in Tennessee, check out these articles from our team at We Love Doodles: Best Basset Hound Breeders in the United States and Best Low-Maintenance Pets That Like to Cuddle.
1. Appalachian Bassets
This Basset Hound breeder in Jamestown, TN strives to produce healthy and happy puppies suitable for loving pet homes. They do genetic testing on all of their dogs, and puppies go home at 9 weeks up to date on vaccinations, flea and heartworm treatments, microchips, and deworming.
Appalachian Bassets sell their dogs with non-breeding contracts. Once you're approved for a puppy, you make a deposit of $100 towards the total price of $800 for an AKC registerable Basset Hound. Your puppy will grow to be between 35-55 pounds at maturity around two years of age. The Basset Hound puppies from this breeder are from American bloodlines. Get started with the contact form on the website or email below.
Appalachian Bassets Details:
2. Smokey Mtn Bassets
Smokey Mtn Bassets is proud to produce Basset Hound puppies that carry European and South American bloodlines. They have spent years developing their lines and importing dogs from Brazil and all over Europe.
The goal for this Basset Hound breeder is to produce healthy, happy Basset Hounds that fit the AKC standard for type and conformation. Above all, they aim for dogs with the lovable temperament that this breed is known for.
Fill out the questionnaire on the website to start the process of obtaining a puppy from this Basset Hound breeder in Tennessee. A $200 non-refundable deposit is required to reserve a dog, and the total for a limited AKC registration is $3,000. Breeding contracts are only granted on a case-by-case basis.
Smokey Mtn Bassets Details:
3. My Heavenly Hounds
This Basset Hound breeder is a small home breeder that raises her puppies as well-loved family members. These dogs are sent to their new homes with great socialization and up-to-date on vaccinations, de-worming, and with a start on puppy pad training. They go home with a veterinarian certificate of good health and a health guarantee.
To start the process of buying a Basset Hound puppy from this breeder, fill out the contact form on the website. You are required to pay a $250 deposit to be placed on the waiting list for a puppy from My Heavenly Hounds. The total price for a puppy from this Basset Hound breeder is $900.
My Heavenly Hounds Details:
4. H. Empire Hounds and Hemp
H. Empire Hounds and Hemp, a reputable breeder, produces AKC registered Basset Hounds. The puppies are health tested and go to their new homes after 6 weeks. Each puppy has up-to-date vaccinations, is registered, and is microchipped. The breeder only accepts 6 deposits per litter and the priority of choice is first come, first served.
All potential customers are asked to contact the breeder via phone/text or on Facebook. They screen potential puppy buyers through a video interview. Once you are approved, you must sign the breeding contract and agree to the terms before you make your $200 puppy deposit. The final price is $2,200.
Once the litter is born, you may choose your puppy at 6 weeks of age. You must also arrange for pick up or delivery, as this Basset Hound breeder does not transport puppies by third-party transports.
H. Empire Hounds and Hemp Details:
5. Janzen Family Bassets
Located in Conyers, GA, just a few hours from Tennessee is breeder Janzen Family Bassets. They raise a mix of European and American bloodlines that are eligible for limited AKC registration and sold with a non-breeding contract. You must negotiate for breeding rights at an additional fee.
In order to be added to the waitlist, you must be approved and make your $200 deposit. The final price of the puppy is $2,500 and must be paid by the time the dog is 8 weeks old. New owners are required to pick up their new Basset Hound puppy. No delivery or transport is available. Contact them by email or on the Facebook breeders page.
Janzen Family Bassets Details:
6. deYampert Hounds
The breeders of deYampert Hounds are in love with Basset Hounds. They have 16 at the current count and the best prices for purebred dogs that we've seen. If you're in the market for a Continental Kennel Club (CKC) registerable Basset Hound puppy, look no further. There are some gorgeous dogs on this farm for you to choose from.
The price for a deYampert Basset Hound is $600, plus a non-refundable deposit of $25, which is required to get you on the waiting list. The deposit is not included in the price of the dog. Fill out the website form to get the process started and get ready to choose your puppy from one of the upcoming litters.
See their website for contact information and recent litters.
deYampert Hounds Details:
7. Davis' Southern Bassets
Just a few hours from Tennessee we find Davis' Southern Bassets. They are a small breeder of Basset Hound Puppies that raises them in a farm environment with lots of room to run and play. This results in happy, well-socialized puppies. They produce AKC-registered Basset Hounds.
This breeder is in a directory listing for the State of Alabama and has no website or social media presence. Please contact the breeder via email or phone to start the process of purchasing a dog from this breeder or to get information on pricing and deposits on upcoming Basset Hound litters.
Davis' Southern Bassets Details:
8. Brentley's Bassets
About 4 hours from Tennessee is Brentley's Bassets in East Flat Rock, NC. This Basset Hound breeder has a passion for these lovable hounds. They produce happy, healthy, high-quality European AKC Basset Hound puppies that will fit right into your loving home
There is no information on pricing for these puppies, nor is there a website. We recommend that you email the breeder for pricing information and more information on purchasing a puppy from an upcoming litter.
This is a directory listing. The preferred contact method is via email or the breeder's Facebook page.
Brentley's Bassets Details:
9. Huggable Bassets
A day's drive from Tennessee is Huggable Bassets in Charlotte, North Carolina. This Basset Hound breeder uses European bloodlines and does not line breed. They select outside dogs to add to their stock for the improvement of the Basset Hound breed. They keep bloodlines at 93%-96% European Basset Hound stock.
The price of an HB Basset Hound puppy is $2,550. A deposit of $100 gets the process started. You pick the parents and then you get to pick your puppy from the litter from that pairing. Huggable puppies promote champion bloodlines, but cannot guarantee that your Basset Hound puppy will be a show champion. They only claim to produce healthy high-quality dogs.
Huggable Bassets Details:
FAQs
Is a Basset Hound a good family dog?
Basset Hounds are typically good with kids because they are tolerant dogs. They may join the fun, but they're often happy just being near their families. They are laid-back and cuddly, even considered lazy at times. However, when their nose picks up a new scent, they are overcome by the hunt and are large enough to knock down a young child in their path.
Do Basset Hounds like to be alone?
Basset Hounds may seem to enjoy keeping to themselves but don't let them fool you. Despite their independent streak, they are pack animals who enjoy the company of their family and other dogs.
Can Basset Hounds live in a house with stairs?
Basset Hounds can use stairs without issue, but shouldn't use them frequently. They are heavy for their long back and frequent use of stairs can lead to long-term injury.
Conclusion for Basset Hound Puppies in Tennessee
When looking for Basset Hound Puppies in Tennessee, it is important to find reputable breeders and avoid puppy mills. Puppies from puppy mills are more likely to have poor genetics and reduced health. These puppies may also need more training because they lack home etiquette, socialization with other dogs, and socialization with people.
When you get your puppy, be prepared to provide them with plenty of love, and attention. They require a lot of training, but make up for it with minimal grooming needs. Basset Hounds are adorable, roly-poly puppies that grow up into sweet, bullheaded companions. Good luck on your journey to finding your next puppy.
For more guides similar to this list of Basset Hound breeders in Tennessee, you can check out:
If this guide helped you with looking for breeders with Basset Hound puppies in Tennessee for sale, we think you may want to check this "BASSET HOUNDS: 10 Reasons Why You DO NOT Want One" video down below:
Garrett loves animals and is a huge advocate for all Doodle dog breeds. He owns his own Goldendoodle named Kona. In addition, he volunteers at the Humane Society of Silicon Valley, where he fosters dogs and helps animals. Garrett enjoys writing about Doodles and believes that dogs can teach humans more about how to live than humans can teach a dog.
Why Trust We Love Doodles?
At We Love Doodles, we're a team of writers, veterinarians, and puppy trainers that love dogs. Our team of qualified experts researches and provides reliable information on a wide range of dog topics. Our reviews are based on customer feedback, hands-on testing, and in-depth analysis. We are fully transparent and honest to our community of dog owners and future owners.