Here's what you need to know about the Auggie Dog. Within the category of designer or hybrid breeds, dogs can come in a wide variety of sizes and styles. When you mix two different breeds, what results can be an exponentially adorable puppy that is healthy and friendly? Among the many hybrid breeds is the Auggie dog. In addition to being fun to say, the Auggie is a loveable and beautiful mixed breed. If you're considering a designer breed to add to your family, and Auggie may be worth exploring. To help you determine if an Auggie is right for you, here we share some important information about this lively and affectionate breed.
Before scrolling down this Auggie Dog guide, check out these dog mixes: Best Hypoallergenic Dog Mixes and Best Poodle Mixes.
What is an Auggie Dog?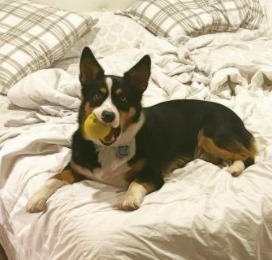 An Auggie is a designer breed, which means it's not purebred but is a mix between two breeds. This breed brings together the Australian Shepherd and Corgi breeds. What results is a loveable, active, and adorable dog that's easy to love. As both parent breeds come with some diversity in size themselves, Auggies are typically from the Minature Australian Shepherd and the Pembroke Welsh Corgi.
With their similar sizes, this is a common approach to breeding these dogs. The Australian Shepherd may also be a Standard size, which results in a slightly larger dog. Like many other hybrid breeds, the Auggie tends to bring out the best of both parent breeds. They have a small to medium size, making them very versatile for a variety of environments. Due to their size, they also have a fairly long lifespan, with an average of between 12 to 15 years.
Related: Best Corgi Breeders in the United States and Best Australian Shepherd Breeders in the United States.
Appearance of Auggies
Whether a puppy or fully grown, the Auggie is downright cute. They have big ears and a long tail that wags to express delight. Their blue eyes are captivating, and their soft fur is perfect for cuddling. The Auggie's coat can come in various colors, mainly due to the diversity of hybrid breeds. Based on the appearance of its parents, while an Auggie can have a coat that's a mix between white and brown or white and black. They can also be much darker, such as a combination of black and brown fur.
Their long to medium-length coats do require regular grooming. Auggies tend to shed their hair, so brushing and washing their coats is essential in keeping that mess to a minimum. From trimming their nails to washing their coats with a cleansing shampoo, your Auggie will appreciate looking and feeling their best. This coat also has a double layer, involving both a soft undercoat and a longer outer coat. Their size stays medium to small, depending on the size of the parents.
Typically, Auggies reach an adult weight between 20 and 40 pounds. They can also be as short as 10 inches or as tall as 16 inches when measured at the shoulder. Male dogs also tend to be slightly larger than female dogs as well. This small to medium size is quite appealing for dog owners. While Australian Shepherds have grown in significant popularity, they also can turn into large dogs. When combined with a Corgi, the smaller size helps them be more versatile in more environments, such as apartments or smaller homes. In addition, their legs are often medium length, longer than their Corgi parent.
This enables them to be slightly more active and lively when playing and running around outside. Their oval feet are large enough to carry them around as they run and roam. Unfortunately, Auggies aren't invincible. Like all other breeds, Auggies may be susceptible to specific health concerns as they age. Things like hip dysplasia and blindness may be more apparent in the Auggie breed. Regular vet visits and care for their overall health in every stage of life can help preserve their health to keep them playing and enjoying life as long as possible.
More Dog Mix: What is a Chihuahua Husky Mix?
Personality of Auggies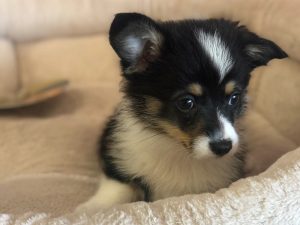 With the Corgi and the Australian Shepherd parents, the Auggie is well known for being lovable and affectionate. They are both playful and friendly, making them great companions for kids and adults alike. With a dedication to their family, Auggies are steadfast and loyal. They enjoy being around people and shouldn't be kept alone for extended periods. Whether being petted while relaxing on the couch or running around playing fetch, Auggies love spending time with their people.
As part of the herding category of breeds, the Auggie is pretty attentive to their surroundings, mainly when their family is around. While they greet strangers with friendliness and a wag of their tail, they'll also be sure to alert their owners that someone is approaching. Unfortunately, part of this friendliness may also be expressed through barking. While rarely is their bark aggressive, it's a characteristic that may be difficult to deal with in some settings. Keep this tendency in mind when determining whether an Auggie is suitable for you.
More Dog Mix: Rat Terrier Chihuahua Mix Guide.
Auggie Dog's Activities
Like their parent breeds, Auggies are known for being athletic and high on energy. They love to run around and play with their families, especially with young kids who also love running around and playing. With their high energy levels, Auggies must receive regular exercise every day. While they may not require a gigantic backyard such as what a large dog might need, they still need regular access to run, walk and get fresh air and exercise.
With their desire to please and work hard, the Auggie can be pretty easy to train with the right approach. Their high intelligence also may make training a much easier process, especially when starting as a puppy. As a herding breed especially, Auggies should start being trained as a puppy to ensure the best results for later in life. They do best when you, as the owner, are stern yet loving as you teach them commands and behaviors.
Related: Can Corgis Jump?
Conclusion For "Auggie Dog Information, Facts, Images"
With outstanding characteristics from the Australian Shepherd and Corgi, the Auggie can be a friendly and loyal companion for both families and individuals. However, keep in mind that Auggies need regular exercise to stay healthy and themselves. So be sure that you can commit the time to care for them and providing them access to exercise as you consider whether an Auggie is for you.
Another critical factor in determining whether or not an Auggie is for you is the amount of time and attention you'll be able to devote to caring for them. Auggies are very social dogs, meaning they require attention and interaction from people or other dogs. If you're not home very often and can't accommodate a lively and active friend who requires many exercises, you may want to consider an alternative breed. On the other hand, if you know you can commit to regular exercise and interaction with your dog, they can be great companions for activity and play.
Auggies can be an excellent fit for a variety of families. Be sure to do ample research in your area about local breeders and other availability of these designer breeds as you determine whether an Auggie is the right four-legged friend for you. Whether you're still considering your options or have been sold on an Auggie for years, you certainly won't have trouble falling in love with these beautiful dogs.
For articles with mentions of the Corgi and Australian Shepherd, you can check out:
Learn more about this dog mix by watching "Auggie growing up 6 weeks to 3 months":
Garrett loves animals and is a huge advocate for all Doodle dog breeds. He owns his own Goldendoodle named Kona. In addition, he volunteers at the Humane Society of Silicon Valley, where he fosters dogs and helps animals. Garrett enjoys writing about Doodles and believes that dogs can teach humans more about how to live than humans can teach a dog.
Why Trust We Love Doodles?
At We Love Doodles, we're a team of writers, veterinarians, and puppy trainers that love dogs. Our team of qualified experts researches and provides reliable information on a wide range of dog topics. Our reviews are based on customer feedback, hands-on testing, and in-depth analysis. We are fully transparent and honest to our community of dog owners and future owners.