It can be difficult to look for breeders with Yorkie puppies in Mississippi for sale, so we have created this list to help you. Yorkies, otherwise known as Yorkshire terriers, are super sweet and spunky dogs that make wonderful family companions.
These dogs are known for their goofy personalities and silky coats, as well as their agility and athleticism. For these reasons, this breed is one of the most popular breeds in the country, not to mention in the state of Mississippi. If you're in Mississippi and are looking to adopt a Yorkie puppy of your own, this is the perfect article for you.
Before you scroll down this list of breeders with Yorkie puppies in Mississippi for sale, check out these other recommendations from our team at We Love Doodles: Pomeranian Puppies in Mississippi and Shih Tzu Puppies in Mississippi.
Yorkie Puppies For Sale in Mississippi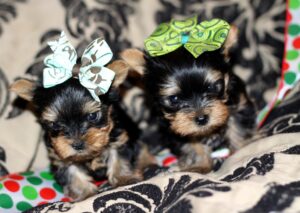 Yorkies are incredibly popular and truly adorable dogs in Mississippi. This popularity can be wonderful because it means that there are a lot of great breeders to choose from during your search for the perfect Yorkie puppy.
Unfortunately, it also means that choosing the right breeder can be a little complicated and overwhelming. We've been there and want to ensure your search for the right Yorkie breeder in Mississippi is as easy as possible.
This is why we decided to research the best Yorkie breeders in the state and the surrounding area. We took our findings and listed our favorite breeders in this article to simplify the process for you. We also added some great and helpful tips that you can use when deciding which breeder is right for you.
Yorkie Product Recommendations: Best All-Natural Shampoos For Dogs and Best Dog Brush For Tangles.
1. PuppySpot's Yorkies for Mississippi
PuppySpot works as a middleman company that focuses on connecting the best Yorkie breeders in the United States with potential customers from all over the place (including Mississippi). What is special about PuppySpot is that they ensure the puppies' health and quality and personally involve themselves in the service they offer.
Their business plan is one of the best in the industry, and it has yielded plenty of success in recent years, helping over 200,000 puppies find a home and receiving more than 10,000 5-star reviews for their quality.
History
PuppySpot found a way to make puppy adoption much easier and a win for every party involved. The breeders get a chance to broaden their market and customers, they get many more options, and they can consult them all from the comfort of their homes. For over ten years, Puppy Spot has been helping families grow.
Mission
PuppySpot loves to work with puppies. To them, it's a pleasure to go to work every day knowing they're making someone else's life better. The company has set the goal of breeding happy and healthy puppies and helping them find a home so they can bring happiness into it.
Breeding Values
PuppySpot Details
2. Mary's Little Yorkies
Mary's Little Yorkies is a great Yorkshire Terrier breeder in Mississippi that sells top-quality, AKC-registered puppies. Most puppies are even from championship bloodlines! This breeder is very special and can boast that they have some of the most beautiful and healthiest Yorkie puppies found anywhere!
They're very experienced Yorkie breeders that have spent the last 35+ years perfecting their breeding practices. They focus on breeding for qualities like loyalty, temperament, affection, and appearance. Their website has much useful information and a list of available puppies for purchase. Head to their site today to learn more about their adoption process and check out the available puppies.
Mary's Little Yorkies Details
3. Artistry Yorkies
Artistry Yorkies is a great Yorkie breeder in Michigan that produces high-quality Yorkies. They sell puppies as companions and show dogs, so their dogs are superior. They've even produced Yorkies, who have won multiple AKC events!
This breeder's top priority is ensuring their puppies are as happy and healthy as possible. Their temperaments are perfect, and this breeder uses only the highest standard of care with every puppy. Check out their website to see their available puppies today!
Artistry Yorkies Details
Yorkie Puppies In Mississippi
The process of searching for the right Yorkie breeder in Mississippi can be a long and confusing one. There are so many breeders out there that many people find it difficult to choose between their options. If you've been conducting your research online, you've probably encountered at least a few listings offering "purebred" Yorkie puppies at a lower price than a traditional breeder.
This might seem attractive financially, but buying a puppy from one of these places is terrible. These places, also known as backyard breeders and puppy mills, are known for their terrible treatment of animals and their habit of neglecting those in their care.
They're primarily focused on earning as much money as possible by selling as many puppies as possible, which leads to unhealthy animals and even inbreeding. On the other hand, traditional and reputable breeders have high standards of care for their animals.
It is standard practice for breeders to conduct extensive health tests on their dogs and puppies to ensure that they're healthy and free of any genetic predisposition for health issues. They also usually perform temperament checks to ensure that their dogs are well adjusted and behaviorally sound.
The health and well-being of their animals is the top priority for every good breeder, which cannot be said for the less reputable options. Even though a puppy you get from one of those online listings will cost less than a breeder puppy, it will probably cost way more in the long run.
This is because most of the time, those dogs have tons of health problems— even when they look healthy. This can result in thousands of dollars of vet bills throughout their lives and isn't worth it!
How to Choose a Yorkie Breeder in Mississippi
Deciding which Yorkie breeder in Mississippi is right for you is a long process that can sometimes get confusing. There are so many options to choose from that it can be difficult to decide which breeder is the best option.
Many people first beginning their search find themselves wondering things like how do you find the best Yorkie breeder in Mississippi? How do you know which breeder is the best? How do you choose between two Yorkie breeders?
Through our extensive research, we've discovered that all of the best breeders tend to have some key traits in common that set them apart from the rest. These traits all focus on their dogs' quality, health, and well-being. If you familiarize yourself with this list, it can become easier to determine which breeder is the right choice for you and your family.
Top tips for choosing a Yorkie breeder in Mississippi:
These tips are a great place to start. You can use them during your search for the best Yorkie breeder in Mississippi to help you sort out the good breeders from the bad. We recommend that you do your research to look into any breeder you consider adopting from.
Be sure to take some time to read the testimonials and reviews from past customers. This will help you get a good idea of how other adoptive families felt about their experiences. Sometimes you won't be able to find these on a breeder's website, in which case you can ask them for testimonials directly.
Usually, these breeders will be thrilled to share testimonials with you, but if they refuse or seem cagey about your request, it might be a bad sign. You should also make sure that you select a breeder that you like as a person and get along with.
This is because many breeders prefer to stay in touch with their adoptive families throughout their puppy's life. Therefore, choosing a breeder, you feel comfortable communicating with occasionally would be best.
Where Do You Find a Yorkie Breeder in Mississippi?
All the Yorkie breeders we included in this list are wonderful options for Yorkie breeders in Mississippi. We only included breeders with excellent breeding practices and a track record for producing the highest quality dogs.
We place a heavy emphasis on the health and well-being of our dogs, which is why we only consider breeders that do the same. There are also many other great Yorkie breeders in the USA that we didn't include on this list, so be sure to research a few of those if you need more ideas.
When conducting your research, use our list of tips from the above section and trust your gut! Lastly, it would be best if you were sure never to buy a puppy from a backyard breeder, a puppy mill, or a pet store.
Conclusion For "Yorkie Puppies in Mississippi For Sale"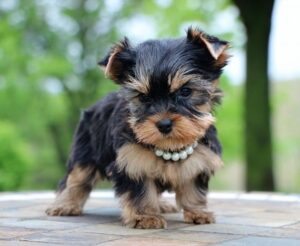 Yorkies are such special dogs, and they are incredibly popular worldwide. They are very popular in Mississippi. These dogs are cute, cuddly, energetic, playful, and spunky, not to mention small in size, making them perfect travel companions.
Each breeder included on this list is a great choice for the best Yorkie breeders in Mississippi. We only consider breeders with great breeding practices and high standards of care for their dogs.
For more guides similar to this list of Yorkie breeders in Mississippi, you can check out:
If this guide helped you with looking for breeders with Yorkie puppies in Mississippi for sale, we think you may want to check this "Should You Get a Yorkie?" video down below:
Garrett loves animals and is a huge advocate for all Doodle dog breeds. He owns his own Goldendoodle named Kona. In addition, he volunteers at the Humane Society of Silicon Valley, where he fosters dogs and helps animals. Garrett enjoys writing about Doodles and believes that dogs can teach humans more about how to live than humans can teach a dog.
Why Trust We Love Doodles?
At We Love Doodles, we're a team of writers, veterinarians, and puppy trainers that love dogs. Our team of qualified experts researches and provides reliable information on a wide range of dog topics. Our reviews are based on customer feedback, hands-on testing, and in-depth analysis. We are fully transparent and honest to our community of dog owners and future owners.