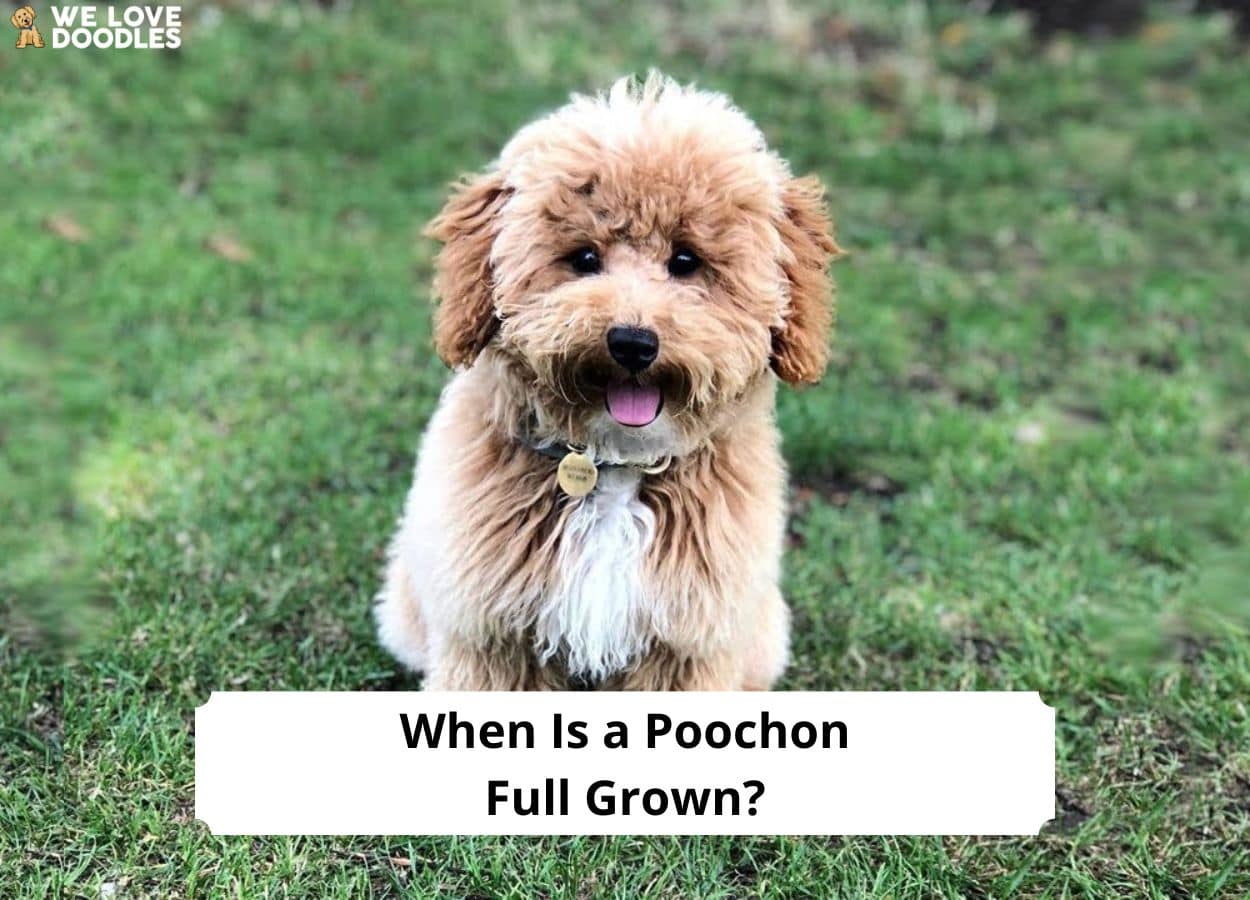 Dog lovers choose Poochons as family pets for a multitude of reasons. People instantly fall for those adorable faces and fun but mischievous dispositions when you mix a Bichon Frise with a mini-sized Poodle. Here's what you should know about when your Poochon is full-grown.
Poochons are a popular designer mixed breed for their low shedding and hypoallergenic qualities, but that doesn't mean they're right for every family. Choosing the right-sized dog is very important for anyone with limited space or physical limitations.
Aside from checking with your breeder about the parentage, a full-grown Poochon doesn't mean it's reached maturity.
Before scrolling down this guide, "When Is a Poochon Full Grown" check out: When is a Cockapoo Full Grown? and When is a Cavapoo Full Grown? (2023).
When Is a Poochon Full-Grown?
To answer that question, you need to know your Poochon's parentage to gauge its adult size properly.
Because Poochons are small, people often mistake adult dogs for puppies. A Poochon with a miniature Poodle and Bichon Frise parent will retain a small-sized dog stature.
A Poochon from a toy or teacup parent will remain slightly smaller. Due to the nature of the breeding practices in that category and the genetic material each puppy carries, size fluctuates a little.
Toy or teacup breeds have distinct genetics that allows them to remain tiny even into adulthood.
A mature Poochon weighs 6 to 17 lbs and stands 9 to 15 inches tall. Some puppies, however, reach those weight and height measurements sooner than others. It also depends on the parental mix.
For those reasons, Poochons are also versatile. They make great companions for single adults, families with older children, and seniors. They adapt to living in small spaces as long as they have access to companionship for most of the day.
Personality as an Age and Size Indicator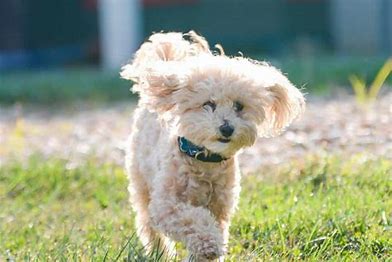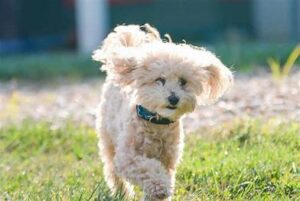 Pooches have a playful disposition. Their antics and friendly nature help conceal their actual age. Poochon puppies make great pets for apartment living, and because of their keen sense and intelligence, they're easy to train, even for novice dog owners.
Gauging a Poochon's age is also tricky because of its luxurious curly coat. Though requiring some dog grooming and regular hair trims, a Poochons coat disguises its age well.
Pooches thrive from mental stimulation and tasks and are good at agility and learning tricks which keeps them healthy and youthful.
Since the Poochon is a newer Doodle breed, many Poochons stem from the first generation of the mixed dog breed. This means the Poochon breed can't rely on specific markers to predict the physical traits and dominant character markers as purebreds with an established breeding history.
For a pet owner who knows their puppy's breeding history, the eventual size and weight of their full-grown Poochon are somewhat easy to determine.
Understanding First-Generation Poochon Markers
| | | | | |
| --- | --- | --- | --- | --- |
| Primary Parent | 1st Primary Parent | 2nd Primary Parent | % of Bichon Frise breed | % of Poodle breed |
| F1 Poochon (first-generation) | Bichon Frise | Poodle | 50% | 50% |
| F1B Poochon (first-generation backcross) | F1 Poochon | Poodle | 25% | 75% |
| F1BB Poochon (first-generation backcross to backcross) | F1B Poochon | Poodle | 12.5% | 87.5% |
| F2 Poochon (second-generation) | F1 Poochon | F1 Poochon | 50% | 50% |
| F2B Poochon (second-generation backcross) | F1 Poochon | F1B Poochon | 37.5% | 62.5% |
| F2B Poochon (alternate cross) | F2 Poochon | Poodle | 25% | 75% |
| F3 / Multi Generation Poochon | F1B Poochon or higher | F1B Poochon or higher | Varies | Varies |
This sample demonstrates how first-generation and subsequent breeding influences the genetic outcome.
Average Height and Weight Markers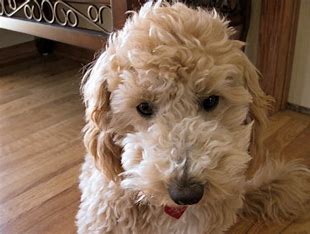 People refer to a standard Poochon (otherwise known as Bichpoo or Bichon Poo) as the cross between a Bichon Frise and a miniature Poodle.
A mini Poochon is the offspring of a toy or teacup Poodle and a Bichon. Of course, these blends also include the puppies of first-generation Poochons.
Expect a standard to mature to adulthood at a slightly slower rate of 18 months than the mini Poochon at 12 months.
Standard Poochons usually weigh 10 to 18 lbs and stand 10 to 15 inches tall at the withers. While mini Poochons average 6 to 10 lbs and measure 8 to 10 inches. The American Kennel Club uses these guidelines to measure dogs.
Development and Growth Characteristics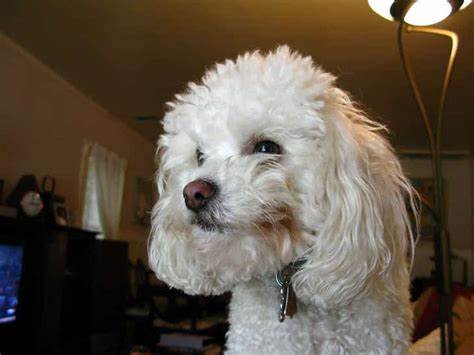 Dog lovers choose Poochons as family pets for many reasons. People instantly fall for their adorable faces and fun but mischievous dispositions.
Both standard and mini Poochons grow rapidly when they're fed quality food during their first life stages. People see the greatest growth spurts in dogs during their first six months.
When a mini Poochon reaches six months of age, it may already be as big as it will ever grow. Standard Poochons will reach approximately 80-90% of their adult size by then. Once a dog attains a healthy puppy size, its body will develop more muscle weight and a stronger body frame. Standards typically mature to full-grown status by 18 months.
Healthy Poochon puppies thrive on a well-balanced diet. Overfeeding a puppy, despite its appetite, isn't healthy. It might do more harm to its development. Even feeding a puppy adult food designed for full-grown Poochon adults is detrimental to its healthy bone and muscle development. Adult food might deprive it of essential nutrients.
If you want to know how big Poochons get, use this simple calculation to get an estimate. Take your 15-week-old puppy's weight and multiply that by two.
Other Factors That Influence the Size of a Full-Grown Poochon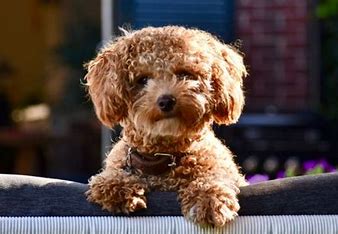 Poochon breeding is still in its infancy, but several significant facts impact a full-grown Poochon's size.
Diet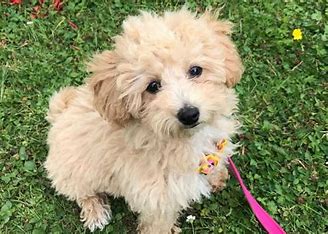 Diet influences a dog's size at any stage of its life cycle. Providing nutritious, lean protein sources keep dogs healthy. Dogs suffering from weight issues might seem larger than a full-grown Poochon.
Veterinarians and dog food manufacturers promote an ideal image of a lean, healthy dog profile. This profile also applies to standard and mini Poochons. An added benefit to keeping your Poochon at its appropriate weight is that it typically reduces veterinary expenses. Weight issues can lead to diabetes, joint problems, and more.
Genetics
Many genetic characteristics influence the size of a puppy as it matures. Some puppies grow bigger than their parents from previous genetic donations. Others might stay smaller, and even the best diet can't change them.
Gender
As with most mammals, males tend to be larger than their female counterparts, even if they're from the same litter. Female Poochons weigh between 6 to 8 lbs, and males weigh 18 lbs at maturity. Mini Poochon males might weigh as much as 10 lbs.
Poochon Growth Chart by Week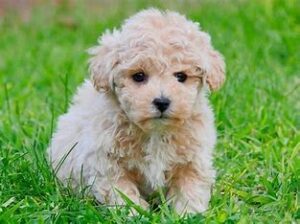 Watching a puppy grow to reach their full size is both endearing and also good for its health. Puppies that aren't keeping pace with the puppy siblings may struggle with their diet or have other health concerns. A sure way is to check with your veterinarian and monitor the puppy's development.
It is interesting to watch the toy Poochon category outpace its larger standard Poochon cousins in the early weeks of growth. Considering the toy category will only be about half the size, they sure start strong.
Thanks to Doodle Doods, which conducted its survey with over 2,000 weight submission samples, we have a good view of how much a Poochon weighs at set measurement stages.
Standard Poochon Growth
At 8 weeks – 2.98lbs
At 16 weeks – 6.12lbs
At 24 weeks – 11.00lbs
Medium Mini Poochon
At 8 weeks – 2.98lbs
At 16 weeks – 7.00lbs*
At 24 weeks – 10.04lbs
At 32 weeks – 14.30lbs*
Toy and Teacup Poochon
At 8 weeks – 2.09lbs
At 16 weeks – 6.05lbs
At 24 weeks – N/A
At 32 weeks – 11.47
Although this isn't scientific data, you can see that the formula for predicting a Poochon's size is within range. (Using Medium Mini Poochon results marked*.)
When Are Poochons Fully Grown?
Poochons will always look like puppies because of their toy-like appearance. Most Poochons reach 50% of their adult size by the time they're three months old. At six months, you'll have a good idea of what height they'll reach as adults.
Puppies typically experience growth spurts for the first six months. They'll have longer limbs and slim bodies that make them look comical. Once they have their basic body size, they'll develop muscle and body mass.
Mini Poochons reach their mature growth potential sooner than standard Poochons.
Age Indicators for Pooches
People love Poochons because they resemble puppies for most of their life. Their curly hair and teddy bear-like qualities contribute to their disguise.
Many people choose to rescue Poochons from shelters. They often don't come with papers, pedigrees, or any details about their age. In some dog breeds, it's easy to spot a graying muzzle and slower arthritic body movements.
Rescue Poochons take a closer examination to determine their age. Veterinarians use a few techniques to estimate their age. Knowing a Poochon's age helps provide it with the best diet and exercise program. It's also helpful in creating a health profile.
Body
Puppies have many telltale signs. Aside from their inquisitive and adorable expressions, puppies give away clues.
Vets assess body size, paw size compared to the body, excess skin, and a certain vigor. Senior dogs exhibit signs too.
Teeth
Teeth are an unreliable element in determining a dog's age. Puppy erupts between three and six weeks. Adult teeth appear at age 12 to 16 weeks at the front and 16 to 24 weeks at the back of the mouth.
Most puppy teeth are pure white and without any staining. Mature dogs develop signs of tooth decay and tartar buildup. Of course, these parameters aren't a sure way of aging a dog. An older dog might have fantastic teeth if its owners take good care.
Eyes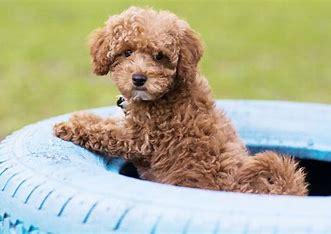 Senior dogs often have a cloudy, milky-bluish film. Lenticular sclerosis is a normal aging condition in dogs six to eight years of age.
Frequently Asked Questions
How much should you walk a Poochon?
Aim for an average of 30 minutes per day of walking and physical exercise for your Poochon.
Is a Poochon easy to train?
Like their parents, Poochons are smart dogs that should generally be easy to train.
How many hours does a Poochon sleep per day?
Dogs typically sleep 12 to 15 hours per day, but as puppies, Poochons may sleep up to 20 hours.
Conclusion for "When Is a Poochon Full Grown"
On average, a Poochon is fully grown between 12 and 18 months. Toy and teacup Poochons mature earlier than standard Poochons. Regardless of age, full-grown Poochon puppies remain puppies at heart and have an average life expectancy of 12 to 15 years.
The dog's family history, access to a healthy diet, and strong exercise program help your Poochon pup grow into a healthy but small-sized dog. Regardless of which type of Poochon comes into your life, they deserve your unconditional love and attention.
For more guides related to this topic, you can check out:
Learn more about the Poochon dog breed by watching "Poochon Dog Breed Information – How can they lighten your mood | Poochon Dogs 101" down below:
Garrett loves animals and is a huge advocate for all Doodle dog breeds. He owns his own Goldendoodle named Kona. In addition, he volunteers at the Humane Society of Silicon Valley, where he fosters dogs and helps animals. Garrett enjoys writing about Doodles and believes that dogs can teach humans more about how to live than humans can teach a dog.
Why Trust We Love Doodles?
At We Love Doodles, we're a team of writers, veterinarians, and puppy trainers that love dogs. Our team of qualified experts researches and provides reliable information on a wide range of dog topics. Our reviews are based on customer feedback, hands-on testing, and in-depth analysis. We are fully transparent and honest to our community of dog owners and future owners.