Pomapoos are a sweet Toy dog breed made by crossing a Pomeranian with a Toy Poodle. They are the quintessential lap dog with a soft, fluffy coat — and they fit tons of personality into a tiny package. People generally know that Pomapoos are small, but you may wonder when a Pomapoo is full-grown.
Before scrolling down this guide, "When Is a Pomapoo Full-Grown," check out: Are Pomeranians Good With Kids? (2023) and 6 Fun Games to Play With Your Poodle! (2023).
What Is a Pomapoo?
A Pomapoo is a crossbreed of a Pomeranian and a Toy Poodle. Sometimes a breeder will use a Miniature Poodle, resulting in a slightly bigger dog.
You may see them labeled as Pomeroodles, Pooranians, and Pompoos.
Like their parent breeds, Pomapoos grow quickly in their first several months of life. They gain most of their height and weight by three months old. It is possible that they reach adult size by six months.
However, a Pomapoo is considered full-grown by its first birthday.
Pomeranians
A full-grown Pomeranian is about six to seven inches tall and weighs between three and seven pounds. They have adorable fox-like faces and bountiful double coats.
They are highly affectionate dogs that usually attach to one person. Pomeranians are sometimes known as the ideal companion. They can coexist well with children and other dogs. However, children should be taught to be particularly careful with pups on the small end of the height and weight spectrum.
Toy Poodles
A Toy Poodle is the pint-sized version of the iconic white dog with fluffy tufts of fur. They grow up to 10 inches tall and weigh between four and six pounds.
Toy Poodles are also wonderfully affectionate family dogs. They are great for families with children, and they can coexist well with other dogs. They are incredibly smart and easy to train. All their wonderful qualities make them a popular choice for crossbreeding.
Miniature Poodles
Sometimes Pomapoos have one Miniature Poodle parent. They grow 10 to 15 inches tall and weigh between 10 to 15 pounds. And they have the same personality characteristics as other sizes of Poodles.
Their larger size makes them less ideal for crossbreeding with a Pomeranian to make Pomapoo puppies.
Here is a growth chart for comparison:
| | | |
| --- | --- | --- |
| Pomeranian | Toy Poodle | Miniature Poodle |
| 6-7 inches | Up to 10 inches | 10-15 inches |
| 3-7 lbs | 4-6 lbs | 10-15 lbs |
Pomapoo Traits
Although they are not an AKC-recognized breed, Pomapoos have a wonderful mix of their parent breeds' traits. They are friendly and vivacious like Poms. They are also intelligent and sweet like Poodles.
Pomapoos make excellent family dogs because they get along well with children and other dogs. Families just need to assure that kids know how to handle a small dog gently. After all, a Toy breed can be as small as three pounds.
Pomeranians and Poodles tend to attach to one human over the others in the family. Pomapoos do the same thing. However, they are not aggressive toward the rest of the family. They remain friendly or, at worst, indifferent toward others.
Good Families for Pomapoos
Pomapoos are excellent lap dogs for individuals or families. Their characteristics make them ideal for moderate activity levels. They truly love to relax on the couch with you as long as you take a daily walk or engage in some indoor play.
Pomapoos are especially well suited to elderly couples or individuals. They are delightfully devoted pets who don't need much daily exercise to be healthy and content.
When Is a Pomapoo Full-Grown?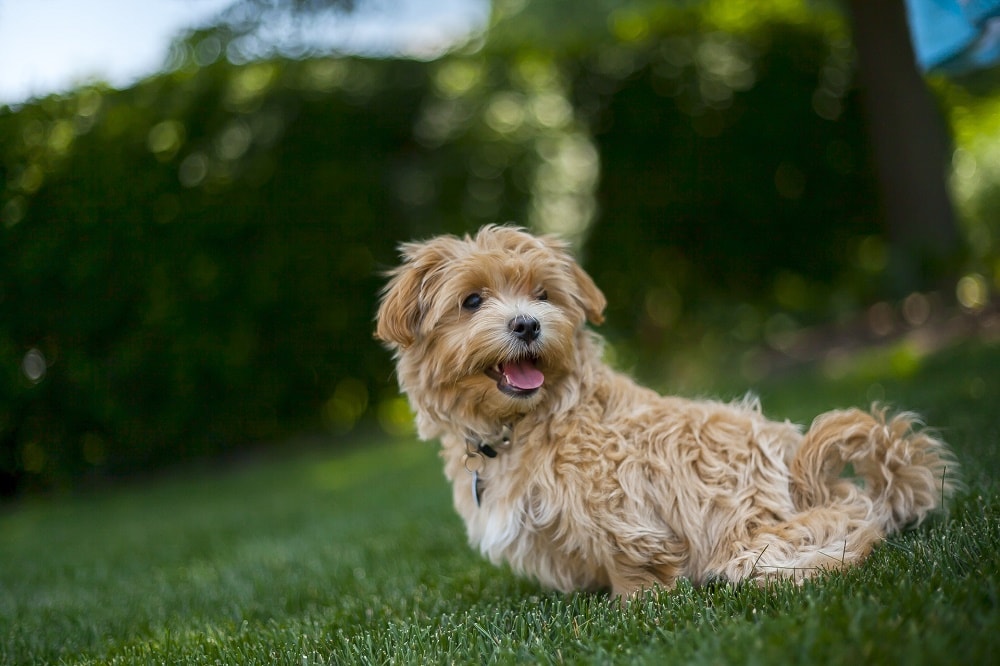 Because Pomapoos are a small breed, they reach their adult size more quickly than larger dogs. By 12 months old, a Pomapoo is full-grown.
Pomapoos tend to reach their full height by six or seven months old and adult weight by one year.
You can estimate your Pomapoo's adult height and weight based on their measurements at three and six months. Double your puppy's weight at three months and that is likely his weight at one year. He likely has reached his adult height by six months. Your Pomapoo puppy will gradually gain the rest of his adult weight over the second half of the first year.
Toy Dog Growth
Toy dogs reach their adult size earlier in life than larger dogs. Larger dogs have a puppy growth spurt in the first year of life and gradually reach adult size by their second birthday.
Toy dogs do most of their growing in the first three months of life. They usually reach full height by six months and gradually gain a bit more weight over the second half of their first year. Toy dogs are fully grown by 12 months old.
A note about dog height measurements: dogs are measured to the withers (the space between their shoulders), not the top of the head.
Pomapoo Growth Chart
| | | |
| --- | --- | --- |
| Height | 6-10 inches | 6-10 inches |
| Weight | 4-6 lbs. | 4-12 lbs. |
| Age | 3-6 Months | 12 Months |
How Big Do Pomapoos Get?
Toy breeds are the second smallest category just above Teacups. When you think about a lap dog to snuggle and chill out with you, a Pomapoo is an excellent breed.
They are a relatively new breed so don't have particular standards. But we can establish a typical range of height and weight to expect based on the parent breeds.
Combining the typical size range of Pomeranians and Toy Poodles, you get six to 10 inches tall and weigh between three and seven pounds. Your Pomapoo could be slightly larger if there is a Miniature Poodle in their heritage.
In addition to looking at the growth of Pomeranians and Toy Poodles, a few other factors affect the size of your Pomapoo.
Generation
Crossbred dogs display characteristics based on how much of each breed's genetics they inherit. Remember learning in elementary science about how brown or blue eyes pass from your parents to you? It's similar in dog breeds. You can chart it out based on past generations in your dog's lineage.
An F1 or first-generation Pomapoo has a 100 percent Pomeranian parent and a 100 percent Poodle parent. As the generations back cross-breeding, your dog will display characteristics of the predominant genetics.
For example, an F1B Pomapoo has an F1 Pomapoo parent and a Poodle parent. That makes a 25 percent Pomeranian and 75 percent Poodle puppy. This dog will display more predominantly as a Poodle than a Pom. As a full-grown Pomapoo adult, this dog may also be on the larger end of the size spectrum.
You can also get a Pomapoo that is half Pom and half Poodle if both parents are F1 Pomapoos. Those puppies are F2 Pomapoos and will have an even mix of characteristics.
Size of Parents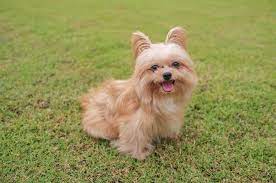 While standards exist for Poms and Toy Poodles, you can see that there is a broad range of height and weight for each. Looking at the parents of your pup will give you an idea of how large your Pomapoo will be when fully grown.
When you add a new puppy to your family, it is a good idea to meet the parent animals, or at least see photos of them. This gives you a way to estimate the adult size of your pup.
Gender
Like most mammalian species, male dogs tend to be slightly taller and heavier than female dogs. The same holds true for Pomapoos regardless of what generation they are. Your male Pomapoo will tend to be on the larger end of the height and weight range than females.
Are There Other Sizes of Pomapoo?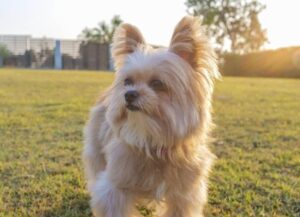 Pomapoos are meant to be tiny lap dogs. While some breeders may mix a Pomeranian with a Miniature Poodle, that is rare and less desirable.
Crossbreeding a Pomeranian with a Standard Poodle is non-existent. It is undesirable to produce a large Pomapoo. Also, it is dangerous to combine such varied sizes of dogs. Such breeding is widely considered unethical.
So, the Toy is technically the only size of a Pomapoo. Any differences in size come down to normal variation within the parent breeds.
Frequently Asked Questions
The size, personality, and care needs of a dog breed make a huge impact on whether a type of dog is right for you. Here are a few more answers to your Pomapoo questions.
Is Pomapoo a registered breed?
The AKC and other kennel clubs do not recognize cross-breeds. However, Pomapoos are incredibly popular, and many breeders are anxious to provide these fluffy pups to interested dog owners.
How long is a Pomapoo a puppy?
All dogs are technically considered puppies until they are one year old. Your Pomapoo is an adult by his first birthday. Many larger breeds still grow well into their second year of life. However, Toy dogs can reach adult size as early as seven months.
Do Pomapoo puppies bark a lot?
While Pomeranians have many commendable qualities, they tend to bark constantly. Your Pomapoo puppy could inherit this trait from their Pom parent. It is possible to train most puppies away from nuisance barking.
Can Pomapoos be left alone?
These dogs are known as the perfect companion. They bond with a person and want to be with them all the time. They are also indoor dogs who can develop barking and digging habits if left alone. Your Pomapoo will love being outside with you for playing and walking, but he will also want to retire to the couch afterward.
Do Pomapoos only like one person?
These are affectionate dogs who bond well with their humans. Pomeranians tend to select one person who is super special, but that doesn't mean that they reject the rest of the family. You Pomapoo may inherit this tendency to love one human above the others.
Conclusion for "When Is a Pomapoo Full-Grown"
So, when is a Pomapoo full-grown? Pomapoos are a Toy dog breed. They do most of their growing in the first several months of life. They typically get to their adult height by three to six months. They gain the rest of their adult weight by 12 months.
Your Pomapoo is full-grown by one year old.
For more guides related to this breed, check out:
Learn more about the Pomapoo by watching "The Pomeranian Toy Poodle Mix (Pomapoo) Everything You Need To Know About" down below:
Garrett loves animals and is a huge advocate for all Doodle dog breeds. He owns his own Goldendoodle named Kona. In addition, he volunteers at the Humane Society of Silicon Valley, where he fosters dogs and helps animals. Garrett enjoys writing about Doodles and believes that dogs can teach humans more about how to live than humans can teach a dog.
Why Trust We Love Doodles?
At We Love Doodles, we're a team of writers, veterinarians, and puppy trainers that love dogs. Our team of qualified experts researches and provides reliable information on a wide range of dog topics. Our reviews are based on customer feedback, hands-on testing, and in-depth analysis. We are fully transparent and honest to our community of dog owners and future owners.