If you're looking for a small, intelligent, adorable dog breed, look no further than the Westiepoo. This little bundle of energy is among the Doodle or Poodle mix breeds that are very popular. Westiepoos are also diverse, as they come in various sizes — teacup, toy, mini, and standard. So, no matter your living situation, you're sure to find a Westiepoo to suit you and your family.
Read on to learn more about Westiepoo sizes, as well as information on the breed's requirements and temperament. If you aren't convinced about adopting a Westiepoo, you certainly will be after reading about this precious pup.
Before scrolling down this guide "Westiepoo Sizes," check out these related articles: Westiepoo Puppies in the US – Top 4 Breeders! (2023) and When Is a Westiepoo Full-Grown? (2023).
What Is a Westiepoo?
A Westiepoo is a mix between a West Highland Terrier and a Poodle. Like most Poodle mixes, the breed originated in the United States during the 1970s. The Westiepoo is a designer breed, meaning it's a combination of two purebreds to get a specific look.
It's essential to look closer at the parent breeds to understand the breed better.
West Highland Terrier
The West Highland Terrier, or Westie, originated in Scotland in the 1700s as a rodent hunter. It's a small breed, standing only about ten to 11 inches tall and weighing 15 to 20 pounds.
Westies are intelligent, playful, and adaptable. As they were bred to hunt rodents, they have a high prey drive and are relatively active for a small breed. They're also independent dogs, which can make training a challenge.
They make great companions and family dogs; they are loyal and excellent with children. However, a Westie might not be for you if you want peace and quiet. They are a very vocal breed and are always alert around strangers. So, if you live in an apartment, this could be a problem.
Poodle
The Poodle is the national dog of France. However, despite its association with France, the Poodle breed originated in Germany over 400 years ago.
The Poodle was bred to be a retrieving water dog. As such, they love swimming and have a high prey drive. Their thick coats are meant to help them stay warm in cold water. The typical Poodle haircut — shaved legs, neck, and tail — makes them faster in the water.
Poodles are hypoallergenic and make a great family dog. That is why they are so popular when breeding hybrid dogs, as people want both the aesthetic characteristics and personality traits of a Poodle.
Westiepoo Sizes
Since there is only one size of West Highland Terrier, a Westiepoo's size will depend on the Poodle parent's size. Here's a rundown of the four sizes of Westiepoo you're likely to come across.
Teacup Westiepoo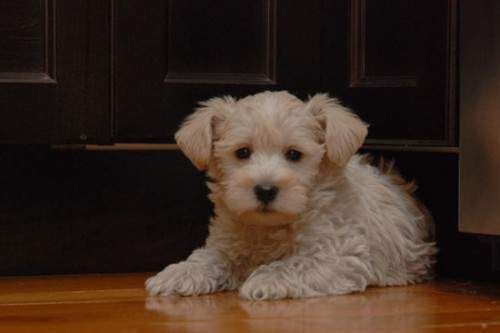 A teacup Westiepoo will be nine inches or under in height and weigh six pounds or less. This miniature size makes them easy to take with you wherever you go and is ideal for small-space living (remember the vocalization of this breed, though).
The small size also makes their exercise needs less than the other sizes — a short walk and some playtime daily will satisfy them. It also lowers grooming costs, as they're easy to handle and thus quick to groom.
Teacup Westiepoos will live, on average, between 12 to 18 years.
Because of the selective breeding required to produce teacup breeds, they are prone to health issues. Some known health problems include progressive retinal atrophy (PRA), dysplasia, patella luxation, low blood sugar, and heart defects. Regular vet checkups will help detect and prevent some of these issues.
Toy Westiepoo
Toy Westiepoos will be no taller than ten inches, which is quite close to the teacup Westiepoo. Its weight will be between six and ten pounds.
Like the teacup Westiepoo, you'll get all the benefits of having a tiny dog. They require more exercise than the teacup; a 30-minute walk daily plus playtime will keep this Westiepoo size happy.
The life expectancy of a toy Westiepoo is 12 to 18 years, and known health issues include dental disease, obesity, heart disease, hyperadrenocorticism, epilepsy, kidney disorders, skin cancer, and joint issues.
Mini Westiepoo
Mini Westiepoos should be between ten and 12 inches in height and weigh between ten and 15 pounds.
Though not much bigger than the toy Westiepoo, this size is much more active and thus requires more exercise. You should walk a mini Westiepoo twice daily for 30 to 60 minutes.
The lifespan of a Mini Westiepoo is between ten and 18 years. They have a few known health problems, including Addison's disease, bloat, hyper/hypothyroidism, dysplasia, Sebaceous Adenitis, Legg-Calve-Perthes disease, and epilepsy.
Standard Westiepoo
The largest size of all, the standard Westiepoo, isn't all that big — they're still considered a small breed. Standard Westiepoos will be between 12 and 17 inches in height and weigh 15 to 35 pounds.
With the energy of a Westie and the stamina of a standard Poodle, this is by far the most active size. They should have at least two hours of exercise daily, consisting of low-intensity activities like walks and high-intensity activities like fetch or agility.
The standard Westiepoo's life expectancy is ten to 15 years. A few health issues this size is prone to are similar to other sizes, including bloat, Addison's disease, dysplasia, thyroid problems, and epilepsy.
Westiepoo Temperament
With every breed, there's no guarantee about what type of personality they will have. It relies on many factors, such as inherited characteristics, early training and socialization, and environment. However, there are a few standard traits of a Westiepoo.
The Westiepoo is a friendly dog that will happily greet strangers while on walks or at the dog park — anywhere it doesn't consider its territory.
Unfortunately, the Terrier instincts coming from the Westie parent mean that Westiepoos will be quick to bark at anyone unfamiliar in their "territory," which could be your home, yard, street, or even your local park if you visit it daily.
Westiepoos are generally good with other dogs. But, of course, like all breeds, this requires early socialization to ensure they are not aggressive or frightened around other dogs.
When it comes to other animals, because both parent dogs got bred to hunt, they are likely to chase squirrels, cats, and other small animals. So, if you have a cat at home, it's essential to teach your Westiepoo proper manners around the cat so there's no conflict between the two pets.
Westiepoos are also highly intelligent. Since both parents are considered intelligent, training should be relatively easy. However, if your Westiepoo takes more after its Westie parent, you could have some issues with disobedience. That doesn't mean they can't get trained; you'll just have to have some extra patience.
Breed Status
The Westiepoo isn't currently accepted by the American Kennel Club. So, if you are looking for a show dog, the Westiepoo isn't the dog for you.
However, the breed is recognized by the Dog Registry of America and the International Designer Canine Registry. They are also recognized under the pseudonym Wee-Poo by the American Canine Hybrid Club, Designer Dogs Kennel Club, and Designer Breed Registry.
Frequently Asked Questions
Do you still have questions about Westiepoos? Below are some common topics.
How much does a Westiepoo cost?
If you don't care about official papers, a Westiepoo puppy will cost anywhere between $250 and $800. However, if you want a registered puppy, that will run you anywhere from $1,800 to $4,800, depending on its lineage.
Are Westiepoos hypoallergenic?
Yes, Westiepoos are considered hypoallergenic. That doesn't mean they don't shed, though. They will still lose a small amount of hair, particularly when the seasons change, as their coats will adapt to the temperature.
Are Westiepoos low maintenance?
Westiepoo is a low- to medium-maintenance breed. In terms of grooming, you must brush them more often than other breeds. Since their coat is medium length and very dense, it's prone to matting.

Regarding exercise and training, they are considered low maintenance. That is because they only require 30 to 60 minutes of exercise per day. Also, they are very intelligent, so training is easy.

In terms of behavior, they're a medium-maintenance breed. Westiepoos are quite clingy, so they can't be left alone for long periods. You may need to arrange for daycare or a dog walker to help with separation anxiety.
How many puppies can a Westiepoo have?
That said, the average litter size of a Westiepoo is between three and seven puppies.
Where can I get a Westiepoo?
A quick search will reveal many results for Westiepoos in your area. Since they are a popular dog breed, unfortunately, this puts them at risk of being bred in puppy mills.

Puppy mills are akin to commercial farming, where dogs are bred solely for their offspring and the revenue they bring. Many dogs are kept in inhumane conditions.

If you think you've found a reputable breeder, visit them before agreeing to adopt a puppy. That way, you can see the living conditions and how much training and socialization they have received.
Conclusion for "Westiepoo Sizes"
Westiepoos are active, loving, intelligent dogs. The diversity in their size makes them a fantastic fit for any household. As long as you have the time and financial means to care for a Westiepoo, you won't regret adopting one.
Now that you have information on Westiepoo sizes and the breed in general, all that's left to do is choose the right size for you and start preparing for the newest addition to your family!
For more guides similar to this list of Westiepoo sizes, check out:
To learn more about this breed, watch "Westiepoo: The Poodle West Highland White Terrier Mix | Is This Dog Good For You?" down below:
Garrett loves animals and is a huge advocate for all Doodle dog breeds. He owns his own Goldendoodle named Kona. In addition, he volunteers at the Humane Society of Silicon Valley, where he fosters dogs and helps animals. Garrett enjoys writing about Doodles and believes that dogs can teach humans more about how to live than humans can teach a dog.
Why Trust We Love Doodles?
At We Love Doodles, we're a team of writers, veterinarians, and puppy trainers that love dogs. Our team of qualified experts researches and provides reliable information on a wide range of dog topics. Our reviews are based on customer feedback, hands-on testing, and in-depth analysis. We are fully transparent and honest to our community of dog owners and future owners.