If you're looking for a Vizsla puppy check out the four best Vizsla breeders in Alberta. This post will introduce and compare each of these breeders, and offer guidance to assist your own research.
Vizslas are intelligent, energetic, and affectionate dogs that make great companions for active families. They are known for their love of the outdoors and their high levels of trainability. If you're considering getting a Vizsla, you want to make sure you're getting a healthy, well-bred puppy from a reputable breeder.
In this blog post, we will highlight the top four Vizsla breeders in Alberta based on their experience, reputation, and the health and quality of their puppies. We will also provide some helpful tips on what to look for when choosing a Vizsla breeder.
Whether you're a seasoned dog owner or a first-time puppy parent, this blog post will help you find the perfect Vizsla puppy to join your family.
Before scrolling down this list of Vizsla breeders in Alberta, check out these other dog-related guides from our team at We Love Doodles: Best Maltipoo Breeders in Alberta and 55 Red Dog Names.
1. Whiskey Ridge Vizsla
Whiskey Ridge Vizsla is a family-owned breeder located in Raymond, Alberta. The team at Whiskey Ridge is dedicated to breeding high-quality, healthy Vizslas that are well-suited for a variety of lifestyles.
The breeding dogs at Whiskey Ridge are carefully selected for their conformation, temperament, and health. The puppies are raised in a loving and nurturing environment and are well-socialized before being made available for adoption.
Their dogs live in the breeder's home and love to play and run with them. They take these Vizslas hunting seasonally, but their primary focus is to raise them as family pets. Their dogs are AKC and CKC registered.
The puppies are birthed inside the breeder's home and spend the first eight weeks of their life there. During these 8 weeks, the puppies are handled by the breeder and their family, become accustomed to everyday household sounds, and even get started on crate training.
Whiskey Ridge Vizslas are known for their good looks and empathetic nature. They are healthy and well-trained and have a strong ability to understand their owners' emotions. If you're interested in buying a puppy from this breeder, you can view their available litters and fill out a questionnaire on their website.
The breeder will review your application based on your provided information and assess if you can raise a high-energy Vizsla. They will also see if you have a socialization plan to help puppies get used to different people, places, and animals.
Since this breed requires supervision and training, they will also assess your ability to give time to your pet.
Whiskey Ridge Vizsla Details:
2. Black Bullet Vizslas
Black Bullet Vizslas are one of the oldest breeders in Edmonton with a unique business model. They used to raise Vizsla puppies for sale in Alberta, but of late, they have given up their breeding operation and only help people connect with and choose the top Vizsla breeders in Alberta.
The breeders have been working with purebred dogs since 1989 when they trained them for shows and sporting events. In 1993, they started a breeding program to put their knowledge to good use.
In 2004, they produced the first litter of top-quality Vizsla puppies. Their dogs were popular and won many awards in dog shows, and they made excellent family pets.
However, Black Bullet stopped breeding after 2012 due to personal reasons, and since then, they have used their knowledge and understanding of the breed to help people choose good breeders.
The Black Bullet team believes early neurological stimulation is important for puppies to socialize well, and they recommend checking the development programs a breeder uses before making your decision.
Furthermore, they strongly suggest that enthusiasts looking for Vizsla puppies should ask about the parent dogs' origins and health test results before choosing a breeder. They are also available to assist with any questions or concerns about Vizslas.
Additionally, they have puppies from their 2012 litters available for adoption. You can contact them via phone or email for more information.
Black Bullet Vizslas Details:
3. Cedar Coast Vizslas
Cedar Coast Vizslas is a Vizsla breeder from British Columbia, far from Alberta, but the breeder provides a shipping facility. The breeder has a beautiful home where they breed and raise Hungarian Vizslas, surrounded by the ocean and mountains.
Cedar Coast Vizslas is a proud and reputable member of CKC and have all its dogs and puppies registered with the Kennel Club. The breeder is proud of their dogs' lineage which is from excellent European hunting dog bloodlines.
They breed these dogs according to European standards and consider selective breeding to maintain an ethical process. None of their dogs has docked tails or dew claws removed, and the same would be the condition of all the puppies registered with them.
Their puppies are raised inside their home, surrounded by a loving family. They lead an active and happy life with children and other dogs. Since this is not a kennel, the Vizsla puppies receive first-hand care and love from the family members.
The dogs also live with them and are trained for obedience. They receive all the necessary socialization to become loyal family pets. Check out their website for information on upcoming litters, or you can contact them for more information.
Cedar Coast Vizslas Details:
4. Egerton Registered Vizslas
Since there are few Vizsla breeders in Alberta, Egerton Reg's Vizslas in Nova Scotia are worth considering. They specialize in producing high-quality Vizslas in good health and excellent stature.
They are committed to this one breed and breed the dogs for improved bloodlines, exceptional build, and sound temperament. Their dogs are conformation show champions who have won field titles.
At Egerton, dogs are ethically bred for versatility after following standards. The breeders select dogs for breeding after carrying out necessary tests for health and temperament assessment. Only the dogs who meet the health standards and are fit for temperament, field, and conformation are selected for breeding.
The puppies are whelped in the home and are raised there with other family members. They socialize there and get used to the home environment.
A certified vet checks them at eight weeks and gives them their first vaccination and microchips. They are also dewormed and assessed for good temperament before going to their new homes.
The puppies are sold for co-ownership on a CKC non-breeding contract. In addition, the breeder has these dogs and puppies certified for thyroids, hearts, eyes, and hips. The dogs receive regular checkups from the vet and are given up-to-date vaccination to ensure good health.
They also feed their dogs and puppies high-quality food and allow them to exercise for long hours to keep them in optimal condition. If you want to get a puppy from them, check their website for litter updates and fill out the puppy contract!
Egerton Registered Vizslas Details:
More Information About Vizsla Puppies in Alberta
Vizsla is an eager and gentle dog breed. They're naturally non-aggressive, making them good dogs for families with children. In addition, their obedient and intelligent personality makes them easy to train and teach them fun tricks.
Vizslas rarely bark, but they have a strong protective instinct. Despite the desire to protect their family from harm, Vizslas need the training to become good watchdogs because they're kind to everyone, including strangers.
Originally, Vizslas were bred for hunting, which means they are energetic and have a high activity level. To keep your pet Vizsla happy, provide them with an opportunity for daily exercise and physical activities like running, playing, and swimming.
Although they look like strong dogs, Vizslas quickly develop separation anxiety if left alone for a long time because they love to be around people. Fortunately, they have minimal grooming needs, and a once-over with a dog mitt will clean them up. They don't shed a lot, and their short-haired, smooth coat looks beautiful.
FAQs
What is the average cost of a Vizsla?
Visla puppies cost between $1,000-$3,000 on average from a reputable breeder. However, they are not common dogs, so prices may be increasing as interest in these dogs increases. Breeders don't advertise their prices often, so contact the breeders you are interested in working with directly to learn more about the cost of their puppies.
What dog is similar to a Vizsla?
The Weimaraner is considered to be a cousin of the Visla and is very similar. Weimaraners are taller and larger than Vislas and have similar temperaments. Rhodesian Ridgebacks are very similar in appearance because they have similar builds and coat colors. Vislas are often mistaken for Ridgebacks.
Is the Vizsla a good family dog?
Vislas are gentle, affectionate, laid-back dogs that enjoy being a part of a family. They require training and regular exercise because they originated as hunting dogs. With training, they maintain their good nature and are good with children. They are loyal family dogs that may develop separation anxiety if left alone for long periods of time.
Conclusion For "The Best Vizsla Breeders in Alberta"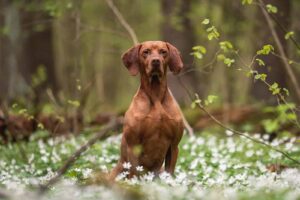 Vizsla is a dog breed that requires early socialization and training. To ensure you make the best choice for your family, choose the breeder wisely.
First, learn to differentiate between a puppy mill seller and a dog breeder. A puppy mill seller would not care for the health or temperament of the dog, while an honest breeder would only consider breeding if the dogs were healthy and competent.
Secondly, check if the breeder is registered with the relevant Kennel Clubs, and ask them as many questions as possible about the breed and the puppies.
Vizsla is quite a rare breed, but it is an excellent pet. We hope you find great Vizsla breeders in Alberta, make an informed choice, and bring your new companion home soon.
For more guides similar to this list of Vizsla breeders in Alberta, you can check out:
Before you bring home a Vizsla from a breeder in Alberta, you can learn more about the breed by watching "Vizsla – TOP 10 Interesting Facts" down below:
Garrett loves animals and is a huge advocate for all Doodle dog breeds. He owns his own Goldendoodle named Kona. In addition, he volunteers at the Humane Society of Silicon Valley, where he fosters dogs and helps animals. Garrett enjoys writing about Doodles and believes that dogs can teach humans more about how to live than humans can teach a dog.
Why Trust We Love Doodles?
At We Love Doodles, we're a team of writers, veterinarians, and puppy trainers that love dogs. Our team of qualified experts researches and provides reliable information on a wide range of dog topics. Our reviews are based on customer feedback, hands-on testing, and in-depth analysis. We are fully transparent and honest to our community of dog owners and future owners.