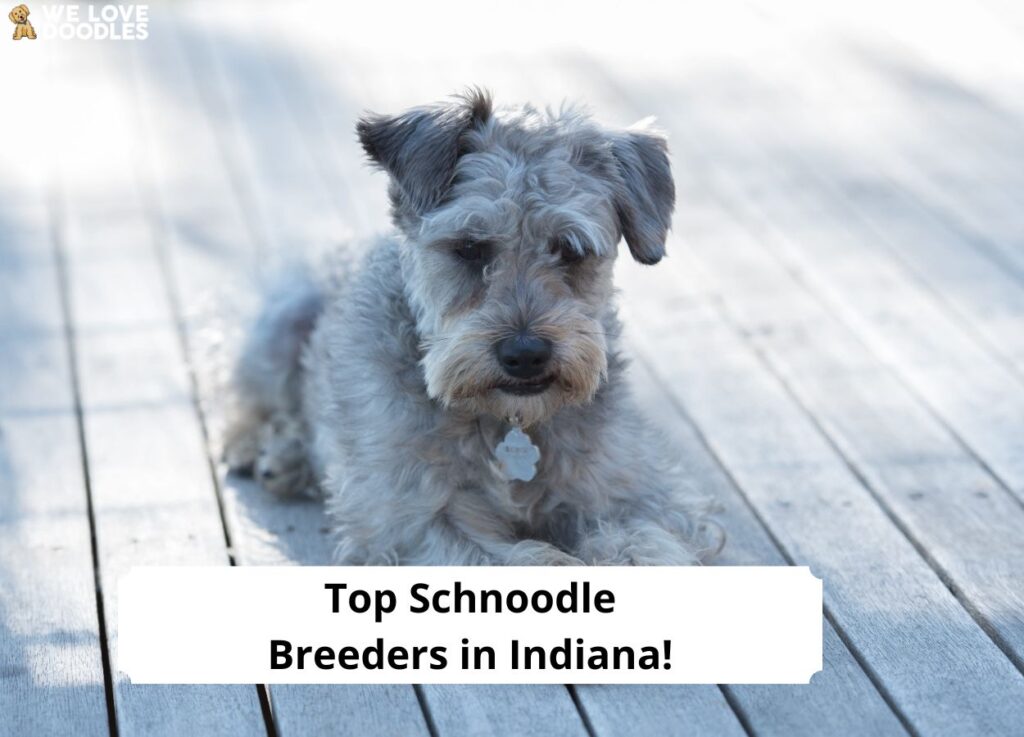 The designer-bred Schnoodle, a cross between the Poodle and the Schnauzer, has become quite the beloved dog breed across the United States. These puppies are super adorable and usually have great temperaments, making them good with kids too! Looking to add a Schnoodle to your family? If you're in Indiana, we've got a treat for you: the top Schnoodle breeders in Indiana!
Schnoodles tend to be very social dogs, making them popular pets. Having a life expectancy between 10 and 18 years, you could raise one of these puppies with your first child, just like a sibling.
Because the breed is a first-generation cross-breed, the puppies from each litter could have the characteristics and temperament of either parent breed. Usually, Schnoodles have long, fluffy coats similar to Schnauzers and the yappy tendencies of Poodles. In the end, these features vary from litter to litter.
Are you already falling in love with this breed? We don't blame you! If you want to grab one of these puppies and happen to be in Indiana, you're in luck. We have a list of the best Schnoodle breeders in Indiana for you!
Before scrolling down this list of breeders with Schnoodle puppies in Indiana for sale, you can check out these other recommendations from our team at We Love Doodles: Best Cavapoo Breeders in Indiana and Best Yorkie Poo Breeders in Indiana.
Top 4 Schnoodle Breeders in Indiana
There are plenty of breeders all over each state in the US. But they can't all be reliable (or even ethical). But fret not. We've found a few breeders that are reliable, ethical, and caring toward all their dogs. Here are our top four picks for the best Schnoodle breeders in Indiana:
1. Angela's Schnoodles
Angela's Schnoodles is a family-run operation that has found success right from their family home's kitchen. The puppies at Angela's are bred and raised in compliance with AKC (American Kennel Club) standards.
Angela, the owner, is very picky about selecting parent dogs to ensure desired characteristics and personalities of her puppies. She is also proud of her puppies' personalities, which are very sweet and loving. The puppies are raised on 9 acres of land, so they get plenty of playtime and fresh air.
Angela also makes sure every puppy is trained to be obedient, loyal, and laid back. If any puppy in a litter does not have the preferred personalities and coats, they are placed in special pet homes instead of being bred.
Angela provides a one-year health guarantee that goes up to two years for families that use NuVet medication, recommended by her. Her puppies are dewormed and receive at least their first, possibly their second, round of vaccinations before being adopted.
Angela's Schnoodles Details:
2. Puppies by Design Online
Another family-run breeder, Puppies by Design Online, is based in Indiana but provides services online as well.
The puppies here are a cross between the Toy Poodle and the Miniature Schnauzer. These mini Schnoodles are very easy to train and require moderate grooming, which makes them the ideal pet for families with children.
Each of the puppies comes with a one-year health guarantee along with the proper vaccinations. A veterinarian also checks all adopted dogs before they go to their forever homes. The puppies are even micro-chipped before they get to you. As a bonus, this breeder also provides starter kits for puppies with care documents, a toy, and a blanket.
All puppies at Puppies by Design Online get regular veterinary checkups. Adult dogs are kept up-to-date on their vaccines, and all dogs are dewormed regularly.
Puppies by Design Online Details:
3. Feathers And Fleece Farm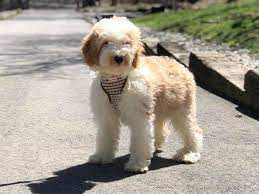 Originators of the Newfkom breed, Feathers and Fleece Farm also specialize in other designer dog breeds, including the Schnoodle.
Feathers and Fleece pride themselves on the soft and wavy coats with which all their first-generation Schnoodles are born. Each puppy under their care receives individual attention until going to their new home.
Parent puppies are tested and selected based on their characteristics and the probability of producing the best litters with stocky bodies and short noses.
Puppies from Feathers and Fleece are intelligent and easy to train. The puppies are social and love to play with children, making them the perfect starter pets for families. They also have hypoallergenic coats, which means less fur loss during shedding season.
Puppies at the Feathers and Fleece Farm are produced from purebred AKC parents, come with age-appropriate vaccinations, and are dewormed. The breeders also provide health guarantees against congenital issues for puppies until age one.
Feathers And Fleece Farm Details:
4. Pawrade
Pawrade itself is not a puppy breeder. Instead, it is a service that connects potential owners with vetted breeders. Pawrade emphasizes humane puppy adoptions. Since its inception, it has fought to spread the word and fight against puppy mills.
Several breeds, including the Schnoodle, are featured on Pawrade's website. It simplifies the adoption process and provides health certifications for every puppy that is adopted.
Schnoodle puppies at Pawrade are put up for adoption once reaching eight weeks old. The puppies have hypoallergenic coats. Pawrade even provides a one-month Met Life pet insurance policy for your newly adopted puppy.
Breeders facilitated by Pawrade are pre-screened, and every puppy is raised with affection, love, and proper veterinary care. Puppies are dewormed and vaccinated before being put up for adoption and come with an extensive health guarantee provided by Pawrade.
Pawrade Details:
Address: Based online but delivers to physical addresses based on buyer's needs
Phone Number: 888-729-8812
Email: support@pawrade.com
Website: Pawrade
Pick the Best Schnoodle Breeders for You in Indiana
Now that we've done the legwork for you, all that's left to do is send in a deposit for your new Schnoodle puppy. In case none of these breeders match your requirements, you could always do some extra research to find one that does. If you do want to reach out to other breeders, we recommend you keep the following things in mind
Is the Breeder Legitimate?
First and foremost, a breeder must have a State license and registration. According to a law passed in the Indiana General Assembly, breeders must register based on the number of unspayed female dogs they own.
We also recommend making sure that the puppies are American Kennel Club certified.
Is the Breeder Experienced?
Schnoodles are cross-bred puppies that can potentially have more difficult deliveries than regular dog breeds. While cross-bred puppies tend to have fewer health issues compared to purebreds, they still require proper veterinary care.
Ideally, breeders should be experienced with Poodle and Schnauzer care before they attempt to breed Schnoodles. It takes a keen eye to recognize healthy parents that have the potential to produce puppies with the right look and temperament.
Your breeder will also raise the puppy for a certain amount of time. With that in mind, you'll want them to have the proper facilities to provide puppies with regular attention, exercise, and medical care.
Check for Reviews and Testimonials
Most legitimate breeders often have testimonials on their websites. If it's more like a Mom and Pop breeder, they might even have a Facebook page where you can see reviews from past buyers.
However, both of those things are pretty easy to fake these days. You may want to do an extensive Google search on the breeder before deciding to purchase. You can also reach out to real people who have adopted from the breeder you're considering.
Many customers will post on their social media accounts, blogs, and other platforms about a breeder that might have otherwise seemed genuine to you.
Even for this article, we came across some breeders that we wanted to list. But a quick Google search revealed a plethora of issues, ranging from congenital disabilities and incorrect return policies to straight-up scams!
Have Faith in Word of Mouth
If you're looking to purchase a Schnoodle locally in Indiana, you could potentially find other people with puppies. If they had a good experience with a certain breeder, that should be reason enough to check out the facility.
Questions to Ask Your Chosen Breeder
Breeder websites usually list all of the information you need to know. Most of them will even have an FAQ section. But you still might want to ask some questions of your own. Here are some things you can ask:
What are the grooming basics for a Schnoodle?
What do you do to socialize the puppies?
What type of training do you give the puppies until the adoption process?
Do you provide further training options after the adoption?
Do you have recommended veterinary options?
Do you provide emergency veterinary services?
Frequently Asked Questions
What is the average lifespan of a Schnoodle?
Miniature Schnoodles can live between 10 and 18 years. Meanwhile, medium or large Schnoodles live an average of 10-15 years.
Are Schnoodles difficult?
Schnoodles are part poodle, making them incredibly smart animals. However, they're also highly active and require a fair amount of stimulation. If you can keep them busy, they aren't difficult to train.
Do Schnoodles like to cuddle?
Schnoodles love cuddling! Their soft and wavy coats also make them incredible for snuggling.
Find the Top Schnoodle Breeders in Indiana
If you're looking for the best Schnoodle breeders in Indiana, this isn't the end of the road for you. Besides this article, many other articles and listings for Schnoodle puppies in Indiana exist. Most of those listings are probably selling puppies at a tempting price. But don't be fooled. A lot of those breeders and sellers might be running unethical puppy mills or selling sick puppies.
So, before you decide to get a Schnoodle puppy, take a tour of the facility, get to know the proprietors, and meet some of their puppies yourself. Your instincts will do the rest.
For more guides similar to this list of Schnoodle breeders in Indiana, you can check out:
Before you bring home a Schnoodle puppy from a breeder in Indiana, you can learn more about this dog breed by watching "Schnoodle – Top 15 Facts That You Need to Know" down below:
Garrett loves animals and is a huge advocate for all Doodle dog breeds. He owns his own Goldendoodle named Kona. In addition, he volunteers at the Humane Society of Silicon Valley, where he fosters dogs and helps animals. Garrett enjoys writing about Doodles and believes that dogs can teach humans more about how to live than humans can teach a dog.
Why Trust We Love Doodles?
At We Love Doodles, we're a team of writers, veterinarians, and puppy trainers that love dogs. Our team of qualified experts researches and provides reliable information on a wide range of dog topics. Our reviews are based on customer feedback, hands-on testing, and in-depth analysis. We are fully transparent and honest to our community of dog owners and future owners.