Are you searching for breeders with Shih Poo puppies in Massachusetts for sale? We've all seen those adorable puppies on social media that look like plushies. You know, the tiny ones that have the doll eyes. Those are called Shih Poo puppies. Shih Poos are cross-bred between the Shih Tzu and the Toy Poodle to create the perfect little bundle of fluff to take home.
Shih Poos are the breed you get when all of your kids have left the nest, and you need someone to give all of your affection and attention to. These puppies are hypoallergenic, great for first-time owners, and adapt to apartments or other living situations.
They're highly intelligent puppies, so they can also be trained to learn commands. It's fair to say that the Shih Poo inherited all the best aspects of the parent dogs. This makes them a great companion to have. If you want one of your own, take a look at our list of the best breeders with Shih Poo puppies for sale in Massachusetts.
Before you scroll down this list of Shih Poo puppies in Massachusetts for sale, you can check out these other recommendations from our team at We Love Doodles: Best Yorkie Poo Breeders in Massachusetts and Best Pomsky Breeders in Massachusetts.
Shih Poo Breeders in Massachusetts
It's fair to say that not many people in Massachusetts exclusively breed Shih Poos. There are a lot of designer dog boutiques, but today, we've scoured the internet for the best breeders in and around Massachusetts.
Shih Poo Product Recommendations: Best Dog Food For a Shih Poo and Best Shock Collars For Dogs Barking.
1. PuppySpot's Shih Poos For Massachusetts
Finding reputable Shih Poo breeders has grown more difficult due to the popularity and profitability of the dog breeding industry, which has resulted in a plethora of options available across the country. Choosing a responsible Shih Poo breeder versus a Shih Poo puppy mill, on the other hand, is critical for a variety of reasons.
But what if we told you that you did not have to worry about finding the right dog breeder anymore since someone has already taken care of it for you? PuppySpot is a community of dog enthusiasts dedicated to connecting the nation's finest breeders with loving, responsible individuals and families wanting to have a furry family member of their own.
With over 200,000 puppies sold, PuppySpot is one of the largest markets for puppies (including the Shih Poo). PuppySpot holds itself and its clients to the greatest standards as it strives to make the lives of each puppy, breeder, and owner that becomes a member of the PuppySpot family a better experience.   
Among the requirements for PuppySpot's formal breeder application are interviews, a review of ownership and operational history, field visits, and criminal background checks. Other requirements include facility inspections, compliance evaluations, government and humanitarian database searches, and veterinary history checks.
PuppySpot employs a data-driven methodology to review and filter thousands of Shih Poo breeders around the country to build an exclusive network of canine welfare-focused breeder partners.
As a result, you get the following benefits when you pick PuppySpot to find your new furry family member:
A 10-year health warranty on all dogs
Healthy puppies with PuppySpot's Nose-to-Tail Health Check
Partnerships with the American Humane Society and AKC
Approximately 10,000 verified 5-star reviews 
An A+ Better Business Bureau
Aside from that, only roughly 10% of all breeders are selected to list a puppy on PuppySpot. Adjacently, PuppySpot handles all breeder screening and vetting, so you will not have to wait on extensive waiting lists.
PuppySpot's own PuppySpot airlines can deliver puppies to any location in the United States. The unfortunate reality is that not all breeders are made equal. Too often, honesty and integrity in breeding get intermingled with individuals who would act unethically and in a profit-driven manner rather than in pets' best interests.
PuppySpot eliminates this issue by focusing its transactions and activities on the best interests of its stakeholders, consumers, and puppies. Spot your next big (or little) furry pet at PuppySpot.
PuppySpot Details
2. Richard's Luxury Kennel
Richards Luxury Kennel is a kennel where you can leave your furry companions if you're going on a trip or just can't look after them for some time. They also offer grooming services.
At the kennel, Toy Poodle and Shih Tzu puppies are also bred to produce the designer Shih Poo puppies every year. You can make an appointment with the owners to discuss potentially adopting one of these puppies. The establishment is family-owned and has been operating for nearly 50 years.
Whether you're purchasing a puppy or leaving yours for a few days, you can rest assured that the family provides plenty of care. So, if you're looking for a Shih Poo puppy and may ever need boarding care for your puppy, Richard's Luxury Kennel is the place.
Richard's Luxury Kennel Details
3. Happy Tails Shih Tzu and Shih Poo
Operating since 2009, Happy Tails Shih Tzu and Shih Poo is also a family establishment. The breeders specialize in Shih Tzu and Shih Poo puppies. Purchasing a puppy from Happy Tails means bringing home a little bundle of joy. You will also get a few of their toys and information regarding the vaccines and dietary needs of the puppy.
Buyers will also be required to sign a 1-year health agreement. And returns for puppies that have been vet checked for any congenital diseases will be accepted within three days of purchase. Happy Tails also vets buyers before selling any of its puppies, so you will be asked to fill out a form with the necessary information.
Happy Tails Shih Tzu and Shih Poo Details
4. Canine Corral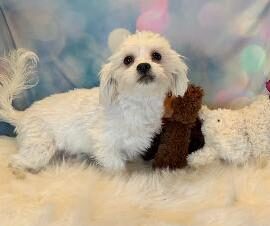 Canine Corral Kennels is an establishment that has provided dog grooming, training, and boarding since 1963. It is a family operation, so you can be assured of great service any time you visit the place. Canine Corral breeds a long list of puppies, including designer puppies like Shih Poos.
Canine Corral recommends their Shih Poo puppies for households with children. The puppies are non-shedding and come with shiny coats in quite a few colors. The organization has certifications from the AKC, and the puppies are all registered with ACA and ICA.
It also provides free lifetime training once you purchase a puppy bred here. You can go into its facilities to spend time with the puppies and see if you find the best pick for your home. It also lists available puppies on the website, so you could also check that out.
Canine Corral Details
5. Pups Unlimited
Pups Unlimited is a BBB accredited breeding and grooming service that has been in operation since 1998. With 23 years of experience under its belt, the breeder provides top-notch Shih Poo puppies and other small breeds of designer puppies.
The puppies are bred and raised under the care of the owners in their own homes. Potential owners are requested to contact it via Facebook to make appointments or ask about available puppies.
Pups Unlimited Details
6. Keystone Puppies
Keystone Puppies is not a breeder itself. Instead, it has partnered with accredited and certified breeders to provide puppies to new owners all over America. Keystone works with well-known breeders and connects them to potential customers.
Keystone audited Breeders to make sure their facilities comply with state laws. It also provides health guarantees and shipping options for your new puppy. Deliveries are made all over the United States.
It offers a 10-day health guarantee for clinical illness or injury before purchase, given that a licensed veterinarian has checked your puppy. Plus, a 30-day health guarantee for congenital illnesses. Keystone has pledges against puppy mills and works to spread the word about dog welfare.
Keystone Puppies Details
Choosing a Shih Poo Breeder in Massachusetts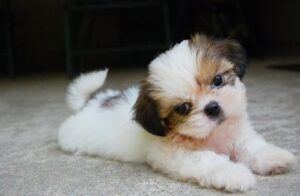 When you're taking on an animal's entire life, it's very important to make sure you've covered all of your bases. Whether or not you choose to go with one of the breeders as mentioned earlier, you should keep the following in mind:
Certifications and Legitimacy
Most state laws require dog breeders to be registered under at least the American Kennel Club (AKC) and other accreditations. These things will usually be mentioned during communication with the breeder, so check the legitimacy afterward.
It would be best if you also asked the breeder about their years of experience in the industry overall. We're not saying newer breeders are inferior. But in the case of cross-breeds and other designer puppies, it's better to have a couple of years of experience under your belt.
Are They Transparent?
It is always a must to visit the breeding facility where your puppy is born and raised. This will give you a lot of insight into what kind of establishment you could be supporting if a breeder doesn't allow visitation before purchase. Most breeders will usually allow contact-less visitation for the safety of the puppies.
Also, check whether the information listed on their website is accurate. A breeder could just as easily claim to be accredited by the Better Business Bureau or be registered with the AKC. It would be best if you took some time to cross-check with authoritative websites whether the information listed by the breeder is true.
Check For Reviews
Based on the size of the establishment, you are almost guaranteed to find quite a few reviews about it on social media platforms and Google. Check some reviews to protect yourself from being scammed and support legitimate businesses instead of fraudulent ones.
Simply looking up the breeders on Facebook should yield many people satisfied or dissatisfied with the breeders. You might also want to speak with past customers of the breeders if you can reach out to any via social media.
Questions to Ask a Shih Poo Breeder From Massachusetts
We cannot stress this enough, but taking on a puppy is a huge responsibility. It is imperative to ensure that you are well informed and well equipped for the task.
To ensure a good future for your new furry family member, you may want to ask the following questions to the breeder:
Do you provide aftercare and emergency veterinary care for the puppies?
Do you sell the primary dietary supplements the puppies had taken while in your care?
Are there any incidents that happened while the puppy was in your care that I should be aware of?
Can you provide the parent certifications and health documents?
What are the grooming needs of my Shih Poo?
Conclusion For "Shih Poo Puppies in Massachusetts"
You are now equipped with a truckload of information about Shih Poo puppies for sale in Massachusetts and the surrounding areas. It is up to you to find a breeder that suits your needs to find your new furry best friend.
Our word of advice would be patience. Adopting a Shih Poo puppy from start to finish is a very long and tiring one. But all will be worth it when you see those tiny little paws run up to you.
For more guides similar to this list of breeders with Shih Poo puppies in Massachusetts for sale, you can check out:
Before you bring home a Shih Poo puppy from a breeder in Massachusetts, you can learn more about this dog breed by watching the "Shih Poo – The Ultimate Owner's Guide" down below: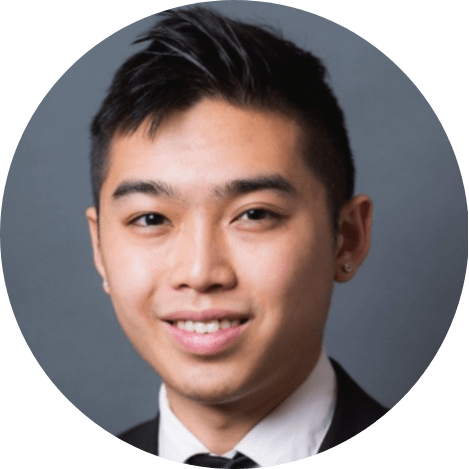 Andy is a full-time animal rescuer and owner of a toy doodle. When he's not saving dogs, Andy is one of our core writers and editors. He has been writing about dogs for over a decade. Andy joined our team because he believes that words are powerful tools that can change a dog's life for the better.
Why Trust We Love Doodles?
At We Love Doodles, we're a team of writers, veterinarians, and puppy trainers that love dogs. Our team of qualified experts researches and provides reliable information on a wide range of dog topics. Our reviews are based on customer feedback, hands-on testing, and in-depth analysis. We are fully transparent and honest to our community of dog owners and future owners.