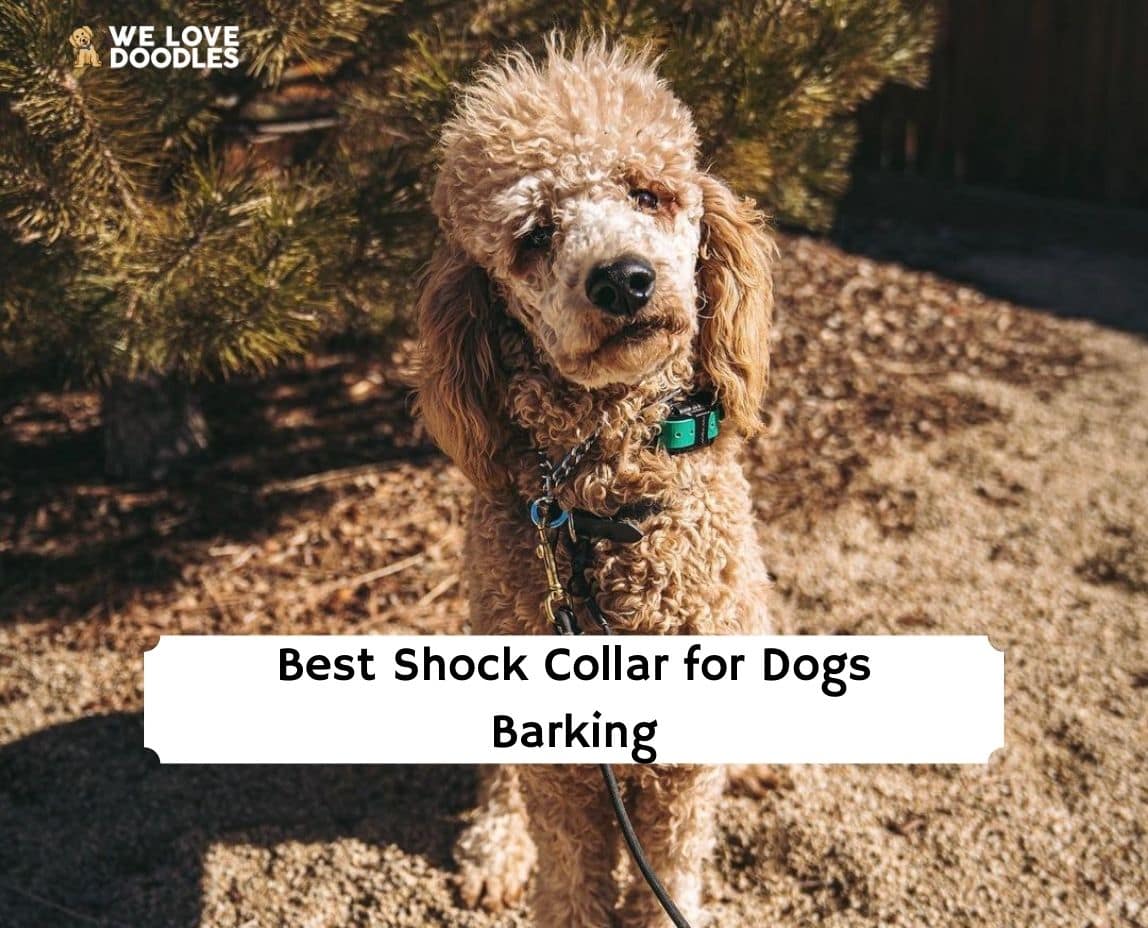 If you're one of those dog owners who either: come home and find the neighbors complaining about your dog's excessive barking, or lose hours of sleep because your dog keeps barking in the wee hours of the night, then you need to take steps to reduce this. You can first address the problem by finding out why they bark, to begin with, then train them to reduce the barking. 
There are many methods and tools to help and among the most efficient are the shock collars. They technically do shock your dog, but it's an incredibly weak shock, just enough to affect the skin and muscles, creating an irritating sensation. You'll take advantage of this sensation to teach them when to obey you when you command them to.
Some are manual, some are automatic, some are both. We'll give you a list of the best shock collars for dogs barking that are effective at both reducing unwanted behavior and excessive barking. At the end of this list, we'll also show you some tips on figuring out how to solve your barking problems. 
In a rush? Here are the top picks:
Product
Best Overall
Pet Resolve Store
Luxury Pick
Dogtra Shock Collar
Image
General Guide and Safety Tips For Using a Shock Collar
Operating anything that uses electricity, especially one that discharges it, should be handled with care. Shock collars in general deliver a surprisingly weak electric shock. Not even enough to generate palpable heat. Instead, they deliver a sudden irritation that causes the skin to tingle and the muscles to twitch. It's very hard to ignore, hence it's the most efficient way of delivering negative stimulus. 
Despite the shock being safe, misuse can still affect your dogs mentally, and that's a wound that's much harder to heal. So we'll show you some information that can hopefully solve your barking problems, and if not, perhaps offer some insight. 
First on the list of the best shock collar for dogs barking is Pet Resolve. Pet Resolve is a shock collar that also doubles as an automatic anti-bark collar. There is a mode that automatically detects your dog barking and corrects the behavior so you don't have to always be around It has a lot of features for its price, making it perhaps the best value for your money. Let's look at the features.
Shock, Vibration, and Beep Training Functions

1-10 Levels of Stimulation

3/4 Mile Maximum Range

Remote-Activated Reciever LED

Remote Pairs up to 3 Additional Collars

Water-Resistant Remote, Waterproof Reciever Collar

Quick-Charge Li-On Battery

Always Awake Mode

Automatic Anti-Bark Collar Mode
We start off with the standard training features: static shock with moderate strength, strong vibration, and a soft non-ultrasonic beep. You can adjust the levels of correction from 1-10, which affects both the shock and the vibration. 
The remote has a maximum range of 3/4 Miles in open spaces. The signal is strong enough that it works virtually anywhere inside a normal-sized home and yard. In tandem with the receiver LED, it makes locating your dog after sunset easy. Since the LED causes the entire receiver to light up, you'll see it clearly. The range also helps if you're training multiple dogs. You can pair a maximum of 3 collars per remote, so even if your dogs scrambled away, you should be able to signal them one by one when needed. 
Since the kit is for hunting quality, the remote is somewhat impact-resistant and weatherproof. The receiver is waterproof. The battery on both devices lasts around 50 hours before they need charging, and only takes 2 hours to charge it back to full. 
You can switch the collar into Anti-Bark mode and select the shock level you're going to use. In this mode, the receiver will listen to your dog's barks. When they bark for more than a few seconds, the collar will start beeping for a few seconds. If they continue to bark, the collar will deliver a shock of your desired level. 
The kit does not have a standby mode. It will keep on working as it does, so you don't have to keep waking the device each time it's been idle for 10 minutes. It does cost some battery life, but it already has a decent battery life despite it. 
The aim of all bark collars is to make them stop after a signal. Eventually, they will stop barking after the signal, and soon enough, they will just stop barking after a few seconds. The collar still allows them to bark but at least not excessively. Note that the receiver won't respond to the remote when it's in anti-bark mode.
The next on the list is a shock collar that's fully automatic, has no remote, no other training functions except for its goal. 
2 Anti-Bark programs

10 Levels of Shock

Auto-Pause

Waterproof design

200 Hour Battery Life
That's all there is to it. The 2 programs follow a similar pattern, where they will trigger after the microphone hears the dog's barks. The first is "progressive", where it will give a warning beep when your dog barks, and if they keep barking, triggers a level 1 shock and if your dog continues to bark within 30 seconds of the first shock, the collar will increase the level to the next and so on until your dog stop barking for 30 seconds. When they do, the collar resets the level back. 
The next program is simpler. It listens for your dog's barking and after a few seconds, gives the warning beep, then if your dog still keeps barking, it delivers a shock level of your choice. If the device keeps on triggering a shock within 80 seconds, it will pause on its own to keep your dog from getting too stressed. 
The receiver and collar are waterproof, so even if they are out in the rain or taking a dive in the pool, the device will be unharmed. 
Since the device has no other features that draw power, it lasts 200 hours per charge and charges back to full in 2-3 hours. 
This is all fully automatic and does the job, but with this, your dog will learn to listen to the collar, not you. However, if that's actually what you need, then this will be a decent choice.
This product does not have an automatic anti-bark method like the first two but makes up for it by being a decent training collar on its own. If you're planning to reduce your dog's barking via behavioral obedience training, then you can opt for manual collars. 
Shock, Vibration, and Beep Training Functions

1-127 Levels of Stimulation

1/2 Mile Maximum Range

Remote Pairs up to 2 Additional Collars

Water-Resistant Remote, Waterproof Reciever Collar

Li-On Battery
The shock is moderately strong and thanks to the rheostat on the top, the remote gives you a wide range of stimulation levels to adjust from 1-127. The dial does not have a lock, so check the LCD screen below to see the shock levels in case it accidentally changed. The levels also affect the vibration mode and at max level, the vibration is pretty strong, enough to quickly grab your dog's attention. The beep is standard, a soft but audible beep that doesn't damage your dog's hearing.
It has a range of 1/2 miles at open spaces, you may get less depending on your environment, but even half of that range is still quite far. Especially if you're going to use two collars as the remote can handle up to two collars at the same time. 
This collar, like the first one, is hunting grade, so the remote is impact-resistant and water-resistant. The receiver is waterproof and can withstand being underwater as deep as 25 feet before suffering any potential damage. 
Battery life lasts around 40-50 hours depending on how often you use the features.
This next bark training collar is also a hybrid. It's a regular shock collar with its own bark-limiter option. It's also a hunting-grade collar, which means it banks on simple but solid features. 
Shock, Vibration, and Beep Training Functions

1-10 Levels of Stimulation

1/2 Mile Maximum Range

Remote-Activated Reciever LED

Waterproof Remote and Reciever Collar

Quick-Charge Li-On Battery

Automatic Anti-Bark Collar Mode
It has a moderately strong shock and vibration, both of which can be adjusted. You can do so using the thumb dial on the top of the remote that offers up to 10 levels of stimulation. The beep is somewhat louder than what's expected, but it's non-ultrasonic and still soft enough that it doesn't hurt your dog's hearing. 
The remote has a range of 1/2 miles in wide-open spaces. You may get less of that if you're in an area filled with trees and bushes, but even just 70% of that range is still far, far more than a football field. 
The LED on the receiver is situated on the top side, creating bright flashes when activated. As long as it's not blocked by long hair, it should be visible even at around 100 yards (Depending on how good your vision is, too.)
Both the remote and the receiver have a waterproof design, making them both suitable for just about any environment you're willing to put yourself into. Both devices also have a battery life of around 40-60 hours and only take around 2-3 hours to charge back to full. 
This device can also be switched to a simple bark collar mode. Like the first collar, it will listen to your dog's barks and if they keep barking for more than a few seconds, the collar will beep audibly. If they don't stop barking for a few more seconds, the collar will trigger a shock level of your choice. The Garmin Delta is a great shock collar for barking dogs, but it is more expensive than some of the other options on our list.
Last on the list of the best shock collar for dogs barking is PetSafe. PetSafe is an extremely large brand name and this bark collar is backed by their warranty. Nearly all automatic bark collars are the same in terms of functions. They have some set of programs catered for different needs. This one has 3 programs, giving it some flexibility.
3 Anti-Bark programs

10 Levels of Shock

Easy-Adjust Nylon Collar

Waterproof design

200 Hour Battery Life

 
One of the three programs this bark collar uses is called "Temperament Learning Mode". In this mode, the device tracks the times it corrected the dog and adjusts it accordingly, whether to increase it or decrease it. It's like progressive mode, but instead of just dropping the levels to the lowest after a certain time has passed, it will adjust it slowly and more strategically. 
In progressive mode, the collar will start at level 1. When it hears your dog barking for too long, it will give a warning beep, and if the barking does not stop, it will deliver a shock. If your dog barks again within 30 seconds, it will go through the same warning beep, then deliver a shock of the next higher level. 
The last program is user-selected. It's the same as the rest of the hybrid and fully automatic shock collars, a warning beep first, then a shock of the level you selected. 
What sets this collar apart is the nylon collar. It's easy to adjust, but also means it's not that difficult to loosen either. It still takes an effort to loosen it though, and the design allows you to find the perfect tightness more accurately than compared to a belt-and-buckle-type collar.
Since the kit only has one function, it has a very high battery life, lasting almost 200 hours, less if the collar triggers more often. It should also last long durability-wise, as the collar is completely waterproof, withstanding 25 feet of water before causing any potential damage if any.
Why Do Dogs Bark?
Lack of Physical Activity 
Some dog breeds were born to run, hunt, and play. One such example are Huskies, who were bred to pull sleds in freezing winds. Some of them have the itch to run nagging their brains and if they don't get that satisfaction, they put that energy on something else that gives them satisfaction, like barking. When they see or hear a potential threat, they could put all that pent-up energy on that, just as some of us would feel a bit better when we shout out our frustrations.
Injury, or Other Physical Illnesses
In the wild, animals do not want to show any weaknesses, because if they do, they can become targets for other predators. Dogs retained this behavior and will sometimes mask their pains and illnesses, often with displays of aggression toward potential threats, which sometimes comes out as unnecessary barking. If your dog suddenly displays this behavior and it has been a while since their last vet visit, consider having them looked at.
Anxiety or Territorial Barking
Dogs were pack animals before and even now they still have most of those behaviors as they evolved into more social species that separate them from wolves. However, they still try to defend what's theirs, because they don't want other dogs to take what they have and what they cherish. When they hear other dogs bark or one of them wanders a little too close, they may start barking back to remind them that someone already has dibs on this space. Sometimes, the solution is to desensitize them from the would-be interloper, expose them a little closer to the dogs they are worrying about, or the people they are barking at. This is also solved by giving them physical activities.  
If all of these have been considered or addressed, your dog instead may have a behavioral problem that needs help. You can try the old ways of using just positive reinforcement, by teaching them a command that makes them stop, then rewarding them with a treat and praise when they do. It takes a lot of time and effort to do this, but if you're not willing to use any tools, this is one of the better ways to get by. 
There are several different types of bark collars out there, not just shock. The spray collar uses a quick burst of citronella oil solution that irritates your dog's nasal passages. Cats and dogs do not like the smell of citronella and that's how the spray collar works. 
Another type is ultrasonic bark collars. They either come in collar form or as a device you can put somewhere, like on a fence or wall. The device listens for your dog's barks and delivers an ultrasonic beep that only dogs and other animals with similar hearing ranges can hear. The only problem with these devices is they could be triggered by other barking dogs, but ends up punishing your own dogs. The range on these devices is pretty large, so consider your neighbor's dogs as well when setting it up.  
Dog Shock Collar Safety Tips
When you do opt to use static shock bark control collars, there are a couple of things you need to keep in mind when using them. By following them, you can avoid most, if not, all of the problems users have with shock collars in general. 
Read the Manual
Even just skimming it. Shock collars often have unique functions or button combinations to them. They also have their own list of safety tips, some unique to the kit. Even though shock collars look like they are plug-and-play, it's best to see how they work in case you miss something. 
Test The Shock Before Use
All shock collars should come with some sort of way to test if the shock works, usually a piece of plastic connected to a small LED that lights up when the shock is triggered. By testing it, you can see if changing the levels affect the shock, or if the shock is even working properly. 
Keep the Collar Consistently Tight
The better the metal contacts tough your dog's skin, the less discomfort they will feel and the more consistent the sensation will be. The general rule is to tighten it until you can somewhat snugly place two fingers between the neck and the collar. If you're using a belt with the straps, try to mark the hole you used. 
Don't Keep the Collar On for More than 8 Hours
The metal prongs provide pressure on the skin and prolonged pressure can cause pressure sores, which can then turn into ulcers. Placing the collar too tight causes this to happen faster, so make sure to limit how long your dog wears the collar. If you want to keep your dog comfortable when wearing the collar, you can rotate the collar every 2-3 hours so the pressure is distributed around their necks, further lessening the effects. 
Never use the shock function for direct punishment. 
This is the number one rule. Never use the shock on your own to punish them when they are in the middle of doing any kind of negative behavior. Even the automatic bark collars deliver a beep first so that the dog associates the shock with the beep, not the barking itself. Instead, what you do is teach and reinforce obedience commands, that way, they will stop by listening to you, instead of being afraid that the shock will come from out of nowhere. 
Conclusion for Best Shock Collar for Dogs Barking
We try our best to protect our rights to express ourselves. Barking is one of our dog's ways of expressing themselves too. Sometimes, it goes overboard, just like we do, and the best solution is not to stomp it out completely but teach them moderation and give them other outlets. That way, you and your dog can have a more well-balanced relationship that just becomes more rewarding as time goes by.
Garrett loves animals and is a huge advocate for all Doodle dog breeds. He owns his own Goldendoodle named Kona. In addition, he volunteers at the Humane Society of Silicon Valley, where he fosters dogs and helps animals. Garrett enjoys writing about Doodles and believes that dogs can teach humans more about how to live than humans can teach a dog.
Why Trust We Love Doodles?
At We Love Doodles, we're a team of writers, veterinarians, and puppy trainers that love dogs. Our team of qualified experts researches and provides reliable information on a wide range of dog topics. Our reviews are based on customer feedback, hands-on testing, and in-depth analysis. We are fully transparent and honest to our community of dog owners and future owners.