Finding the best Shih Poo breeders in Pennsylvania could be an uphill task if you're unsure where to look. That's why we have this guide for you to make this chore easier. 
Shih Poo puppies are full of energy, loyalty, and intelligence. They certainly know how to cheer you up each day and lick away all your blues. However, the temperament depends on how well they have been raised. 
Before scrolling down this list of Shih Poo breeders in Pennsylvania, check out these other breeder recommendations: Best Cockapoo Breeders in Pennsylvania and Best Miniature Schnauzer Breeders in Pennsylvania.
Shih Poo Puppies For Sale in Pennsylvania
Read on to find out the best Shih Poo breeders in Pennsylvania who can be depended on to give your family the most adorable and intelligent Shih Poo puppy.  
Shih Poo Product Recommendations: Best Dog Bowls Made in the United States and Best Dog Crate Alternatives.
1. PuppySpot's Shih Poos For Pennsylvania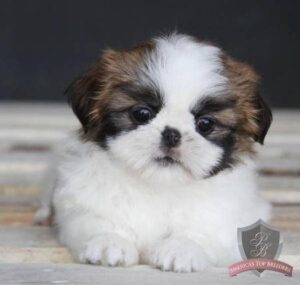 Last on the list of Shih Poo breeders in Pennsylvania is Puppy Spot. It's an online platform and a tight ecosystem of breeders, owners, and dogs. You might find what you're searching for by browsing through their organized website and contacting them.  
With a USDA certificate, Puppy Spot also ensures that all the breeders of Shih Poo puppies in Pennsylvania are licensed and follow all the rules and regulations of breeding and raising dogs.
The breeders are put through a rigorous screening system to ensure only the top ones join Puppy Spot. Moreover, if these breeders don't comply with the set rules, they are removed. 
With a mission to find the perfect puppy for the right family, Puppy Spot has successfully placed more than 200,000 dogs in their forever homes. Before you get your Shih Poo puppy from here, it would be vet-checked and given a ten-year health guarantee. 
The breeder from whom you're getting your dog will ensure it has been dewormed and vaccinated. Check out the 10,000+ 5-star customer reviews on the website if you're still in doubt about Puppy Spot. Although they are not breeders themselves, they have an excellent team heading the business.
PuppySpot Details
2. AA Ridgewood Kennels II Kinzers
In Pennsylvania, this family-owned kennel has more than fifty years of dog breeding experience. It has teamed up with leading breeders in Kinzers and Shrewsbury to provide new owners with the healthiest and happiest Shih Poo puppies in Pennsylvania.
Registered with the American Canine Association, the dogs from this kennel are not just given up for adoption. Instead, the AA Ridgewood Kennels team makes sure that only responsible owners are allowed to take their puppies home.
Plus, the licensed breeders in this group are inspected regularly. The puppies receive all of the seven immunizations required before getting rehomed. They are also dewormed and given a lifetime warranty. In addition, this kennel offers flexible financing options to help you own your puppy asap. 
AA Ridgewood Kennels II Kinzers Details
3. Martin's Double E Kennel, LLC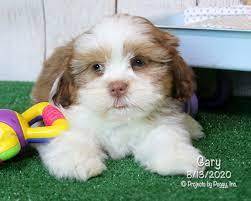 This is a state-licensed kennel that offers AKC or ACA-registered puppies for adoption. Both the young and the older dogs are vet-checked every month and given the appropriate vaccinations.
The heating and air-conditioned kennel ensure that the Shih Poo puppies for sale in Pennsylvania are well-cared for throughout the year. Plus, when needed, the breeder uses the expertise of the vets who are certified by the American Animal Hospital Association. 
You can visit this kennel on an appointment-only from Monday through Friday except for religious holidays and Sundays. Setting an appointment is accessible through the website. Puppy reservations can be made on the website by making an initial non-refundable deposit of $150 through your debit or credit card. 
Martin's Double E Kennel, LLC Details
4. Barney Shih Poo Family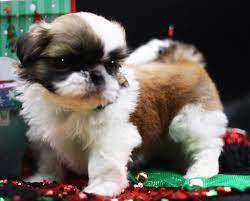 If you want to find a Shih Poo puppy in Pennsylvania, you can check out Barney Shih Poo Family. But the catch is that you can contact them only through this link. Nancy Barney is the main person behind this kennel.
She knows how to raise the puppies here to become healthy, fun-loving, and loveable companions for their new owners. These Shih Poo puppies can be yours only after turning ten weeks old.
The breeder strongly believes they need to be with their litter mates and their mother this time. Their social and physical growth is significant during these first couple of months, so they won't be rehomed until they are ready.
This kennel conducts tests on the parent dogs before letting them breed. The only option to pick up your Shih Poo puppy from Barney Shih Poo Family is by physically visiting them.  
Barney Shih Poo Family Details
5. Infinity Pups
Last on the list of Shih Poo breeders in Pennsylvania is "Infinity Pups." For more Shih Poo puppies for sale in Pennsylvania, the Infinity Pups could be your option. It's a family-run business that not only breeds its dogs but also doubles up as a broker.
But don't be misled by the word "broker." It may bring images of puppy mills to your mind, but it's not the case with this kennel. Only those breeders with impeccable records can advertise their puppies on the Infinity Pups website. This kennel sends its staff to visit the breeders and the puppies to ensure all practices are above board. 
Even though you book your next puppy with Infinity Pups, you get to visit the breeder from whose kennel your furbaby is coming. So, that should put your mind at peace about the breeder's quality. Also, the Shih Poo puppy you are getting will come with a one-year health guarantee. 
Infinity Pups Details
Choosing The Right Shih Poo Breeder in Pennsylvania
Before you choose a Shih Poo breeder in Pennsylvania or any online community, make sure to measure them against the factors mentioned below. 
Are the forums and communities clear about how they choose the dog breeders to join them?
Do the breeders have a physical location and encourage you to visit them?
Are the breeders okay with answering all your questions without getting annoyed? 
Is the breeder registered with a recognized authority?
Are the puppies and dogs registered with AKC or any other authorized body? 
Does the breeder allow walk-ins or visits by appointment only? If the former, the breeder is not careful about safety and sanitization practices. 
Does the breeder allow you to go near the new mom and her litter? If so, that's an indication that the breeder is not aware of the safety concerns. 
Is the kennel willing to give up the puppies for adoption before they are ten weeks old? If yes, they don't have much breeding expertise as it's not recommended to give away puppies before they are eight weeks old. 
Does the breeder mention how much breeding experience they have? Don't choose one with less than five years of hands-on breeding experience. 
Is there any difference between the image of the puppy you booked and the one you have physically visited? If so, chances are the breeder uses edited images and should not be trusted. 
Is there enough space for the dogs and puppies to play in the kennel?
Are the rooms where the dogs are kept temperature-controlled for their comfort?
Do the breeders ensure that the puppies are potty-trained, de-wormed, and vaccinated before getting rehomed?
Does the breeder offer a health guarantee?
Are there financing options and flexible payment methods?
More Information About Shih Poo in Pennsylvania
It's not easy to find a list of Shih Poo breeders in Pennsylvania as there is very little organized information. However, there are communities where independent breeders work together to provide top-class Shih Poo puppies to interested families. 
You can check out these forums and websites thoroughly along with their social media pages to get a deeper understanding. Sometimes it becomes difficult for a sole breeder to function alone, making more business sense to join one of the reputed online communities of dog breeders. 
Conclusion For The "Best Shih Poo Breeders in Pennsylvania"
In this post, we have included a few independent Shih Poo breeders in Pennsylvania and some communities that bring breeders, dogs, and new owners together.
That's because these communities only allow the top breeders to join them after they have proved to be fully qualified and knowledgeable about breeding and bringing up dogs. So, although there are many leading Shih Poo breeders in Pennsylvania, not all of them choose to work independently.
The independent kennels mentioned here definitely belong to the top level.  As always, it's best to pay a physical visit to the breeders before you pick one. Here's wishing you find your dream Shih Poo puppy soon. 
For more guides similar to this list of Shih Poo breeders in Pennsylvania, you can check out:
Before you purchase a Shih Poo puppy from a breeder in Pennsylvania, you can learn more about the breed by watching "Shih Poo – The Ultimate Owner's Guide" down below: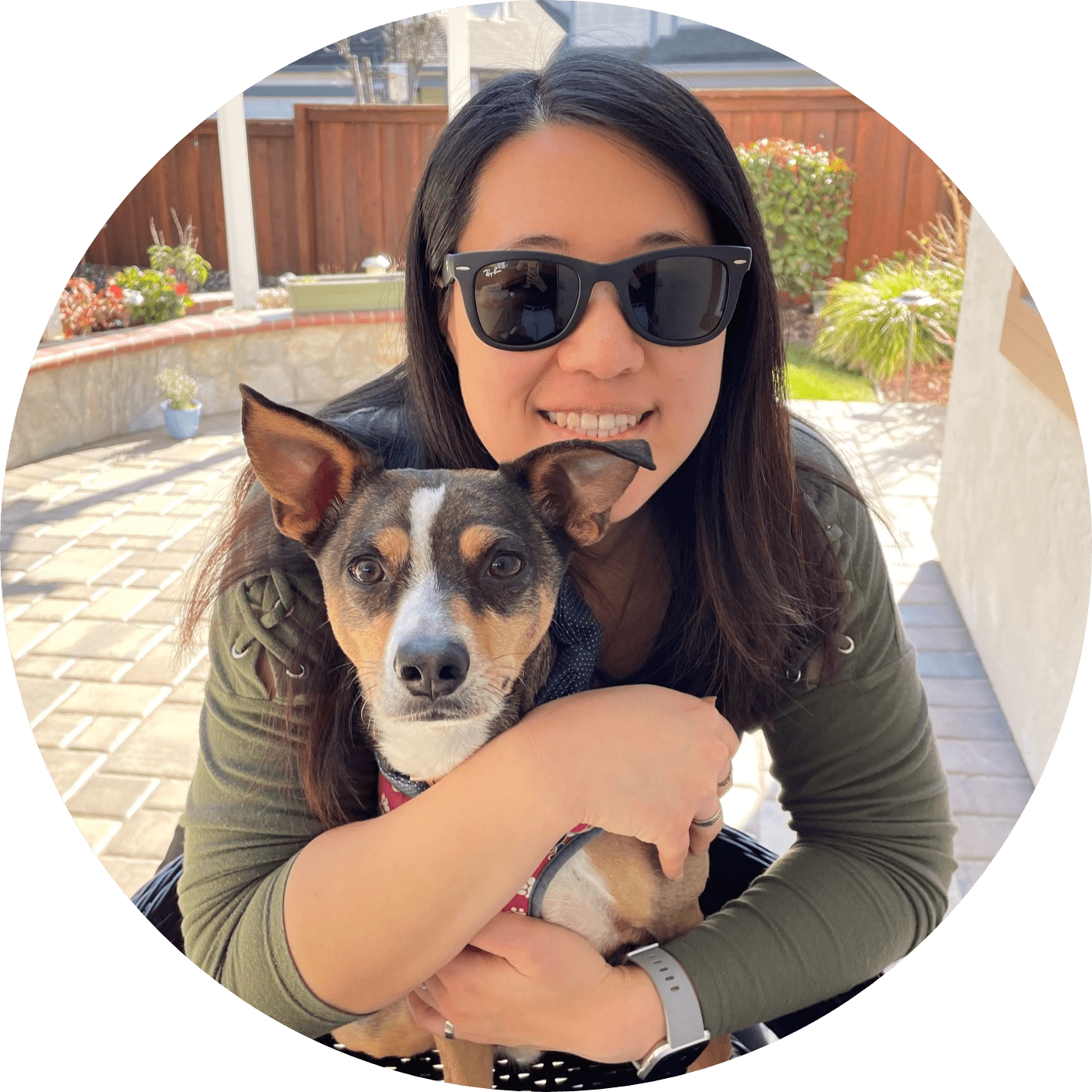 Dr. Sabrina Kong graduated from the Royal Veterinary College in England in 2016 and has been working at a small animal clinic in Northern California since then. She grew up in the Bay Area and got her bachelor's degree from Cal Poly San Luis Obispo. She also became a Certified Canine Rehabilitation Practitioner through a program at the University of Tennessee.
When she isn't in the clinic taking care of her four-legged patients, she enjoys traveling and trying new foods with her friends and her three-legged dog, Apollo. She adopted Apollo from her clinic when he was a puppy with numerous health issues. Dr. Kong truly cares about taking care of animals.