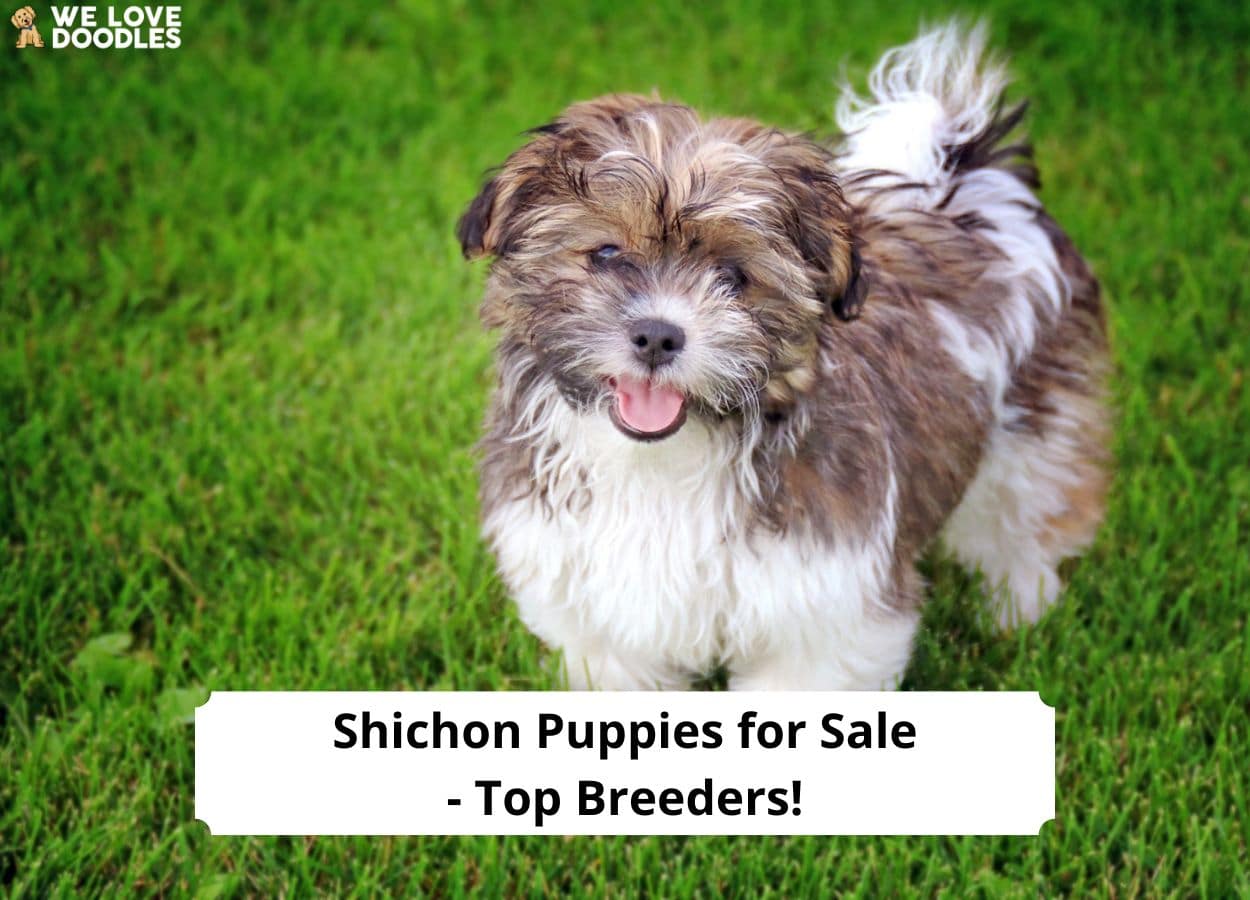 In the world of small dogs, the Bichon Frise and the Shih Tzu are often favorites. It should come as no surprise that owners and breeders want to cross these two great breeds to get a dog that carries the best traits and characteristics of both. So, the Shichon was born. These "teddy bear" puppies are non-shedding and hypoallergenic, making them a hit with families. But how hard is it to find Shichon puppies for sale?
These sweet little pups are some of the more popular designer dogs to be produced in the United States. Shichon puppies are in demand and sought after by dog fanciers all around the world. They are lively, energetic companions with adorable teddy bear faces that fit nicely on a lap or couch cushion where they will quickly wag their way into your heart.
Here is where we come in. We've made a list of the top breeders with Shichon puppies for sale. These Shichon breeders go the extra mile to produce high-quality dogs that are health-certified and guaranteed.
Before scrolling down this list of breeders with Shichon puppies for sale, check out: Aussiechon Puppies For Sale: Top 6 Breeders! (2023) and F2B Mini Goldendoodle Puppies for Sale – Top 7 Breeders! (2023).
1. Shichon Express
First on our list of breeders with puppies for sale is the small home breeder known as Shichon Express. They have an AKC-registered Bichon Frise and Shih Tzu breeding pair, and specialize in the Shichon crossbreed. They are located in Minnesota, take trips to Texas periodically, and will be happy to make arrangements for meeting up to deliver puppies.
Their Shichon puppies go home current on vaccinations and dewormer, with a six-month health guarantee as well as a start on housebreaking. This breeder recommends that you contact them via phone call, text, or email on the website for an appointment to view the available puppies. Their website mentions several breedings and future whelping to come.
The process to purchase a Shichon puppy begins with a $500 non-refundable deposit. The full price of the puppy is $1,750 and up to this breeder. After you make your pick of the litter, you can expect weekly progress reports of your chosen puppy.
Customer reviews on this breeder give testimony of great interactions, questions always answered, and delight with the puppy. The puppies are well-socialized and already "pre-spoiled" by the family when they get to the buyer.
Shichon Express Details:
2. StonyRidge Puppies
Located in Iowa, StonyRidge Puppies has Shichon puppies for sale. They specialize in both Shihpoo and Shichon pups that are hand-raised and socialized by the family to be well-rounded and well-socialized pets for the buyer. They also give early crate training and daily handling to their puppies.
There is an approval process to get onto the waitlist which requires a $300 deposit and is usually about a six-to-nine-month wait. The breeder is currently taking reservations for summer 2023. Breeding pairs are AKC registered and pass an annual vet check.
Once your breeding has been established you can make your pick of the litter when the puppies are seven to eight weeks of age, and the puppies will go home at nine to ten weeks of age with vet check, deworming, vaccinations, and a two-year health guarantee as well as lifetime breeder support.
You can also visit your puppy after they are eight weeks and have had its first round of puppy shots.  When your puppy is ready, StonyRidge Puppies will deliver or ship your Shichon puppy or you can pick them up at the breeder's home by appointment. The website does not give the full price of puppies.
StonyRidge Puppies Details:
3. Timber Creek Puppies
Timber Creek Puppies is a small home breeder of Shichon puppies. The breeders own the breeding pair which are both AKC-registered purebred Bichon Frise, and Shih Tzu puppies. The puppies are family raised and socialized with children to help produce a friendly and well-socialized puppy for the buyer.
The process to adopt a Shichon puppy is to contact the breeder via the website or email to complete an adoption application. Once approved, a $500 non-refundable deposit is required to get on the waitlist. There is no mention on the website of the full price of the Shichon puppies.
The breeder does let the people on the reserve list see the puppies from birth via video to watch their growth and development and aid them in choosing their new puppy. The reserved list is posted on the website.
Buyers pick out the puppies at five to seven weeks of age and the pups go home at 10 weeks of age. They can be hand-delivered by a nanny service, picked up at the breeder's home by appointment, or come to the nearest airport for pick up. Puppies go home with a one-year health guarantee, vet records, and a puppy pack.
Timber Creek Puppies Details:
4. Fuehne Family Pets
Fuehne Family Pets is a family home breeder of adorable Shichon puppies located in Illinois. This Shichon breeder raises their puppies in a home farm environment where they are socialized with chickens, turkeys, rabbits, cats, and other dogs, not to mention kids and other family members. They only want their dogs to go to the best homes, so they are selective about placement.
They produce quality bloodlines and excellent pedigrees. Their breeding pairs have been raised by the breeders and have champions that go back generations. They send their pups home up to date on vaccinations and dewormer, with a health guarantee until the puppy's first birthday.
The process to adopt a puppy requires an adoption application and a deposit on the puppy that is equal to half of the sale price of the dog. Prices on the website start around $1,000 and go upwards to $3,000.
The breeder will allow you to pick up your pup by appointment after the pup is eight weeks of age. They will be happy to hand-deliver your dog and will also make arrangements to meet you at an airport to pick up your puppy in person or to fly the puppy to you at your expense. They will not ship by air.
Fuehne Family Pets Details:
5. LillyBits Shichons
LillyBits Shichon is a small home breeder of Shichon puppies. Their breeding pair is also Shichon, so that makes their puppies F2 (second generation) Shichons. They welcome visitors to come to their homes by appointment to pick out or visit their chosen puppy. Be warned that if you show up in person to select your puppy, you will be expected to pay for the dog in full at that time.
The process to purchase a Shichon puppy from LillyBits is to email the breeder from the website to complete their screening requirements. Once approved you can put down your deposit of $500. The full price of the puppies is $3,000 with an additional fee of up to $850 for travel expenses where applicable.
They recommend you watch their Instagram stories and follow their blog for information on the next breeding and selection dates. This Shichon breeder is also committed to putting up videos on YouTube and sharing photos of her litter with potential buyers whenever she has the chance. Puppy care must come first.
Puppies are selected when the puppies are around five weeks of age and puppies go home once they have met certain milestones for age, usually around eight to ten weeks old. Puppies go home with their first round of vaccines and will be up to date on deworming.
Full payment is due immediately upon the selection of your chosen puppy. This includes any shipping fees that apply. There are many testimonials and references available from this Shichon breeder
LillyBits Shichons Details:
6. California Teddy Bear Shichons
California Teddy Bear Shichons are bred in a family environment, given love, socialization, and exposure to children and other dogs. Potential buyers can visit their chosen puppies after they are six weeks of age by appointment with the breeder. The dogs are whelped and raised on-site at their home, so buyers must respect the privacy of the breeder when setting up a visit.
A $500 deposit is required to get on the waiting list. This Shichon breeder requests that you join their Facebook group to stay informed of breeding and whelping events. Once you are on the waitlist and get your pick, California Teddy Bear Shichons will send pictures and videos of your chosen puppy weekly until it's ready to come home.
There are no full prices on any of the dogs on the website, so you will need to contact the breeder to find out what the price of one of these darling puppies will be. It's assumed that the full price must be paid in full by the time the buyer takes ownership of the dog, which is standard for US-based dog breeders.
Puppies go home with deworming, all vaccinations up to date, and a one-year health guarantee. The breeder asks that you contact them at the email address or the contact-us link, or call or text the phone number to begin the screening process.
California Teddy Bear Shichons Details:
7. Shade Mountain
Last on our list, Shade Mountain Kennel is a Pennsylvania-based breeder with Shichon puppies for sale. They are state-licensed and inspected four times per year by the AKC. These Shichon breeders have nearly 20 years of experience breeding AKC dogs and designer Shichons. Their breeding pairs are vet-checked and DNA-tested for genetic and hereditary conditions prior to breeding.
They will not reserve a puppy without a deposit and request that you contact them by phone or email to get the process of purchasing a puppy started. You will be put on their waitlist and notified when there will be a litter available.
Their website doesn't have much information, only that they carefully screen their buyers before allowing them to purchase a puppy. They concentrate on quality, not quantity, so there are not always puppies available.
Shade Mountain puppies go home with an up-to-two-year health guarantee and lifetime support from the breeder. They do not disclose the amount of the deposit or the full price of the puppies they sell, only that they boast "affordable" pricing. Their Facebook page has links to YouTube videos and shows photos of the available puppies.
You should plan for some downtime before you go down that Facebook rabbit hole looking at adorable puppy photos. There are some specials running at different times of the year with discounts on purchasing puppies, such as buy one, get one half-price. It's hard to resist those cute little teddy bear faces.
Shade Mountain Details:
Frequently Asked Questions
How much are Shichon puppies?
You can expect to pay anywhere between $1,750 and $3,000 for a healthy Shichon puppy sourced from a reputable breeder.
Is the Shichon a teddy bear?
This breed garnered the "teddy bear" nickname for its size, coloring, and coat. They're super cute!
How long will a Shichon live?
While estimates can vary quite a bit for designer dogs, the life expectancy of a healthy Shichon is 15 to 18 years.
Conclusion for "Shichon Puppies for Sale – Top 7 Breeders"
If you have room for a small dog in your life, you can't go wrong with a Shichon puppy.
But, as always, it's "buyer beware" when it comes to the purchase of any dog from a breeder. You must do your homework and choose a reputable breeder that produces quality dogs, avoiding puppy mills and the stores that source their dogs from them.
We hope this list of Shichon puppies for sale helps save you time during your search.
For more guides similar to this list of Shichon puppy breeders in the US, check out:
Before bringing home a Shichon puppy from a breeder in the US, you can learn more by watching "Zuchon – Shichon – TOP 10 Interesting Facts" down below:
Garrett loves animals and is a huge advocate for all Doodle dog breeds. He owns his own Goldendoodle named Kona. In addition, he volunteers at the Humane Society of Silicon Valley, where he fosters dogs and helps animals. Garrett enjoys writing about Doodles and believes that dogs can teach humans more about how to live than humans can teach a dog.
Why Trust We Love Doodles?
At We Love Doodles, we're a team of writers, veterinarians, and puppy trainers that love dogs. Our team of qualified experts researches and provides reliable information on a wide range of dog topics. Our reviews are based on customer feedback, hands-on testing, and in-depth analysis. We are fully transparent and honest to our community of dog owners and future owners.