Here's what you need to know if you're searching for the best Sheepadoodle breeders in Maryland. The Sheepadoodle is a beloved breed of dog created when breeders cross a Poodle with an Old English sheepdog. The dogs are very affectionate and are well-mannered with the proper training and upbringing.
Maryland dog owners need to purchase your Sheepadoodle from responsible breeders. Avoiding puppy mills can mean distinguishing between a healthy puppy and one with potential behavioral and health issues. Hopefully, this list will help you find a suitable Sheepadoodle companion in Maryland.
Before scrolling down this list of Sheepadoodle breeders in Maryland, you can check out these other breeder recommendations from our team at We Love Doodles: English Bulldog Puppies in Maryland For Sale and Best Pomeranian Breeders in Maryland.
Sheepadoodle Puppies For Sale in Maryland
We've put together a list of the top Sheepadoodle breeders in Maryland so that you can do just that!
More Sheepadoodle Guides: How Much Does a Sheepadoodle Cost and Best Brushes For a Sheepadoodle.
1. PuppySpot's Sheepadoodles For Maryland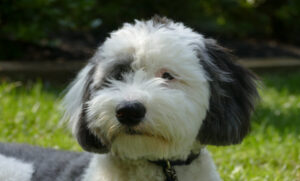 PuppySpot is a great resource for Maryland families with difficulty connecting with a local breeder. This company serves as a marketplace for all dog breeds (including the Sheepadoodle dog breed), so whether you're searching for a Sheepadoodle or any other dog, you can connect with a kennel. To find a dog on PuppySpot, you'll search by breed, then browse the list of available puppies.
Once you find a puppy you love, you can view pricing, health, pedigree, and more information. Puppies are born at USDA-licensed partner homes, so you can be sure that your dog is coming from a happy, safe home. Because it's a nationwide service, your dog may be located anywhere in the United States.
USDA-approved vehicles and planes are available for transport, and you'll pay a flat fee depending on your chosen option. Your puppy comes with a ten-year health guarantee. You will not be required to sign a spay or neuter agreement, but puppies are not guaranteed to be suitable for breeding; you do so at your own risk.
PuppySpot Details
2. TLC by the Lake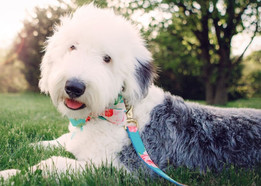 TLC by the Lake is located in McHenry, Maryland. They specialize in doodle breeds, including Goldendoodles, Bernedoodles, and Sheepadoodles. In addition, families who are considering an Old English sheepdog or a poodle are welcome to check out this kennel.
To purchase a dog from TLC by the Lake, you'll need first to fill out an adoption application. The app will ask questions about your household and family, physical home, and experience with dogs. Once approved, you'll be asked to place a $350 deposit.
This will be deducted from the total cost of your dog; the price will depend upon color but is usually $2,995. All dogs are vet-checked, vaccinated, and dewormed before entering their new homes. Your puppy will come with a spay or neuter contract unless you've purchased breeding rights.
Contact TLC by the Lake if you want to become a guardian home for dams or sires. You must live within three hours of McHenry or Hartsville, South Carolina. You will receive your puppy for a $350 security fee and work with the TLC team directly.
TLC by the Lake Details
3. Hawksbill Farm Sheepadoodles
Next on our list of the top Sheepadoodle breeders in Maryland is a kennel located in Virginia. The Stanley, Virginia location is less than three hours from Baltimore, and Maryland residents around Gaithersburg will have a minimal drive. Hawksbill Farm Sheepadoodles pays close attention to the health and well-being of its puppies for the first eight weeks of life.
However, don't be surprised if the team checks in with you after adoption! Their puppies are their babies, and from the time they're born in the 5,000-square-foot, climate-controlled nursery to the time they're adults, the Hawksbill team cares about the dogs' welfare.
Your puppy comes with a two-year health guarantee and will be nose-to-tail vet checked, vaccinated, and dewormed. The price of your puppy may vary based on the color, gender, and other characteristics; you can typically expect to pay between $2,000 and $2,800 for your dog. Your deposit will be deducted from this total cost.
Hawksbill Farm Sheepadoodles Details
4. Briarwood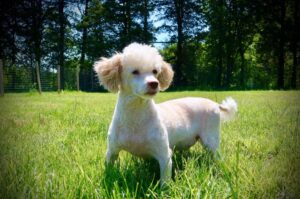 Briarwood is next on our list of the top Sheepadoodle breeders in Maryland. They're a family-based business, but you might be interested that the "family" consists of two parents and 12 privately adopted children! Your puppy will get plenty of attention from adults and children in its formative weeks. Briarwood raises Sheepadoodles and Bernedoodles.
If you're looking for a Sheepadoodle in Maryland, you can choose from standard, mini, or micro sizes. You'll need to apply for adoption and place a deposit. The total price to adopt a puppy from Briarwood ranges from $2,300 to $2,500 for a standard size. Color and size will cause a variance in the cost. Dogs are sold as pets only, and you'll have to agree to spay or neuter your pet.
Your puppy will have had all appropriate vaccinations and worming treatments when it's time to go home with you, and the kennel team will review that information with you upon pickup. Only customers who have placed a deposit are permitted to visit the kennel for health reasons. Make arrangements with the Briarwood team if you'd like to meet your puppy before adoption day.
Briarwood Details
5. Crockett Doodles
If, for any reason, you're having trouble finding a local Sheepadoodle breeder in Maryland, look no further than Crockett Doodles. This reputable and responsible larger-scale breeder specializes in dozens of doodle breeds. You can find your next Sheepadoodle here or browse the other available puppies.
Puppies sold through Crockett Doodles are born in partner or guardian homes. The company is based in South Carolina, but you may be able to find a partner home near you in Maryland. However, if this is not possible, the kennel offers shipping and delivery options based on your location.
Delivery to Maryland costs $479 for ground transportation or $999 by air. Your Crockett Doodle Sheepadoodle will be current with vaccinations, deworming treatments, and vet checks upon arrival at your home. They come with a three-year health guarantee against genetic defects and certain illnesses. Parents are DNA tested, and customers are welcome to ask for these records.
Crockett Doodles Details
6. Deb's Doodles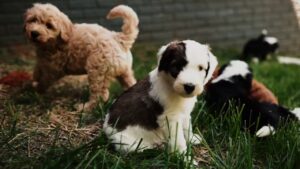 Deb's Doodles is based in northern Virginia and caters to Maryland, Virginia, and Washington DC residents. The kennel specializes in Goldendoodles, Bernedoodles, and Sheepadoodles. Deb's Doodles is a small-scale breeder but typically has puppies available. If none are ready when you're looking to adopt, you can look at the "puppy schedule" to view upcoming litters.
Your Sheepadoodle puppy from Deb's Doodles will cost around $3,300 to adopt. Prices of puppies may vary slightly depending upon the litter and the color, but prices are listed below each available dog's picture. While you're checking out the available puppies, be sure to take a look at Movie Mondays!
The breeder posts videos of puppies so you can watch them grow! Puppies are sold as companions only; you must sign a spay or neuter contract to adopt a dog from this kennel. The deposit is $300, and Deb's Doodles offers the option to send your puppy to Deb's Camp Doodle, where they will learn basic commands, be familiarized with the crate, and learn to walk on a lead.
Deb's Doodles Details
7. Grace Wood Farm
Finally, the last of the top Maryland Sheepadoodle breeders aren't located in Maryland. Instead, we've chosen this South Carolina breeder for two reasons: their commitment to quality puppies and their ability to deliver dogs anywhere in the United States.
Grace Wood Farm specializes in Sheepadoodles and just a few other breeds, and they've received an A+ rating with the Better Business Bureau. Puppies are available with a $250 deposit, which will be applied toward the total cost of $4,000 for your dog.
Shipping or delivery will cost extra, depending upon the method. Grace Wood has several locations. Choose from the Ohio, Georgia, South Carolina, or North Carolina kennel when choosing your dog. Sheepadoodle puppies have a one-year health guarantee; you must sign a spay or neuter agreement if breeding rights are unavailable.
Grace Wood Farm Details
Conclusion For The "Best Sheepadoodle Breeders in Maryland"
Maryland families searching for the perfect puppy companion should consider the intelligent, loving Sheepadoodle. These dogs are a designer breed, and a responsible vet must care for puppies in the earliest weeks.
The breeders on this list were chosen because they provide the attention and care your puppy requires as they are growing up. Interview the kennel you choose. If possible, then give it a shot and visit the kennels! Then, bring home a healthy, well-socialized Sheepadoodle puppy that will be a beloved family member for years to come.
For more guides similar to this list of Sheepadoodle breeders in Maryland, you can check out:
Before you bring home a Sheepadoodle companion from a breeder in Maryland, you can learn more about this dog breed by watching the "Sheepadoodle Dog Breed Guide" down below: