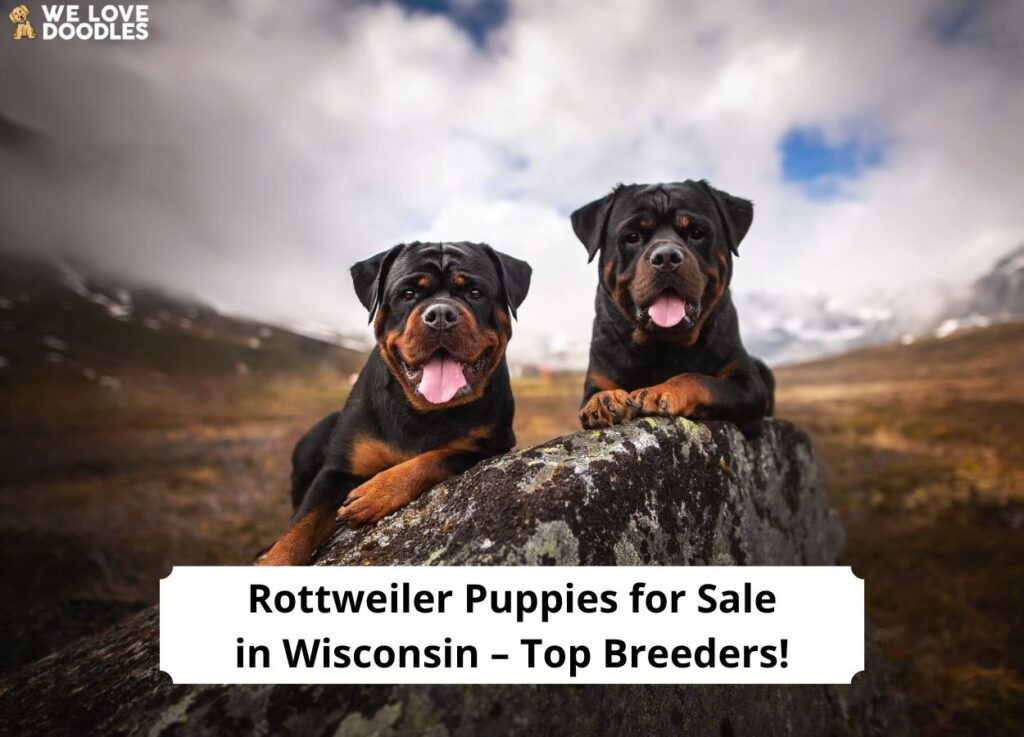 Looking for a beloved Rottweiler puppy for your family? This list features reputable breeders with Rottweiler puppies for sale in Wisconsin and can surely help you find the perfect pet!
Rottweilers are reliable working dogs originating from Germany, where they were used to pull carts and drive cattle for butchers and farmers. Modern-day Rottweilers are gentle playmates and protectors of the family, although they may sometimes seem a bit aloof.
Male Rottweilers stand between 24 to 27 muscular inches at the shoulder, while females are slightly smaller and lighter. Well-bred Rottweilers are calm, confident, and courageous. They are playful, sometimes silly, and love nothing more than to prop themselves on the lap of their loved ones for cuddles.
Early training and socialization can help positively harness their inherent energy, making them one of the best canine companions. If you're based in or near Wisconsin and are looking for Rottweiler breeders, we've compiled a list of reliable and ethical options.
Although there are many Rottweiler breeders in Wisconsin, we've highlighted those who have been in the business for many years and are known for their ethical, transparent breeding programs.
Before you scroll down this list of Rottweiler breeders in Wisconsin, you can check out these other breeder recommendations: 6 Best Rottweiler Breeders in the United States! (2023) and Where to Find Rottweiler Puppies Under $250? (2023).
1. Schomberg Rottweilers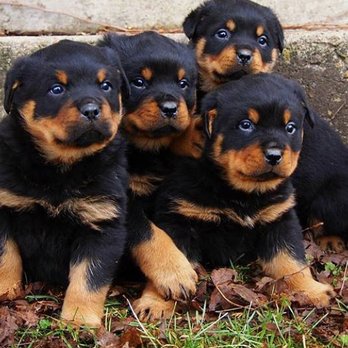 Operating since 1989, Schomberg Rottweilers has provided healthy and happy Rottweiler puppies to customers based in the upper Midwest as well as 35 other states and overseas.
All litters are registered with the AKC (American Kennel Club) and the puppies come with registration papers at the time of their adoption. Although the breeder also uses European lines, these dogs mainly come from German lineage and can easily be traced back to German ancestors.
Schomberg Rottweilers provides high-quality dogs created from careful and ethical selective breeding. The original pair used for breeding had broad heads, large frames, OFA-certified hips, and exceptional temperaments. With that in mind, all of the new bloodlines have OFA certification and excellent temperaments.
These puppies are muscular with square heads and they'll grow up to be kind, compassionate adults with standard or superior sizing. They are well-socialized, taught to obey basic commands, and can be trained for agility, obedience, and conformation.
Other than as family companions, many of these Rottweilers are currently used for therapy, Canine Good Citizen, search and rescue, and law enforcement.
Schomberg Rottweilers is currently selling its beloved puppies for a price range of $1,500 to $2,000. All the pups are examined regularly by a vet, updated on all age-appropriate vaccinations at six and eight weeks, and dewormed. Spaying is mandatory for female puppies before their first heat cycle at about six to nine months.
Schomberg Rottweilers Details:
2. Von Kaden Rottweilers
Von Kaden Rottweilers is another reliable breeder of Rottweilers in Wisconsin. The breeder shares profound sympathy and responsibility for the well-being and secure future of this amazing breed.
As an established breeder, Von Kaden Rottweilers is dedicated to matching high-quality puppies with the perfect forever families. All their dams and sires are from Germany's top working and show pedigrees. Moreover, they are OFA-certified and health tested.
If you're interested in purchasing a Rottweiler to participate in competitions, this breeder will have exactly what you need. Pictures and details of all their champion Rottweilers are available on the breeder's website.
Von Kaden Rottweilers Details:
Location: Union Grove, Wisconsin, United States
Phone Number: 224-588-2899
Website: Von Kaden Rottweilers
3. Von Elst AKC German Rottweilers
Our next Wisconsin-based breeder is Von Elst AKC German Rottweilers, whose puppies are recognized by and registered with the AKC. The breeder's main goal is to produce the best lineage of happy, healthy, well-tempered Rottweilers. They excel as household companions and show dogs.
All the puppies available at Von Elst AKC German Rottweilers are well-socialized with children of all ages and adjust easily with other animals. When you take a puppy home, it will come with paperwork for AKC registration, a pedigree certificate, and a health guarantee.
In terms of healthcare, all Rottweilers undergo thorough physical examinations, receive all age-appropriate vaccinations, and are dewormed.
Von Elst AKC German Rottweilers Details:
4. QuarterWoods Rottweilers
And our last pick for buying happy and healthy Rottweiler puppies for sale in Wisconsin is QuarterWoods Rottweilers, a breeder based in the nearby state of Ohio.
QuarterWoods Rottweilers are members of the Medallion Rottweiler Club and strictly follow the code of ethics for this breed in America. They aim to provide canine lovers with well-tempered, sociable, and physically-appealing companion dogs.
QuarterWoods Rottweilers prioritizes the health of its dogs above everything else. All dogs and puppies are OFA-certified for hips, elbows, the heart, and eyes. They are also vaccinated, dewormed, microchipped, and physically examined by a vet.
Moreover, the breeder's Rottweilers are intelligent, compassionate, and hard-working. They would be exceptional family companions. QuarterWoods has also produced Seiger Champions, AKC Champions, Obedience, and Schutzhund-titled Rottweilers.
You will take your puppy home with an AKC Registration certificate, a blanket with its littermate's scent, a certificate of health, a food starter bag, results of its Volhard Personality Test, and a puppy starter kit. All puppies also have a two-year health guarantee covering hips, elbows, eyes, and heart problems.
If you can't physically travel to Ohio, you can meet the breeder at Cincinnati/Northern Kentucky International Airport to collect your puppy.
QuarterWoods Rottweilers Details:
How to Choose Rottweiler Puppies for Sale in Wisconsin
A reliable and ethical breeder plays a vital role in building a puppy's temperament, character, and social skills. Hence, you must choose a breeder who understands and truly cares for Rottweilers.
Here are some of the things you should consider about a breeder when buying Rottweiler puppies in Wisconsin:
Reliable breeders always provide all the necessary information and paperwork about your puppy before you take it home. This includes AKC registration, health/vaccination certificates, temperament evaluations, pedigrees, etc.
Concerned breeders want to know where you'll be taking the puppy. So, if they're asking about your family, household environment, or other pets, it's a sign they genuinely care about their animals. They might also ask personal questions to assess your potential fit as a Rottweiler pet parent.
Responsible breeders don't hide anything about their puppies from potential adopters, especially health and temperament problems. Moreover, they are also ready to take the puppy back if you can't handle its health issues.
Good breeders will encourage you to visit their facility and bond with your potential pet dog before taking it home. They aren't looking to make quick deals and appreciate you taking your time.
Confident breeders always share feedback and experiences from past customers on their social media and in person. They also proudly show the dogs recognized in conformation shows.
Lastly, the best breeders always focus on a single breed instead of raising multiple ones. Moreover, they maintain strong connections with other breeders and collaborate with them for the betterment of their animals.
More Information about Rottweiler Puppies in Wisconsin
Rottweilers are strong working dogs with loving hearts. Often nicknamed Rotties or Rotts, the breed is known for its broad chest and highly muscular body. Rottweilers exude strength, stamina, intelligence, alertness, and fearlessness.
Rottweilers are often aloof towards strangers but never timid or frightened. They follow a wait-and-see principle when faced with new people and circumstances. Owing to this characteristic, Rottweilers are natural guard dogs that are also successfully employed in police, military, and customs work.
A Rottweiler that cannot discriminate between loved ones and strangers can become dangerous. Since they are overly protective of their families, their somewhat ferocious defensive nature needs to be tamed via early socialization and firm, fair, and consistent training. But rest assured, this breed is not inherently vicious or threatening — well-bred Rottweilers are playful, gentle, and compassionate.
Frequently Asked Questions
Are Rottweiler puppies aggressive?
It's never too early to begin training your Rottweiler puppy, including spending sufficient time socializing them with other animals and people. With proper care from a young age, Rottweilers should not be overly aggressive.
Are Rottweiler puppies a good choice for first-time dog owners?
Rottweilers are generally not recommended for first-time dog owners due to the breed's size and strength. That said, thoughtful pet parents who do their research and don't skimp on continuous training can have great results with their first Rottie.
Are Rottweiler puppies easy to potty train?
That depends on how you define "easy." Rottweilers are frequently used as search and rescue dogs, guard dogs, and police dogs, so they are no strangers to rigorous training. Rottweiler puppies will require patience, but they can be fast learners once they've gotten into a routine.
Conclusion For "Rottweiler Puppies for Sale in Wisconsin – Top Breeders"
We hope our list of Rottweiler breeders in Wisconsin will help you find a happy and healthy forever pup for your family. But be mindful that although Rottweilers are wonderful companion dogs, they aren't very easy to handle as pets. Rottweilers require total dedication to physical activity, socialization, and temperament training.
Moreover, tragic incidents involving ill-tempered Rottweilers or other large breeds have led to them being banned in certain cities. However, judging an entire breed based on the actions of a few mistreated dogs is not fair.
So, remember to play your part to redeem the reputation of this breed by training and socializing your Rottweiler to be respectful and friendly. Don't purchase a Rottweiler only to lock it up in your backyard.
Welcome it into your home and surround it with loving and caring people. With the correct guidance, you'll soon have one of the best lifelong companions in the canine community.
For more guides similar to this list of Rottweiler breeders in Wisconsin, you can check out these other breeder recommendations from our team:
Before you bring home a Rottweiler puppy from a breeder in Wisconsin, you can learn more about this dog breed by watching "THE ROTTWEILER – FEROCIOUS GUARD DOG OR FAMILY PET?" down below:
Garrett loves animals and is a huge advocate for all Doodle dog breeds. He owns his own Goldendoodle named Kona. In addition, he volunteers at the Humane Society of Silicon Valley, where he fosters dogs and helps animals. Garrett enjoys writing about Doodles and believes that dogs can teach humans more about how to live than humans can teach a dog.
Why Trust We Love Doodles?
At We Love Doodles, we're a team of writers, veterinarians, and puppy trainers that love dogs. Our team of qualified experts researches and provides reliable information on a wide range of dog topics. Our reviews are based on customer feedback, hands-on testing, and in-depth analysis. We are fully transparent and honest to our community of dog owners and future owners.