If you're searching for the best Pug breeders in Ohio, then you've come to the right place. Pugs are cute, squishy, and may not be the hardiest dog breed, but that makes them all the more irresistible. In Ohio, Pugs are bred by a few and loved by many. That's why in this article, we'll take a look at the top Pug breeders in Ohio.
Before scrolling down this list of Pug breeders in Ohio, check out these other dog breeds in the state: Best Pomeranian Breeders in Ohio and Best Boxer Breeders in Ohio.
Pug Puppies For Sale in Ohio
Due to the limited number of Pug breeders in Ohio, we've also included a few more Pug breeders from neighboring states so you can have more options.
Pug Product Recommendations: Best Dog Vibration Collars and Best Device to Stop Dog Barking.
1. PuppySpot's Pugs for Ohio
Since you're searching for Pug breeders in Ohio, then we highly recommend checking out PuppySpot for your puppy. Pug breeders on PuppySpot are all strictly screened, which means you'll be dealing with reputable listings. In addition, you can use PuppySpot's search filters to find the puppy most suitable for you. So before continuing on your search for a Pug breeder in Ohio, check out the marketplace on PuppySpot.
PuppySpot Details
2. Pug Puppies Of Ohio
Pug Puppies of Ohio is a small-scale breeder in Huron County. In the summer, the owners, a husband and wife pair, work in construction and spend the rest of their time breeding Pugs. The duo put in the time and effort to train and raise puppies. They start teaching the puppies crate and potty training at the tender age of 4 weeks. As the Pugs grow, they are socialized with the breeders' children, other adults, and other dogs.
The breeders also ensure the Pug puppies grow up in a healthy and loving environment.  Pug puppies of Ohio provide a 12-month health guarantee and a complementary vet visit. In addition, the breeders will ensure that your Pug is up to date on all immunizations and dewormings as it prepares to come home to you. They will also ensure your Pug is microchipped and comes with a puppy starter pack.
A $500 non-refundable deposit is required to reserve your Pug puppy. You pay the first $250 in one week and the final $250 in five weeks. If you're not ready to buy a Pug right now, you can join their referral program and earn $50 for each person you refer who purchases a puppy from them. The breeders also give $100 off to repeat customers who have a police/fireman badge or military ID.
Pug Puppies of Ohio Contact Details
3. Tipping Point Farm Ohio
Michelle Branning started Tipping Point Farm in 2004 with one goat, two horses, and two black Pugs. In 2017, she sold off her dairy goat herd and began focusing solely on Pugs. Michelle has added several new colors to her Pug breeding program over the years, including white, merle, black and tan, apricot, pink, black, brindle, and silver, among others.
Michelle says her breeding program was inspired by her first Pug, Cheese, who passed away suddenly in 2016. Michelle developed a great love for cheese over the years she spent with Cheese, and she wishes everyone could have their cheese. Michelle now has four generations of Pugs. Michelle's Pugs have become so popular over the years that she now collaborates with her mother, a full-time Pug breeder, to accommodate the demand.
In a way, everyone now has the opportunity to get their cheese. Health is a primary priority at Tipping Point Farm. Michelle and her mom are directly involved with the Pug puppies from when they are born till you go home with them. Michelle sells her Pugs in two color categories and with restricted registration. Pugs with standard colors are sold at $1,500, and Pugs with rare colors at $3,500. If you'd like to see upcoming litters, you can view them on Tipping Point's website. ​
Tipping Point Farm Ohio Contact Details
4. Candyland Pugs Ohio
Bill and Candy founded Candyland Pugs Ohio. The duo has been breeding and showing Pugs for over 20 years. The couple breeds according to the AKC standard for Pugs and puts health and temperament at the forefront. The two breeders are members of Pug Dog Club of America (PDCA) and have been awarded breeder of the year for more than five years. This shows how committed these two breeders are to breeding quality Pugs for the show ring. So if you're looking for quality Pugs for the show ring, this may be the breeder for you.
Candyland Pugs Ohio Contact Details
5. Casa Blanca Pugs & Mardi Gras Havanese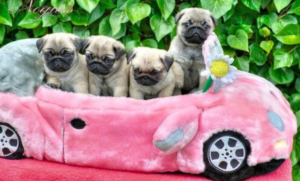 Barry and Blanca own Casa Blanca Pugs & Mardi Gras Havanese. The Michigan-based breeders have extensive experience breeding and showing purebred dogs. Blanca has been involved in purebred dogs for over 18 years, while Barry has been involved for over 35 years. The duo's Pugs have won numerous titles worldwide, including Best in Show and Best in Specialty.
The breeders have also been named PDCA Breeders of the Year for their great breeding program and breeding Pugs that meet the standard and the CHIC requirements. The two breeders place a high value on responsible breeding. They consider themselves to be guardians of the breed's future. Hence they strictly adhere to ethical breeding standards.
This has included comprehensive health testing, targeted breeding for specific traits, and raising Pug puppies with optimum socialization for Barry and Blanca. The duo goes a step further to raise all their Pugs in their home. This is to ensure that all Pugs in their care are loved and pampered. A Pug puppy from this breeder ranges from $3,000 to $3,500.
Casa Blanca Pugs & Mardi Gras Havanese Contact Details
6. Snuggle Pups Michigan
Joan and Gary Yerkie are the owners and breeders of Snuggle Pugs Michigan. The two breeders live on 20 acres, approximately 15 minutes from Lake Michigan. Brenda, the couple's daughter, begged them for five years before getting their first Pug in 1990. Toby, their first Pug, turned out to be the Yerkie's first Pug and their first obedience titleholder and conformation champion.
The couple enjoyed showing Toby that they have been showing ever since and can be found in the Snuggle Pugs female line. The Yerkies work hard to produce the greatest family Pugs possible so that you can have a healthy and well-adjusted Pug. They breed per PDCA and AKC standards. They are also members of both organizations. A Pug from this breeder will cost you $1,500
Snuggle Pups Michigan Contact Details
7. Checagou Pugs Illinois
Checagou Pugs is owned and run by Dee Riordan. Dee has been breeding and showing Pugs since 1990. She is very involved in the dog world, especially with Pugs. Dee's Pugs compete in the show ring regularly and have proven to be champions across the United States. She breeds them for good health, temperament, and conformation. She says her heavy involvement in the show world speaks to the standards that she breeds her Pugs by.
The breeder strives to produce beautiful Pugs, maintain her show line, and practice responsible breeding to safeguard the breed's longevity for future generations. Dee is a PDCA and AKC breeder of merit. She is also a Great Lakes Pug Club (GLPC) member. Through her company, Dee offers a 24-months health guarantee and lifetime breeder support for every client. Her Pugs are priced between $1,000 and $3,000.
Checagou Pugs Illinois Contact Details
8. Pugs R 4 U
Lisa May is the owner and breeder behind Pugs R 4 U. The Kentucky-based breeder cares deeply about the Pug breed and treats every Pug as part of her family. The breeder works hard to ensure that everything she does benefits the Pugs' quality of life. This includes everything from selecting healthy parents with good temperaments to proper socialization and daily care and placing them in loving homes with loving pet owners.
The Pugs come with a 12-months health guarantee that covers all genetic disorders. The guarantee, however, doesn't cover any internal/external parasites or infectious diseases. The puppies come home with an AKC registration, fully vaccinated and dewormed, microchipped, and with a certificate of health. A Pug from this breeder costs anywhere from $1,000 to $2,000 with an average wait time of 6 months.
Pugs R 4 U Contact Details
9. Kelz Pugs New York
Kelly Maurer is the breeder and owner of Kelz Pugs. The New York-based breeder offers top-quality Pugs with a focus on health, form, and function. She believes that quality is more important than quantity, so she only has a few litters each year. Instead, the breeder says she focuses on maintaining the Pug standard by raising structurally sound Pugs with excellent health and temperaments.
Kelly considers the Pugs as champions not only in the ring but also in the hearts of their forever family. She is thorough in health testing and caring for the Pugs to ensure each Pug gets individual care and attention to thrive. Her goal is to ensure that every Pug that comes from her program is set to live a long, healthy, and happy life when it leaves her care.
Unlike many other breeders, Kelly provides a lifetime health guarantee for all of her Pugs against congenital disorders. She also offers lifetime breeder support, and all her Pugs come home to you with all the health protocols followed. The price of a Pug puppy from this breeder ranges from $3,500 to $6,500, with a 12-month waiting period on average. Then, at the age of 12 weeks, all Pugs are sent home.
Kelz Pugs New York Contact Details
10. House of Briggs Pugs Pennsylvania
Last on the list of the best Pug breeders in Ohio is "House of Briggs Pugs." Barbara Briggs is the owner and breeder of the House of Briggs Pugs. The Pennsylvania-based breeder provides premium Pug puppies to families who share her love and passion for these adorable companions. The breeder strives to produce high-quality Pug puppies structurally sound, healthy, and have excellent temperaments for folks like you.
Her priority is to ensure the health and well-being of all my Pugs from birth until they leave with their forever family and beyond. Barbara has owned several different dog breeds over the years, but the Pug breed is by far her favorite, coming in second only to Pitbulls. She started breeding Pugs after her husband passed away, and she has never regretted it.
Her Pugs are all AKC registered, bred in her home, and come with AKC litter certification and registerable papers. Before starting her breeding program, Barbara did tons of research on the Pug breed. As a result, her breeding dogs come from the greatest breeders in the United States. For her, it's about preserving the breed while creating companionship for others.
Barbara is proud to provide the most wonderful family pets. She provides a 12-month health guarantee as well as lifetime assistance to the Pug family. The Pugs are socialized throughout the process, and their health and well-being are prioritized. The price of a Pug from this breeder ranges from $2,300 to $2,600, with an average wait time of 9 months. Her Pugs go home at eight weeks of age.
House of Briggs Pugs Pennsylvania Contact Details
Conclusion For The "Best Pug Breeders in Ohio"
Finding a reputable and responsible Pug breeder can be overwhelming. Many pitfalls can come up if you choose the wrong type of breeder. While this list of Pug breeders in Ohio is a great start, there is no way to ensure a perfect experience, but you can use some tips to better your chances. First, pay a physical visit to the breeder to view their facilities, breeding dogs, and how they interact with their dogs.
Check if the breeder is asking questions about you. A responsible Pug breeder will want to learn as much about you as you want to learn about them. They will want to know where their Pug will be going, who will be caring for it, and what type of environment it will be living in—survey past clients. If your breeder has a Facebook group, join it and see what discussions are going on. Look for a few previous clients and inquire about their experience.  Also, check out the breeder's reviews on sites like Yelp.
For more articles with mentions of the Pug dog breed, you can check out:
To learn more about the Pug, you can watch "Everything You Need to Know About Pugs" from AnimalWised down below: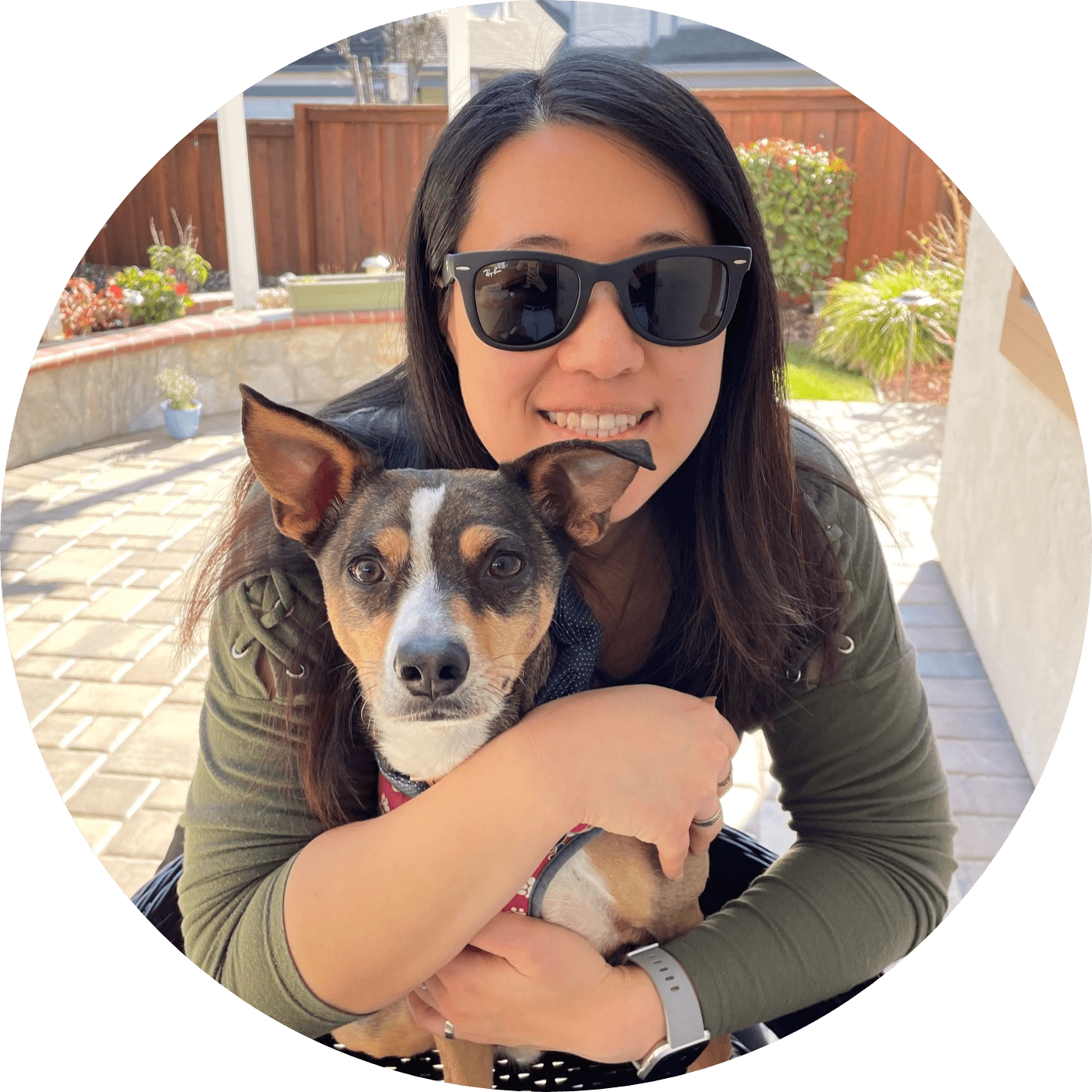 Dr. Sabrina Kong graduated from the Royal Veterinary College in England in 2016 and has been working at a small animal clinic in Northern California since then. She grew up in the Bay Area and got her bachelor's degree from Cal Poly San Luis Obispo. She also became a Certified Canine Rehabilitation Practitioner through a program at the University of Tennessee.
When she isn't in the clinic taking care of her four-legged patients, she enjoys traveling and trying new foods with her friends and her three-legged dog, Apollo. She adopted Apollo from her clinic when he was a puppy with numerous health issues. Dr. Kong truly cares about taking care of animals.