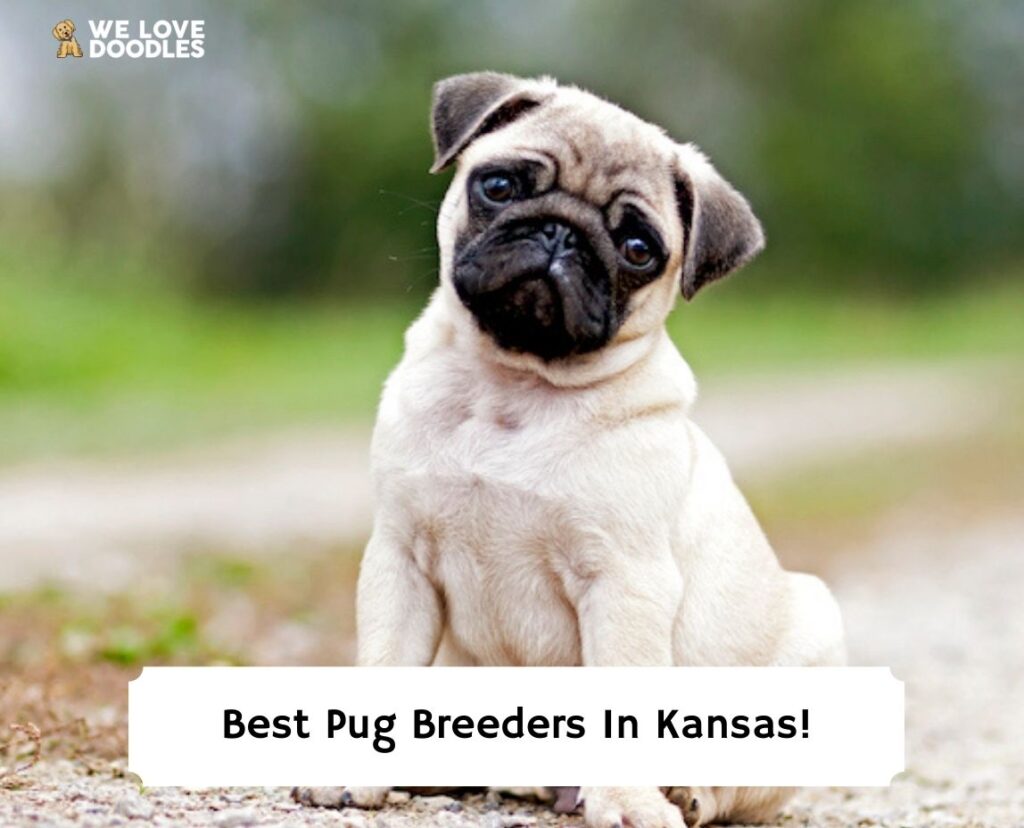 Are you searching for Pug breeders in Kansas? We've got your back. "Multum in parvo," a Latin term meaning "a lot of dogs in a small space," is sometimes used to describe Pugs, and rightfully so. Pugs are a popular breed with millions of fans around the world.
It is a tiny but muscular breed with adorable features that include a round, large head, big puppy dog eyes, and the adorable, wrinkled brow that gives these tiny dogs a human-like look. Moreover, Pugs are affectionate, loyal, playful, mischievous, and good things one can name.
However, these adorable creatures can also be stubborn. Also, note that Pugs thrive on human companionship, and while they make great family and apartment dogs alike, Pugs do not appreciate being left on their own for longer periods.
So, if you're someone who does not enjoy their pet being a little mischievous and stubborn and tends to stay out for most of your day, the Pug may not be the ideal breed for you.
The Pug has surely made a name worldwide – being one of the most popular breeds, everyone wants this adorable furball in their home. So, if you're a resident of Kansas and looking for a Pug, you've come to the right place.
Before scrolling down this list of Pug breeders in Kansas, you can check out these other recommendations from our team at We Love Doodles: Best Shih Tzu Breeders in Kansas and Best Dog Breeders in Kansas.
Pug Puppies For Sale in Kansas
For this article, we've compiled a list of Pug breeders in Kansas so you can get your future furry friend from a reliable breeder. Therefore, without further ado, let's read on.
Pug Guides: Why Pugs Are The Worst and Best Dog Crate Alternatives.
1. PuppySpot's Pugs For Kansas
PuppySpot is one of the biggest puppy websites in the United States, where you can search for a Pug companion right from the comfort of your home in Kansas. They seek to help families find their ideal puppy in a simple and time-effective way.
The family can quickly use their web page to find their ideal Pug puppy's breed and characteristics and quickly find it. PuppySpot is particularly special because they offer the best of all worlds, focusing on handing out quality and simplicity at the same time. The company has a proven record. They have sold over 200,000 puppies all over the United States and have received over 10,000 5-star ratings.
Mission 
PuppySpot loves to work with dogs. They are doing whatever they can to improve further and facilitate the adoption process. Their main goal is to bring happiness to a family by giving them a happy and healthy puppy to take care of, appreciate and love.
Vision
PuppySpot has made it possible to get a high-quality puppy without having to invest a large amount of time searching for the right breeder. Instead, from the comfort of your own home, you can fire up your laptop, log into PuppySpot, and adopt a puppy you love in a few clicks.
Company Values
Quality: Every PuppySpot is a symbol of quality. PuppySpot is one of the toughest institutions in the market regarding standards. They have a very tough and demanding process to evaluate breeders. Of all possible options, only 10% of breeders get to work with them (the very best of the best).
Health: Every dog that PuppySpot breeds have to be healthy. Breeders especially focus on making sure the puppy grows to be healthy and full of energy. Before the puppy is sent to you, it will be reviewed from nose to tail to ensure it is healthy and ready to go.
Dedication: PuppySpot is not a puppy mill. Breeders dedicate a lot of their time to being with the puppies and making sure they feel well attended to and happy.
Convenience: PuppySpot offers an easy way to adopt the puppy you've waited for. Additionally, they'll have it delivered to your doorstep.
PuppySpot Details
2. JNJ Pugs-N-Paps
JNJ Pugs are experienced breeders and proudly breed Chihuahuas, Pugs, Guinea Pigs, and Hedgehogs. JNJ Pugs is owned by Jenina & Joshua, two professional breeders who raise the most adorable animals in their home environment with maximum socialization.
They also claim to test all the breeds for health and temperament to produce the most healthy and perfect furry friends for you. All pet parents are DNA registered on file with the AKC and tested twice annually for overall health, genetic conditions, Canine Brucellosis, heartworms, etc.
Moreover, all pets under their care are also vaccinated and microchipped. So, you never have to worry about your future pet turning out unhealthy. You can put a non-refundable deposit to get your puppy so JNJ Pugs-N-Paps can hold your future pet for you.
However, to hold it, you must pay the balance in full and all checks cleared before the puppy is delivered. You can also choose for your puppy to be delivered as JNJ Pugs-N-Paps has USDA licensed drivers to transport your pup to you.
Most drivers try to get within a 30-minute drive from your home. However, that varies according to your location, and sometimes you may have to meet the driver at a few hours' distances. So, for sure – JNJ Pugs-N-Paps surely has the most adorable and healthy Pug puppies in Kansas.
JNJ Pugs-N-Paps Details
3. Frenchie Pugs
With an experience of over 20 years, Frenchie-Pugs is owned by a hobby breeder located in Easton, Kansas. Frenchie Pugs claims to provide the best quality care for the puppies they breed. Starting from excellent food, socializing with people at an early age, regular vaccinations, and parasite treatments.
Moreover, Frenchie Pugs gets your puppy checked by an expert vet before sending them to your doorstep. And it doesn't end there; your puppy will also come with a one-year health guarantee for genetic health issues. These unique features surely aren't found in many breeders in the United States.
So, if you're looking for Pug breeders in Kansas, Frenchie Pugs should surely be your number one priority. Frenchie Pugs also delivers their puppies all around the United States. So, if you're not from Kansas, you can still get in touch with them and inquire regarding delivery services and costs.
Puppies cost $1,356.25, including sales tax for puppies picked up at the breeder's house. To find more details regarding the upcoming litter in November, please click on the link to the website below. The puppies will come with APRI registration, 3 generation pedigree, health guarantee, up-to-date shots, vet check, and microchipped.
Frenchie Pugs Details
4. BL Skyhawk Dog Kennel
Looking for Pug puppies for sale in Kansas? Skyhawk Dog Kennel has got your back. Skyhawk Dog Kennel breeds AKC registered Pugs in apricot fawn and black colors. It is a small dog kennel located in Northeast Kansas. The kennel only breeds female Pugs once a year to prevent overbreeding and ensure healthy and fit puppies.
A nose-to-tail health exam is given at the birth and before delivering your puppies to your home to ensure only healthy and fit puppies are sent over to you. You can also drive over to the home and facility yourself to check out the puppies and where they were raised, which is always a wonderful gesture by breeders to allow potential buyers to visit the facility where they raise their puppies.
Prices are the same for females, males, black, fawn, or apricot. As of 1/1/2022, All Pugs cost $1,250 regardless of color or gender. Note that Skyhawk Dog Kennels encourages interested people to visit their facility before purchasing. You will also be given a tour of their nursery. What more could one ask for?
BL Skyhawk Dog Kennel Details
5. Country Pugs
Country Pugs, owned by a breeder named Tammy Bratcher, is an AKC-registered kennel in the countryside where the dogs under the care of Tammy Bratcher have ample space to run around and enjoy the lovely country sunshine with access to an indoor facility.
The breeder also claims to feed their puppies with premium quality food and nothing less. Moreover, all the puppies at Country Pugs come with a health certificate from a local vet. They are dewormed every two weeks and also vaccinated. It is highly important to pick a breeder who chooses to vaccinate its puppies and deworm them regularly and properly.
Remember, a healthy puppy is a happy puppy. Country Pugs will also provide you with a small bag of puppy food which is great as it will help your puppy settle down in their new home quite easily if the food they are fed regularly does not change. You can contact Tammy Bratcher regarding the upcoming puppy litters on their phone number mentioned below:
Country Pugs Details
6. Kloud 9 Boxers & Pugs
You'll be surprised to know you can find equally amazing breeders outside of Kansas. Besides, a little drive to a nearby state border never hurt anybody. In the end, your future puppy will make it all worth it. Kloud 9 Boxers & Pugs is a small kennel located in Colorado specializing in breeding Pugs and Boxers.
They're a home-based breeder of Boxers and Pugs located in Deer Trail, Colorado. The breeders are proud to raise Championship level dogs in a family environment, which gives them the best of both worlds. With an experience of over 20 years, the breeder claims to breed only the healthiest, well socialized, and well-tempered puppies.
Moreover, all parents are health tested before breeding to ensure healthy offspring. All puppies are dewormed, vaccinated, and have a 12-month genetic health guarantee. You can travel to Colorado or have your puppy shipped to you.
Kloud 9 Boxers & Pugs Details
7. Sweet Pugs 2 Luv
Another excellent Pug breeder outside Kansas, Sweet Pugs 2 Luv, is a high-quality breeder located in Colorado with over 20 years of experience. All of their puppies are vaccinated, dewormed, and come with a health record. So, you can be assured your future furry friend is in safe hands and good health.
Moreover, Sweet Pugs 2 Luv also offers plenty of variety of Pug colors. So, you can choose whichever Pug you like the best before bringing it home. Although they are a little far away from Kansas, Sweet Pugs 2 Luv is worth the travel if you cannot find Pug breeders in Kansas.
Sweet Pugs 2 Luv Details
More Information About Pug Breeders in Kansas
As we always say, a healthy dog is a happy dog. So, whenever you're looking for Pug breeders, always pick a reliable breeder who prioritizes the health of the puppies they breed instead of prioritizing profits.
Here are some qualities of a reliable breeder:
Issues a Health Guarantee: A reliable breeder will issue a health guarantee for all their puppies. A health guarantee shows that a breeder is confident in their breeding abilities and is certain their puppies are free from genetic diseases.
Provides a Health Clearance: A reliable breeder should also be ready to provide a health clearance for their pet parents and any adult dogs. A health clearance may also be provided for your puppy in some cases. However, that is not possible for every case, as health clearance cannot be carried out on pups that are too young.
Vaccinates and deworms their puppies: All puppies at the breeder should be updated on their vaccine shots and dewormed. This ensures your puppy does not fall ill from viruses and other diseases.
Conclusion For The "Best Pug Breeders in Kansas"
Whether you bring home an adorable Pug puppy or another breed, remember that all our furry friends ask from us in return for their love and affection is some attention and lots of care. So, ensure you provide your adorable Pug with all the love you have to give even when they're stubborn. We wish you the best of luck picking the best Pug breeder in Kansas.
For more guides similar to this list of Pug breeders in Kansas, you can check out:
Before you bring home a Pug puppy from a breeder in Kansas, you can learn more about this dog breed by watching "Everything You Need to Know About Pugs" down below: