Do you want to adopt a Pitbull? If so, you must be looking for Pitbull rescues in Michigan. You'd probably be surprised that fewer than 200 registered rescue organizations specialize in finding loving homes for abandoned or abused Pitbulls in the United States. And only a handful of these organizations operate in Michigan.
The Pitbull is a very misunderstood dog. They are loyal and loving but also have unique personality traits that some people may find challenging. However, if you have the temperament for a Pitbull, it can be the best pet you can ask for. Pitbulls are well-known for their devotion, love, and loyalty.
They are affectionate dogs that are extremely sensitive to human emotion. You cannot have a bad day when you have a Pitbull – One look at that wide grin and flipping tongue is all it takes to make you smile. Dog enthusiasts agree that Pitbulls make excellent pets when properly socialized.
Their love of adventure and socialization makes them the best pet for outgoing people. Pitbulls are the best descriptor of any dog breed because they epitomize the term "faithful." A Pitbull will be the most excited to meet you of any breed dog at a shelter.
It only wants to be your best friend and will go to any length to make that happen as soon as you choose them. Are you still doubtful? Check out the adoptable Pitbulls in the listed rescue organizations; they will speak for themselves.
Before you scroll down this list of Pitbull rescues in Michigan, you can check out these other dog rescue shelter recommendations from our team at We Love Doodles: Best Cocker Spaniel Rescues in Michigan and Best Dog Rescues in Michigan.
Find a Pitbull Rescue Shelter Near Me in Michigan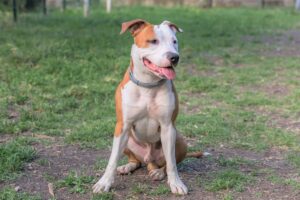 Our team at We Love Doodles created and compiled this list of the best Pitbull rescues in Michigan to help you out.
Pitbull Product Recommendations: Best Supplements For Pregnant Dogs and Best Plaque Removers For Dogs.
1. Flint City Pits
Flint City Pits, a foster home-based dog rescue group, serves Genesee County by saving, rehabilitating, and rehoming the county's most vulnerable animals, especially Pitbulls and other bully-breed canines. They collaborate with local trainers, an army of volunteers, other rescues, and Genesee County Animal Control to save lives and empower responsible pet owners.
They prefer the homey atmosphere of a family home to the institutional atmosphere of a kennel or animal shelter, which is why they operate through foster homes. It is beneficial for an animal to have a period of adjustment time between its time in a shelter or on the street and its time in a house, which for some animals will be their first home.
The foster homes allow this transition – dogs relearn to live like house pets while in foster care. Dogs in this organization's care are temporarily housed in the homes of caring pet owners while they wait to be adopted. The rescue organization bears all screening costs. Please complete the online application if you want to become a foster family or if you want to adopt from Flint City Pits.
Flint City Pits Rescue Details
2. Mosh Pit Rescue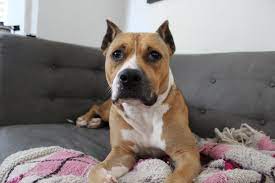 Mosh Pit Rescue is a Pitbull-specific dog and puppy rescue in the United States. It was established in 2017 to advocate for Pitbulls and find homes for elderly male Pitbulls in need of foster care. Although its focus remains on Pitbulls, Mosh Pit Rescue's rapid growth has enabled it to assist many animals, including dogs, cats, kittens, and even the occasional rabbit.
They are a non-profit organization based in Grand Rapids and the surrounding area. Most adoptable animals in their care come from rescue groups, which specialize in transferring sick animals that local shelters cannot treat.
The rescued animals are rehabilitated, recuperated, rehomed, fostered, trained, and provided with other shelter support services. This shelter strongly supports the spay/neuter philosophy. Therefore, if you wish to adopt the dogs in its care, all other family pets must be spayed or neutered unless extenuating circumstances exist.
These are the adoption terms:
First and foremost, everyone in the house must be aware of and agree with the plan to adopt a pet. You should notify your landlord if you intend to get a pet. Landlord's permission is a must.
​Mosh Pit Rescue does not adapt to households that use pet confinement. They require adopters to have a secured yard but don't condone confinement.
Adopters must also agree to keep their pets on a leash whenever they leave the house.
Adopters must have enough money to cover necessities such as food and water and regular vet care such as annual checkups, immunizations, and heartworm prevention.
Adopters must also have reliable transportation in case of an emergency visit to the veterinarian. ​
Mosh Pit Rescue adoptions cannot be finalized until a house check is completed.
The average cost of adopting a dog is $200, while a cat or kitten costs $100 and $75, respectively. The adoption fee offsets the costs associated with rescuing and rehabilitating an animal, allowing the organization to continue its excellent work.
If necessary, they will also pay for post-adoption services. The cost of treating, sterilizing, vaccinating, microchipping, housing, feeding, and caring for each animal they take in far outweighs the adoption fees they charge.
Mosh Pit Rescue Details
3. The Buster Foundation Pit Bull Rescue
The Buster Foundation, a non-profit pet rescue in the United States incorporated under Section 501(c)(3) of the Internal Revenue Code, focuses on Pitbulls and bully breed hybrids. Unfortunately, decades of discrimination, unethical breeding, and irresponsible ownership have transformed a once-loved family dog into a target of hate and an unjustifiable source of public worry.
They believe every dog deserves a decent home, proper care, and a chance to live a happy life, regardless of breed. They are optimistic that their awareness programs will result in a better-informed and caring population. The Buster Foundation does not operate a central facility or kennel.
Instead, foster families volunteer their time and resources to care for rescued Buster dogs until they are placed into permanent homes. They hope you will appreciate the volunteers' untiring devotion to the dogs and their restricted availability to respond to all inquiries and requests as soon as possible.
Volunteers are told to respond to questions and complaints within 72 hours. The screening process might take anything from a few days to two weeks. After receiving an application, foster parents verify personal and professional references. If they check out, the volunteers schedule a meet and greet, followed by a final home inspection. Any dog is available for adoption for $300.
The Buster Foundation Pit Bull Rescue Details
4. Detroit Pit Crew Dog Rescue
Detroit Pit Crew Dog Rescue is one of the few registered charitable Pitbull rescues in Michigan. The rescue describes itself as an emergency street crew that rescues stray dogs from the streets of Detroit. Detroit Pit Crew does not give rescued dogs for adoption; it only saves dogs from the streets and gives them to its partner organizations.
These partner organizations then rehabilitate and adopt dogs. Currently, it collaborates with 21 rehabilitation ad rehoming organizations. Moreover, the rescue also serves as a holding facility for canines involved in animal cruelty or neglect investigations for many Metro Detroit police agencies.
Its mission is to provide a haven for dogs involved in animal cruelty or neglect cases and rescue strays, abandoned, injured, or ill dogs in the Detroit area so they can receive the medical care they require as soon as possible. The organization's ability to handle emergency rescue and adoption grew in lockstep with the expectation that it be available at all times.
In November 2015, the "Detroit Pit Crew Straight Outta Detroit Project" was launched. They successfully formed alliances with organizations that share their dedication to doing the right thing for the dogs they rescue by finding them permanent homes through adoption.
They pay for the dogs' transportation and medical care so that the shelters can find new homes for their rescue dogs. They've moved over 2,000 dogs, all of whom have been in loving homes forever. They will gladly refer you to their partner organizations if you want to adopt a Pitbull.
Detroit Pit Crew Dog Rescue Details
5. Friends of Michigan Animals Rescue
Friends of Michigan Animals Rescue was founded in 2003. This organization quickly expanded in response to the obvious need for its services in the area. They now occupy a 6-acre property with specially built barns to house their adoring canine and feline visitors.
Friends of Michigan Animals Rescue's mission is to place adoptable dogs with loving families. They will assist you in selecting a dog that is ideal for you and your lifestyle by considering factors such as how frequently you will be home and how much exercise the dog will require.
Puppies of purebred origin cost $300 to adopt, whereas large mixed-breed dogs cost $175. To adopt one, fill out and submit their online application, and a volunteer will contact you via phone or email within 24 hours.
Friends of Michigan Animals Rescue Details
6. I Heart Dogs Rescue and Animal Haven Michigan
If you cannot find a dog from Pitbull rescues in Michigan, check out this famous all-breed rescue. Although you may have to wait until a Pitbull becomes available, I Heart won't disappoint. Through their efforts in 2016, I Heart Dogs Rescue, and Animal Haven found permanent homes for 628 rescued canines and felines.
They are committed to providing a haven for stray dogs and survivors of domestic pet violence. You may apply to adopt a dog online. Your application will be forwarded to the adoption counselor handling the dog you want to adopt. If you are selected, the counselor will call you to discuss the application further.
However, if you are not chosen, you will receive a notification by email within a few weeks. You must provide state-issued picture IDs and evidence of residence in your application. If you're renting, your landlord must provide written consent. Moreover, you must bring your pets (if you have any) and any necessary medical documentation to the meet & greet.
If you are shortlisted, the rescue will conduct a home check and okay you for adoption. Adoption costs are $300 for puppies and $150 for senior dogs and include the cost of spaying or neutering, immunizations, and heartworm testing. This rescue works hard to provide the love and care that every rescued animal deserves.
They put a lot of effort into rehabilitation so that the animals they care for may have a second shot at life. Volunteers at I Heart Dogs are always welcome to assist the organization's canine residents. You may apply to foster a dog if you're willing to offer your house to one that needs it.
I Heart Dogs Rescue and Animal Haven Michigan Details
Choosing a Pitbull Rescue Shelter in Michigan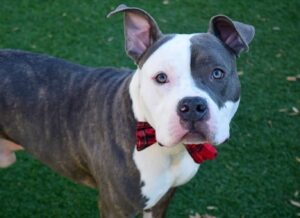 Rescue and shelter staff work tirelessly to find permanent, loving homes for the dogs they take in, giving them a second chance at a happy life. Therefore, the adoption process is the first to check when choosing a rescue organization. Does the rescue invest in matching dogs to owners?
Rescues that match dogs are more likely to provide you with a dog that is your perfect life companion. Secondly, before adopting a dog, ensure that the rescue or shelter accepts it back if there is a problem. Even if you hope your dog never has to return to the shelter, knowing that shelters with this policy have your back is comforting.
If they are doing their jobs correctly, no shelter would ever have puppies under the age of eight weeks available for adoption. Puppies who are too young to be adopted should instead be fostered. Any credible rescue should prioritize the canine's future happiness and health.
They will not put you under any pressure to decide whether or not to adopt the dog in a short period. Instead, you'll have all the time in the world to get to know the dog. The best rescues will allow you to hold a dog for a few hours so the entire family can meet the dog. In other words, they are looking out for the dog's best interests in the long run.
Conclusion For The "Best Pitbull Rescues in Michigan"
Although many believe Pitbulls are dangerous, most are gentle and loving pets. However, potential owners must have a good understanding of what can make a dog aggressive. If you are considering adopting a Pitbull, it is important to thoroughly research potential adoptable Pitbulls before adopting one.
The best way to do this is to visit their website and Facebook page. If you cannot visit the rescue organization, you can ask someone who has adopted a dog to help you. It would help if you also did your research before getting a Pitbull.
Moreover, it would be best to not adopt a Pitbull from an irresponsible breeder or a shelter with a high kill rate because these dogs are more likely to be aggressive. All these rescues listed above are well-reputed and will surely assist you in finding the right Pitbull.
For more guides similar to this list of Pitbull rescues in Michigan, you can check out these other dog rescue shelter recommendations from our team:
Before you adopt a Pitbull companion from a rescue shelter in Michigan, you can learn more about this dog breed by watching "The American Pitbull Terrier" down below: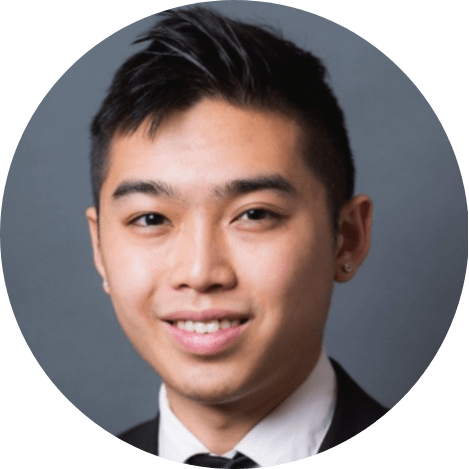 Andy is a full-time animal rescuer and owner of a toy doodle. When he's not saving dogs, Andy is one of our core writers and editors. He has been writing about dogs for over a decade. Andy joined our team because he believes that words are powerful tools that can change a dog's life for the better.
Why Trust We Love Doodles?
At We Love Doodles, we're a team of writers, veterinarians, and puppy trainers that love dogs. Our team of qualified experts researches and provides reliable information on a wide range of dog topics. Our reviews are based on customer feedback, hands-on testing, and in-depth analysis. We are fully transparent and honest to our community of dog owners and future owners.