Finding Pitbull breeders in Alberta can be exhausting because although you will find many dog breeders in Alberta, those specializing in Pitbulls are rare.
After thorough research, we've compiled a list of 5 notable Pitbull breeders you can find in Alberta and surrounding areas.
According to the American Kennel Club, a Pitbull is not a specific breed; in fact, a few dog breeds are classified as Pitbulls. These include American Pit Bull Terrier, Staffordshire Terrier, the Staffordshire Bull Terrier, and the American Bulldog.
These strong and brave dogs were initially bred in the 18th century for bear and bull-baiting. Since this cruel sport was outlawed years ago, Pitbulls are mainly kept as companion animals.
Contrary to their intimidating looks, Pitbulls are playful and fun-loving dogs. Although they have recently gotten a bad rap, they can be excellent companion animals if they are bred well and socialized early.
Let's look at some of the breeders in the Alberta area:
Before scrolling down this list of Pitbull breeders in Alberta, check out these other dog-related guides from our team at We Love Doodles: Best Dog Breeders in Alberta and Best Visla Breeders in Alberta.
1. Romcana Bull Terrier Breeder
Romcana is a home-based Bull Terrier breeder located in the Northwest of Alberta. They have been breeding dogs since 2007.
The breeders at Romcana started with Caucasian Shepherds and then began breeding Bull Terriers. This breeder focuses on ensuring the health and temperament of each dog born are of the highest quality.
As mentioned earlier, Pitbull is a broad term and includes Bull Terriers. The dog's build is the main why it is classified as a Bull Terrier. A Bull Terrier is smaller in build and size than a Pitbull.
If you are interested in a puppy from Romcana, you must contact them directly to inquire. You will need the following information handy:
You will need to fill out their application thoroughly to be considered.
Personal information like email, phone number, and address.
References, at least two.
What gender and colour of dog are you interested in?
What do you want the dog for? Companion or show use?
Your home environment.
Do you plan on training the dog?
Do you have other pets, and if yes, what are they, and what are their temperaments?
The price for the puppies varies with each litter, you will need to contact the breeder for more information.
Romcana Bull Terrier Breeder Details:
2. Platinum Pitbulls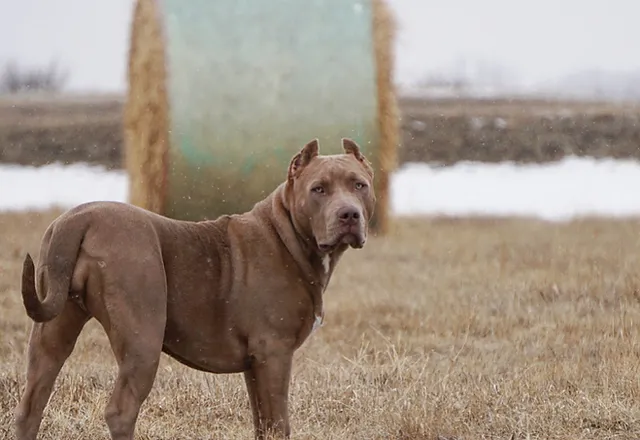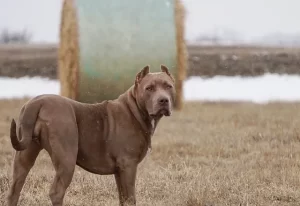 Platinum Pitbulls is located in Calgary and breeds extra-large American Pitbulls, with breeding dogs from high-quality bloodlines in the USA. All of their puppies are registered with the American Kennel Club (AKC) and the United Kennel Club (UKC).
Before being coupled, both parents are tested for genetic abnormalities to increase the chance of a healthy litter. Even so, if puppies have a congenital disease, they will only be offered as companion animals with full disclosure and won't be sold as show dogs.
Since they're a hobby breeder, they only have one or two litters per year. You can register to receive their emails to be updated when the new litter arrives. Puppies will be posted on their website so you can have the first pick of the litter.
Inquire about their dogs by their form page or call. To reserve a spot, there is a $500 deposit. The price of puppies ranges from $3,000-$5,000 and is based on your spot in line to pick from the litter. Finally, Platinum Pitbulls can ship your puppy anywhere in the world for an additional fee.
Platinum Pitbulls Details:
3. Gamestaff Staffords
Gamestaff Staffords is located about an hour and a half from Calgary and three hours from Edmonton. This team of breeders raises Staffordshire Bull Terriers and is owned by the Suelzle family.
Gamestaff welcomes phone calls and emails from interested individuals. You should consider purchasing from Gamestaff Staffords because:
None of their dogs have any health issues, and they take great care to ensure they are healthy and free from hereditary diseases.
All of their dogs have a lifetime guarantee against health issues.
All dogs have a good temperament and have been socialized well, especially with children.
The size of their dogs is according to breed standards, and they are, on average, 14-16 inches and weigh between 24-38 pounds.
The breeding facility is located in a rural area, providing a large amount of space for the dogs to exercise.
The price for the puppies is not listed on their website; you will need to contact the breeder.
Finally, all of their Pitbull puppies in Alberta are sold on a partial registration from the CKC; they're only sold as companion animals and not for breeding purposes.
Gamestaff Staffords Details:
4. JDW American Pitbull Terriers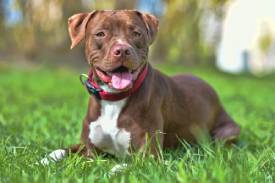 JDW American Pitbull Terriers is a breeding facility located in Alberta, Canada that is featured in a local business directory. They specialize in breeding American Pitbull Terriers, a breed known for its strength and athleticism.
At JDW American Pitbull Terriers Breeders, their goal is to produce healthy, well-tempered Pitbull puppies for sale in Alberta. The 5/5 rating on their website indicates the trust adopters have in this breeder.
When looking to purchase from this breeder, you should make sure to:
Visit the premises since there is little information available online.
Check to make sure the breeder is knowledgeable about the Pitbull breed.
Ask for genetic tests that have been carried out on the parent's dogs.
Ask if the puppies were vet-checked and if they have received mandatory vaccinations.
You will need to contact the breeder to find out the cost of the puppies.
When looking at Pitbull breeders that do not have a lot of information available on their site, you want to make sure that you check the temperament of the parent dogs and what kind of environment the puppies are being raised in.
JDW American Pitbull Terriers Details:
5. Lower Mainland Bullies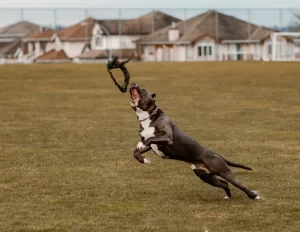 If you have trouble finding Pitbull breeders in Alberta, you can always look nearby in Whitecroft, B.C, Canada. It is about a four-hour drive from Alberta.
Lower Mainland Bullies is a premium Pitbull breeder that focuses on breeding extra-large American Pitbulls that have the ideal temperament and are trained for obedience. Their puppies are fed raw dog food and are exclusively bred with the top bloodlines from all over the world.
They offer one-on-one training for dogs with tailored training for the temperament of your particular dog. Visit their website to see if they have a current litter.
You can address issues like aggression and anxiety even after taking your puppy home. Here's why you should purchase from Mainland:
They will transport you anywhere, so getting your puppy to Alberta is not a problem.
Puppies range from $2,500 to $8,000.
There are no online puppy application forms to fill out.
To find out how you can purchase one of their puppies, you will need to contact them using the information below.
Lower Mainland Bullies rounds up our list of Pitbull breeders in the province of Alberta and surrounding areas. With this great list of breeders, you are well on finding the perfect puppy.
Lower Mainland Bullies Details:
How to Choose a Pitbull Breeder in Alberta
When looking for a Pitbull breeder in Canada, choosing a breeder with good reviews and an online presence is a good start.
Normally, it would be recommended to find a breeder that is recognized by the Canadian Kennel Club (CKC) because they must abide by specific breeding rules and regulations to register their puppies.
However, the CKC has determined that the Pitbull is an undefinable breed, so breeders not all breeders have the option to register with them. If you're looking at a sub-category of the Pitbull, such as an American Staffordshire Terrier, Staffordshire Bull Terrier, American Bulldog, or a Bull Terrier, then check the CKC for the breeder's registration.
It is always a good idea to do a quick search online to see if you can find additional information about the breeder. Social media sites, Google reviews, and sites like Yelp will give you a good idea of the breeder's reputation in the area. Visiting the breeding facility is the final step to making sure you're working with a reputable breeder.
Also, take a look at local laws to make sure you are allowed to own a Pitbull or a variation of the breed in your area.
More Information About Pitbull Breeders in Alberta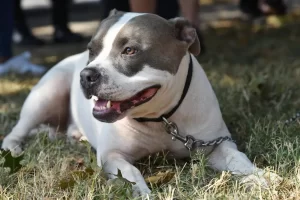 The Canadian Kennel Club (CKC) will hold events throughout the year where you can meet different breeds of dogs. This is a great time to socialize with a Staffordshire Bull Terrier, American Bulldog, or other breed in the Pitbull family to see if this is the right breed for you and your family.
There is a calendar posted on their website, or you can call 416-674-3699 to find out where events are being held.
If you want to learn more about the CKC breeding regulations, you can view them. This will give you an idea, for example, of the ideal age of the Dame and Sire when they breed.
FAQs
What Kennel Club recognizes Pit Bulls?
The United Kennel Club (UKC), and the American Dog Breeders Association (ADBA) both recognize the Pit Bull as a breed. However, the Canadian Kennel Club (CKC) and American Kennel Club (AKC) do not recognize Pit Bulls as a breed because the see the Pitbull as a category of breeds. However, they do recognize sub-categories of the Pitbull, such as the American Staffordshire Terrier, Staffordshire Bull Terrier, American Bulldog, and Bull Terrier.
What is the American Dog Breeders Association standard for Pitbulls?
The ADBA breed standard for a Pit Bull states that the dog should be an athlete. They should be a sturdy dog with obvious strength that is balanced between speed, power, agility, and stamina. Pit Bulls weigh 30-70lbs. They should have a short, bristled, glossy coat that demonstrates the health of the dog.
What are the types of Pitbulls?
There are many different types of Pitbull breeds that are both recognized and not recognized by various kennel clubs and dog registry associations. A few breeds include the American Pitbull Terrier, Staffordshire Bull Terrier, American Staffordshire Terrier, Bull Terrier, Monster Blue, Chamucho, Pynat, and Spike.
Conclusion For "The Best Pitbull Breeders in Alberta"
Only a handful of reputable Pitbull breeders in Alberta are dedicated to producing high-quality puppies. These breeders take great care in selecting the right dogs for their breeding programs and offer training and socialization for their puppies to help new owners get their puppies off to a good start.
By choosing a reputable breeder, potential owners can be confident that they are getting a healthy, well-tempered puppy that will make a great companion. With this great list of Pitbull breeders, you should be able to find your puppy soon.
For more guides similar to this list of Pitbull breeders in Alberta, you can check out:
Before you bring home a Pitbull from a breeder in Alberta, you can learn more about the breed by watching "10 Fun Facts About Pit Bulls" down below: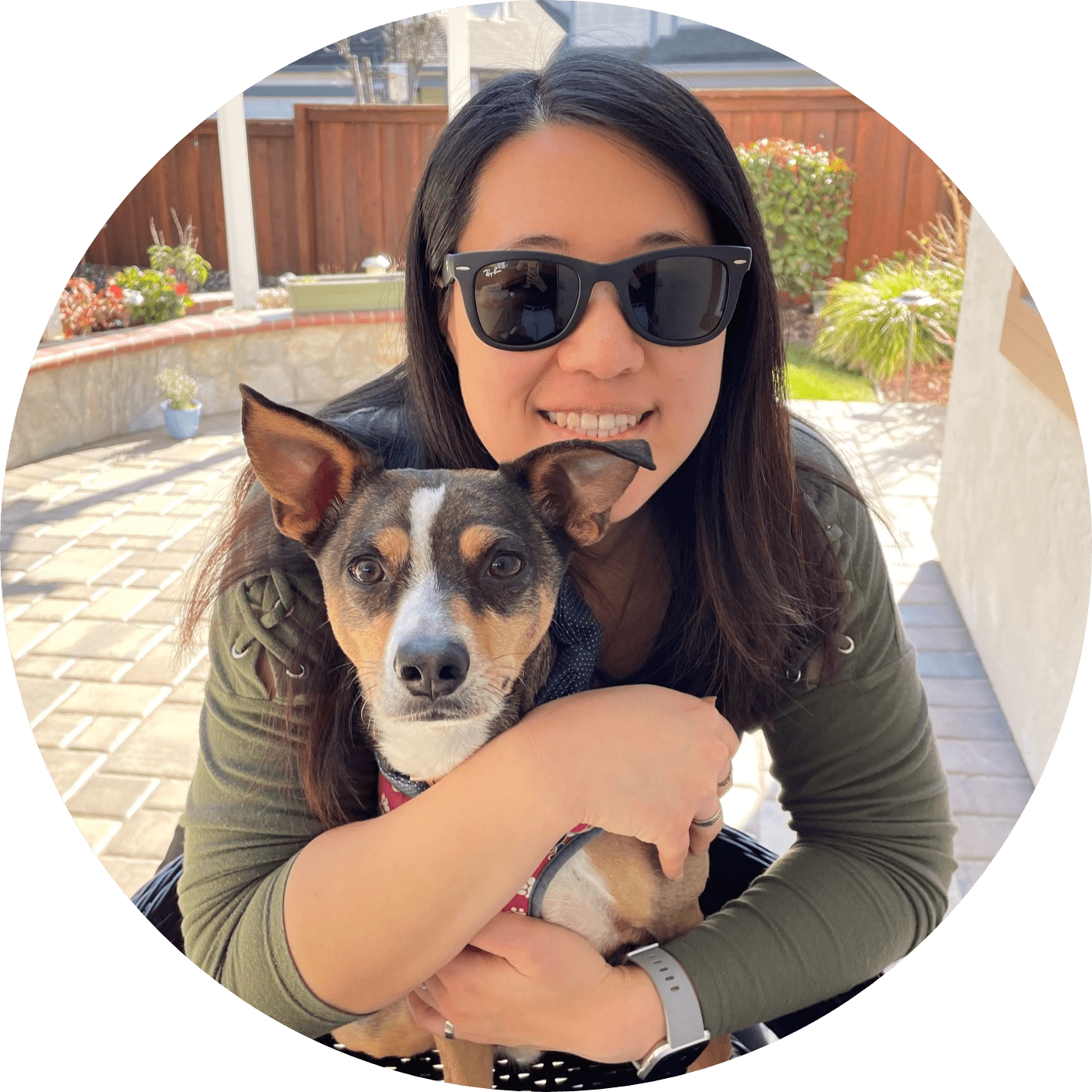 Dr. Sabrina Kong graduated from the Royal Veterinary College in England in 2016 and has been working at a small animal clinic in Northern California since then. She grew up in the Bay Area and got her bachelor's degree from Cal Poly San Luis Obispo. She also became a Certified Canine Rehabilitation Practitioner through a program at the University of Tennessee.
When she isn't in the clinic taking care of her four-legged patients, she enjoys traveling and trying new foods with her friends and her three-legged dog, Apollo. She adopted Apollo from her clinic when he was a puppy with numerous health issues. Dr. Kong truly cares about taking care of animals.