You already know that dogs have an amazing sense of smell. That's particularly true for male dogs looking for a "girlfriend"; your male dog can smell a female in heat from up to three miles away! Three miles! Enter menthol spray for dogs in heat.
Menthol spray can keep your male dog calm when there's an intact female in the neighborhood. Whether you have a male or a female dog, this spray can mean the difference between an unwanted litter and a happy pup.
Before you read a more in-depth answer to this guide, "Menthol Spray for Dogs in Heat," check out: How to Calm a Dog in Heat! (2023) and How Long Does a Chihuahua Stay in Heat? (2023).
The Importance of Spaying and Neutering Dogs
We would be remiss to write a guide on menthol spray for dogs in heat and fail to include information on spaying and neutering dogs.
It's critical to the health of your dog that you get him or her neutered or spayed. This doesn't only prevent pregnancy but offers additional health benefits.
Pregnancy and Overpopulation
Pregnancy, of course, is not always a desired outcome of dog ownership. Each year, over six million dogs and cats enter the care of shelters for many reasons. Pet overpopulation is a serious issue in the United States, and altering your pet is an oh-so-easy way to combat this.
Unwanted pregnancies and the resulting puppies contribute to overpopulation. Overpopulation inevitably leads to the euthanasia of pets, assuming they make it to shelters at all. Homeless pets are often left to die without a forever home. Sadly, this could have been prevented with a simple surgical procedure.
Health Conditions and Cancers
In addition to helping prevent homelessness and the death of pets, surgery to alter your dog can help prevent health conditions. For instance, certain types of cancers can be prevented. Mammary cancer, a typically fatal disease, is one. Uterine, ovarian, and testicular cancers are others.
Undesirable Behaviors
Your pup's mental health and social well-being can improve after being spayed or neutered, too! Undesirable behaviors from howling to aggression can be mitigated with the surgery.
Of course, if your dog is spayed or neutered, it will be less likely to roam about the neighborhood as well. Your male dog will be less inclined to jump the fence in search of a mate, and your female dog will be less likely to get pregnant.
Now that you know a few reasons it's better to get your dog altered, let's move on to menthol spray for dogs in heat and how it can keep your dogs out of mischief.
What Is Menthol Spray for Dogs in Heat?
Menthol spray is precisely what it sounds like — a strongly scented spray for your dog. Not all sprays are menthol, so if you're sensitive to the strong, wintergreen scent, there are other options to choose from.
So, what does menthol spray do for dogs in heat? It's quite simple: it masks your dog's scent. When a female is in heat, she will release pheromones that nature created to attract mates. A male dog, as mentioned, can pick up on that scent from miles away.
Using a menthol or other highly scented spray on your dog can help keep your dog contained in the yard while you wait for your spay or neuter appointment. Choose a scent you love (or can tolerate) on Amazon, Chewy, or in pet supply stores.
How to Use Menthol Spray for Female Dogs
You'll want to talk to your vet before using menthol spray, and you'll want to conduct an allergy test, too. Apply just a bit of the spray to your dog to ensure she won't have a reaction. Monitor her for a few hours, keeping note of any redness, itch, rash, or other indications that she's not tolerating the spray well.
Once you're given the all-clear from the vet and from the allergy test, read the instructions on the bottle carefully. In most cases, you'll spray your dog directly. In other instances, though, you'll be directed to spray the perimeter of your yard or another area.
The instructions will tell you how often you should apply the spray to your dog or to your yard. In most cases, you'll be directed to apply the substance directly to your female dog several times each day. If you have a male living in the home — even if he's been altered — it can help calm his behavior, too.
If you've chosen a product that's to be applied to your yard, carefully note the instructions as they pertain to weather, and also to your backyard flora. Some may be damaging to your plants and flowers, and some may dissipate and become less effective in extreme sunshine or after rain.
Is Menthol Dog Spray Safe for My Dog?
Menthol spray for dogs in heat is typically safe for dogs. However, as we've mentioned, you'll want to conduct an allergy test. In addition, large quantities of menthol spray can make your dog sick, so be sure to keep the product out of reach.
As always, you'll need to verify with your vet that scent-blocking spray is safe for your dog. But don't forget about your other pets! Cats and other pets may be sensitive to the ingredients, so if you have these critters in your home you should ask your vet about them, too.
In addition to allergies, you may find that your dog has sensitivities. Dogs have a very keen sense of smell and the strongly-scented spray may irritate them. Fortunately, this is a temporary setback and you won't have to use the spray once your dog is spayed or neutered.
As we mentioned, there are quite a few types of dog spray on the market. Choose a scent that you and your pet both find tolerable. For instance, there are menthol sprays, lavender sprays, and more that are appealing to a wide range of preferences.
How do I choose menthol sprays for dogs in heat?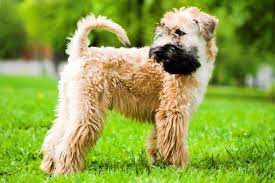 If we're being honest, the best sprays for dogs are the ones that you and your pup can tolerate. These sprays are strong, and your whole house will smell like the product.
Go to the pet store if you like, and choose a spray that you feel you can live with. Remember, this will only last a few weeks!
In addition to the more tolerable smells, the best sprays are formulated from ingredients that are safe for your dog, and they're approved by vets. Try to shy away from "home remedies" on Etsy or other platforms unless you know precisely what's in the product and how it will affect your fur baby.
Frequently Asked Questions
Have more questions about menthol spray for your dog? We've got answers!
Are there home remedies for blocking the scent of dogs in heat?
This is a tough question because not all dogs will react the same to products or home remedies. While some swear by chlorophyll tablets and lavender sprays, they may not be safe for all dogs.

Ask your vet which "home remedies" will work best for your dog — you may find that she recommends a store-bought product anyway. Your pup's safety matters most. Store-bought sprays should be non-irritating to your pet.
My dog is sensitive to scents and sprays — can I use alternative methods?
If your dog won't tolerate a spray for any reason, there are two methods you can use to keep unwanted pregnancies at bay. The tried-and-true method is simple: keep your dog indoors. If she's in the house, she can't get pregnant.

Alternatively, you could try doggie diapers for your pup. There are diapers, pants, and even "period pads" for dogs, and while your pup probably won't love them they serve a dual purpose: keeping your furniture clean and keeping your dog from getting pregnant.
How long will male dogs be attracted to female dogs in heat?
The female heat cycle lasts between two and four weeks — usually, about 18 days — and a male dog will notice your female for the duration. Use your spray for the entirety of your girl's heat cycle to avoid unwanted pregnancies.
My male dog is whining because my female is in heat — what do I do?
The best you can do is to separate your dogs and provide them with plenty of distraction. Take your male for extra walks or give him a little extra playtime to take his mind off the issue.

Keep your dogs calm and relaxed with a Kong toy or a rawhide bone, and ensure that they get plenty of one-on-one attention.
Conclusion for "Menthol Sprays for Dogs in Heat"
A dog's sense of smell is phenomenally keen, and your male dog can smell an intact female from up to three miles away! To prevent unwanted pregnancies, consider using a strongly-scented spray on your pup.
Of course, the most effective way to keep your dog from getting pregnant is to spay her. Not only will the surgery help mitigate the onset of certain diseases, but it can also help curb unwanted behaviors and improve your pup's overall demeanor.
If you find this guide, "Menthol Spray for Dogs in Heat," helpful, check out:
Learn more by watching "Home Remedies for Dogs in Heat?" down below:
Garrett loves animals and is a huge advocate for all Doodle dog breeds. He owns his own Goldendoodle named Kona. In addition, he volunteers at the Humane Society of Silicon Valley, where he fosters dogs and helps animals. Garrett enjoys writing about Doodles and believes that dogs can teach humans more about how to live than humans can teach a dog.
Why Trust We Love Doodles?
At We Love Doodles, we're a team of writers, veterinarians, and puppy trainers that love dogs. Our team of qualified experts researches and provides reliable information on a wide range of dog topics. Our reviews are based on customer feedback, hands-on testing, and in-depth analysis. We are fully transparent and honest to our community of dog owners and future owners.