For a dog breed with a beautiful coat and perfect in size, you're probably wondering: "How much is a German Shepherd?" If you're thinking of purchasing a German Shepherd puppy, knowing the cost first would help you with an idea before making any further decisions. On average, an eight-week-old German Shepherd puppy costs between $500 to $20,000.
However, various factors dictate its price. The puppy's cost depends on whether it's purebred, where you're from, and the breeder. It's vital to know how much a German Shepherd puppy will cost before contacting a breeder. You can expect to find the cost implication of getting this breed, as well as why certain breeders charge more for German Shepherd puppies.
Prepare in advance for your German Shepherd companion: Best Shock Collar For a German Shepherd and Best Dog Food For German Shepherds with Skin Allergies.
Cost of German Shepherds
If you intend to buy an eight-week-old German Shepherd, you can expect to pay between $1,200 to $1,500. Of course, the actual price differs from location to location and between different breeders. In this article, we'll share the average price breeders usually charge, which includes vaccinations and a German Shepherd's health bill. You can get older German Shepherds that'll cost less than eight-week-old puppies.
The only difference between older versus younger German Shepherds is that they'll already have habits developed. The main reason for the price difference is because many people prefer raising puppies. If you're looking for a cheaper option, you can get a GSD puppy from a shelter. Thankfully, there are numerous shelters with gooey-eyed German Shepherds in search of a loving home.
What Influences the Cost of a German Shepherd?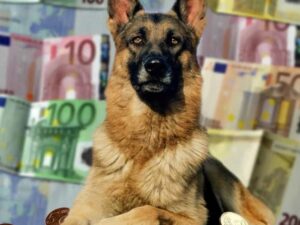 The actual cost of a German Shepherd puppy varies with a lot of factors. These factors include location, parentage, breeder, and life purpose. We say purpose because German Shepherds are brilliant and hardworking dogs. Their skills and readiness to learn to make it easy for them to specialize in diverse areas. It isn't much of a surprise to know that they're higher in price than other dogs.
Different Purpose Means Different Cost For German Shepherds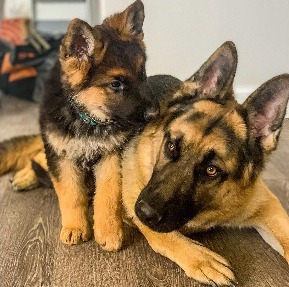 Let's take it down a notch – when we say purpose, we're simply referring to the role you expect your companion to fill. The truth is that many German Shepherd puppies are not bought solely to live in a family-like environment. Often, they have another role waiting for them after they're purchased. For instance, you'll spend less on getting an average German Shepherd dog versus a police dog. Generally, they'll cost between $500 to $1,500. German Shepherd puppies bred from show-quality parents, however, will cost much more.
In summary, you're paying extra for the privilege of getting a dog with a more superior lineage and cleaner health history. These German Shepherd puppies are less likely to deal with health issues later on in life. Due to this reason, it's not uncommon to get German Shepherd puppies raised as show dogs for around $1,500 to $5,000. However, the most expensive German Shepherd puppies are the ones that are bred to become police dogs. The puppies in this category are generally given the required regimented training and are sold between $15,000 to $20,000.
Related: Police Dog Lifespan
Price Range of a German Shepherd Puppy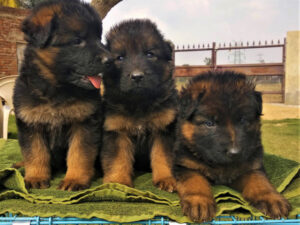 Now that you have a better understanding of how different German Shepherd puppies can influence the price, we'll go over the price differences of a purebred German Shepherd, Czech German Shepherd, and Black German Shepherd.
How Much Does a Purebred German Shepherd Cost?
Getting a purebred German Shepherd puppy from a reputable breed can be a bit pricey, but it's a more thoughtful decision because you're potentially avoiding puppy mills. To prevent unethical practices, purchasing from a trustworthy source will keep your mind at ease because you know that your puppy grew up healthy. Purebred German Shepherds have genetic and phenotypic traits that they inherit from their parents and ancestors.
Before buying a purebred German Shepherd puppy, you should have an idea of what your puppy's general appearance and behavioral characteristics will be like. You should know that purebred German Shepherd puppies from a responsible breed generally go for $500 to $2,000. If the price seems too good to be true, you should be extra cautious. Buying from an experienced and trustworthy German Shepherd breeder without a doubt beats a backyard breeder or pet store.
How Much Do Czech German Shepherd Cost?
Czech German Shepherds are another one to keep in mind if you're shopping. They tend to have a wolf-like appearance but don't let that fool you – they're great family dogs. The Czech German Shepherd is a highly intelligent, strong, calm, and fun breed to be raise. They're strong enough to be used as military or police dogs.
If you want to get a great Czech German Shepherd, you should be expecting to pay extra. They cost more than the regular German Shepherd puppy because they're both bred for different purposes. Since you'll be spending a great deal of money getting the puppy, you should see the breeder in person and do your due diligence.
How Much Does a Black German Shepherd Cost?
Like the Czech German Shepherds, Black German Shepherd puppies are used widely by the military and police force. In case you didn't know, German Shepherds are born either:
However, black and grey-born German Shepherds can change colors as they reach adulthood. German Shepherd puppies born black retain their black color, which will eventually fade. If you want to adopt a black-colored German Shepherd, we'd advise you to get an adult because you'll know that's the color it'll stick with and are less likely to change colors.
As you probably figured, the black German Shepherd will cost you a little more than any other color German Shepherd dog. If you have a budget between $700 to $2,000, then you'll likely be able to bring home a black German Shepherd. Keep in mind that black German Shepherds are much harder to find, and you'll have to keep your name on a waiting list if you're in search of one.
Related: Best Black Wolf Names and Sheepadoodle Guide (German Shepherd Mix)
Factors to Consider Before Purchasing a German Shepherd
Bringing home a German Shepherd is a life-changing decision.  Besides being prepared to love and care for them, there are profound cost implications and additional responsibilities. These responsibilities include:
Feeding
Training
Maintain its health and well being
Providing it with a shelter
Your German Shepherd's health and lifespan depend on many of these factors. You'll also need to get your companion vaccinated, and that can boost up the cost of raising one quite a bit.
Food
German Shepherds, like all dogs, need a balanced diet rich in protein and healthy fats. To match the energy of your German Shepherd puppy, you'll have to take care of it and feed it with the proper dietary needs. You want to provide your companion with a healthy amount of high-energy food. It would be best if you also broke their meals in-between time.
For instance, feed them between three to four times per day. While it sounds painful for your wallet, try to diversify its food source. Nutritious and high-energy dog food can cost as much as $63 per bag. Multiply that, and it could cost as much as $1,000 in less than a year. Unfortunately, other factors include giving your companion dog treats, which you'll need for training, and having a happy companion.
Dog Training
Asides from feeding your German Shepherd dog food and treats, there's another task, and it's training your companion. German Shepherd puppies are best when taught at a young age. You should be consistent and shape its habits early on because it hasn't developed any good nor bad habits yet. You can try using food or treats when your companion shows any good habits. Always reward it for good behaviors and avoid all cruel punishments. You can switch from food to secondary reinforcements like a pat on the head and the occasional treat as time goes on.
Health
The most important thing of all is your German Shepherd's health. Exercising and feeding are some of the few factors for your German Shepherd to live a long and healthy life. With that aside, you'll also need to schedule veterinary appointments for shots and annual examinations. The exams and shots could cost as much as $100 annually, which is something you'll also need to consider.
Shelter
When deciding to adopt or purchase a German Shepherd puppy, you should think about your current living environment. Is your home spacious enough? Since German Shepherds are large dogs, you should provide a suitable shelter for your companion. You'll have to also invest in a bed that's big enough for your German Shepherd. You can get a dog bed for $70 and a liner for around $15. Another option is to provide a kernel outside for your companion so that they can stay comfortable.
Tips To Purchase The Best German Shepherd
Purchasing a German Shepherd puppy is a huge investment, which means that you'll need relevant information to make a better decision. Fortunately, we've done our research for you and gathered all of the data into one place to help you make a better and informed decision. It's best to get your German Shepherd puppy from a reputable breeder and do your research as well. Well-known breeders always have documents that show proof of the dogs' bloodline and health information. The extra mile they go for you might come at a slight additional cost, but it's all worth it long-term.
Find German Shepherd Breeders and Rescues: German Shepherd Breeders in California and German Shepherd Rescues in California.
Conclusion For "How Much is a German Shepherd"
Introducing a German Shepherd into your home is a huge decision and investment. A German Shepherd's upfront cost depends on various factors such as the color, purpose for breeding, location, and parent breeds. On average, German Shepherd puppies could cost anywhere between $500 to $1,500. However, they're well worth the cost because the memories are something you'll cherish for the rest of your life.
For more content related to "How Much is a German Shepherd," check out:
Before making any purchasing decision, watch "Things To Know Before Getting a German Shepherd" down below: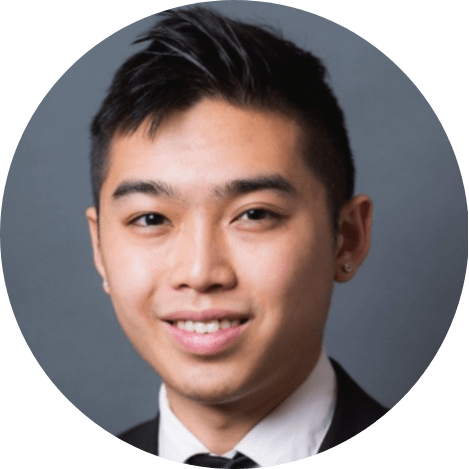 Andy is a full-time animal rescuer and owner of a toy doodle. When he's not saving dogs, Andy is one of our core writers and editors. He has been writing about dogs for over a decade. Andy joined our team because he believes that words are powerful tools that can change a dog's life for the better.
Why Trust We Love Doodles?
At We Love Doodles, we're a team of writers, veterinarians, and puppy trainers that love dogs. Our team of qualified experts researches and provides reliable information on a wide range of dog topics. Our reviews are based on customer feedback, hands-on testing, and in-depth analysis. We are fully transparent and honest to our community of dog owners and future owners.