Undoubtedly, there are several Great Dane breeders in North Carolina. However, when breeders market their dogs using terms like "giant" or "rare," it is best to steer clear due to potential health issues.
The list of Great Dane Breeders in North Carolina given below only consists of breeders with memberships in various Kennel Clubs. In particular, these memberships support the claim that the breeder has extensive knowledge about the Great Dane breed.
Furthermore, these North Carolina-based Great Dane breeders do not change the dog breed's appearance, temperament, or physique. This means that you are sure to find a healthy and stable-mannered Great Dane puppy for sale.
Before scrolling down this list of breeders with Great Dane puppies in North Carolina, check out: Irish Wolfhound vs. Great Dane: What's The Difference? (2023) and 10 Best Dog Breeds With Big Paws! (2023).
1. Garner's Great Danes
First on our list, Garner's Great Danes is a premium breeder in North Carolina. The owners Shanna and Bobby Garner unquestionably take great pride in breeding these gentle giants. Their puppies have sweet, gentle temperaments and beautiful faces and colors. Their dogs are all tested by their vet and only the healthy ones are bred.
The Garners will add you to a private Facebook group once you purchase a puppy from them. This ensures that you always have access to their advice and training tips. They also encourage you to share your puppy's photos and stories there.
To become a part of Garner's Great Danes family, get in touch with Shanna or Bobby by calling, texting, or visiting their facility.
Garner's Great Danes Details:
2. Carolina Great Danes
Carolina Great Danes breed beautiful Toy Poodles and Great Danes. They are currently accepting applications from pet parents as they have litters planned for 2023. Do get in touch if you're looking for Great Dane puppies on sale in North Carolina.
This is a small AKC-registered dog-breeding facility. As mentioned, they keep CKC-registered Great Danes and Poodles along with other animals including chickens and cows. This means that all Great Dane puppies are accustomed to these animals big and small. They also play and grow up with the breeder's kids and grandkids.
All Carolina Great Danes are tested for various health issues and conditions, for example, Inherited Myopathy, Canine Hyperuricosuria (HUU), Degenerative Myelopathy (DM), and leukoencephalomyelopathy (LEMP). Only dogs cleared for these issues are bred. Contact Carolina Great Danes today at the number below.
Carolina Great Danes Details:
3. Tidal Wave Great Danes
Located in Franklin, NC, Tidal Wave Great Danes was founded by Stephanie Cahill. Ms. Cahill has been raising AKC-registered, health-tested, pedigree, high-quality Great Danes.
She is committed to adhering to the standards set by the GDCA club. So, if you're looking for a well-rounded, healthy, and stable-tempered Great Dane as a family companion or a show-dog, then Tidal Wave Great Danes is the place to go!
Tidal Wave Great Danes Details:
4. Forrest Farm Blue Great Danes
The owners of Forrest Farm Blue Great Danes are experienced Great Dane breeders of Merle, Blue, Harlequin, and Fawn Great Danes. They have been breeding Great Danes in North Carolina for more than 20 years.
They are proud to have almost three generations of Great Danes in their facility. Their dogs are all raised along with kids and are truly sweet, gentle giants. The pups are exposed to animals of all kinds — big and small. This makes them stable-mannered and confident dogs, ready for their forever homes. Visit or call Forrest Farm Blue GDs today.
Forrest Farm Blue Great Danes Details:
5. Clouser's Bodacious Danes
Tammy Clouser is the breeder behind Clouser's Bodacious Danes located in North Carolina. She has been breeding beautiful and healthy Great Danes for over 14 years. Tammy has a great deal of knowledge about the breed, so her dogs are healthy and have great temperaments.
The Clousers raise their Great Danes in their home, alongside their family. They utilize various puppy enrichment methods such as starting house-breaking, early stages of crate training, car rides, and socialization with animals. Additionally, they offer a two-year health guarantee on genetic diseases.
All puppies are seen by a vet for a health check and receive their first vaccines prior to going home. They are also started on flea and heartworm prevention.
Before breeding, Tammy gets her dog tested for Hip Dysplasia Finals (OFA, PennHIP, BVA, SV, FCI), eye certification with CAER, cardiac evaluation with OFA, as well as thyroid testing.
If you're interested in a puppy from Clouser's Bodacious Danes, please get in touch below. You'll be asked to provide information about yourself since the breeder wants to make sure her dogs go to loving homes.
Clouser's Bodacious Danes Details:
6. Angel Danes of Charlotte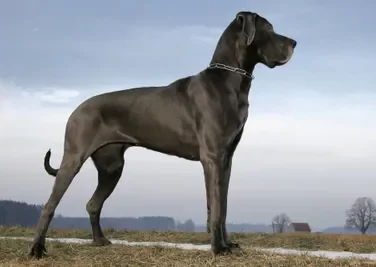 The founder of Angel Danes, Jewel Hyatt, established this wonderful facility in 2015. She has gained immense popularity around the South East Coast as the provider of beautiful, healthy, and stable-mannered Great Danes.
Jewel is always available for her customers so you can call or text her for advice even after taking your pup home.
Angel Danes of Charlotte Details:
7. Riverbank Danes
People love Riverbank Great Danes because their Great Dane puppies undergo basic potty training at the breeder's place. This greatly eases the task of training your young dog, once you take it home.
Riverbank Danes Farm is spread over several acres along the beautiful Roanoke River. Thus, their Danes get to play and run and they are never confined in kennels. Additionally, all puppies are dewormed, checked by the vet, and also receive their first shots before they are sent to their forever homes
You will receive papers showing the pup's three-generation pedigree, vaccination records, and other AKC papers. The breeder is also available for support throughout the dog's life.
Riverbank Danes Details:
8. Gina's Gentle Giants – Great Danes
Located in Hertford, Gina Wharton is a top Great Dane Breeder in North Carolina.
Gina is committed to breeding CKC and AKC Great Danes that make excellent family pets. The Whartons breed Great Danes only for beauty, personality, and most importantly, health.
Their puppies undergo early enrichment, training, and socialization which makes them perfect, confident house pets. Additionally, all breeding dogs are tested for hips, eyes, and cardiac issues, and only the cleared ones are bred. Get in touch below.
Gina's Gentle Giants- Great Danes Details:
9. Tar River Great Danes
Founded by Julia Flowers, Tar River Great Danes is located in Franklin County, NC. They responsibly breed, raise, and train their Great Danes so the dogs can confidently go to their new homes.
Tar River Great Danes pups are all raised with the Flowers' children and moved to climate-controlled accommodation on the property only after they are four weeks old. You also get a two-year health guarantee with your puppy, for genetic defects. All puppies are dewormed and vaccinated before being sent home, which happens when they are eight weeks or older.
For a well-socialized and healthy Great Dane puppy, get in touch with the Flowers today.
Tar River Great Danes Details:
10. Great Dane Friends
Also known as GDFRL, Great Dane Friends is an extension of Ruff Love Rescue in North Carolina. This rescue shelter provides food, refuge, and medical aid to Great Danes that are abandoned or neglected. They train the dogs (where needed) and help find loving homes for them.
Great Dane Friends has based their organization on the principle that every dog deserves a second chance. However, they are transparent in their dealings and will never rehome a Great Dane with health or behavioral issues. They have a team of vets and trainers who assess each rescued Great Dane and only rehome the ones that are sound and healthy, medically and behaviorally.
Contact GDFRL if you wish to surrender your Great Dane in North Carolina or in case you want to save a life and adopt a Great Dane in need.
Great Dane Friends Details:
Fun Facts About the Great Dane Breed
Here are some cool and interesting facts about Great Danes:
Scooby Doo, the lovable goofy cartoon dog was based on a Great Dane.
During World War II, the army and navy tried to train Great Danes for battle but none of the dogs passed.
President Franklin D. Roosevelt was a fan of the breed.
In the Medieval Ages, people believed that Great Danes could ward off evil spirits and allowed them to roam freely on their properties.
The Guinness Record for the World's Tallest Dog belongs to a Great Dane named Zeus who measured 44 inches at the withers.
Great Danes are Pennsylvania's Official State Dog.
Frequently Asked Questions
How much should a Great Dane cost?
As a large and popular breed, Great Danes can cost anywhere from $2,000 to $5,000 when purchasing a puppy from a reputable breeder, so there's quite a range.
What is the lifespan of a Great Dane?
In general, Great Danes should live for seven to 10 years.
How aggressive is a Great Dane?
All in all, Great Danes are highly affectionate dogs. They are unquestionably gentle giants.
Conclusion for "Top Great Dane Breeders in North Carolina"
We hope that your search for the best Great Dane breeders in North Carolina starts and ends with our list.
These breeders are genuinely interested in the breed's welfare and do not deviate from the standards laid down for health, temperament, and appearance by various Kennel Clubs.
If you're looking for Great Dane puppies for sale in North Carolina, contact one or more of the breeders as shown above.
For guides similar to this list of Great Dane breeders in North Carolina, you can check out:
Before you bring home a Great Dane from a breeder in North Carolina, watch "Things NOBODY tells you about owning a Great Dane | Great Dane Care" down below:
Garrett loves animals and is a huge advocate for all Doodle dog breeds. He owns his own Goldendoodle named Kona. In addition, he volunteers at the Humane Society of Silicon Valley, where he fosters dogs and helps animals. Garrett enjoys writing about Doodles and believes that dogs can teach humans more about how to live than humans can teach a dog.
Why Trust We Love Doodles?
At We Love Doodles, we're a team of writers, veterinarians, and puppy trainers that love dogs. Our team of qualified experts researches and provides reliable information on a wide range of dog topics. Our reviews are based on customer feedback, hands-on testing, and in-depth analysis. We are fully transparent and honest to our community of dog owners and future owners.