If you're searching for breeders with German Shepherd puppies in Oklahoma for sale, you've come to the right place. German Shepherds are undoubtedly one of the most popular and well-known dog breeds in the market.
Dogs have been extremely popular for many years now, being sought after for their temperament, behaviors, physical attributes, and beautiful aesthetics.
Before scrolling down this list of breeders with German Shepherd puppies in Oklahoma for sale, you can check out these other recommendations from our team at We Love Doodles: Best Dog Breeders in Oklahoma and Best Poodle Breeders in Oklahoma.
German Shepherd Breeders in Oklahoma
If you're interested in adopting one of these puppies but have no clue what to do or who to go to, stick around as we've prepared a list of the top German Shepherd breeders in Oklahoma.
German Shepherd Product Recommendations: Best Dog Foods For a German Shepherd to Gain Weight and Best Shock Collars For a German Shepherd.
1. PuppySpot's German Shepherds For Oklahoma
Whether you're from Oklahoma or another part of the world, the decision to get a German Shepherd puppy is a major one you should not undertake hastily. It is essential to find a responsible German Shepherd breeder who conducts health tests and evaluates prospective owners to ensure that they are a good match for their pets. A reputable breeder emphasizes socializing to produce well-rounded, confident puppies.
Throughout this, there are vet exams, immunizations, and litter evaluations. The breeder will choose which puppy best suits each prospective fur parent. Many breeders ask prospective puppy buyers to fill out a questionnaire to determine if the folks looking for a puppy are a good fit for one of their puppies. On the other hand, finding a good German Shepherd breeder is not always simple.
Fortunately, some organizations will take this burden off your shoulders and provide the most value for your money. It is at this time that PuppySpot comes into play. PuppySpot is a dog-loving community dedicated to matching top breeders with caring, responsible individuals and families. PuppySpot upholds its customers to the greatest standards and strives to make each puppy, breeder, and owner's life better together.
Since its foundation, PuppySpot has sold and united more than 200,000 puppies with their new and loving families. PuppySpot also ensures that all puppies are in the best possible health by subjecting them to PuppySpot's Nose-to-Tail Health Check and providing them with a 10-year health warranty before sending them to their new homes.
A Nose-to-Tail inspection looks at the following aspects of your next four-legged friend:
Ears: Ear infections in particular breeds of dogs are a serious problem.
Eyes: It is common for dogs to develop visual problems as they grow older; young dogs who are active and enjoy exploring the undergrowth are particularly vulnerable to eyesight problems.
Teeth: Dogs can develop calculus and tartar buildup and irritation of their gums the same way as humans do.
Coat: Fleas and immune-mediated itching are prevalent in dogs.
Anal Glands: A human's four-legged buddy is more likely to have impacted anal glands if they are overweight or consume a diet poor in fiber. 
PuppySpot, which has partnerships with the American Humane Society and the American Kennel Club, more than 10,000 verified 5-star reviews, and an A+ rating from the Better Business Bureau could be the key to meeting your new furry companion for life. Check out PuppySpot's German Shepherd puppies today.
PuppySpot Details
2. Red Rock K9
Next on the list of German Shepherd breeders in Oklahoma list Red Rock K9, a small-scale breeder located in Edmond, Oklahoma. They are one of the most respected and well-recognized German Shepherd breeders within Oklahoma. They are known for their quality methods and puppies, bred for domestic and police purposes.
They have high-quality breeding methods and set a very high bar against their competition. They are focused on offering you a happy, healthy, well-trained, and social pet to accompany and play with you.
They believe in investing a lot of hours, hard work, and care to give the dogs the best possible chance to have a good life; breeders personally breed the puppies from Germany and the Czech Republic.
If you choose to adopt your puppy with them, you'll be getting a high-quality puppy who is well trained and healthy. They are also loved and very friendly. If interested, be sure to check their web page to discover more about them
Red Rock K9 Details
3. Ayers' Legends
Next up, we'll talk about Ayers' legends, a small breeder located in the southern part of Oklahoma. Who are committed to breeding German Shepherds using traditional methods and tools. Their main motivation to breed is a big love for the breed.
They focus on sharing them, promoting them, and preserving the breed and the traditional breeding methods. When breeding, their main priority is to focus on health and the puppies' social skills. They keep a very specific eye on every genetic detail. The puppies have a very relaxed and natural environment where the puppies can grow and spend time playing with one another.
This also helps the puppies develop a nice temperament. If you're thinking of getting your puppy from here, you can always contact them with any question you may have and check their web page for many details about their style.
Ayers' Legends Details
4. Vom Haus Berg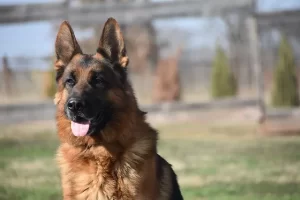 Next up on the list is Vom Haus Berg, which roughly translates to the mountain house. They are a family-owned traditional and champion bloodline German Shepherd breeder who works hard to breed the best and highest quality puppies in the market.
To accomplish that, they focus on two main aspects:
Health: They'll start with genetic tests on the puppy's parents for any disease. They'll accompany the dog and give it all the necessary care and attention. Once the puppies are born, they'll be immediately in good hands, getting vaccinated as soon as possible.
Social: Once the puppies are born, they'll slowly be exposed to the sounds they might encounter once they are adopted. This helps them mature and grow. In addition, they also have a lot of space and a healthy environment for the puppies to develop and grow up in.
Lastly, they are registered by the AKC, meaning they offer strong, healthy, and well-raised puppies and are deserving of your trust regarding every step of the process
Vom Haus Berg Details
5. Miklin Kennels
Located 40 km away from Norman and Oklahoma City, you can find a small ranch that goes by the name of Milkin. They dedicate themselves to breeding Belgian Malinois and German Shepherd puppies. They breed to give you a puppy who is happy and healthy. They also breed for sport, police, personal protection, or simply just companionship purposes.
They like to breed dogs with a lot of confidence that can protect themselves and their family. They focus on plenty of details, size, fur color, and dark eyes when breeding. They are dedicated to breeding high-quality puppies and pay a lot of attention to giving them the best health and temperament possible.
All of their puppies are registered by the AKC, meaning they are trustworthy and breed with a lot of quality. When it comes to them raisins and educating your dog, you can relax and trust them. If you're interested in getting a puppy from them, feel free to browse through their web page and ask any questions that  you may have
Miklin Kennels Details
6. Von der Otto
Next on our list comes Von Der Otto, a family dedicated to breeding German Shepherds using German traditions and methods. Their main priority is to breed top-notch quality puppies who are healthy and capable of socializing and being friendly.
They focus and work hard in plenty of different aspects to accomplish that. They are very thorough breeders who test the parents for genetic diseases before mating them for the health part. Once the puppies are born, they are treated with care, love, and attention.
They will be vaccinated and de-wormed as soon as possible. For the social part of things, the puppies are grown in a farm-like environment, getting a big chance to socialize, run and interact with the different sounds of everyday life. This process helps them mature and prepare for the day you adopt them.
The focus is on breeding premium german shepherd lines to ensure the best genetic information possible, both in health and behavioral traits. They breed puppies both for show and domestic purposes. If you have any questions, contact them through their web page.
Von der Otto Details
7. Fleischerheim
Last on the list of the best breeders with German Shepherds in Oklahoma for sale is Fleischerheim. With over 55 years of experience in the breeding business, Fleischerheim knows everything there is to know about German Shepherd breeding processes and has acquired great skills when it comes to applying them.
They love working with dogs and mostly raise them out of a pure passion for the breed. This has worked very well for them as they have been very successful, competing in plenty of competitions and events and even reaching the number one position.
They focus on breeding high-quality puppies and on the puppies' health and genetic qualities. They are widely considered one of the best breeders in the state, and the puppies are considered very high-quality bred. If you are interested in getting your puppy with them, be sure to go through their web page, you can contact them with any questions you have.
Fleischerheim Details
Choosing a German Shepherd Breeder in Oklahoma
Choosing the right breeder can be something a bit challenging for everyone. You are, after all, choosing a person to first breed and then take care of your puppy during the first eight weeks of its life. Not an easy feat to do at a quality level. It is also worth mentioning that every breeder has their style, approach, and preferences when it comes to breeding puppies.
An example is that some breeders like to vaccinate their puppies, while others might not. Other important aspects are food, environment, and treatment. These impact your dog's personality, so be careful who you choose. You should always go with a breeder you like, but also with a breeder who matches your expectations, as going will them will make the experience of having a pet much more enjoyable.
More Information About German Shepherd Breeders From Oklahoma
German Shepherds are a beautiful dog breed. They are particularly famous for their beauty and use and rich history. It is with a mention to say that if you feel dissatisfied with our suggestions, you could always go to a nearby breeder in the states of Louisiana, Texas, or Arkansas.
If that doesn't work for you, you can always check the online market. Before making any kind of monetary commitment, make sure that the breeder you are putting your trust into is legitimate and offers a quality pet for you.
As some people might just be looking to take advantage of you. The best way to sort the serious breeders from those who are not is to look for certifications from credible institutions like the AKC or CKC. You can also ask about details to know as much as you can.
Related: How Much is a German Shepherd?
Conclusion For "German Shepherd Puppies in Oklahoma"
German Shepherds are beautiful dogs. If you're thinking of adding one to your ranks, you're making the right move for yourself. To do it properly, be sure to do your research and go with the breeder you think is the best fit for you. A good choice will let you enjoy your pet and the experience.
For more guides similar to this list of breeders with German Shepherd puppies in Oklahoma for sale, you can check out:
Before you bring home a German Shepherd puppy from a breeder in Oklahoma, you can learn more about this dog breed by watching "What It's Like Owning a German Shepherd" down below: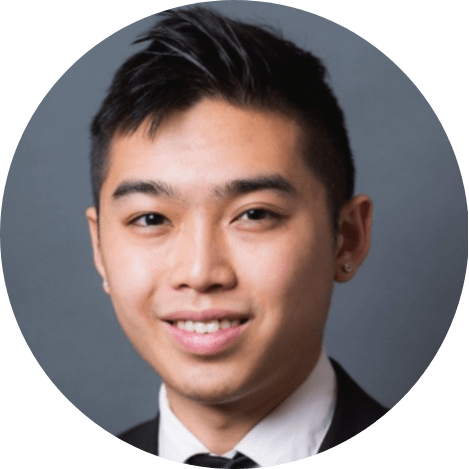 Andy is a full-time animal rescuer and owner of a toy doodle. When he's not saving dogs, Andy is one of our core writers and editors. He has been writing about dogs for over a decade. Andy joined our team because he believes that words are powerful tools that can change a dog's life for the better.
Why Trust We Love Doodles?
At We Love Doodles, we're a team of writers, veterinarians, and puppy trainers that love dogs. Our team of qualified experts researches and provides reliable information on a wide range of dog topics. Our reviews are based on customer feedback, hands-on testing, and in-depth analysis. We are fully transparent and honest to our community of dog owners and future owners.