As dog-loving pawparents, we'd be in an absolute panic if we found out our dogs drank bleach or bleach mop water. It's the stuff of nightmares, especially since we know how exceptionally curious they are. Would you know what to do in this scenario?
Unfortunately, many furmoms and furdads had to learn what to do on the spot after their dogs inhaled or ingested bleach.
Don't be caught unprepared. Read this post, so you know about bleach poisoning symptoms in dogs and can perform emergency care tips.
Before scrolling down this guide, "What to Do if My Dog Drank Bleach," check out: I Almost Killed My Dog With Fish Oil: What to Do? (2023) and 5 Best Pet Safe Weed Killers! (2023).
What to Do if Your Dog Is Exposed to Bleach (and 4 Reasons to Take Them to the Vet)
The severity of bleach poisoning in dogs depends mainly on the type of bleach and the amount they were exposed to.
Most cases of bleach exposure in dogs aren't fatal and are treatable at home. However, here are four reasons to take your dog to the vet.
1. Professional Cleaning Products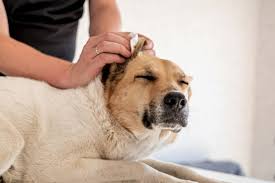 Household bleach products are milder than what professional cleaners use.
Ingesting household bleach rarely causes dogs severe symptoms, but it is entirely different if you use industrial-grade bleach.
If you're unsure, check the label of your bleach. It is considered household bleach and an irritant if the pH level is 11. If the pH level is 12 or higher, this is regarded as professional-level cleaning bleach and is a corrosive agent.
2. Diluted vs. Concentrated
Most bleach poisoning in dogs occurs because the bleach they ingest or inhale is highly-concentrated (10 percent bleach or higher).
Bleach at high concentrations is corrosive and causes respiratory tract irritation or burns in the esophagus and internal organs.
3. Dogs Showing Serious Symptoms
Dogs that ingest diluted household bleach often suffer from mild vomiting, diarrhea, anorexia, and hypersalivation. They also don't act like themselves. Dogs that accidentally inhale bleach could pass out or suffer from temporary breathing issues.
If your dog has severe vomiting, tremors, seizures, convulsions, ulcers around the mouth, and agitation, these could be symptoms of bleach poisoning. You should go to the vet immediately.
Left untreated, it could lead to heart issues, kidney failure, coma, or even death.
4. Type of Exposure: Ingested, Inhaled, Ocular, or Dermal
Symptoms will also vary based on how your dog was exposed. Did your dog drink bleach? Did their eyes get splashed with bleach water spray? Or did they lie on a puddle of diluted bleach?
Ingestion: Vomiting, nausea, drooling, stomach pain, lethargy, and sore throat are symptoms that could occur within four to 24 hours from diluted bleach ingestion.
Inhalation: Difficulty breathing, sneezing, gagging, and coughing are immediate signs of mild bleach poisoning.
Ocular exposure: light sensitivity, corneal ulceration.
Dermal exposure: skin redness or ulceration.
Knowing the signs to look out for can save your pet's life.
What to Do if My Dog Drank Bleach
If your dog is exposed to bleach, symptoms usually begin within minutes. In some breeds, reactions could be delayed up to 24 hours.
How much bleach is toxic to dogs?
Vets determine bleach toxicity in dogs by weight. If a Yorkshire Terrier and a Saint Bernard both drank the same amount of bleach, it would affect them differently because of their sizes.
According to this report from DVM360, there is no lethal dose of bleach in dogs found in any veterinarian literature, but vets estimate that 3.7 grams of bleach per kilogram (in dog weight) could be considered lethal. This means it would take 74 grams of bleach for a 20-kilo dog to die from bleach ingestion.
What happens if a dog licks a little bleach?
If your dog licks a little bleach once, he should be fine. But some at-home emergency tips could help reduce his discomfort:
Make sure he drinks plenty of water to dilute the bleach from his body.
If your dog doesn't like drinking water, add broth to his water to encourage him to ingest more liquids.
Brush his teeth and wash his mouth to ensure no bleach is left on his fur or mouth.
Is diluted bleach safe for dogs?
Diluted bleach is less likely to hurt dogs than concentrated bleach, but it is still not 100 percent safe for dogs. For example:
If absorbed through your dogs' skin, it could still affect their fur if exposed for long periods.
If sprayed or splashed on your dogs' eyes, it could still irritate their eyes for several hours.
If your dogs make it a habit to drink diluted bleach regularly, it could cause difficulty in swallowing, regurgitation, vomiting, and severe issues of his esophagus to the stomach.
What happens if a dog sniffs bleach?
Dogs inhaling bleach are never good, even if they just sniffed a tiny amount. When a dog sniffs a small amount of diluted bleach, he should be fine after a sneezing and coughing spell, nausea, or mild vomiting. Help them remove bleach on their nose by washing or bathing them.
Bleach poisoning (due to sniffing concentrated bleach) could lead to aspiration pneumonia, damage to the gastrointestinal tract, kidney damage, and severe lesions on the nose.
What do I do if my dog drinks toilet water with a cleaner in it?
The impact of ingesting toilet water on your dogs can vary, depending on factors like the type of cleaner and the amount consumed.
Did your dog drink blue cleaner in toilet water? Did you accidentally leave cleaning tablets in the tank while your dog sneaks a sip? Check the label of your toilet cleaner and look out for toxic ingredients. Take a picture of the ingredients — you'll need this if you're going to bring your dog to the vet.
The good news is that your dog should be okay if he drinks just a little toilet water. If he does get sick from this new habit, vomiting, and diarrhea for a few hours is normal. If there is confusion, lethargy, discoloration in his mouth, burns, and severe vomiting, bring him to the vet immediately.
What happens if my dog drinks floor cleaner?
Floor cleaners can contain ammonia, chlorine, bleach, formaldehyde, phenol, isopropyl alcohol, fragrance, and oils — all toxic to your dogs.
Dogs who drink floor cleaner can suffer from vomiting, diarrhea, difficulty breathing and swallowing, abdominal pain, lethargy, excessive drooling, or excessive thirst. Drinking a large amount of floor cleaner could cause shock, seizures, coma, and even death.
How to Treat Bleach Poisoning in Dogs at Home
In many cases, when dogs are exposed to small amounts of diluted bleach, treatment can be done at home. Some possible treatments include:
Bath your dog. Use plenty of water to wash off any remnants of bleach on the skin. You can use mild shampoo when bathing.
Let them vomit. Don't force your dogs to eat something. In most cases, dogs will try to vomit as much bleach as they have ingested.
Give your dogs water, milk, tuna water, broth, or any liquids. If the dog ingested or drank bleach, the easiest way to remove it from their bodies is by drinking plenty of liquids and peeing the toxins out.
Move your dogs outdoors (or any area with fresh air) if they inhale or sniff bleach. Wash the dogs' noses to remove any bleach left and monitor for dyspnea (shortness of breath).
Dogs who get bleach on their eyes should be treated with saline (water and sodium chloride). If the eyes continue to worsen, visit the vet for a prescription. Irritation of the dogs' cornea might require topical antibiotics.
Frequently Asked Questions
What happens if a dog drinks mop water with bleach?
If you see your dog drooling excessively but not vomiting, give him more water to flush out any bleach left within his throat, esophagus, and stomach.

Don't worry if your dog vomits a few times. They should feel better and return to normal after releasing the toxic chemicals. If not and additional symptoms appear, call your vet for assistance.
Will bleach water harm a dog?
Household bleach products and bleach mixed with water will irritate your dog's eyes, paws, mouth, nose, and any part exposed to the bleach. However, concentrated bleach and bleach used by professional cleaners could seriously hurt a dog and even be fatal.
Will a little bit of bleach hurt a dog?
It depends on the actual amount the dog ingested. If the bleach is highly concentrated (10% or higher), it could cause serious harm to your dog's internal and external organs.
Conclusion for "What to Do if My Dog Drank Bleach?"
Monitor your dog following exposure to bleach. Mild symptoms should subside an hour or less after treatment. If not, consult your vet about your dog's condition. They might need to take medications to heal their irritated gastrointestinal tract.
Any ingestion, inhalation, or exposure to highly-concentrated bleach or chemicals should be considered a pet emergency. Poisoning agents work rapidly. If the case is serious, your dogs may require intravenous fluids, anti-inflammatories, oxygen, painkillers, antiemetics, and tests from X-rays to blood to rule out gastric perforation.
Unsure whether to bring your dog to the vet? Call the Pet Poison Helpline at 855-764-7661 for immediate assistance.
If you find this guide, "What to Do If My Dog Drank Bleach," helpful, check out:
Learn more about what happens if a dog drinks bleach by watching "Bleach Poisoning in Dogs – an everyday danger" down below:
Garrett loves animals and is a huge advocate for all Doodle dog breeds. He owns his own Goldendoodle named Kona. In addition, he volunteers at the Humane Society of Silicon Valley, where he fosters dogs and helps animals. Garrett enjoys writing about Doodles and believes that dogs can teach humans more about how to live than humans can teach a dog.
Why Trust We Love Doodles?
At We Love Doodles, we're a team of writers, veterinarians, and puppy trainers that love dogs. Our team of qualified experts researches and provides reliable information on a wide range of dog topics. Our reviews are based on customer feedback, hands-on testing, and in-depth analysis. We are fully transparent and honest to our community of dog owners and future owners.