There are many dog breeds that exist alongside humans today, but few dog breeds that start with Q.
Although dog breeds starting with the letter Q are few in number, there are still quite a few. Our list of such dog breeds includes the Queensland Heeler, Qartuli Nagazi, Queen Elizabeth Pocket Beagle, Quapaw Hound.
They are a diverse set of dogs, ranging from working dogs to hunting dogs and more. Keep reading below for more information about these breeds.
Before you scroll down this list of dog breeds that start with the letter Q, you can check out these other lists of dog breeds covered by our team at We Love Doodles: Top Brown Dog Breeds with Black Face and Small Dog Breeds With Curly White Hair – Top Breeds.
Dog Breeds That Start With Letter Q
Following are some dog breeds that start with the letter Q, along with their history and breed information.
1. Queensland Heeler
Originally developed in Australia to herd cattle, the Queensland Heeler is a medium-sized breed. They are more widely known as the Australian Cattle Dog. The white spots on their blue or red fur make them easily recognizable.
In the 1800s, Australian ranchers saw a need for a hardy working dog and began breeding the first Queensland Heelers. In order to breed a dog with superior intelligence, agility, and toughness, they crossed breeds like the Dingo, Collie, and Dalmatian.
The temperaments of Queensland Heelers are lively and alert, and they have a powerful build and athletic prowess. In addition to being highly trainable working dogs, they also make devoted family pets.
Queensland Heelers, by nature a herding breed, need vigorous physical and mental activity. They require constant guidance and early socialization. Hip dysplasia and deafness are only two of the health problems that plague this breed, making annual veterinary examinations mandatory.
2. Qartuli Nagazi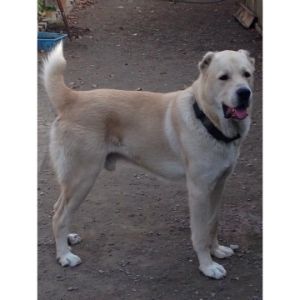 The Qartuli Nagazi, or Georgian Greyhound, is a unique and endangered sighthound breed with its roots in Georgia. They are well-known for their grace and speed.
The Qartuli Nagazi, initially bred for hunting, has been an integral element of Georgian culture for decades. They were highly valued for their ability to track prey over great distances and are thought to be descended from ancient Middle Eastern sighthounds.
The Qartuli Nagazis have a tall and lanky shape with long legs and a slim physique. They come in a range of hues, from black and white to fawn, and have a short, glossy coat. While they may appear distant at first, they quickly warm up to their owners and become devoted companions.
The Qartuli Nagazi is a sighthound with a high prey drive that needs a properly fenced yard. They also need to get a lot of exercise on a regular basis in order to maintain their health and happiness. This breed is highly sensitive and requires delicate but strict training methods.
3. Queen Elizabeth Pocket Beagle
Another dog breed that starts with Q is the Queen Elizabeth Pocket Beagle. This designer breed is an American-created miniature hound. They are well-liked for their cuteness and small stature.
In the 1980s, a breeder from the United Kingdom by the name of Olde English Pocket Beagles developed the Queen Elizabeth Pocket Beagle. They were given the name "Beagle," after the legendary pet of Queen Elizabeth I.
The Queen Elizabeth Pocket Beagle is a little dog, measuring in at around 8-12 pounds at most. They come in a range of hues, from multicolored to lemon to red, and have a short, thick coat. They're great family pets because they're sociable and loving.
Since they are smaller than other dog breeds, Queen Elizabeth Pocket Beagles don't need as much activity. However, they need frequent grooming to maintain a healthy, lustrous coat. This breed requires careful and continuous training due to its stubborn nature.
They are generally healthy, but regular vet exams are necessary to prevent the possibility of health disorders like hip dysplasia and eye difficulties.
4. Quapaw Hound
The Quapaw Hound is an extremely rare canine breed with possible American roots. This dog's excellent sense of smell makes it a popular choice for hunting small animals like rabbits and squirrels. Their short, silky coat is white and spotted with black.
FAQs
Are there any dog breeds that start with Q?
There are very few dog breeds that start with the letter Q, but a few include Queensland Heeler, Qartuli Nagazi, Queen Elizabeth Pocket Beagle, and the Quapaw Hound.

The Queensland Heeler is a common dog breed better known as an Australian Cattle Dog.

The Qartuli Nagazi is an endangered sighthound breed from the country of Georgia.

The Queen Elizabeth Pocket Beagle is a tiny Beagle that is about 8-12 pounds that originated in America.

Finally, little is known about the Quapaw Hound, but it may have originated in America.
What is a Queen Elizabeth Beagle?
A Queen Elizabeth Beagle, or a Queen Elizabeth Pocket Beagle, is a tiny Beagle that was bred in America in the 1980s. This designer dog is about half the size of the standard Beagle breed and only reaches 8-10 pounds.
How do you find reputable dog breeders?
If you're looking for a rare dog breed and are searching for a breeder, start by searching online or in local ads. Once you find a breeder you would like to learn more about, call and ask them questions. A breeder's ability to answer questions about the parent dogs and the dog breed is a great first indication of whether or not they are a reputable breeder.

When possible, visit the parent dogs and puppies in person before purchasing. If you are purchasing a rare breed online, be sure to find reviews, research their intended process for getting you the puppy, and do your due diligence to be sure it is not a scam. Never pay someone before meeting the puppy if you are picking up the puppy yourself.
Conclusion For "Dog Breeds That Start With Q"
While there may not be a lot of dog breeds that start with the letter Q, each of the dog breeds on our list has an interesting history. Most are quite a handful, and like all dogs, require attention to energy levels and regular grooming.
When adopting a dog, make sure to do your research properly before you decide which dog you want to bring home. Searching dog breeds by alphabet is quite a task, so start your research with an assessment of what you want in a dog and narrow your search by breeds that fit your lifestyle.
For more guides similar to this list of dog breeds that start with the letter Q, you can check out these other lists of dog breeds from our team:
You can learn more about dog breeds by watching "20 Most Ancient Dog Breeds on Planet Earth" down below:
Garrett loves animals and is a huge advocate for all Doodle dog breeds. He owns his own Goldendoodle named Kona. In addition, he volunteers at the Humane Society of Silicon Valley, where he fosters dogs and helps animals. Garrett enjoys writing about Doodles and believes that dogs can teach humans more about how to live than humans can teach a dog.
Why Trust We Love Doodles?
At We Love Doodles, we're a team of writers, veterinarians, and puppy trainers that love dogs. Our team of qualified experts researches and provides reliable information on a wide range of dog topics. Our reviews are based on customer feedback, hands-on testing, and in-depth analysis. We are fully transparent and honest to our community of dog owners and future owners.