Here's what you need to know if you're searching for the best dog breeders in Pennsylvania. Pennsylvania has always been known for producing fine purebred dogs.
As a result, the region has many well-known breeders, fanciers, trainers, handlers, and judges. In 1984, the American Kennel Club celebrated its centennial in Philadelphia.
Before scrolling down this list of dog breeders in Pennsylvania, you can check out these other recommendations from our team at We Love Doodles: Best Sheltie Breeders in Pennsylvania and Best Dog Rescues in Pennsylvania.
Dogs For Sale in Pennsylvania
If you are looking for a new puppy from a dog breeder, you may wonder where to find a good breeder and avoid bad ones. What distinguishes a responsible and irresponsible dog breeder (often referred to as a backyard breeder)?
Choosing the perfect dog is never easy, but with this list of the top dog breeders in Pennsylvania, you're off to a good start. These ethical, well-established breeders are the best in the state.
Dog Product Recommendations: Best All-Natural Shampoos For Dogs and Best Shampoo For Curly Hair Dogs.
1. PuppySpot's Puppies For Pennsylvania
Since you're searching for dog breeders in Pennsylvania, we highly recommend checking out PuppySpot for many reasons. First of all, PuppySpot is a reputable platform trusted by many people, which means that you can browse available puppies from the comfort of your home in Pennsylvania.
In case you're worried about your companion being safely shipped to your home in Pennsylvania, keep in mind that all breeders are strictly screened by PuppySpot. Before you continue on your search for a puppy for sale in Pennsylvania, check out the link to the marketplace below.
PuppySpot Details
2. Eichenluft Working German Shepherds
EICHENLUFT is located on a farm in central Pennsylvania. Since 1994, they have followed German SV rules and guidelines for responsible breeding. German Shepherd parents are 100% imported bloodlines.
They have Schutzhund titles, conformation ratings, breed surveyed, hip/elbow ratings with an A-stamp or OFA, and health and temperament tests before being bred. Puppies are intelligent, trainable, healthy, and have the proper structure, pigment, and temperament.
These puppies are suitable for Schutzhund Sport, Competitive Obedience, Agility, Search & Rescue, Service K9, Detection, Police, Protection, and active family companions.
They are among the few German Shepherd Breeders in America still training their German Shepherds in Schutzhund sport. As a result, many German Shepherds have been bred, raised, trained, and titled to National Championship and World Championship levels.
Their goal is to breed German Shepherd puppies that will be suitable as both working dogs and active family companions. They love German Shepherds and are dedicated to producing outstanding puppies.
Eichenluft Working German Shepherds Details
3. Speedwell Forge French Bulldogs, LLC
In Lititz, Pennsylvania, one hour west of Philadelphia, Speedwell Forge French Bulldogs runs a passionate breeding program. They recognize the need for well-mannered French Bulldogs that are raised at home.
As a result, their puppies are very well socialized by their families and breeders, who deeply love the breed as they do. When they don't have their own litters, they source high-quality puppies for their clients.
By doing this, Speedwell Forge can guarantee its customers a well-bred puppy. They are registered as an LLC with the state of Pennsylvania. They want everyone to be able to enjoy a beautiful, well-behaved French Bulldog.
Speedwell Forge French Bulldogs, LLC Details
4. KC Poodles of PA
KC Poodles provides high-quality, healthy Poodle puppies to families. They test the puppies' health and DNA to ensure they give healthy puppies to families. Breeding is also based on temperament and genetics.
Puppies are also socialized and trained by them. They specialize in the following colors and coat patterns: red, black, agouti wolf, apricot, phantom, and brown.
Parti poodles will be available soon. KC Poodles will provide you with a high-quality Poodle. Furthermore, they are knowledgeable about the breed. Their service is unmatched.
KC Poodles of PA Details
5. German Select Rottweilers
For over 25 years, German Select Rottweilers has been serving the pets and families of their local area, following all ADRK health standards and all German health clearances.
Their passion is caring for and connecting with animals. Their pets receive exceptional care from them. Their goal is to provide the best care for your Rottweiler.
German Select Rottweilers Details
6. Prelude Bichons Frises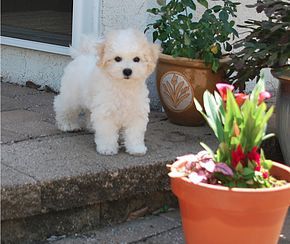 Prelude Bichons Frises is committed to breeding healthy, intelligent, well-tempered Bichons. All breeding stock is tested for OFA health (hips, eyes, cardiac, patellas). Several times a year, they gather in the wee hours of the night to whelp their Prelude litters.
Upon welcoming these puppies into their homes, they provide them with endless amounts of love and socialization. Dogs are part of their family and do not live in kennels.
Prelude Bichons Frises Details
7. Buckwheat Valley Ranch
About 45 minutes north of Harrisburg, the Stoltzfus family lives on Buckwheat Valley Ranch, 30 acres of secluded woodlands and meadowlands.
Their goal is to raise only the best miniature Australian Shepherd Puppies and ensure that they are in perfect health when they leave for their new homes.
All puppies come with a genetic health guarantee and a vet check. By the time they reach eight weeks old, puppies are generally very acclimated to kids.
Buckwheat Valley Ranch Details
8. Orion Border Collies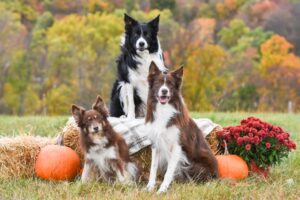 A small family breeder, Orion Border Collies, focuses on the health and temperament of all its dogs and puppies. As a result, they strive to produce sound puppies. Breeding rarely occurs and usually only happens when it's time to add a puppy to the family.
They live in the suburbs of Philadelphia. People, other dogs, and cats all provide constant attention to their puppies in their house. Their goal is to produce the ideal Border Collie. A friendly and loyal companion that is always prepared to work if needed.
Orion Border Collies Details
9. Anthracite Bullmastiffs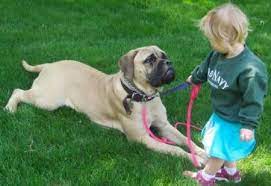 Anthracite Bullmastiffs are known for breeding healthy, high-quality Bullmastiffs. They are located about 30 minutes north of Lehigh Valley. In 1997, they began working with this amazing breed. First, they immersed themselves in as much literature about the breed as possible.
Then, in the months that followed, they attended dog shows to gather more information and find a breeder who shared their vision and bred dogs with the character and health they sought to start ANTHRACITE BULLMASTIFFS. Jean Robinson was their match.
With her guidance, they found their Nicki. Nicki gave their family 12 years of many beautiful memories, and she started their high-quality line. God blessed them with their son Ty in 1999. He continues to be involved in Anthracite Bullmastiffs to this day.
Ty and his wife Cheryl have been involved with the breed for more than twenty years. They are members of the AMERICAN BULLMASTIFF ASSOCIATION, the Lehigh Valley Kennel Club, the Delaware Valley Bullmastiff Club, and many other organizations.
Anthracite Bullmastiffs Details
10. BJ's Farm
Since 2004, BJ's Farm has been raising healthy, well-socialized puppies. They specialize in AKC Boxer & English bulldog puppies for sale. Even though most of their Boxer & English bulldog puppies come from champion bloodlines, their primary focus is on health and quality.
The children and her play with the dogs daily in their large fenced yard. At 2, 4, 6 & 8 weeks old, their puppies are wormed and updated on their shots. Between the ages of 6 & 8 weeks, they are vet checked. They feed & sell raw food and would be happy to assist you in feeding raw.
Each puppy is sold with a limited AKC registration unless full registration is requested. Each puppy is guaranteed for one year. The puppies come with a puppy care manual that she has prepared herself, but feel free to contact her with any questions.
Their English Bulldogs are raised in their home and are trained to go on fake grass, so she would advise you to buy some artificial grass to prevent accidents on your floor. They also sell reasonably priced wire crates. Puppies are available until a deposit is paid. The deposit is not refundable unless the puppy fails the health check.
BJ's Farm Details
11. Sideling Hill Labradors
Last on the list of dog breeders in Pennsylvania is "Sideling Hill Labradors." SIDELING HILL LABRADORS is a Pennsylvania state-licensed kennel. They have been breeding Labradors that descend from American and English lines since 1987.
Sherry Mateer was their mentor many years ago and helped them purchase some breeding stock to start their wonderful hobby. They have an excellent line of hunting dogs from Stonelane Hunter Kennels (Bertie) in Indiana. They also have Windywood Hills Labradors (Louise).
They have produced titled companion, show, hunting, and working dogs. Their puppies are brilliant. The puppies leave with a hip and eye guarantee, registration papers (if applicable), first shots, and numerous dewormings. In addition, puppies are CNM, EIC, and PRA guaranteed.
By purchasing one of their babies, you become more than just a name; you become a part of The Fixlab family. You will always be able to reach her for any questions you might have. Remember, you are never out of sight, out of mind. They enjoy keeping in touch with their puppy buyers and watching their babies grow.
Sideling Hill Labradors Details
Puppies in Pennsylvania
You can prepare yourself and your home for the arrival of a new puppy by doing various things. When you decide to bring home a new puppy, you have a lot of decisions to make. Where should the puppy sleep on its first night? Who will take care of it? Do you have all the supplies?
Don't let impulse lead you to take a puppy home at the wrong time. Make sure you do your research first. Find out if you are ready for a puppy and how to get one responsibly. While puppies are irresistible, they are also extremely time-consuming. When it comes to puppies, you might not realize what you're in for.
Being ready to get a dog, especially an adult dog is one thing. But raising a puppy takes an even more significant commitment. Three to four feedings a day are recommended for puppies. Following eating or drinking, they need to be taken outside immediately so they can eliminate appropriately and become housetrained.
While puppies are still being housetrained, they will have accidents in the house. This means a lot of cleaning. When you get a puppy, you'll need to spend a lot more time with it, especially in the beginning—adopting an adult dog is an option if this seems like too much.
Find More Breeders: Best Jack Russell Terrier Breeders in Pennsylvania and Best Double Doodle Breeders in Pennsylvania.
How to Choose a Dog Breeder in Pennsylvania
Where do you begin your search for a new furry friend when you are looking for one? Breeders and shelters abound, but how do you know they're trustworthy? When faced with the reality of puppy mills, how can you tell between a breeder who genuinely cares and one who is just out for money?
Or are they defensive, off-putting, and intolerant? Begin by asking your breeder lots of questions. By asking questions, you establish a relationship with your breeder, showing that you have thoughtfully considered having a puppy in your life. How does the breeder respond to your questions? Are they patient and answer your questions, welcoming any concerns you may have?
Or are they defensive, off-putting, and inpatient? You can tell from their reaction what type of breeder they are. You should ask the breeder questions, but you should also allow the breeder to interview you. Breeders consider where their puppies are going, how they will fit into the family, and how they will be treated.
Where Do You Find a Dog Breeder in Pennsylvania?
If you are looking for responsible breeders, ask your veterinarian for referrals, contact local breed clubs or attend dog shows. It is important to remember that a responsible breeder will never sell his dogs through a pet store or any other manner that does not allow him to meet with you.
They will want to thoroughly interview you to ensure that the puppy is a good match for your family and that you can provide a responsible, lifetime home. If you purchase a dog from a breeder with an AKC Breeders of Merit or a champion bloodline, you are more likely to get a healthy, well-rounded puppy. As a result, these breeders raise healthy, happy, and socialized puppies.
Conclusion For The "Best Dog Breeders in Pennsylvania"
When talking with or meeting with dog breeders in Pennsylvania, you should look at the facts and trust your gut feeling. Ask questions if something feels off.
You should stay away from a breeder if you have any doubts about their responsibility. Start from scratch and look for only a responsible breeder.
For more guides similar to this list of dog breeders in Pennsylvania, you can check out:
Before you purchase a dog from a breeder in Pennsylvania, you can learn more by watching "How to Find a Breeder in Your Area" down below: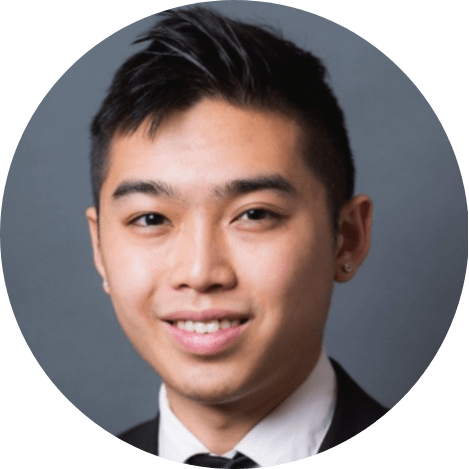 Andy is a full-time animal rescuer and owner of a toy doodle. When he's not saving dogs, Andy is one of our core writers and editors. He has been writing about dogs for over a decade. Andy joined our team because he believes that words are powerful tools that can change a dog's life for the better.
Why Trust We Love Doodles?
At We Love Doodles, we're a team of writers, veterinarians, and puppy trainers that love dogs. Our team of qualified experts researches and provides reliable information on a wide range of dog topics. Our reviews are based on customer feedback, hands-on testing, and in-depth analysis. We are fully transparent and honest to our community of dog owners and future owners.