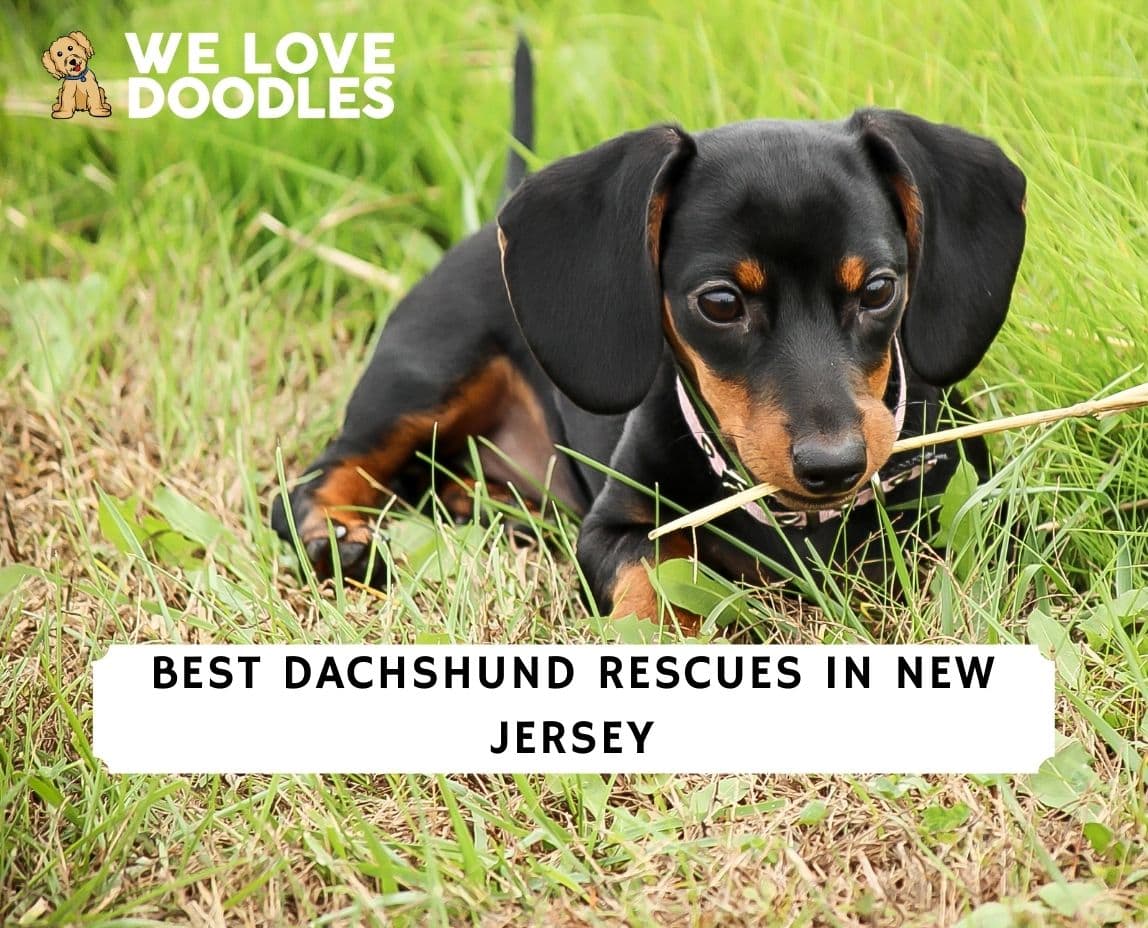 Are you looking for the best dachshund rescues in New Jersey? We're here to help! The shelters and rescues on our list are responsible and reputable, and will give your wiener dog the best of care while you ready your home for him!
Dachshunds are sometimes called sausage dogs or wiener dogs because of their long bodies and their short little legs. Don't let that fool you, though! These pups are energetic and have been clocked at speeds up to 22 miles per hour! In fact, have you ever seen a dachshund race? We highly recommend it!
If you're looking for a dachshund of your own, read through the following list. Garden State families could be just days – or hours – away from adding a wiggly little dachshund to the household.
Before scrolling down this list of Dachshund rescues in New Jersey, you can check out these other recommendations from our team at We Love Doodles: Best Corgi Rescues in New Jersey and Best German Shepherd Rescues in New Jersey.
Find a Dachshund Rescue Near Me in New Jersey
Adopting a dachshund is a rewarding decision – especially for the human the dog attaches himself to! You may find that your stubborn little wiener dog chooses a family member to be his best friend – everyone else will come second.
Are you ready to find your new buddy? Here are the best dachshund rescues in New Jersey.
Dachshund Product Recommendations: Best Shock Collars For a Biting Puppy and Best Pet Insurances For Small Dogs.
1. Amazing Mutts Puppy Rescue, inc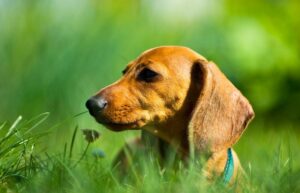 Amazing Mutts Puppy Rescue is first on our list of the best dachshund rescues in New Jersey. They're a volunteer-run organization that is also a non-profit 501(c)3, so if you can donate – either time or money – your contribution will be appreciated! Foster opportunities are also available. If you find that you're uncertain as to whether dachshund adoption is right for you, you can temporarily house a dog while he or she awaits a fur-ever family. Speak with the shelter team for more information.
View the available buddies by clicking on "adoptables" on the home page. Pictures of pups will appear and you can choose the dog you'd love to make your own! Alternatively, you can attend one of Amazing Mutts Puppy Rescue's adoption events and meet the dogs for yourself! You'll be required to fill out an application which will ask for information about your household, experience with dogs, your family, and other details. Once you're approved to adopt, you'll receive a phone call from the volunteers at the shelter.
Adoption fees range between $430 and $575 and are set based on the age and health of your dog. This will cover your dog's spay or neuter procedure, heart worm medication, vaccinations and microchip. If your dog has additional health concerns the Amazing Mutts team will let you know.
The volunteers at Amazing Mutts Puppy Rescue will do everything they can to support you even after you adopt your dog. Contact the shelter for referrals to boarding, training, and grooming, or just to ask questions about the care of your dog.
Amazing Mutts Puppy Rescue, Inc Details
2. Schultz Senior Dachshund Sanctuary
Schultz Senior Dachshund Sanctuary is the next shelter on our list. It's another non-profit organization that is volunteer-run. As with any not-for-profit shelter, your assistance is appreciated! Foster opportunities are available, or you may choose to donate money or supplies. Donations are generally tax-deductible. Speak with a financial adviser for more information.
Schultz Senior Dachshund Sanctuary does not have a website but you can stay up to date on the adoptable animals by viewing their Facebook page. The team updates the page frequently with new dogs as well as sweet little success stories about the dachshunds they've placed.
To adopt one of the dogs you see, you'll need to contact the team. Do this through Facebook or call the phone number – a volunteer will be in touch with you as soon as possible! The shelter sets adoption fees based on the dog's age, health, and history. Schultz will also take the cost of care into account. Dogs are rehabilitated if necessary, and will be vaccinated, spayed or neutered, and microchipped before going home with you.
Schultz Senior Dachshund Sanctuary Details
3. Home for Good Dog Rescue Inc.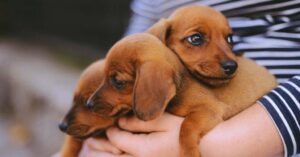 The next organization on our list of the top dachshund rescues in New Jersey is Home For Good. Home For Good Dog Rescue is a charity organization that is 100% foster-based. They're headquartered in Berkeley Heights, New Jersey but your dog doesn't live there! Instead, he or she is enjoying the hugs of a foster family somewhere in the area. Pups come to you pre-spoiled and socialized, making the transition into your home easier.
Adoption fees may be tax deductible, so speak with a pro about whether this is true for you! Puppies cost $550 to adopt, adult dogs are $500, and dogs over the age of three cost $450. While your pup is in foster care, he or she will be nose-to-tail vet-checked and will come to you altered. Spaying and neutering dogs is a part of the Home For Good mission: to prevent dog homelessness in New Jersey.
Please note that your shelter volunteer will check your references! If you have a vet for existing pets you'll be required to furnish the phone number. Dogs you own will need to be spayed or neutered before you're approved, and you'll need to show proof of vaccination. You'll also need to have a lease or written statement from your landlord that pets are permissible on the property if you're a renter.
Home for Good Dog Rescue Inc. Details
4. Dachshund Rescue of Bucks County
We've chosen Dachshund Rescue of Bucks County (DRBC) as our final choice for this list of the best dachshund rescues in New Jersey. They're actually situated in Bucks County, Pennsylvania, but they serve New Jersey, New York, Maryland, and Delaware, too! No matter where in the mid-Atlantic region you are, there's a dachshund waiting for you!
There are oodles of ways you can support the DRBC. Shop from their Doxie Boutique, volunteer your time, foster an animal, or donate money. You can attend one of their many events, too! Visit the calendar page on the DRBC website for info about upcoming adoption events, fundraisers, and more.
Once you're ready to adopt a new baby, fill out an application. The volunteers will ask about your lifestyle, home, experience, and other aspects of your household. If you're approved, you'll be expected to pay an adoption fee ranging from $300 to $400 depending upon the age and health of your dog. Dogs will only be sent to live with new families once they're vet-checked and vaccinated. Your dog will also be spayed or neutered.
If you're open to adopting a senior dachshund, check out the GrandPaws program. Senior and end-of-life pups are offered to appropriately matched families at no cost. Contact the DRBC team for more information about available dogs and the requirements to adopt a senior.
Dachshund Rescue of Bucks County Details
Frequently Asked Questions
Whether you're new to dachshund ownership or have questions about adopting a dog from a shelter in general, we've got you covered. Here are a few of the most commonly asked questions by our readers.
Why was my dachshund placed in a shelter?
There are quite a few reasons why your dachshund is in the care of a rescue. Some are surrendered by their owners who could no longer care for them. Some are "victims" of divorce or the death of an owner. Still others may have been found on the streets, in high-kill shelters, or in puppy mills.
No matter the reason for your dog's shelter placement, you can rest assured that a team of professionals or volunteers will do their best to rehabilitate your dog. Your dog may have temperament concerns, or may be physically ill when entering the shelter system. The pup will be in the best shape possible before he is listed as available for adoption.
Do dachshunds commonly have health issues?
Dachshunds, like many breeds, have some health concerns that can present themselves over the course of their lifetimes. Obesity is one, so be sure you speak with your vet or the shelter staff about your pup's diet. Back problems are another – your dachshund's long hot dog body makes him more susceptible to back and hip conditions. Finally, blindness can present itself in your dachshund.
Early detection is key to mitigation, so bring your pup to the vet regularly! Together you and your veterinarian can decide the best plan of care should your dachshund become ill.
Are dachshunds hard to care for?
In a way, your dachshund may present some challenges, yes. The dogs are notoriously stubborn. In fact some doxies are labeled as "dumb" because they don't take easily to learning new tricks and commands. Don't be fooled, though! Your dachshund understands your commands – he just doesn't want to obey! A firm tone will establish you as the leader of the pack.
Other than dealing with your dog's stubbornness, you will find that your dog is easy to care for. They're just as happy in your lap as they are jaunting around outdoors, and they require minimal grooming. The breed isn't particularly "yappy," either, so your neighbors will find your pup delightful!
How do I get my home ready to adopt a dachshund?
The preparations you'll need to take before your doxie comes home with you will depend, in part, on the dachshund rescues in New Jersey. Some have fencing requirements or stipulations that other pets must be neutered. Ask the shelter what's required, or invite a volunteer to visit your home!
Dachshunds have very well-developed senses of smell, so you'll need to consider your soaps, laundry detergents, and air fresheners. Entering a home with strong scents can be jarring to a little dachshund, so try to eliminate as many as possible.
Otherwise, you can puppy-proof your home as you would for any other dog breed. Baby gates are a great way to keep your pup out of the kitchen or bathroom. Check the floor space for cords and objects your dog can choke on. Because of their little wiener shapes, dachshunds and stairs don't mix. It's best to prevent access to staircases before you bring your dachshund home.
Conclusion For The "Best Dachshund Rescues in New Jersey"
The dachshund is a loving but stubborn breed. If you're fortunate enough to be "the human" your pup latches on to, you can be certain that you'll have a forever companion, literally always by your side!
The best dachshund rescues in New Jersey work hard to rehabilitate doxies and rehome them with families like yours who will care for them for years to come. If dachshund adoption is your goal, the shelters on this list are a great place to start.
For more guides similar to this list of Dachshund rescues in New Jersey, you can check out:
Before you adopt a Dachshund companion from a rescue shelter in New Jersey, you can learn more about this dog breed by watching "Everything You Need to Know About Dachshunds or Wiener Dogs" down below: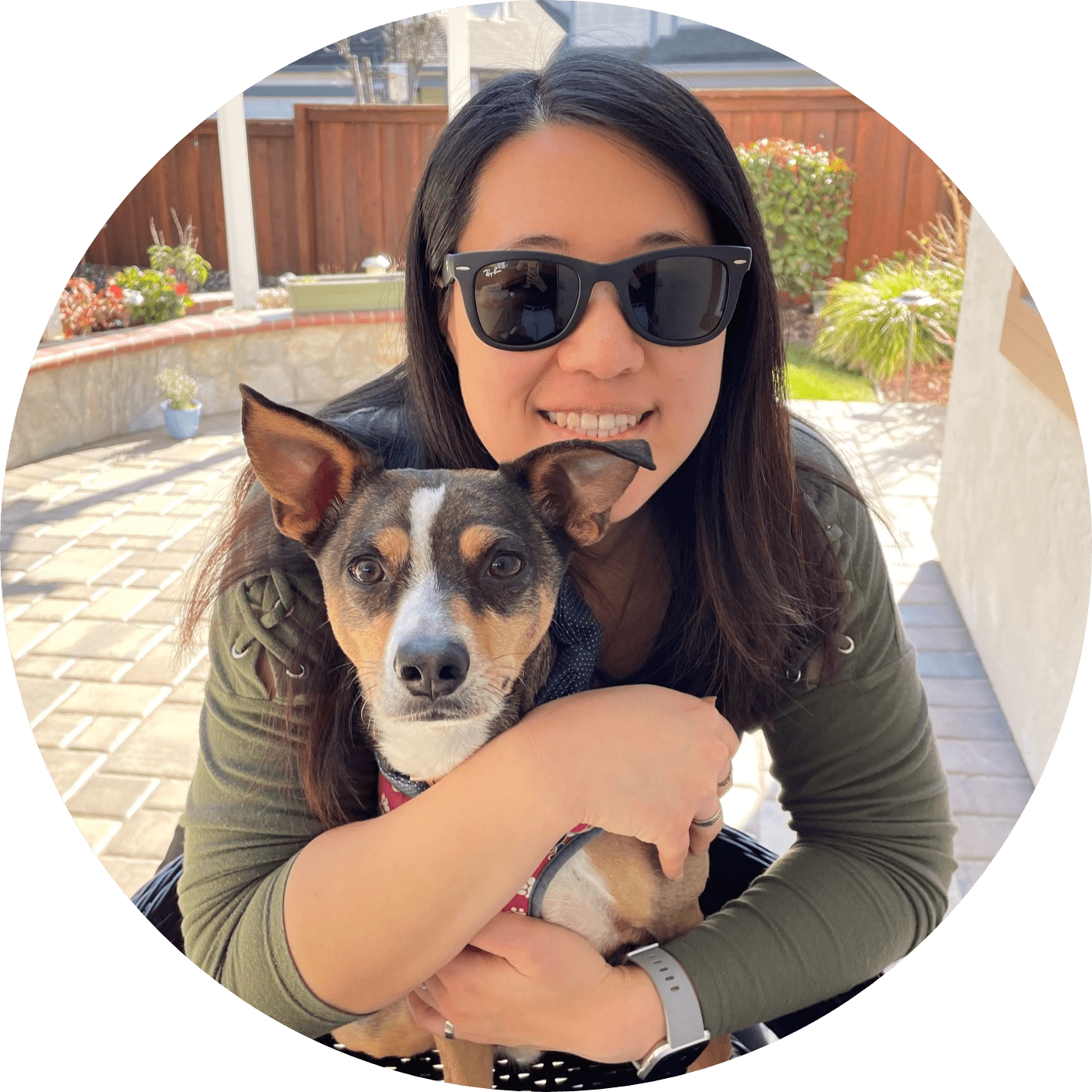 Dr. Sabrina Kong graduated from the Royal Veterinary College in England in 2016 and has been working at a small animal clinic in Northern California since then. She grew up in the Bay Area and got her bachelor's degree from Cal Poly San Luis Obispo. She also became a Certified Canine Rehabilitation Practitioner through a program at the University of Tennessee.
When she isn't in the clinic taking care of her four-legged patients, she enjoys traveling and trying new foods with her friends and her three-legged dog, Apollo. She adopted Apollo from her clinic when he was a puppy with numerous health issues. Dr. Kong truly cares about taking care of animals.