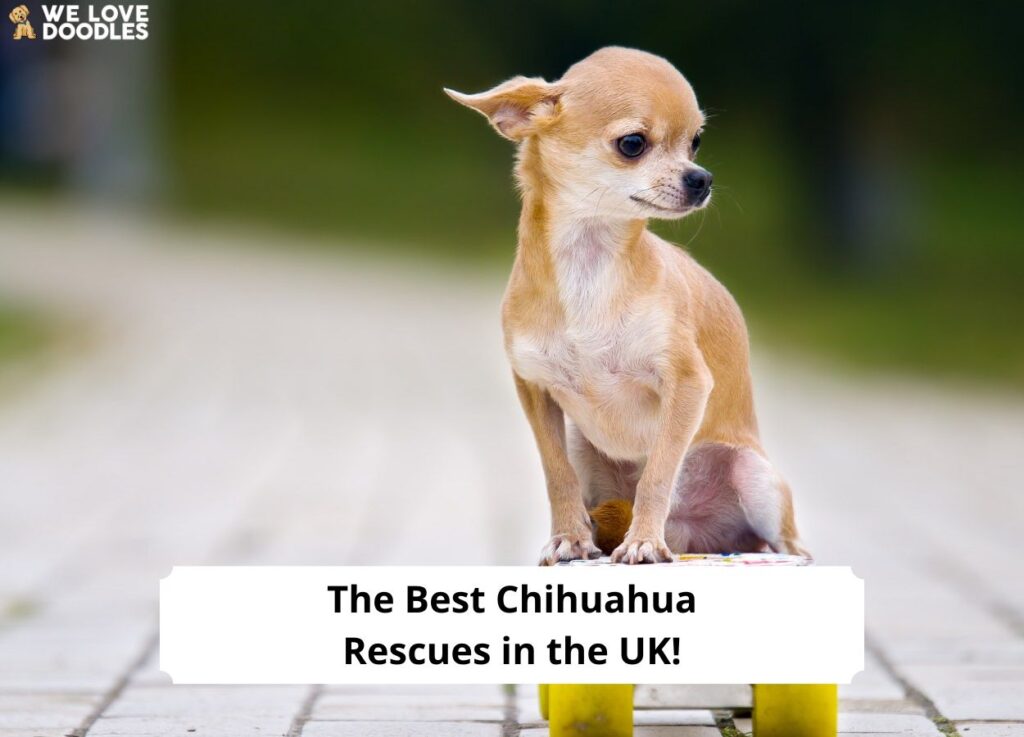 Have you decided to adopt a Chihuahua and are searching for suitable Chihuahua rescues in the UK? If the answer is yes, you have come to the right place. We have created a guide to help you choose rescues in your area where you can find a new furry companion.
A Chihuahua is a small breed with a big dog personality. These dogs are charming and extremely loyal to their owners. They make the perfect pets for people living in apartments and are good at adapting to their environment as long as they receive the love and care they need.
However, due to misconceptions and lack of information, Chihuahuas are often mistaken as aggressive and end up in shelters. In addition, there are 1.1 million homeless pets in the UK, many of which are Chihuahuas, so we recommend adopting from a rescue or local shelter rather than buying from a breeder.
So, we have created a list of small dog rescues in the UK where you can find the perfect little Chihuahua to brighten your life.
Before you scroll down this list of Chihuahua rescues in the UK, check out: 5 Best Chihuahua Breeders in the UK! (2023) and How to Care for a Chihuahua Puppy (2023).
1. UK Chihuahua Rescue
First on the list of pet rescues is UK Chihuahua Rescue. This organization takes in abandoned and homeless Chihuahuas and helps them find homes forever. Here, every Chihuahua is spayed or neutered before leaving for its new home. The dogs are also vaccinated, microchipped, dewormed, and receive necessary veterinary care.
Register your interest to adopt via email if you are interested in this rescue. The rescue will conduct a home check and ask for vet references. In addition, you will be required to meet the Chihuahua several times to ensure it is the perfect match for you.
You can then finalize the adoption by paying an adoption fee. Contact the rescue to learn more about their available pups.
UK Chihuahua Rescue Details:
2. Lily's Chihuahua Rescue
Lily's Chihuahua Rescues is a non-profit that rescues and rehomes Chihuahuas in need in mainland UK. Once a dog is rescued, it's placed in a foster home.
The dogs go through a complete health check and receive the required medical attention during their stay at the foster home. In addition, they receive lots of love as they wait for their new families.
All available puppies are listed on the rescue's Facebook page. However, you must join the group to see recent posts. If you find a pup you like, you can contact the rescue to get the adoption process started. The rescue will conduct a home check and require vet references before finalizing the adoption. You'll be charged a small adoption fee as well.
In addition, the rescue has some conditions you must agree to before adopting your new furry friend. Firstly, every adult dog is spayed or neutered before adoption. However, if you're adopting a puppy, you have to agree to get the dog neutered when the appropriate time comes.
Secondly, adopters are also required to stay in touch with the rescue and provide regular updates. The rescue also asks new adopters to take training classes and not leave their pups alone for a long time.
It's also worth noting that the rescue does not adopt out dogs to homes with children under 10 years old.
Lily's Chihuahua Rescue Details:
3. Chihuahua Rescue UK
Chihuahua Rescue UK was established to help Chihuahuas who had ended up homeless or abandoned through no fault of their own. The rescue ensures that the little dogs are cared for and loved as much as possible while they wait for their new home.
The rescue only places dogs in approved foster homes. It ensures that each dog receives the necessary care and attention. The dogs are neutered, vaccinated, and microchipped before being put up for adoption. In addition, they are treated for any illnesses and are not given to a new family till they have a clean bill of health.
When you go to choose a Chihuahua for adoption, the rescue will inform you beforehand if the dog has any illness that cannot be completely treated. It believes in full transparency during the adoption process.
You can head over to the rescue's website and fill out and submit an adoption application. The rescue will contact you if your application is approved.
From there, the rescue will conduct a home check to ensure that you can provide a safe and loving environment for the pup. You can also ask any questions you may have during this visit. If all goes well, you will be ready to bring your little companion home in no time.
Chihuahua Rescue UK Details:
4. Dizzy Chihuahua Rescue
This is a perfect choice if you are looking for a rescue in London. Dizzy Chihuahua Rescue was established in the loving memory of a senior dog, Dizzy, who was found abandoned and sick in a parking lot. The program was started after she passed away to prevent other Chihuahuas from suffering the same fate.
So, if you are searching for reliable and passionate small dog rescues in the UK, you can visit Dizzy Chihuahua Rescue's website. The rescue lists all its available dogs and detailed profiles on its website. You can submit an adoption application and start the process if you find a match.
You will also have to pass a home check and pay an adoption fee of £300 to finalize the adoption. It is also necessary to note that this rescue operates in England only.
Another great thing about this rescue is that they help owners rehome their Chihuahuas if they can no longer care for them. So, if you want to rehome your pup, you can email the rescue along with the necessary details.
Dizzy Chihuahua Rescue Details:
5. Small Dog Rescue Cliveglen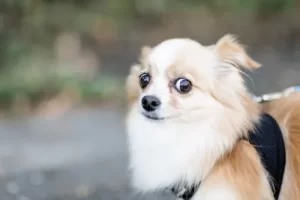 Next on the list of pet rescues in the UK is Small Dog Rescue CliveGlen. This organization has been saving small dogs for over 25 years. Naturally, they have plenty of experience in this field which helps them find the perfect homes. However, the rescue only adopts out to homes that are within a 15-to-20-mile radius.
Each dog that arrives at the rescue receives a thorough health check. The dogs are also vaccinated, microchipped, and spayed or neutered, too. After that, they are placed in approved foster homes where they are loved and cared for till they are adopted.
The rescue takes several steps to ensure their beloved dogs go to the right homes. They only allow people over 18 years old to adopt their dogs, and they conduct a detailed interview to assess the person.
The rescue also conducts a home check to ensure that you have a fenced yard and can provide a safe environment for the dog. In addition, the rescue does not adapt to families working full time as the Chihuahua breed requires lots of attention.
Visit the rescue's website to check whether they have any Chihuahuas up for adoption, and contact the rescue for further details if you find a pup. The rescue charges an adoption fee starting at £350, but it can vary according to the breed or the amount of medical care the dog has received.
Small Dog Rescue Cliveglen Details:
6. Dogs Trust
Last on the list of the best Chihuahua rescues in the UK is Dogs Trust. It is not a breed-specific rescue and helps any dog that needs help or rehoming. This rescue was established in 1891 and is a leading dog welfare organization in the UK.
As a rescue, Dogs Trust's main aim is to help abandoned and homeless dogs find a second chance at life. But that is not all that they do. The rescue helps existing dog owners overcome any issues they might face with their canine friends to prevent them from giving up their pets.
Dogs Trust also offers training classes to help owners learn how to deal with their pets. Apart from that, the rescue works tirelessly to prevent healthy dogs from euthanasia. They have also worked on several projects globally and have 21 rehoming centers in the UK.
Every dog at the rescue is neutered or spayed, vaccinated, microchipped, and has received a full health check. Your Chihuahua will also come with a one-month free pet insurance plan, a handbook, a car sticker, microchip details, and food.
You can visit Dogs Trust's website and read the profiles of all their available dogs. On the other hand, you can also visit a rehoming center close to you.
You can submit an adoption application if you find a dog you like. However, if you cannot decide, the rescue will help you choose a dog according to your lifestyle and preferences. After that, you will need to meet the dog several times and once with your family. If everything goes well, you will be ready to take your dog home immediately.
Dogs Trust Details:
Frequently Asked Questions
What is the average price of a Chihuahua in the UK?
You can expect to pay anywhere from £450 to £1,000 for a Chihuahua puppy in the UK, with shelter and rescue dogs falling on the cheaper side.
Can a Chihuahua be an assistance dog in the UK?
It's possible to train a Chihuahua to become an assistance dog in the UK, however, this is not the same as an emotional support dog. The former has a certain legal status, while the latter does not.
What is the life expectancy of a Chihuahua?
The average Chihuahua in the UK will live for 14 to 16 years.
Conclusion for "The Best Chihuahua Rescues in the UK"
Chihuahuas are unique little dogs — but don't let their size fool you. They have big personalities and may require lots of training. However, with the right guidance, these dogs make excellent loyal pets.
Every year numerous dogs end up in shelters as their owners give them up. So, it is always recommended to look for suitable Chihuahua rescues in the UK if you want a pet Chihuahua. It will not only be easier for you but will also help you change the life of a homeless dog.
For guides similar to this list of Chihuahua rescues in the UK, check out:
Before you bring home a Chihuahua, learn more by watching the "8 Things You Must Never Do to Your Chihuahua" down below:
Garrett loves animals and is a huge advocate for all Doodle dog breeds. He owns his own Goldendoodle named Kona. In addition, he volunteers at the Humane Society of Silicon Valley, where he fosters dogs and helps animals. Garrett enjoys writing about Doodles and believes that dogs can teach humans more about how to live than humans can teach a dog.
Why Trust We Love Doodles?
At We Love Doodles, we're a team of writers, veterinarians, and puppy trainers that love dogs. Our team of qualified experts researches and provides reliable information on a wide range of dog topics. Our reviews are based on customer feedback, hands-on testing, and in-depth analysis. We are fully transparent and honest to our community of dog owners and future owners.