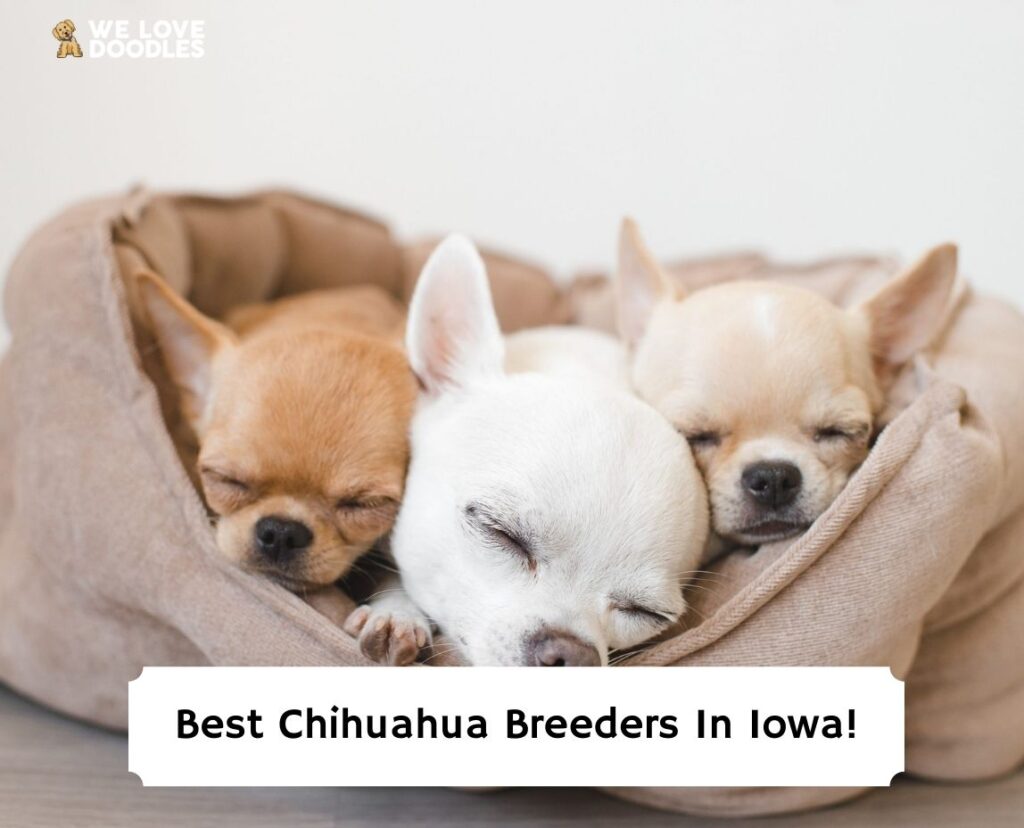 Are you searching for Chihuahua breeders in Iowa? Fearless, charming, and loyal are the prime qualities of a Chihuahua. You better not judge them for their tiny size as they possess the ability to fight even bigger dogs than them.
If you live in Iowa and have been thinking of getting a Chihuahua puppy anytime soon, we want you to make the right choice. Chihuahuas are one of the best-purebred dogs out there.
Before scrolling down this list of Chihuahua breeders in Iowa, you can check out these other recommendations from our team at We Love Doodles: Best Australian Shepherd Breeders in Iowa and Best Husky Breeders in Iowa.
Chihuahua Puppies For Sale in Iowa
So, in this guide, we will clear out the fog and list the top Chihuahua breeders in Iowa for you to check out. By the time you finish reading, you'll be able to make an informed decision.
Chihuahua Product Recommendations: Best Plush Dog Toys and Best Puppy Flea Shampoos.
1. PuppySpot's Chihuahuas For Iowa
Located at the very center of the digital puppy market, you can find PuppySpot. This website/company is laser-focused on offering simple ways to adapt your dream Chihuahua puppy.
They bring together many breeders and customers from across the country to offer as many possibilities as possible. So far, the company has thrived under this philosophy. They've sold more than 200,000 puppies and have received over 10,000 5-star reviews for their quality.
History
Over ten years ago, the founders of PuppySpot envisioned a place on the internet where people could come in and find a wide array of puppies they could adopt. With a few more clicks and a few days' wait, they would have a new family member delivered to their doorstep. 
All of what the founders envisioned came to pass, but unexpectedly, they managed to change the game. Nowadays, and moving forward, more and more people are looking to adopt a puppy through the internet.
Mission
PuppySpot loves dogs. That's why they chose to create the website. They seek to make your Chihuahua adoption process as simple as possible. This way, many people will get to enjoy having a dog. Their main goal is to breed happy and healthy puppies and help them find a family where they'll be loved
Breeding Values
Quality: Every PuppySpot dog is bred to the very best of the breeders' ability. The breeders make sure to follow AKC guidelines, which make sure the puppy grows to be healthy and strong.
Health: Health is a must-have of all the qualities a dog should have. Without health, there is no puppy experience. Breeders do this, and they'll go out of their way to ensure the puppy gets the best. Before being sent to you, the puppy will be checked from nose to tail to ensure it is fit and ready to go.
Hard Work: Breeders love to work with puppies. And they dedicate everything they've got into breeding them.
Care: PuppySpot is not a puppy mill. Every puppy on the site is bred in very humane ways. This way, the puppies grow to be happy and full of personality.
PuppySpot Details
2. Squaw Creek Kennels
Edward VanDorn is the owner and breeder behind the Squaw Creek Kennels. He learned breeding from his grandfather and inherited the values of honesty, quality, and integrity from him. The kennel follows USDA regulations and produces numerous Chihuahua puppies for sale in Iowa and ready for their happy homes. The kennel meets all space, heating, air conditioning, feeding, and medical care requirements.
The puppies are raised in a social environment and receive basic behavior and potty training. What you'll love about this kennel is the professionalism of Edward and his staff. They are ready to assist whenever needed. An experienced vet visits the kennel every week and looks after each puppy's health, temperament, and vaccination.
Further, the breeder gives a 12-month guarantee on their puppies for any genetic defects. The next best thing about this kennel? Getting a Chihuahua puppy is simple. You have to fill out a qualification form on their website. They'll review your application. Once approved, you'll receive information regarding the process.
Squaw Creek Kennels Details
3. Puppies To Go
Puppies To Go has been raising quality puppies for the last 20 years. On their 3 acres of property, puppies move freely and interact actively with the staff members. No wonder the puppies are well-socialized, active, and potty-trained. All their puppies are of top-notch quality with natural ability, calmness, and amiable temperaments. The breeder has a license from the Iowa Department of Agriculture and Land Stewardship.
A regular checkup by an experienced vet ensures that you take a happy and healthy puppy home. Further, your puppy receives a 12-month guarantee against congenital disabilities. You get another puppy of the same value in case of genetic problems—all you need to do is present a vet's signed approval. You can buy your puppy using cash or check; however, the breeder prefers cash.
Puppies To Go Details
4. Heritage Puppies
Heritage Puppies has placed healthy puppies in loving homes for over two decades. According to them, a family is the most crucial thing for every creature. This breeder aims to provide you with a quality and healthy puppy. Therefore they always breed from healthy parents and have partnered with other nearby breeders in an attempt to do so. The kennel itself and the breeders they choose to work with are USDA-compliant.
Each Chihuahua puppy you buy from this kennel is socialized and well-trained. If any dog requires medical assistance, a veterinarian is on call 24 hours a day, every day of the year, and is on the grounds at least once a week to perform health checks. Their efforts and dedication toward their puppies make them one of the best Chihuahua breeders in Iowa.
Heritage Puppies Details
5. Coldwater Kennels
Whether you want to see your puppy's daily routine before your purchase or are concerned about the environment in which the breeder raised the puppy, Coldwater Kennels offers you both options. It doesn't matter if you want to buy a Chihuahua puppy or not; they always welcome every visitor and show them their farm. You take your puppy home with vaccination, deworming, health checkup, and complete registration with AKC.
Apart from this, each Chihuahua puppy comes with a 7-day health guarantee and a 12-month hereditary guarantee. They value and foster each breed's distinct characteristics and strive for consistency in these characteristics across generations. And you don't need to worry about potty training and socialization. Your Chihuahua puppy will be well trained and microchipped.
Coldwater Kennels Details
6. Alicia's Chihuahuas & Shichi's
Alicia is the lady who has been operating Alicia's Chihuahuas and Shichi's. She specializes in raising and breeding top-quality Chihuahua puppies in Iowa. This breeder is helpful and is always ready to guide you with your concerns and doubts. All the Chihuahua puppies at her place are well-behaved and potty-trained. She puts them around kids to help puppies socialize with humans and other pets.
As a result, her Chihuahua puppies are well-acquainted with the house surroundings and people. The breeder ensures regular health checkups, vaccination, and deworming sessions for the puppies. When you reserve a Chihuahua puppy with them, you will receive frequent updates until the time comes for you to take them home.
Alicia's Chihuahuas & Shichi's Details
7. Bravo Country Kennels
Established in 1965, Bravo Country Kennels has raised and bred Chihuahua puppies for more than 50 years. They offer you a variety of colors, long coats, and different sizes of Chihuahua puppies. The owner is a retired registered nurse and spends most of her time caressing her puppies. She is passionate about raising top-notch quality and healthy Chihuahua puppies.
Apart from that, if you buy a puppy from this breeder, she will be available 24/7 to assist you with your needs or queries. The kennel holds a State of Iowa license and is USDA-compliant and AKC-registered, making them reliable and trustworthy. Each puppy in the kennel receives a regular health checkup, deworming session, and age-appropriate vaccinations.
Bravo Country Kennels Details
8. C Angels Puppies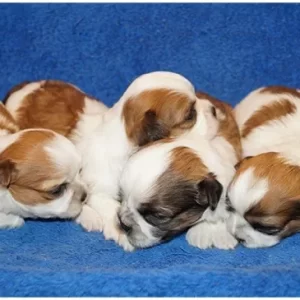 Last on the list of the best Chihuahua breeders in Iowa is "C Angels Puppies." With 20+ years of breeding experience, C Angels Puppies is last on our list of the best Chihuahua breeders in Iowa. Their motto is: "A pet is a lifetime commitment." She ensures her puppies go to those human parents who are genuinely willing to raise and care for their puppies.
The kennel offers you socialized, vaccinated, and dewormed Chihuahua puppies. She also ensures that they are well-trained for basic behaviors, potty, and are low-shedding. Don't forget to visit a vet after you purchase a puppy. If your doctor identifies any major medical concerns, you will get a new puppy of equal value. You also get a 12-month health guarantee against genetic disorders.
C Angels Puppies Details
How to Choose a Chihuahua Breeder in Iowa
While we have tried to list several AKC-registered breeders for Chihuahua puppies in Iowa, it's good to keep the following things in mind before you stamp a Chihuahua breeder.
Ask for References
Asking a friend who is passionate about dogs or has one might give you good references of dependable breeders. Further, if you can get in touch with a veterinarian, they can give you some choices too.
Visit and Observe the Kennel
Remember, a good breeder would want to know about you just as you want to know about them. So, ensure you visit their kennel before making a purchase. Notice a few things when you're there:
What is the behavior of puppies towards the breeder? If puppies seem afraid, it means they might not be well-socialized.
How many litters is the breeder raising? If there are more than two, it's like they won't be able to give the right amount of attention.
Do they talk about the medical history of puppies and parent dogs?
Search Authoritative Sources
Since Chihuahuas are purebred, they are recognized by AKC and CKC. So you can visit AKC's website or CKC's website to look for some trustworthy breeders.
More Information About Chihuahua Puppies From Iowa
We spent a lot of time and resources to make this list of best breeders of Chihuahua puppies for sale in Iowa. In our secondary research, we have been mindful of not including any breeders whose practices are questionable.
Further, we have also included crucial information about the Chihuahua breeders, such as contact numbers, websites, social handles, and addresses.
Related: How Long is a Chihuahua Pregnant For and How Long Does a Chihuahua Stay in Heat?
Conclusion For The "Best Chihuahua Breeders in Iowa"
You can ensure your Chihuahua puppy's physical and mental well-being by choosing the right breeder. While there's no definition of "right," don't hesitate to walk away from breeders who seem unfit.
If you choose from this list of the seven best breeders of Chihuahua puppies in Iowa, you have a high chance of getting the quality breeder that fits your needs. Chihuahuas are also known as "purse dogs" for their tiny size. And they are a bundle of joy waiting to be picked by responsible parents like you.
For more guides similar to this list of Chihuahua breeders in Iowa, you can check out:
Before bringing home a Chihuahua puppy from a breeder in Iowa, you can learn more about this dog breed by watching "15 Things Only Chihuahua Dog Owners Understand" down below: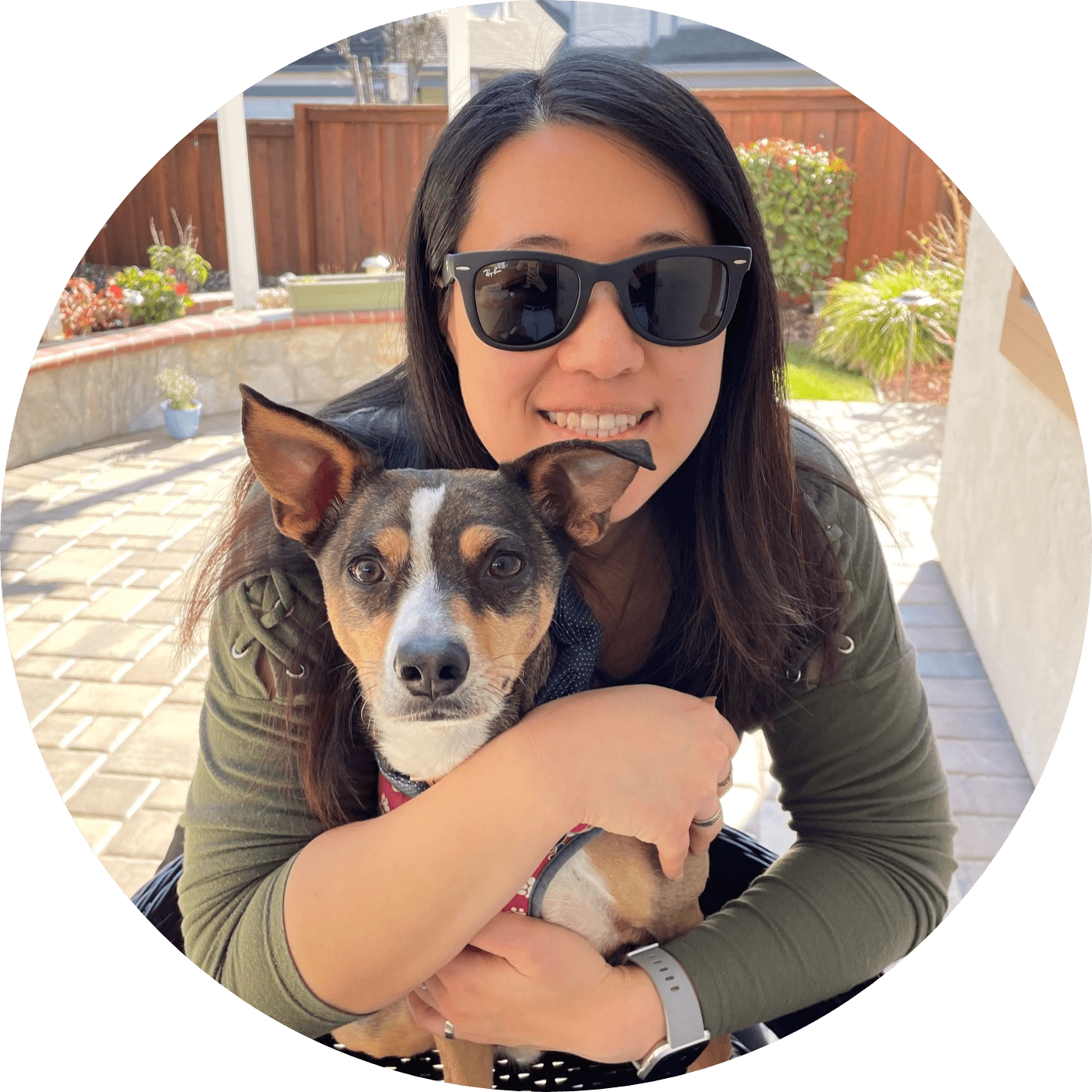 Dr. Sabrina Kong graduated from the Royal Veterinary College in England in 2016 and has been working at a small animal clinic in Northern California since then. She grew up in the Bay Area and got her bachelor's degree from Cal Poly San Luis Obispo. She also became a Certified Canine Rehabilitation Practitioner through a program at the University of Tennessee.
When she isn't in the clinic taking care of her four-legged patients, she enjoys traveling and trying new foods with her friends and her three-legged dog, Apollo. She adopted Apollo from her clinic when he was a puppy with numerous health issues. Dr. Kong truly cares about taking care of animals.