Are you trying to narrow down Boxer rescues in Alabama? You've landed on the right page.
Alabama is infamous as the state that ranks fifth for animal euthanasia. So, it is more important to support rescue organizations in this state than almost anywhere else in the US.
Finding, researching, and contacting rescues can be a hassle for many people. So, we've compiled a list of the four best rescues in Alabama offering Boxer dogs and puppies, their contact information, policies, addresses, and anything else you might need to know.
Before you scroll down this list of Boxer rescues in Alabama, check out: 5 Best Small Dog Rescues in Alabama! (2023) and 5 Best Boxer Breeders in Alabama! (2023).
1. Southern Magnolia Boxer Rescue
South Mongolia Boxer Rescue is a non-profit in Mississippi, Alabama, and Tennessee. The organization was established in 2005, gained 501(c)(3) status in 2012, and is dedicated to rehoming Boxers in need without discrimination based on health or age. SMBR is one of the few Boxer rescues in Alabama and heavily relies on the contributions of donors and volunteers to continue its mission.
The organization strives to educate the public about the importance of responsible pet ownership and the benefits of adopting a rescue animal. By providing a safe haven for Boxers in need, South Mongolia Boxer Rescue is positively impacting the lives of the animals and the families who adopt them.
This group of volunteers has a headquarters in Mississippi, which you can visit after filling out their adoption form. They also have a foster program where you can keep one of their rescues in your house while they provide all the necessary food and cover the veterinary expenses.
As one of the pet rescues in Alabama that is very conscious about the needs of its wards, SMBR has a handful of requirements for potential adopters to consider before filling out the application.
Adopters need to keep their rescues as indoor animals, administer heartworm preventive medication, have a fenced yard, and cannot adopt same-sex Boxers in the same home.
The price is not disclosed on their website, but the average adoption fee for Boxers is between $200 to $500 depending on whether you want purebred, mixed, or puppies. This cost includes the cost of keeping the dog on site, veterinary care, rehabilitation, and training.
SMBR also has volunteer programs where willing participants can help with walking or transporting dogs, administrative tasks, or social media marketing. They welcome any free hands with a set of relevant skills.
Southern Magnolia Boxer Rescue Details:
2. Middle Tennessee Boxer Rescue
Middle Tennessee Boxer Rescue is a non-profit established in 1990 and it's dedicated to rehoming Boxers in need. They focus on recovering Boxers from east and west Tennessee, southern Kentucky, and northern Alabama with a strict policy of only euthanizing a dog if it is extremely ill or badly injured.
The dog sanctuary tries to positively impact the lives of both the animals and their families by encouraging people to adopt Boxers and discouraging the purchase of pets from inhumane sources. Moreover, the rescue highlights the advantages of adopting an adult dog instead of a younger one, as many people tend to avoid older dogs.
Before letting applicants adopt, the MTBR asks them to fill out a form. They require a recommendation from a trusted vet, a fenced yard, and a child-free home. Having a fence is necessary to keep your Boxer in a safe environment, and it is often noted that these energetic dogs are too rough for toddlers, so it is best to wait to adopt until your children are a bit older.
They also require a fee of $350, a house inspection, and a return-to-rescue policy that you must agree to before being considered to adopt any of their animals.
Middle Tennessee Boxer Rescue Details:
3. Across America Boxer Rescue
Across America Boxer Rescue is a volunteer-driven non-profit organization that pledges 100 percent of its donations toward rescuing dogs in need.
The organization is not a Boxer rescue in Alabama; it is a foster-home-based rescue that operates in the Midwest and states as far south as Florida, Alabama, Mississippi, and the Carolinas and as far west as the Dakotas. They believe in "Rescuing Without Borders" and do their best to better the life of Boxers all over America.
The organization has an extensive process and requires potential adopters to fill out a detailed application form. They conduct house visits and interviews of references to ensure that the adopter is a good fit for each dog. This procedure ensures that the dogs will be placed in safe, loving homes.
In addition to its adoption program, AABR welcomes volunteers as well. They have a screening process for volunteers to ensure they will take the best care of the dogs in their care.
Across America Boxer Rescue Details:
4. Heart of Alabama
Heart of Alabama is one of the few 501(c)(3) Boxer rescues in Alabama. HASRA has a no-kill policy and is associated with charities such as Athletes for Animals, Petco Love, and Bissell Pet Foundation.
They don't exclusively deal in Boxers; rather, they have a wide variety of pets. Since they rescue a large number of dogs, you're likely to find Boxers up for adoption on their website, so they are worth a visit.
The statistics of this organization are quite staggering. They save almost 1,500 animals every year and have saved nearly 7,000 animals to date. They want to keep growing and help even more animals find their forever home.
HASRA is not a government organization, meaning it operates entirely from charitable donations and patrons. The staff is almost entirely composed of volunteers who work tirelessly to rescue, care for, and place animals in loving homes.
The Heart of Alabama rescue accepts on-site adoptions and requires an interview with any potential owner to ensure they find the best adopter. Adoption fees are usually below $100 but can go higher. The money they spend on fostering the dog determines the final price.
HASRA encourages fostering since its primary goal is to provide a safe and loving environment for needy animals. However, fosters are also urged to officially adopt if they feel a kinship and think they fit in well with their family.
Heart of Alabama Details:
How to Choose Boxer Rescues in Alabama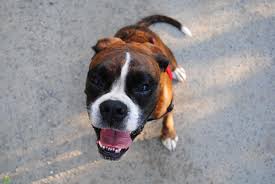 When deciding between dog rescues in Alabama, it is essential to choose welfare organizations that are reputable and have the dogs' best interests at heart.
Start by looking for rescue groups affiliated with reputed brands. Check their website for information on their mission, adoption process, and any upcoming events or fundraisers.
It's also a good idea to read reviews and testimonials from people who have adopted pets from the organization. Additionally, you can ask for references and speak with volunteers or foster families, who can provide you with a first-hand account of their experience.
Visit the rescue facility or foster homes and observe the conditions of the dogs and the care they are receiving. Ultimately, choose a rescue you feel comfortable with and one you trust to provide you with a happy, healthy Boxer.
Frequently Asked Questions
Can Boxers be rehomed?
If it's no longer possible to properly care for a Boxer, you can rehome it with a local rescue or shelter.
What to expect when adopting a Boxer?
If you're adopting a young Boxer, socialization is a must. Boxers are high-energy dogs who need a lot of physical and mental stimulation to stay healthy and avoid destructive behavior.
How long do Boxers live?
A healthy Boxer should live for 10 to 12 years. Due to its genetics, this breed is at risk for cardiomyopathy. It's important to find out everything you can about a dog's history.
Conclusion for "Best Boxer Rescues in Alabama"
There are several reputable rescues in Alabama and the nearby area that are dedicated to rehabilitating Boxer dogs. Four of the best ones are Southern Magnolia Boxer Rescue, Middle Tennessee Boxer Rescue, Across America Boxer Rescue, and Heart of Alabama.
Each rescue group is dedicated to rescuing, rehabilitating, and rehoming Boxers in need. However, choosing one will depend on your location.
Southern Magnolia Boxer Rescue is located in Alabama and is one of the most well-known organizations in the area. It focuses entirely on Boxers in the region and does its best to provide them with the best facilities.
Middle Tennessee Boxer Rescue is located in Tennessee, but it also operates in Alabama. They have a euthanization policy that might be discomforting to some, so do your research before committing to it.
AABR is based in the Midwest but does its best to help Boxers in all states, from North Dakota to Alabama. Lastly, HASRA isn't exclusively for Boxers, meaning it can be hard to find a Boxer dog available for adoption. However, it is located in the heart of Alabama, so it doesn't hurt to at least check out this small dog rescue.
With this list of reputable rescues, we are sure you will find a Boxer in no time!
For guides similar to this list of Boxer rescues in Alabama, check out:
Before you adopt a Boxer from a rescue in Alabama, learn more by watching "BOXER DOG FACTS! 5 Incredible Facts About The Amazing Boxer Puppy!" down below:
Garrett loves animals and is a huge advocate for all Doodle dog breeds. He owns his own Goldendoodle named Kona. In addition, he volunteers at the Humane Society of Silicon Valley, where he fosters dogs and helps animals. Garrett enjoys writing about Doodles and believes that dogs can teach humans more about how to live than humans can teach a dog.
Why Trust We Love Doodles?
At We Love Doodles, we're a team of writers, veterinarians, and puppy trainers that love dogs. Our team of qualified experts researches and provides reliable information on a wide range of dog topics. Our reviews are based on customer feedback, hands-on testing, and in-depth analysis. We are fully transparent and honest to our community of dog owners and future owners.