Having a dog is one of the best things ever, as they quickly become a loyal companion and friend for life. However, if you're thinking of getting a dog, you first have to consider which breed, as there are many different types! Each breed has its own traits and qualities, and it's important to choose a dog akin to your lifestyle so that you can love and take care of it to the best of your abilities! 
So…what about the Black Pitbull? It is essentially an American Pitbull Terrier with a fully black coat, therefore it is commonly known as the black pit. And although they sometimes get a bad reputation, they are actually extremely loyal and loving dogs, sweet and intelligent, and overall a great pet companion! 
However, if you are considering getting a Black Pitbull, you should probably know all the ins and outs of the breed, so that you're well informed and sure of your decision. Everything from the key facts, the cost, the nutritional and grooming needs, the exercise and training, and much more. And luckily for you, we can tell you everything you need to know. So let's get right into it!
Other articles you might like: Bulldog vs. Pitbull Differences and When do Pitbulls stop growing?
Key Facts About The Black Pitbull
Breed
The Black Pitbull is an American Pitbull Terrier, specifically all-black in color.
Size
On average, Black Pitbulls are between 17-inches to 19-inches tall at the shoulder.
Physical Description
Black Pits have well-defined jaws, with a broad head and pronounced cheekbones. They have dark eyes, which are set wide apart, and they are strong and sturdy overall. 
Origin Of The Breed
Black Pitbulls are very closely related to the Mastiff, which originated in Greece a very long time ago, with records showing them around as early as 5000 BC. They were trained by soldiers and used mostly as attack dogs in battle. 
Cost Of A Black Pitbull
First of all, if you're going to have a Black Pitbull, you're going to have to get one, whether it's by buying a new puppy or adopting one from a shelter. And then, of course, there's the whole maintenance of the dog, which requires a cost. 
But how much does a Black Pitbull cost? Both to acquire and to maintain? If you're going to buy a Black Pitbull puppy, the average cost is between $800 and $1200+. However, this largely depends on the kind of breeder that you are using, and the bloodline of the puppy in question, as some Black Pits can be a lot more expensive than that.
If you're going to adopt a Black Pitbull, you should have no trouble finding one at a shelter or rescue center, as sadly, they tend to be one of the most abandoned breeds of dogs. Adopting one will only cost you the adoption fees, and you will then be giving a dog a second chance at a loving and safe home, which is by far the best thing you could do.
As for the cost of maintaining a Black Pitbull, it largely depends on what you decide to spend money on, on the kind of lifestyle you lead, on the location where you live, and many more factors. But the average estimate is around $2000 a year, give or take.
Nutritional Needs Of A Black Pitbull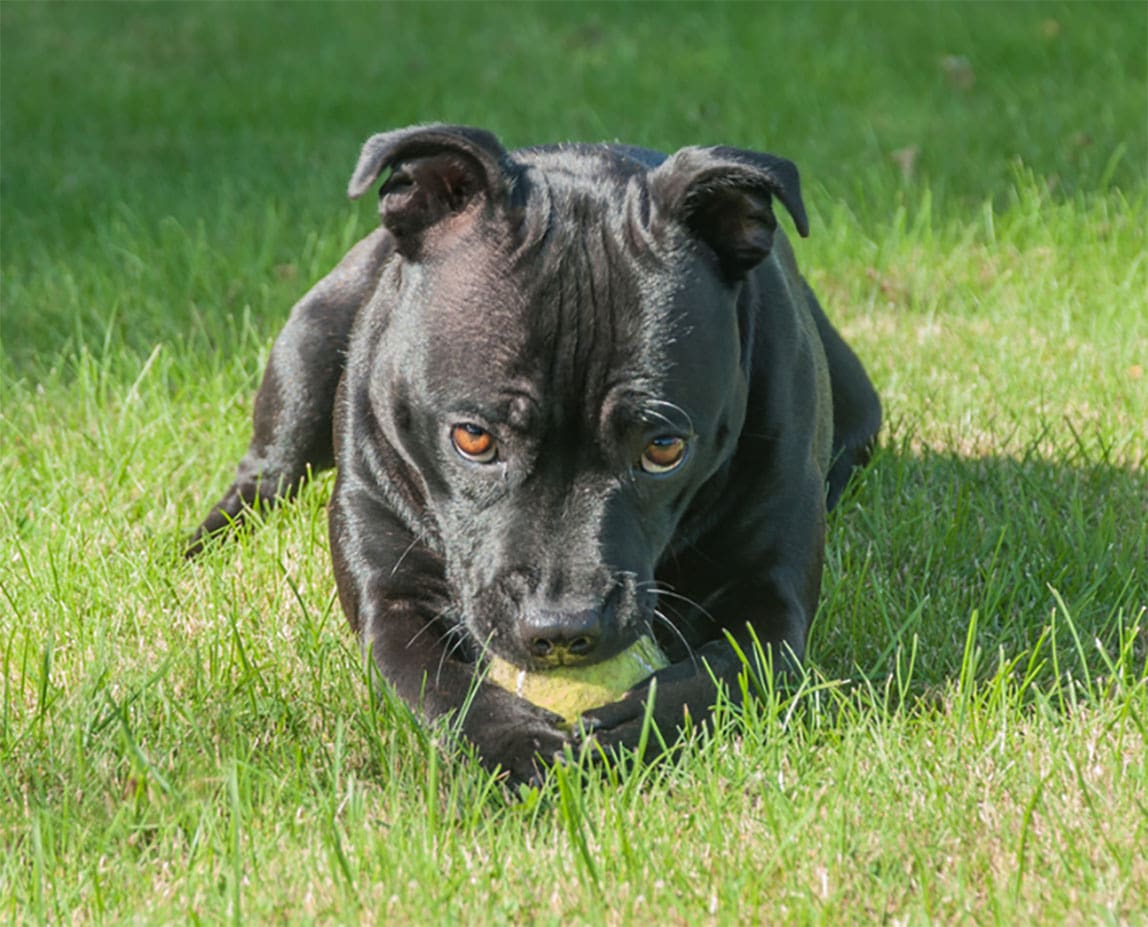 One of the most important parts of taking care of a dog is the diet that you give them and the food you provide in order to keep them healthy and thriving. So what are the nutritional needs of a Black Pitbull? Well, as a big dog breed, the Black Pit requires a good amount of food every day, and all of it needs to be healthy, and appropriate to the dog's age and size.
The easiest way to feed your Black Pit is to buy the correct manufactured dog food. However, some prefer to home-prepare their dog's food, and if you do this, you should first check with your vet to make sure that all of the ingredients are safe and beneficial. 
Grooming Needs Of A Black Pitbull
When it comes to grooming a Black Pitbull, not a lot of effort is needed, as they are super easy to maintain. They have an all-black coat, which is short and stiff. A simple soft bristle brush should do the trick, and you can brush them every now and then to remove dirt and debris, weekly should be enough, but it depends on how dirty your Black Pit gets!
As for shedding, Black Pits do have seasonal shedding, but it is not as dramatic as with other dog breeds. Brushing the coat daily during that period of time should keep it healthy. Other grooming needs of the Black Pitbull include trimming the nails (something which should be done quite regularly in order to avoid problems), and occasional baths if your Black Pit has been rolling around in the mud. 
The Health Of A Black Pitbull
Dogs, just like humans, can suffer from many different health problems at any given time in their life, some with a higher tendency than others. Different dog breeds are prone to different health problems or conditions too, and it's important to be aware and informed of this so that you can provide your dog with the best veterinary care if it comes to it.
As a general rule, breeders should do a full health screening of the parent dogs, to ensure that the puppies are healthy. But just in case, you should conduct your own health screening when you first get your Black Pitbull and then have regular check-ups with the vet just to monitor that everything is okay, and so that you can catch any health problems early in the day. As for the main health problems that a Black Pitbull is more likely to suffer from, here is the list:
Hip Dysplasia
This is a highly common problem amongst many dog breeds, and it also affects Black Pitbulls. It takes place when the hip socket doesn't develop properly, with the femur or thigh bone growing out of proportion.
This can cause your dog pain, stiffness, lameness, reduced motion, and an inability to walk in rough terrain or upstairs. 
The main cause of hip dysplasia is genetics, as it is inherited from the dog's parents (hence why a health screening of the parents is vital before you buy a puppy). However, you can help reduce the development of hip dysplasia through appropriate nutrition and plenty of exercise. 
Hypothyroidism
Also commonly known as thyroid disease, this occurs when the thyroid gland does not produce enough of the essential hormones responsible for the dog's metabolism and digestion. Some of the main symptoms include weight gain, muscle loss, hair loss, lethargy, and sometimes even changes in behavior.
Usually, this condition does not appear in dogs under the age of four, and blood tests are required to identify it. Luckily, it can be easily treated and managed through medication. 
Allergies
Black Pitbulls are quite prone to suffering from allergies, which can be to all sorts of environmental factors, or to certain ingredients in food. The symptoms are similar to those of humans that also suffer from allergies: itchiness, rashes, hives, bald spots, and more. 
Luckily, allergies can be managed through medication, and through a reduction of the source of the allergy. 
Ichthyosis
Ichthyosis is a mutation of the skin, very rare but most commonly affecting Pitbulls. The main symptoms include thick and scaly skin, the hardening of the footpads, roughness on the skin or greasiness, and similar.
Unfortunately, this condition is incurable, and it also gets worse with age. However, there are special shampoos to treat the symptoms, and vets can guide you on how to make it less uncomfortable for your dog. 
Cataracts
Cataracts are an eye condition in which the eye lens becomes thick and clouded, causing impaired vision.
It can be inherited, but it can also be caused by diabetes or high blood sugar. If you start treating this early, medication should be enough to treat the symptoms. However, if the condition is severe, eye surgery might be necessary. 
Gastric Dilation (Volvulus)
Also commonly known as dog bloat, this is a very serious (and sometimes fatal) condition that can affect any dog breed. It is when blood flow to the heart is cut off, or a tear in the wall of the stomach appears. It can happen very quickly and can result in death. 
Some of the symptoms to look out for are swollen stomach, restlessness or anxiety, vomiting, faintness, and similar. 
As for what causes this condition, vets believe that it is related to eating too fast, eating too much, or eating from a bowl that is raised off the ground. 
Exercise And Training Of A Black Pitbull
Exercise and training are both necessary for all dog breeds, and they are vital to ensure that your dog is healthy and thriving. But, of course, some dogs require more exercise than others, and the same goes for training. As for exercise, Black Pitbulls are incredibly athletic and full of energy, meaning they need a lot of daily exercises.
And when we say exercises, we don't mean simply leaving your Black Pit in a backyard for them to run around, we mean proper exercise sessions that they can enjoy alongside you, as they are very people-oriented and social. This is why you will need to set out time every day to take your Black Pit out on long walks, as well as playing sessions.
You could also have your Black Pit participate in canine sports, such as dock diving, agility courses, and more. These will be great as a form of exercise, but will also serve as training and as socialization. As for training, all dogs require their fair share of it, but you have to put in the extra effort with a Black Pitbull due to the reputation they have.
If your Black Pitbull so much as scares someone once, they will be criminalized for it, so you have to work twice as hard to make sure that your Pitbull has model behavior and obedience, so that you can prove that they are not a danger to others. Plus, you will need to invest in a lot of socialization exercises from a very early age, to ensure that your Black Pitbull is good around other people and animals.
Luckily, Black Pitbulls are highly intelligent, and they also have a high drive to please their owners. This makes them very easy to train, and they thoroughly enjoy the process of learning and satisfying your requests! Just make sure to start from an early age, and to remain patient and consistent.
Why Do Black Pitbulls Have A Bad Reputation?
You might have heard that Black Pitbulls have a bit of a bad reputation, with some people referring to them as dangerous, aggressive, and unsafe around children and people in general. 
The reason behind all of this bad reputation, is mainly that Black Pitbulls are often used in dogfighting, so people associate them with aggressiveness and a tendency to attack. Plus, there is a lot of misinformation and judgment. 
However, it is not the fault of the dog breed that they are cruelly trained and used in dog fights. And any dog breed, if mistreated and ill-trained, can turn aggressive and dangerous. It is not because of the dog, it is because of the people handling the dog.
When trained and socialized appropriately, Black Pitbulls are incredibly sweet, loving, and friendly. They do very well with children and have a very strong sense of family, willing to please their owners and protect those in their household. They are also very easy to train, and highly intelligent!
Conclusion for Everything You Need To Know About The Black Pitbull
In conclusion, Black Pitbulls are an amazing breed of dog, full of energy, love, and loyalty. They require a lot of exercise and training but are fairly easy to maintain and do not have any overly complicated needs of any kind. Watch out for their health, treat them right, and they will be a companion for life!
Check out these other articles:
Garrett loves animals and is a huge advocate for all Doodle dog breeds. He owns his own Goldendoodle named Kona. In addition, he volunteers at the Humane Society of Silicon Valley, where he fosters dogs and helps animals. Garrett enjoys writing about Doodles and believes that dogs can teach humans more about how to live than humans can teach a dog.
Why Trust We Love Doodles?
At We Love Doodles, we're a team of writers, veterinarians, and puppy trainers that love dogs. Our team of qualified experts researches and provides reliable information on a wide range of dog topics. Our reviews are based on customer feedback, hands-on testing, and in-depth analysis. We are fully transparent and honest to our community of dog owners and future owners.