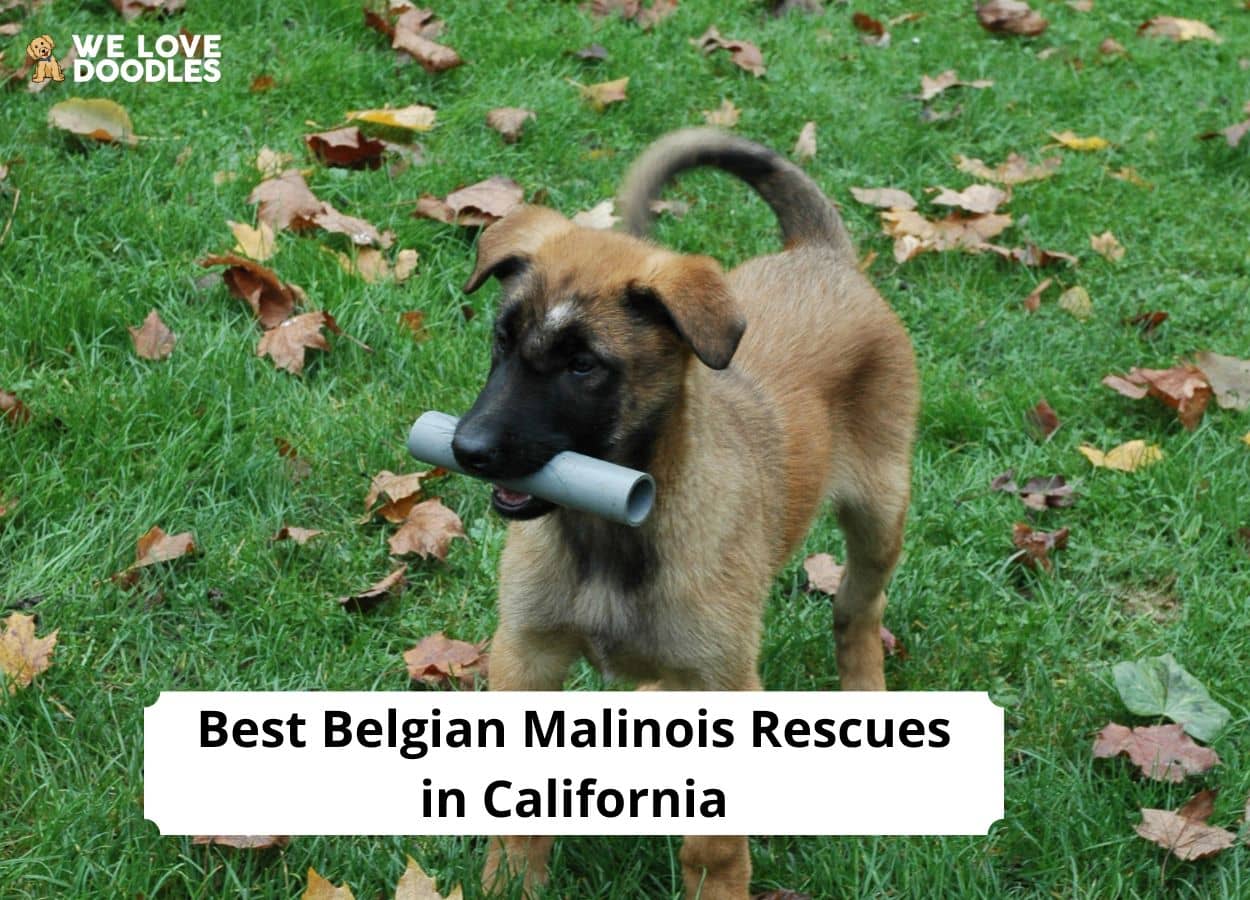 If you're searching for Belgian Malinois rescues in California, you've come to the right place. Belgian Malinois are an extremely loved dog breed. So, it's no wonder that Belgian Malinois rescues in California are working tirelessly to rescue and rehome these dogs. The American Kennel Club describes the Belgian Malinois as confident, hardworking, and intelligent.
This breed is a world-class worker that forms a strong and loving bond with its owner. If you are interested in giving an abandoned Belgian Malinois a second chance at life, we have created a list of some of the best pet rescues in California for your perusal.
Before you scroll down this list of Belgian Malinois rescues in California, you can check out these other rescue shelter recommendations from our team at We Love Doodles: Best Pointer Rescues in California and Best Basset Hound Rescues in California.
Find a Belgian Malinois Rescue Shelter Near Me in California
Our team at We Love Doodles created this list of the best Belgian Malinois rescues in California to help you out.
Belgian Malinois Product Recommendations: Best Indestructible Dog Toys and Best Muscle Growth Supplements For Dogs.
1. Woof Project
The Woof Project is a non-profit rescue organization specializing in rescuing Belgian Malinois on the West Coast. Operating in California, Washington, Nevada, Montana, Idaho, Oregon, and Arizona, this organization rescues dogs from public and private shelters and takes in dogs their owners give up.
At Woof Project, their goal is to rehabilitate abandoned or neglected dogs and help them find loving homes. Passionate volunteers run it about Belgian Malinois and their overall well-being. The volunteers offer any support you might need during or after the adoption.
If you want to adopt a dog from Woof Project, you will have to fill out an application, after which you will be contacted for a phone interview. If your application is approved, a home visit will be set up, which will help ensure that your home is suitable for housing a Belgian Malinois.
Additionally, their team will help you find the perfect dog according to your preferences and the dog's personality. The approximate adoption fee for a Belgian Malinois is $500. As this is a non-profit organization, it runs solely on adoption fees and donations. So, you will be required to pay an approximate adoption fee of $500.
In addition, the rescue prefers applications that meet its requirements. For instance, you need to have appropriate fencing around your house and no children under 12 years old. Having previous experience with a Belgian Malinois or any other high-drive dog is also a bonus. However, these are only recommended suggestions and are not necessary.
Woof Project Details
2. German Shepherd Rescue of Orange County
The German Shepherd Rescue of Orange County is a non-profit rescue organization that primarily focuses on rescuing and rehabilitating German Shepherds suffering from pet overpopulation. However, due to the increasing number of homeless Belgian Malinois, they have welcomed several Belgian Malinois to their rescue and continue to do so.
The German Shepherd Rescue of Orange County is a volunteer-run operation that does not accept government funding. The rescue runs on donations alone. All their dogs come from high-kill local shelters or owners who can no longer care for their pets. To adopt a Belgian Malinois, you must submit an application form on their website.
This application will help the rescue organization know more about your preferences, lifestyle, and more. You can also visit their facility with your family and other pets to meet the available dogs. Once you select a dog you like, a home visit will also be scheduled. If all goes well, the adoption will be finalized.
To adopt a dog you like, you will have to deposit an adoption fee and make a donation. The adoption fee for German Shepherds is $395, for other purebred puppies, $495, and $395 for mixed dogs. So, if you are looking for suitable Belgian Malinois rescues in California, the German Shepherd Rescue of Orange County is a good choice. They were also voted Best Charity 2022 in Orange County by the LA Times.
German Shepherd Rescue of Orange County Details
Location: 120 Tustin Avenue Suite C-1111, Newport Beach, California
3. Malinois Rescue League
Malinois Rescue League is a non-profit organization established in 2019 by a group of people from all over the world who had a fierce passion for the well-being of the Belgian Malinois breed. A unique detail about this rescue is that it operates in different countries. Malinois Rescue League has foster homes all over the United States.
So, you can visit their website and check the available dogs in your preferred location or close to it. You can complete an adoption application online if you find a dog you like. Afterward, an interview, background check, and home visit will be conducted. If the application is approved, the rescue will select a Belgian Malinois suitable for you.
Finally, you will have to sign an adoption agreement which will be sent to you. After that, the transport details will be finalized, and you can bring your new furry friend home. The rescue charges an adoption fee of up to $2,000 depending on the transportation, training, and crate costs.
They also have rules that help them choose the best homes for rescue puppies. For instance, the applicant must be at least 25 years old. It is also necessary that all children at home should be above 12 years. Also, your application will be preferred if you have experience in dealing with working breeds.
Malinois Rescue League Details
4. Rover's Retreat
Note: Rover's Retreat is no longer accepting new applications at the moment.
Last on our list of the best Belgian Malinois rescues in California is Rover's Retreat, a non-profit organization that aims to advocate for dogs in need that can't speak for themselves. They rescue all breeds of dogs and place them in foster homes until they are ready for adoption. All their dogs are vaccinated, spayed or neutered, and microchipped.
The dogs also receive any other medical care that they might need. You can visit their website to learn more about available dogs. If you find a dog you're interested in, you can fill out and apply online. In addition, you will be required to pay a $20 application fee to submit your application.
A house visit will also be scheduled to help ensure that your home offers the ideal environment for raising a dog. Afterward, the rescue will select a dog that matches your requirements. You can also meet the dog at the foster home to ensure it is the right match.
If everything goes smoothly, you will be ready to take your new furry friend home in no time. Rover's Retreat is a suitable option if you are looking for puppy rescues in California. They rescue dogs from local shelters and owners who can no longer look after their dogs. Moreover, they rescue dogs from other countries such as Turkey as well.
So, you might have higher chances of finding a Belgian Malinois up for adoption at this rescue. However, international adoption fees range from $800 to $2,000, whereas adoption fees for domestic dogs range from $400 to $1,000. The adoption fee covers medical treatments, vet checkups, and transportation costs.
Rover's Retreat Details
More Information About Belgian Malinois in California
Owning a Belgian Malinois is a unique experience. However, it is not suitable for everyone, so these loving dogs often end up in shelters or are neglected and do not receive the care they deserve. Belgian Malinois is the 26th most intelligent dog out of 138 breeds. Due to their intelligence, they are often found in the police or military.
However, handling a Belgian Malinois is not possible for everyone. This breed has high demands and needs. Moreover, they require expert training due to their nature. So, they are not a suitable match for first-time dog owners. Additionally, the Belgian Malinois requires a significant amount of exercise daily.
They need at least 60-80 minutes of exercise daily in three to four phases. So, your Belgian Malinois will need to exercise for 20 minutes three to four times a day. However, staying calm and gentle during exercise and training is necessary. As they need a lot of exercises and are pretty big, keeping a Belgian Malinois in an apartment is not suitable.
A yard is necessary where your dog can play and get some fresh air. The Belgian Malinois can make a great family pet with the proper training. They are loving, loyal, and ready to protect their family when needed. However, taking care of their needs and being gentle with them is necessary as they can get aggressive when neglected.
Related: Best Belgian Malinois Dog Names.
Conclusion For The "Best Belgian Malinois Rescues in California"
The Belgian Malinois is a magnificent dog breed that is an excellent worker and a loyal companion. Its strength and character make it an excellent choice for the police, military, and guard dogs. However, training and socialization can make it the perfect family pet. If you plan on getting a Belgian Malinois, it is always better to adopt.
Adoption can change the world of a neglected or unloved dog. Additionally, several Belgian Malinois rescues in California often have puppies for adoption, which are an ideal option. We've independently verified and vetted the rescues listed above. However, we still suggest you visit them yourself and double-check all elements on your checklist before adoption.
For more guides similar to this list of Belgian Malinois rescues in California, you can check out these other dog rescue shelter recommendations from our team:
Before you adopt a Belgian Malinois companion from a rescue shelter in California, you can learn more about this dog breed by watching "The Power of Belgian Malinois" down below: