There's nothing quite like bringing home a new puppy. They're adorable, affectionate, and can make a house feel like home! But, unless you're bringing home an older dog who has already received training, you'll have to spend time training your new puppy. This Baxter and Bella review looks at one of the most popular online dog training programs.
You can always train your puppy on your own, but using resources like professional dog trainers and other information will make your and your puppy's lives much easier. Baxter and Bella is an online dog training program that many people use. But is it worth it?
We took the time to review Baxter and Bella to help you decide!
Before scrolling down to our Baxter and Bella review, check out these other helpful articles from our team at We Love Doodles: Diamond Doodles Review and Hale's Labradoodles Review.
About Baxter and Bella
The owners and founders of Baxter and Bella are Scott and Amy Jensen of Northern Utah. These long-time pet parents created Baxter and Bella because they wanted to share their passion and love for dogs with others. Their ultimate goal is to provide top-level training to nurture well-behaved dogs that owners won't return to the shelter.
Through their labor of love and passionate team of pet professionals, Bella and Baxter has had a significant impact on dogs and their families around the world.
Baxter and Bella's mission is to help owners with proven training methods, resources, and materials that will help them properly train their dogs and educate themselves on dog training and behavior. This way, they can take advantage of all the best things a dog can provide a family!
With their training program, they want more dogs to stay in their homes and strengthen their bond with everyone in the household.
Baxter and Bella Review: Online Puppy Training
Since Baxter and Bella's main product is their puppy training, we need to get into the nitty-gritty of what the program entails. This way, you can see what it's all about, if you're up for the task, and what you'll be doing with your puppy for the foreseeable future.
Baxter and Bella online puppy training isn't your typical puppy training, and you can use it for older dogs, too. It's a combination of courses, training videos, and fun games that will help your dog learn to be obedient. It also lets you bond with your new furry friend!
Step-By-Step Training
What we love about Baxter and Bella's training is how in-depth it is. The program provides step-by-step guides and even offers guides for preparing your new puppy to come home after the adoption process.
The Baxter and Bella training guide comes with more than 75 lessons you and your puppy will love doing together. Throughout these lessons, there are more than 100 video demonstrations if you need further assistance to ensure you're doing the training correctly.
You'll be able to take advantage of printable charts and the curriculum roadmap to see which stage you and your furry friend are at throughout the few weeks of training.
Classes and Courses
In your first week together, you'll work on building a loving bond with your puppy. It's important to give them plenty of playtime and affection during this time so they learn to trust you.
Bella and Baxter instructs you to take time to introduce your dog to the collar and leash so it's familiar with them. Focusing on getting the puppy to learn its name is another main goal of the first week.
The first "real" week of classes focuses on teaching your dog basic training. This includes commands like "sit," "stay," and "down." After this week, you'll work with leash and potty training.
Throughout the following weeks, you'll practice different commands with your dog and take them in public to see how they respond to external stimuli. Bella and Baxter even offers intermediate and advanced training after basic training if you and your puppy want to learn more.
With the lifetime membership, you can start their intermediate or advanced training whenever you feel like it. You can also go back to basic training if your puppy needs extra work.
Games To Play
Baxter and Bella offers optional games that you can play with your dog. But, you want to make sure to take advantage of these! They provide a great way to make training fun for you and your pet. Additionally, they allow you to build an even stronger bond.
Your dog will also appreciate this short "break" from routine training to have some fun. In turn, this can significantly improve their training by boosting mood and temperament.
Advantages of Baxter and Bella Puppy Training
There are many things to love about Baxter and Bella Puppy Training.
Live Support
Since you can train your puppy or dog whenever you want at home, it can be frustrating when you have questions and want to talk to someone right away. Luckily, with Baxter and Bella, you can take full advantage of their live support feature when you join their lifetime membership.
You'll be able to communicate with someone from Baxter and Bella, usually one of the qualified trainers, to address any questions about the courses or material.
Train From the Comfort of Your Home
Getting your puppy or dog to and from training sessions every few days or weeks can be a hassle. That's why using Baxter and Bella training is excellent. You can train your dog from your home, where you and your furry friend both feel more comfortable.
Following the Bella and Baxter training programs on your schedule allows you to keep up with the program more easily. You can modify your schedule to fit the courses, games, and other training aspects into your routine.
Available Across Devices
Another bonus of using Baxter and Bella's puppy training is that you can use it on all your devices. You can watch their videos on your desktop or laptop computer. If you don't have access to a computer, you can easily use your Android or iPhone to watch the training videos.
Dog Parent Forums and Groups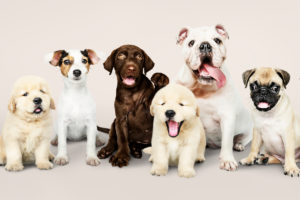 Getting a new puppy or dog can be one of the most exciting times in your life, but also the most stressful. It can be frustrating dealing with a rambunctious puppy and feeling like you're getting nowhere.
We love that Baxter and Bella offers dog parent forums and groups where you can talk with other dog owners who use their training. You'll quickly find a sense of community and support!
Baxter and Bella Review: The One Negative
We found there to be a substantial amount of advantages to using Baxter and Bella, but there is one disadvantage that we noticed: staying on track is hard!
If you're great at staying on track or keeping up with a schedule, then you might be fine with Baxter and Bella. But one of the most significant disadvantages to their services is maintaining consistency, which is vital when it comes to training your puppy. If you can't stay on track, you might not find the Baxter and Bella products are worth your while.
One of the best ways to avoid falling victim to this disadvantage is to make a plan and set aside time each day and week to practice with your pup. Some people recommend setting the alarm or calendar reminder on your phone to better stay on track with training your puppy.
Frequently Asked Questions
If you still have questions about Baxter and Bella, here are some of the most frequently asked questions other puppy owners have.
Are Baxter and Bella only for new puppies?
Nope! Puppies and dogs of all ages can potentially benefit from using their training program. Of course, older dogs might need a little bit more work. But with patience, consistency, and love, the program can be very effective, even in older dogs.
Is Baxter and Bella worth the money?
Whether you'll find Baxter and Bella worth the money will ultimately come down to your opinion. For the most part, those who spend money on Baxter and Bella's online training find it worth the money.
Are Baxter and Bella good?
Yes, Baxter and Bella is a good training option for those who want to train their puppy from their homes. Everyone who works at Baxter and Bella is passionate about dog care. They have highly trained dog trainers who are knowledgeable about what it takes to train even the most stubborn puppies.
Who owns Baxter and Bella?
The two owners of Baxter and Bella are Scott and Amy Jensen. They're a husband and wife duo who run the company with the help of their excellent dog trainers.
What is Bella and Baxter's training?
Bella and Baxter's training helps you acclimate to having a new puppy or dog in your home. It ranges from general commands, encouraging positive behavior, and how to properly avoid negative behaviors that your puppy will inevitably have.
How much does Baxter and Bella's training cost?
A lifetime membership is only $238. While the price might seem high for online videos, you'll have access to all their training videos anytime you want, for life, as well as all their other live chat and helpful features.
Baxter and Bella Review Summary: It's Worth It!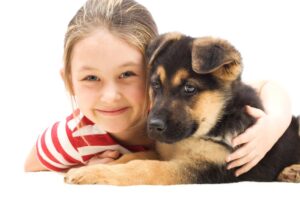 If you're looking to train your new puppy or dog, you can't go wrong with Baxter and Bella's online training school. The curriculum is easy to follow and fun for you and your puppy. Furthermore, you can train at your own pace and on your own time without needing to go anywhere.
The program is ideal for those looking for a community because you'll get lifetime training, live support, and access to online forums and groups.
For more content related to this article, "Baxter and Bella Review," you can check out:
You can learn more about this topic by watching "Puppy Training with Gnocchi The Goldendoodle – Baxter & Bella Review – Puppy Essentials" down below:
Garrett loves animals and is a huge advocate for all Doodle dog breeds. He owns his own Goldendoodle named Kona. In addition, he volunteers at the Humane Society of Silicon Valley, where he fosters dogs and helps animals. Garrett enjoys writing about Doodles and believes that dogs can teach humans more about how to live than humans can teach a dog.
Why Trust We Love Doodles?
At We Love Doodles, we're a team of writers, veterinarians, and puppy trainers that love dogs. Our team of qualified experts researches and provides reliable information on a wide range of dog topics. Our reviews are based on customer feedback, hands-on testing, and in-depth analysis. We are fully transparent and honest to our community of dog owners and future owners.